The reason behind a dog following their owners to the bathroom is due to ancestral protection instincts. They simply want to protect you when you are doing your business and nothing more. However studies have proven that there are other psychological and behavioral factors that also contribute to the cause.
To know more about them, keep on reading.
Why do Dogs follow their Owners to the bathroom?
The reasons include:
Their instinct to protect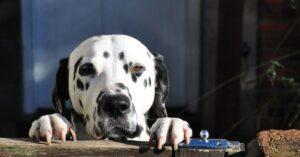 As discussed previously, dogs are very instinctive animals. Given their ancestral origins, they are always looking for ways subconsciously to protect their family that includes you and rest members in the household. And therefore when you are going to the bathroom, the pup wants to follow you to make sure you are guarded when doing your business.
This behavioral trait is like watching your back. Back when ancestors of the canines used to roam the planet's wilderness, they often relied on their pack member's aid for protection when defecating as this is when they are the most vulnerable. Since then, even though the fur babies have gone through hundreds of years of evolution, the behavior is still predominantly seen in many households.
What you can do- Well, this is nothing to be worried about. Your pup is simply looking out for you and hence if you don't want them barging inside the washroom, make sure to keep the doors locked from inside.
They are curious
Hands down, dogs are super curious animals. So, when you spend several minutes cramped in a relatively small space everyday, prohibiting their entry, naturally their curiosity will also rise. The pooch may start to wonder the reasons for your absence and hence try to sneak in every time you open the bathroom door.
This is also another trait that can be linked to their ancestral roots. In the past, their ancestors used to go everywhere together and do everything together, such as hunt, sleep, scavenge, etc. So, when you leave the pup wandering around the home alone, they are bound to show signs and symptoms indicating their curiosity.
What you can do- Such behavior is mostly observed in overly clingy pooches and pups that suffer from separation anxiety. In these cases, it is better to keep the dog entertained by offering them their favorite toys to play with. Alternatively, you can also offer them a little delicious snack with a few treats on it before you leave for your wash time, so that a majority of their time is invested in eating, rather than following you around anxiously.
They are bred to follow
Unlike dogs that are overly clingy by nature, 'velcro dogs' are the ones that are bred to specifically follow their humans everywhere they go. Breeds like border collies, cattle and sheep dogs are typically the ones that come under this category, and therefore if you have one of these beautiful woofers, you must have known this fact already.
However, these are not the only canines that could be called velcro pups. Many protection breeds like the Doberman Pinschers, Boxers, and even Labrador Retrievers, Pointers, and Spaniels from the sporting breed may also show such inclinations.
What you can do- The best bet in such cases is to train the dog not to follow you into the bathroom. This can be achieved by a proper positive reinforcement training session, although it might take some time in restructuring the dog's breed traits. This is because most of these canines genes' are specifically wired as such and thus pet parents will need to be regular in training the canine.
They feel anxious or scared alone
Have you recently moved to a new place??? Then, your dog trying to sneak into the bathroom every time you are inside, might be a call for help. Not all dogs have the same personality, and hence while some pups have no issues adjusting to a new place, others might get stressed out with even the slightest of changes.
An anxious or scared dog will often whine, hide, or scratch the doors if you don't allow them inside the bathroom. Some pups may even pee or poop inside the home, due to the abnormal increase in their heart rate and spiked neural functions. Always make sure you treat them nicely, even after an accident. The pup is already suffering from negative emotions, and thus adding to it will only impact their health and quality of living.
What you can do- Depending upon their state, pawrents might need to seek a canine behavioral specialist's help. When consulted, the professional will work with the fur baby to find the triggering factors and thereby provide efficient solutions to them.
They want to investigate the smell
Blessed with 30-300 million olfactory receptors, it is not wrong to say that all dogs are smell detectives. Even the tiniest hints of smell could make the pup acting all crazy and excited, and thus this might be the reason as to a dog following their owner to the bathroom.
Ranging from soaps, perfumes, shaving creams, cleaning products and cosmetics, there are usually a lot of things that a human uses when in the bathroom. This makes the place fill with a lot of different smells, and hence the perfect place for canines to sniff various scents.
What you can do- If the dog just wants to sniff, letting them in is no big deal, but do ensure to keep an eye on them for their safety. But in case you aren't a fan of their intrusion, investing in reward based training can come handy. Train the dog to play with their toys while you are inside, rather than trying to break into the bathroom.
They don't understand the concept of privacy
This is quite a common response in most dogs. Usually, canines aren't very knowledgeable when it comes to the notion of privacy. They spend most of their time with us, follow us around and always want to be a part of every activity we do. Therefore, when their parents suddenly want to lock themselves inside a room and do Dog knows what, they are bound to behave weirdly.
Moreover, it might also be confusing for a canine to decipher as to why we try completing our bowel activities in secret, if we are always present when they do theirs.
What you can do- Understand that it is not something the dog is doing knowingly and be gentle with them. Try to redirect them with the proper training methods and regular practice.
They are seeking attention the wrong way
Sometimes dogs may also exhibit this bizarre behavior if they have been receiving attention for doing so. Contrary to what many people believe, our fur babies constantly mark changes in our body language and hence are smart enough to catch on to behaviors that get our attention.
Thus, if you have ever petted your dog or allowed them inside the bathroom, they are definitely going to continue the same behavior. When you offer them attention, they associate it with good memories, and so every time the dog is needy, they are going to barge into the bathroom, despite your complaints.
What you can do- If you don't want your pup to constantly look at you when you are completing your body chores, never and I repeat NEVER allow them inside the bathroom, unless it's their bath time. You can take aid of tasty treats and verbal cues to train them. However, if the dog seems too stubborn, calling in a canine behavioral specialist is what needs to be done.
Is this behavior normal?
Even though some individuals may get absolutely creeped out with their dog following their owners into the bathroom, the behavior is very normal. Our fur babies love us unconditionally and are always invested in ensuring our safety. Thus, while the exact reason may differ as stated above, no dog possesses any ill intentions towards their pawrents when following them everywhere.
It is just one of their gregarious ancestral traits and nothing more. However, if you or any other family member is troubled by this, there are always various ways to resolve this situation.
Could this behavior be due to any underlying medical conditions?
Depression, severe anxiety, stress, separation anxiety, or a deteriorated psyche can be the leading factors behind this weird action. Due to these factors, the dog might be having a hard time when alone, hence seeking your presence or attention at all times to feel at ease.
This is why pet parents are advised to carefully monitor their pups. In case the pup exhibits any secondary symptoms of being afraid, anxious or anything negative, seeking a vet's advice is what's best.
You may also like:
Dog Panting at Night? Follow these Vet Recommendations
Reference:
If you are a dog lover then, Subscribe to our weekly newsletters. No Spams!