Proper ear cleaning is not just a routine grooming task for Spaniels; it's a crucial aspect of their overall health and well-being. With their floppy ears and active lifestyles, Spaniels are particularly susceptible to ear issues, making regular cleaning essential. In this article, we will explore why ear cleaning is important for Spaniels, exploring the benefits and offering expert insights on maintaining their ear health effectively.
Understanding Your Spaniel's Ear Anatomy 
The Structure of a Dog's Ear
Canine ears, akin to human ears, consist of three distinct parts. The outer ear encompasses the ear flap, referred to as the ear leather or external ears, the ear canal, parts of eardrum. This external portion of the ear is observable from the outside.
Proceeding deeper into the ear structure, we encounter the middle ear behind the eardrum. It constitutes an air-filled and hollow cavity that is lined with mucous membranes. Unlike the external ears, the middle ear does not directly communicate with the external environment. Instead, it is intricately connected to the nasal passages, facilitating proper ventilation.
The inner ear is encased within the cochlea and primarily transmits auditory signals to the brain stem. Within this innermost region, sound waves are converted into neural signals, enabling the brain to process and interpret auditory information. It is a pivotal component of a canine's auditory system, analogous to the role played by the inner ear in humans.
Unique Characteristics of Spaniel Ears
Spaniels possess distinctive ear characteristics that set them apart from other dog breeds. These unique ear traits, while endearing, also make them more susceptible to specific ear health issues. Understanding these peculiarities is crucial for Spaniel owners to ensure their furry friends enjoy optimal ear health.
One of the standout features of spaniel ears is their size and droopiness. Spaniel's ears tend to be larger, heavier, and more pendulous than many other dog breeds. This adorable trait contributes to their charming appearance and has a downside. Their ears' sheer size and droopiness can impede proper air circulation both around and inside the ear canals. This characteristic, combined with all canines having vertical ear canals that can retain fluids, creates an environment ripe for potential problems. However, the issue is particularly pronounced in Spaniels due to distinct anatomical differences in the horizontal ear canal compared to other breeds.
The consequence of these unique ear features is a propensity for Spaniels to retain moisture in their ears for extended periods. This prolonged moisture retention becomes a significant risk factor for bacterial and fungal infections, which can lead to painful and uncomfortable ear issues. Additionally, the fur inside their ears acts like a magnet, attracting allergens, dirt, and particles such as grass awns, further contributing to ear infections and inflammation.
Research, such as a study cited in PubMed, has shed light on this issue. The study surveyed over 100 canines and found that Brittany Spaniels and Cocker Spaniels exhibited a higher tendency to develop chronic recurrent and bilateral otitis externa, an external ear canal inflammatory reaction. Left untreated, it can aggravate ear damage and persist throughout a dog's life.
Another factor exacerbating ear problems in Spaniels is the excessive hair within their ear canals. This hair traps wax and reduces air circulation, creating an environment with higher humidity and decreased acidity. These conditions provide an ideal breeding ground for pathogens, including Staphylococcal bacteria, Pseudomonas species, and Malassezia yeasts. These microorganisms cause discomfort and can also be exacerbated by poor grooming practices and external parasites like ticks, mange, and fleas.
The cumulative effect of these factors is a thickening of the ear canal walls, further narrowing the ear canals and fostering an environment conducive to recurrent ear infections in Spaniels. It's essential for Spaniel owners to be aware of these unique ear characteristics and take proactive measures to maintain their pet's ear health, including regular cleaning and grooming, to mitigate these potential issues and ensure their beloved spaniel enjoys a healthy and pain-free life.
Why Ear Cleaning is Important for Spaniels?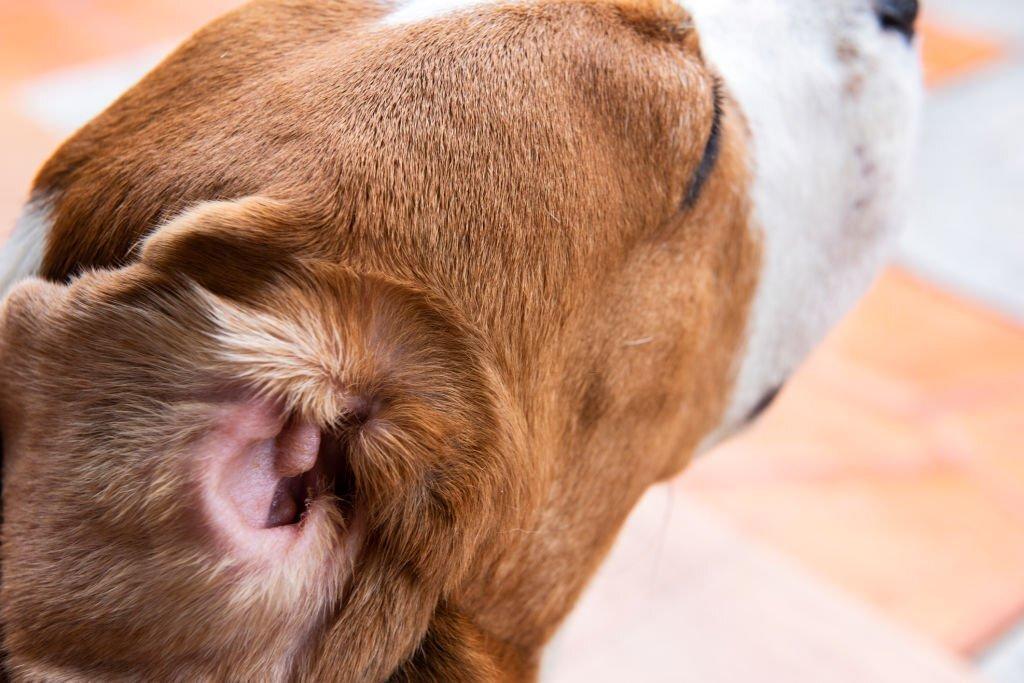 While you can't alter the unique shape of a Spaniel's ears, timely ear care is crucial. Regularly inspect your spaniel's ears for redness, odor, or excessive wax buildup. If you notice any signs of trouble, consult your veterinarian promptly. Early intervention can prevent ear issues from becoming chronic and ensure your spaniel's ear health.
Recognizing Signs of Ear Problems
Identifying early signs of ear problems in Spaniels is crucial for their well-being. Be on the lookout for these telltale indicators:
Head-Shaking and Ear Scratching
If your spaniel can't seem to stop shaking their head or constantly paws and scratches their ears, it's a sign that something may be amiss.
Redness
Inspect the inside of their ear flaps and the area around their ear canals. Redness in these areas could indicate an issue.
Unpleasant Odor
A sweet and musty smell emanating from their ears is often a sign of trouble brewing.
Eye Discharge
Yellow or red discharge from their eyes can sometimes be connected to ear problems, as the ears and eyes are interconnected.
Ear Position
Understanding your dog's ear position is important. Observe if your spaniel tilts their head or holds one ear lower than the other. These subtle cues can signal discomfort.
Establishing a Cleaning Routine
To maintain your spaniel's ear health and catch potential issues early, it's crucial to establish a regular ear-cleaning routine:
Weekly Inspection
Check your spaniel's ears weekly for signs of inflammation, infection, dirt, sensitivity, or parasites.
Monthly Cleaning
Generally, a monthly ear cleaning routine is sufficient to keep their ears healthy. However, ensure to clean their ears every time they go swimming, as moisture can lead to problems.
Professional Grooming
 If you opt for professional grooming, remember that groomers typically include ear cleaning in their sessions.
At-Home Cleaning
If you prefer to clean your spaniel's ears at home, ensure you use the right cleaning products specifically designed for dogs. This practice helps maintain ear hygiene and prevent potential issues from escalating.
By incorporating these practices into your spaniel's care routine, you can keep their ears in top condition and promptly address any emerging problems, ensuring their comfort and well-being.
Choosing the Right Ear Cleaning Products
If your spaniel doesn't have a pre-existing ear infection, you can consider some of the best commercial ear cleaners veterinarians recommend. These products are designed to maintain ear hygiene and prevent issues:
Zymox Ear Cleansers
Zymox offers a range of ear cleansers known for their effectiveness in maintaining ear health. These cleansers are gentle and can help prevent common ear issues.
Virbac Epi-Otic Advanced Ear Cleaner
Virbac's Epi-Otic Advanced Ear Cleaner is a trusted choice among veterinarians. It's designed to remove debris and provide antimicrobial properties to keep your spaniel's ears clean and infection-free.
Dr. Harvey's Herbal Ear Wash
Dr. Harvey's Herbal Ear Wash is a natural option for ear cleaning. It contains herbal ingredients that can soothe your spaniel's ears while effectively removing dirt and wax.
Malacetic Otic Cleanser
Malacetic Otic Cleanser is a well-regarded choice for maintaining ear hygiene. It can help prevent and manage ear infections while keeping your spaniel's ears clean and comfortable.
LiquidHealth Pets K9 Ear Solution
LiquidHealth Pets K9 Ear Solution is formulated to provide gentle yet thorough cleaning for your dog's ears. It's an easy-to-use option for regular ear maintenance.
Vetnique Labs Otic Bliss Ear Wipes
These convenient ear wipes from Vetnique Labs offer a mess-free way to clean your spaniel's ears. They are designed to remove dirt and odor to keep the ears clean and healthy.
Before selecting an ear cleaner, it's advisable to consult your veterinarian, especially if your spaniel has any pre-existing ear conditions or sensitivities. 
Preparing for the Ear Cleaning Process
Before you embark on the ear cleaning process for your spaniel, it's important to ensure that you have everything you need and set the right environment to make it a comfortable experience for your furry friend:
Gather Your Supplies
Collect all the necessary supplies in one place for easy access during the cleaning. You'll typically need a cotton ball or a piece of gauze, the chosen cleaning solution, and a soft cloth or towel for them to sit on comfortably. Ensure that your tools are gentle and do not have sharp ends to avoid any harm to their delicate ears.
Create a Calm Environment
Timing is crucial. Wait until your spaniel has finished playing or going for walks, so they are less restless and more likely to cooperate. A relaxed dog is easier to work with. Offering gentle rubs or scratches can further calm them down, making the process smoother.
By preparing your supplies and setting a relaxed atmosphere, you can make the ear-cleaning process a stress-free and positive experience for both you and your beloved spaniel. This ensures their ear health is maintained without any unnecessary discomfort.
Step-by-Step Guide to Cleaning Spaniel Ears
Cleaning your spaniel's ears is a crucial part of their grooming routine. Here's a step-by-step guide to ensure you do it effectively and safely:
1. Prepare Yourself
Start by sanitizing your hands to prevent introducing any contaminants into your dog's ears.
2. Ear Opening Precaution
Gently wipe the area near the opening of your spaniel's ears with a clean cloth or tissue. This prevents debris or dirt from entering the ears during cleaning.
3. Apply the Cleanser
Hold your spaniel's ear open and to the side, exposing the ear canal. Fill the exposed ear canal using the ear-cleaning solution recommended by your veterinarian. Be cautious not to insert the applicator too deeply into the ear.
4. Massage and Release
Gently pinch the base of the ear to close it and trap the cleaning solution inside. Then, massage the ear for about 30 seconds. This helps distribute the cleanser and loosen debris. Afterward, release the pinch on the ear canal and allow your spaniel to shake their head. This natural shaking motion helps dislodge debris and the excess cleanser from the ear.
5. Wipe and Dry
Use a clean cotton ball or liquid swab to carefully wipe away any excess liquid, dirt, or debris from the ear. Be gentle and avoid causing any discomfort to your dog.
Next, dry the ear flap thoroughly using a clean cloth or towel. This step is essential to prevent moisture or debris from re-entering the ear canal.
6. Ear Canal Cleaning (for Puppies)
You can use a piece of gauze or cotton wrapped around your finger for younger pups. Dampen it with the cleansing solution and gently wipe the inside of their ears. Again, take care not to insert it too deeply.
Dealing with Common Ear Issues in Spaniels
When your spaniel experiences ear issues, addressing them promptly and effectively is essential. Here's what you can do for common ear problems:
Ear Infections
If your spaniel has an ear infection, using veterinarian-prescribed medicated ear cleansers or canine-specific ear drops is crucial. These products are designed to treat the specific infection and alleviate discomfort.

Otodex-Ear drops are one such example of a vet-recommended ear solution. They effectively treat ear irritation and otitis externa, which can be caused or complicated by infection in Spaniel's ears.

Clinical trials have demonstrated Otodex's efficacy, particularly against the bacteria Pseudomonas Aeruginosa, a common culprit in ear infections. It is also effective against Otodectes cyonotis ear mites.
Consult Your Veterinarian
If you suspect that your spaniel has an ear infection or other ear-related issues, it's crucial to consult your veterinarian. They can diagnose the problem accurately and provide the appropriate treatment.

Your vet may recommend a specific treatment plan, including the use of prescribed ear drops or cleansers and any necessary oral medications.
Preventative Measures
To minimize the risk of further ear infections and other ear issues, maintain a regular ear cleaning routine for your spaniel.

Avoid excessive moisture in the ears, especially after swimming or bathing. Dry their ears thoroughly to prevent moisture-related problems.

Regularly inspect your spaniel's ears for any signs of redness, odor, or discharge, and address any issues promptly.
By promptly addressing common ear issues and following your veterinarian's guidance, you can help keep your spaniel's ears healthy and free from discomfort. Regular preventative care and proper treatment are key to ensuring their ear health.
Allergies and Ear Health in Spaniels
Allergies can significant impact the ear health of Spaniels, particularly when they develop persistent wax or debris in their ears. Here's how to address this issue:
 Identifying Allergens
Spaniels with chronic ear problems and itchiness may be experiencing allergies. In such cases, it's crucial to identify the source of allergens.

Veterinarians typically start by examining your spaniel's body and skin for signs of allergens. This examination helps pinpoint potential sources of the problem.
Otoscopy Examination
If necessary, your veterinarian may decide to perform an otoscopy. This procedure involves sedating your spaniel to allow a thorough examination of the ear canal and ear contents.

During the otoscopy, a sample of your spaniel's ear contents may be collected for further analysis.
Determining Allergen Sources
The collected ear sample is examined to determine the specific allergen sources. This analysis can help identify whether the allergies are related to substances in the ear or if they have external causes, such as inhalant or food allergies.

Based on the findings, your veterinarian will provide recommendations for treatment and management.
Treatment and Management
Depending on the allergen sources identified, your veterinarian will advise on the appropriate course of action. This may include:

Ear cleansing to address any debris or wax buildup.

Medication to alleviate symptoms or treat underlying issues.

Identifying and addressing external sources of allergies, such as inhalants or food allergies, may require dietary changes or environmental modifications.
Ongoing Care
Allergies in Spaniels may require ongoing management and monitoring. Regular check-ups with your veterinarian can help maintain your furry friend's ear health.
By identifying and addressing the underlying allergen sources, you can help alleviate discomfort and promote the overall ear health of your spaniel. Collaboration with your veterinarian is essential to develop an effective treatment plan tailored to your pet's specific needs.
Conclusion 
Regular ear maintenance is paramount for the well-being of your spaniel. It ensures their ears remain healthy, comfortable, and free from common issues like infections and wax buildup. Routine cleaning and inspection can help prevent problems from escalating and becoming chronic, saving your pet from discomfort and potential complications. Establish a regular ear care routine to maintain your spaniel's ear health. Check their ears weekly for signs of redness, odor, or discharge. Clean their ears monthly, or more frequently if they swim often, using vet-recommended cleaning products. Be gentle to avoid causing any harm. Consult your vet if you suspect ear problems, and always follow their guidance. Proper ear maintenance is a simple yet crucial aspect of pet care that contributes to your spaniel's overall comfort and well-being.
Frequently Asked Questions 
What happens if you don't clean your spaniel's ears?
If you neglect to clean your spaniel's ears regularly, several potential issues can arise:
Ear Infections: Accumulated dirt, wax, and moisture in the ears create an ideal environment for bacteria and yeast to thrive, leading to painful ear infections.
Discomfort: Dirty ears can be uncomfortable and itchy for your spaniel, causing them to scratch and shake their head frequently.
Reduced Hearing: Buildup in the ear canal can impair your dog's hearing, affecting their ability to respond to commands and interact with their environment.
Chronic Issues: Untreated ear problems can become chronic, leading to long-term discomfort and potentially requiring more intensive and costly treatment.
Secondary Issues
If left untreated, ear infections can sometimes spread to other parts of the head or body, causing additional health concerns.
Pain: Ear infections and inflammation can be painful for your spaniel, impacting their quality of life.
To avoid these problems, it's essential to establish a regular ear-cleaning routine for your spaniel and promptly address any signs of ear issues. Regular cleaning helps maintain their ear health and prevents discomfort and complications down the road.
What should I put in my dog's ears after swimming?
After your dog has been swimming, it's a good practice to clean and dry their ears to prevent moisture-related issues. Here's what you can do:
Ear Drying: Gently dry the outer part of your dog's ears with a clean, dry cloth or towel. This helps remove excess moisture that can lead to problems.
Ear Cleaning Solution: If your dog is prone to ear issues or you want to take extra precautions, you can use a vet-recommended canine ear-cleaning solution. Place a few drops of the solution into each ear, gently massage the base of the ear, and then allow your dog to shake their head. This helps remove any trapped water and debris. Be sure to follow the product's instructions and use only solutions specifically designed for dogs.
Ear Protection: If your dog is prone to frequent ear problems or you're in an environment with a lot of water exposure, consider using ear protection products designed for dogs. These can help keep water out of the ears during swimming.
If you notice any signs of ear irritation, infection, or discomfort, consult your veterinarian for guidance on appropriate care and cleaning products.
How long will it take for my dog's infection to go away?
The duration for a dog's ear infection to resolve can vary widely depending on several factors, including the type and severity of the infection, the specific treatment prescribed by the veterinarian, and how well you follow the treatment plan. Here are some general guidelines:
Acute vs. Chronic Infections: Acute ear infections that are caught early and treated promptly may start to improve within a few days to a week. Chronic or severe infections may take longer, often several weeks, to fully resolve.
Treatment Approach: The treatment prescribed by your veterinarian plays a significant role. This may include medications like antibiotics or antifungals, ear cleaners, and possibly other treatments depending on the underlying cause of the infection.
Underlying Causes: The cause of the infection matters. If the infection is a secondary issue related to allergies or another underlying health problem, addressing the root cause is crucial and may extend the treatment timeline.
Follow-Up Care: It's essential to complete the entire course of medication your veterinarian prescribes, even if the symptoms seem to improve before the medication is finished. Failure to complete the treatment can result in a relapse or incomplete resolution of the infection.
Veterinary Monitoring: Your veterinarian will likely want to see your dog for follow-up appointments to monitor progress and adjust the treatment plan if necessary. Follow their guidance closely.
If you're concerned about the progress of your dog's ear infection or if it doesn't seem to be improving as expected, contact your veterinarian for guidance. They can provide a more specific timeline and ensure that your dog receives the appropriate care to resolve the infection fully.
If you are a dog lover then, Subscribe to our weekly newsletters. No Spams!