One of the most common and excruciating health issues in canines is ear infections. And while they may initially seem to be not much of an issue, they can soon grow into much bigger recurring problems. Therefore to prevent them from happening, most vets advise using dog ear cleaning solutions.
Out of all available ear cleaning solutions, here are the six top most reviewed and preferred ear cleaners that you can invest in: Vetoquinol Ear Cleansing Solution, Vetericyn All Animal Ear Rinse, Pet MD- Dog Ear Cleaner Wipes- Otic Cleanser, ZYMOX Enzymatic Ear Solution, Virbac Epi-Otic Advanced Ear Cleaner, and the OtiClens Cleaning Solution.
To find out what makes each of these products special, keep on reading until the end. But before that let's have a look at the most common causes behind a painful ear infection in canines.
What are the causes of canine ear infections?
The list of most commonly reported causes include:
Food or skin allergies

Increased moisture content within their ears

Heightened wax build-up

Autoimmune disorders

Endocrine disorders

Infestation of infectious bacteria and other fatal microbes

Injuries or trauma to the ear
Additionally, sometimes excessive cleaning of their ear canals also contributes to the cause. This is because most parents don't follow up with a proper dry wiping. As a result, the moisture may seep deeper into the canals, serving as the breeding ground of all kinds of microbes, and finally leading to pus formation.
Best Dog Ear Cleaning Solutions
Vetoquinol Ear Cleansing Solution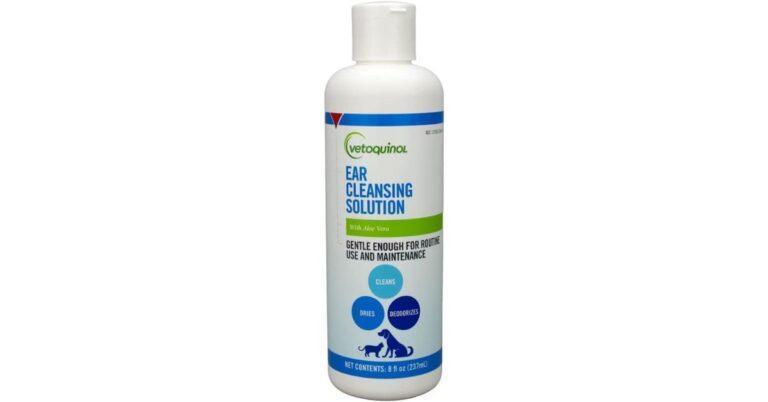 A highly vet-recommended ear cleanser, the Vetoquinol Ear Cleansing solution comes power packed with many canine-safe components. Consisting of alcohol and lactic acid in a balanced ratio, using the solution cleanses, dries, deodorizes, and even aids in maintaining the correct acidity levels of their natural secretions. This gradually reduces any risks of ear infection recurrence and hence is best for a long-lasting result.
Moreover, this gentle formula is suitable for dogs of all breeds and sizes, therefore can be used regularly, as well as if referred by the veterinarian. However, if your pup is aged six months or less, prior vet consultation is a must. While weekly, once or twice application is enough for a canine, you may need to increase the frequency in case they have been diagnosed with really dirty ears. Similarly, if your dog enjoys swimming outdoors or jumps into every ditch it comes across, you may still want to follow up with the solution.
Pros:
No rinsing required

Prevents ear infection recurrence by keeping the ears dry and healthy

Coupled with aloe for softer ears

#1 Vet-Recommended solution

Safe for all dog breeds and sizes

Available in various sizes
Cons:
Not for pups smaller than six months
Vetericyn All Animal Ear Rinse
Another one of the highly-effective options, the Vetericyn All Animal Ear Rinse is a must-have for all pet parents. Specially formulated to suit all animals, including our furry little pooches, the solution has no antibiotics, steroids or alcohol, making it completely safe on all canines.
Moreover, the solution further goes through hypochlorous technology that enhances the immune systems' working making it more efficient than ever. As a result the risk of such painful ear infections is immensely diminished when the solution is used on a regular basis.
When pumped into their ears, the solution gently smoothens the stuck debris, loosening them for removal. The unique blend offers a cooling effect to the pup and hence is a boon for itchy, swollen ears. This solution is also suitable for after-swimming and outdoor activities, although prior vet consultation is a better option, just to be on the safe side.
Pros:
Reduces ear odors

Smoothly removes stuck dirt and debris from their ears

Instantly offers soothing relief

Contains no antibiotics, steroids, and alcohol

Manufactured using Hypochlorous technology
Cons:
Might cause allergies in some pooches
Pet MD- Dog Ear Cleaner Wipes- Otic Cleanser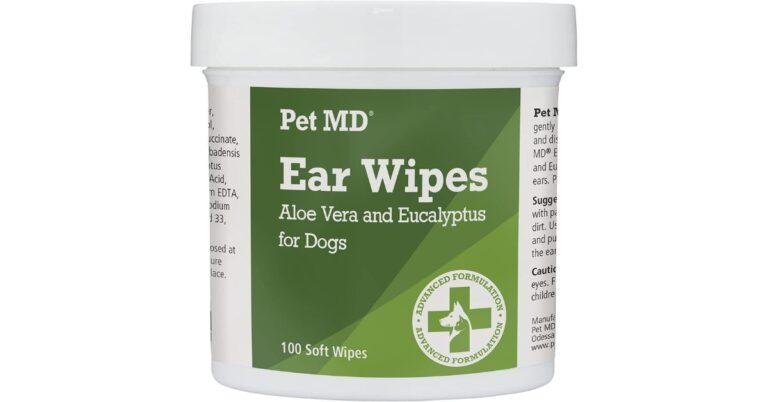 A much more efficient and easy-to-use product for pet parents, the Pet MD- Dog Ear Cleaner Wipes are veterinary-graded wipes for cleaning dirty dog ears. These wipes arrive with the fabulous blend of super soothing aloe vera and eucalyptus, that provides a smooth, gentle cleaning. So, no matter the amount of dirt build-up, pet parents can use these 100-percent alcohol free wipes as frequently as they want. 
Upon regular usage, the company claims to aid in reducing recurring ear infections and provide an instant fresh cucumber-melon smell that stays on for quite a long time. Similarly, manufactured on the USA soil, the wipes are carefully tested repeatedly to ensure the best quality and efficiency.
Pros:
Ideal for pooches over 12 weeks

Cucumber-melon scent for added freshness

100-percent alcohol free wipes

Reduces infections, eliminates odors and cleans the ear canal
Cons:
Vet consultation is a must before usage

Can cause allergic reaction in sensitive pooches
ZYMOX Enzymatic Ear Solution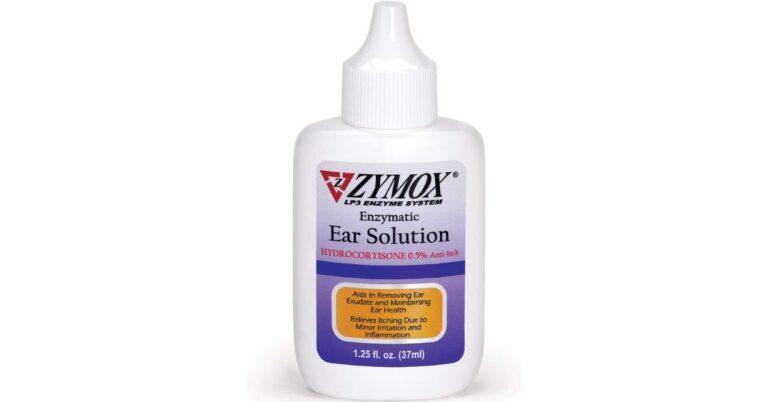 A proven no-sting ear cleansing solution, the ZYMOX Enzymatic Ear Solution comes patented with an LP3 Enzyme System. This system uses broad-centric solutions without the inclusion of harsh chemicals or any of their by-products and therefore is completely safe for the canines.
Additionally, the formula features an added biofilm-reducing complex that penetrates easily into even the hardest of stuck up debris and dirt within the pooch's ears. This in turn smoothens the process of their removal without causing any pain to the animal. Similarly to offer relief from itchy ears, the solution comes with 0.5% of Hydrocortisone and thus can be used for itchy, swollen ears.
Pros:
Suitable for all breeds and life stages

Patented with LP3 Enzyme System

Best for pain-free ear cleansing

Protects against recurring itchy ear infections

No pre-cleaning required
Cons:
May cause allergies if not used as per vet consultation

Comparatively expensive
Virbac Epi-Otic Advanced Ear Cleaner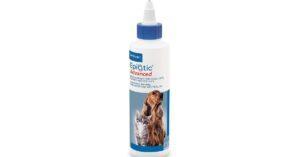 One of the best ear cleansing solutions for daily ear cleaning, the Virbac Epi-Otic Advanced Ear Cleaner arrives without any alcohol content. So, while it does not instantly dry out, proper and regular usage has been found to work wonders in reducing ear wax and other related problems.
To make it even more of a safer choice, the solution contains no chlorhexidine and has a low pH of 2.2, that doesn't inflict much changes in the acidic levels of their ear secretions. Pet parents with both feline and canine companions can invest in this product, although seeking a vet's consultation is typically advised to be on the safe side.
When used, the solution offers a soothing feel thanks to the innovative glycotechnology. Apart from that, this feature also helps instantly cut down the pain due to such ear infections by numbing down the inflammatory mediators, allowing the canine to finally relax.
Pros:
Neutralizes bad odors and offers a fresh smell

Keratolytic formula removes dead skin cells and debris

Suitable for sensitive pooches

Interrupts the working of inflammatory mediators
Cons:
Some canines may not like the smell

Not for recurring ear infections
OtiClens Cleaning Solution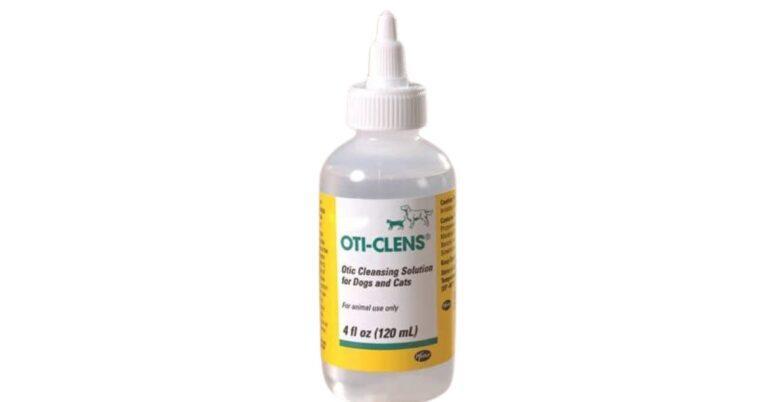 The OtiClens Cleaning Solution is a liquid-based ear cleaning solution with proven non-toxic components for canines. This easy to use cleanser comes in a 4 oz size, which pet parents can directly apply on their fur baby's ears.
Upon application, the solution travels deep down the ear canal, slowly loosening stuck foreign bodies that can be later removed by a clean cotton cloth. And while this product ranks as the last most popular and preferred canine ear cleanser, this solution is only advised for usage after the vet has green-flagged its use.
Similarly, the product is ideal for use on pups over three months of age. Therefore, if your little pup is repeatedly having stinky ears, a proper and thorough vet diagnosis is what's best.
Pros:
Easy to use solution

Offers efficient cleaning o proper usage

Has a mild smell

Suitable for both felines and canines
Cons:
Requires a vet prescription

Doesn't prevent ear infections

On the pricier side
So, in this blog we covered all about the best dog ear cleaning solutions. For more interesting updates, subscribe to spanieldogs.com today.
If you are a dog lover then, Subscribe to our weekly newsletters. No Spams!