Even though I was initially sceptical of using a calming supplement for dogs, I was forced to seek its help for my youngest dog recently.
Meet Viku!!! He is my 2.2 years old Spitz Mix baby who has a severe fear of loud sounds, especially fireworks and thunder. Moreover, given his past traumatic experience with his previous owners, he doesn't do well with new people, animals or things, and tends to scurry away with tails tucked.
In extreme cases, he even urinates or defecates within the house leaving me all worried and tensed about his health. So, fed up with all these, I finally decided to switch to some of the best calming supplements for dogs, and in this article I will be sharing my personal experience.
What is the best Calming Supplement for Dogs?
Personally, I love the VetriScience Composure which as the name suggests is a Vet approved formula. This is by far the fastest working and the best calming supplement for dogs and works wonders for my baby. Apart from that, I also have used and like ANXITANE Chewable Tablets, and the NutriPaw Calming Treats.
But before I tell you how these supplements worked for Viku, let's have a look at their basic working principle.
How do Calming Supplements for Dogs work?
Calming supplements for canines work similar to that of humans. They come consisting of powerful components which when ingested by the Fido, releases its components slowly. These components upon being released directly target the CNS and the brain of the canine, inducing enhanced production of stress releasing hormones, such as serotonin and dopamine.
In many cases (mostly dependent upon the medical formula of the supplement) administering some calming supplements even helps numb down hyperactive neural function of the canine's CNS, thereby offering them much needed relaxation.
And while this feature is significantly useful, I personally prefer the former kind of supplements. However, if you require a faster working calming medication, then the latter is the ultimate choice.
Best Calming Supplement for Dogs (My Personal Experience)
Now before we proceed, let me tell you that this blog will be completely based on my personal experience with my fur babies. This is in no way a marketing gimmick and therefore I will be not gaining profit or deemed responsible for their sale, efficiency, and delivery. Every canine differs and therefore a vet consultation is a must before using such powerful products.
My top picks include:
VetriScience Composure

ANXITANE Chewable Tablets

NutriPaw Calming Treats
VetriScience Composure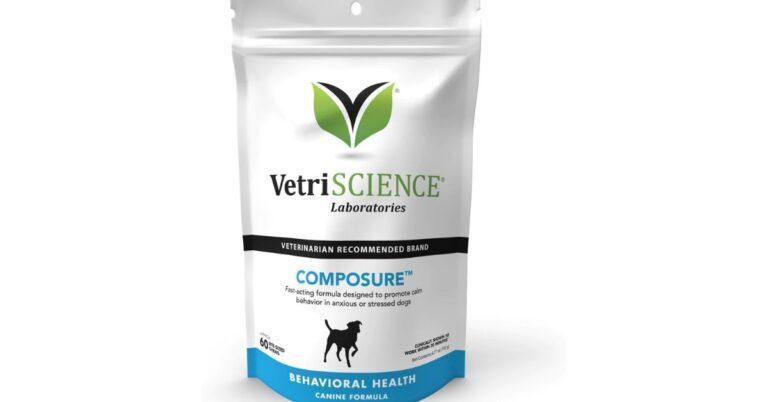 The reason why I loved the calming supplement from VetriScience is because of its multipurpose formula. Ranging from anxiety due to introduction to new surroundings to hyperactivity in canines, the medication offers relief instantly.
It comes with C3 Calming complex infused with L-theanine and thiamine and is made under the careful observation of leading researchers and vets. Therefore, every time I administer this supplement to Viku, he calms down almost within the first 15-20 minutes. He gradually stops the aggressive pacing, tail tucking, and lies down besides me, without any fear or anxiety visible in his eyes or overall body language.
I have been using this calming supplement for a few months now and I will be most likely to keep on continuing until I find an ever better product. Here are some other positive aspects of using this calming supplement for dogs.
Pros:
Vet approved formula

Supports balanced behaviour

Works instantly and lasts up to 4-5 hours

Has a National Animal Supplement Council (NASC) seal of approval

Arrives in bite-sized chews

Compatible for all canine breeds and life stages

Can be given multiple times in a single day
Precautions to be followed:
Not proven safe for use in pregnant and lactating canids

Vet consultation is a must before using this calming supplement
ANXITANE Chewable Tablets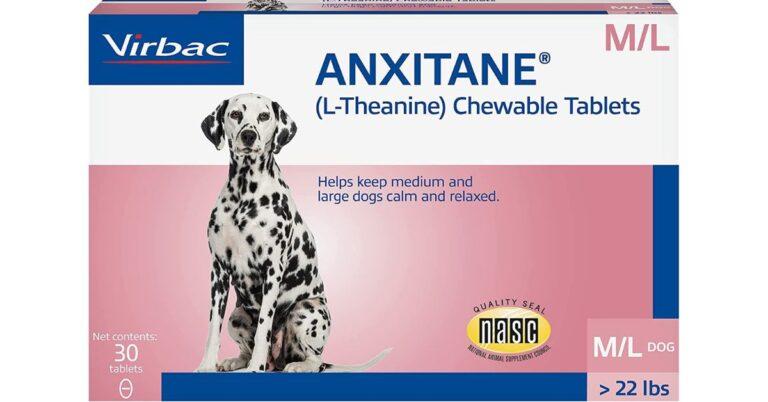 The next canine calming supplement that I prefer is the ANXITANE Chewable Tablets. They consist of L-theanine as their primary ingredient and hence is my go-to-product if the VetriScience Composure is out of stock.
Like their name suggests, these supplements are available as bite-sized chewables and are great for almost all kinds of stressful factors. This could include booming thunderstorms, grooming, long travels, and introduction to other new factors that could be stressful to the canine.
Moreover, another beneficial factor that makes it one of the best calming supplement for dogs is that they don't interact with other therapeutics. So, if the canine has been undergoing other medications, then also pawrents can safely administer the calming supplement side by side. However, I would still be extra careful and fetch my Vet's consultation before using the same.
Pros:
Available for all canine breeds and sizes

Can be used alongside other medications

Best suitable for both short-term and long-term usage

Bite-sized chewable tablets

Consists of L-theanine as the primary ingredient

Clinically proven safe
Precautions to be followed:
Always consult with your vet prior to introducing any kinds of supplements. Not all canines have similar physiological capabilities and therefore the supplement may not be the right choice for the Fido.
NutriPaw Calming Treats
My third highly preferred choice, the NutriPaw Calming Treats works not only as a calming aid to my Viku, but also serves as a tasty distraction. I usually feed one or two pieces every now and then when I am running under a budget and it works perfectly well to calm him down.
Unlike the two products mentioned above, this one comes with a 9-component formula and in a delicious pork flavour. With just a sniff, my little one goes crazy and almost forgets why he was anxious in the first place. So, that's a win-win situation for me.
However, the one fact that somehow made me less positive about this product is that it takes a lot of time for the treats to start working. Although it doesn't induce Viku to a forceful sleep, the first positive effects take more than 40 minutes to occur. Thus, while these treats could be a good option for long-term usage, they aren't the perfect choice for instant results.
Pros:
Pork flavour chewable calming treats

9-component formula

Non-sedative property

Best suitable for long-term usage
Things that can be improved:
Efficiency of the calming treats

Reduced time period for the positive effects
Precautions to be followed:
Even though this product is known as one of the best calming supplement for dogs, they should be used only after a thorough discussion with the veterinarian. This is to avoid any risks of allergic reactions or other negative side effects.
Are Calming Treats Safe for Dogs?
Well, with my experience of almost all kinds of so-called best calming supplements for dogs and what not, I can safely say that not all canine supplements will be safe for all dogs. This is very easy to understand.
Now for instance, just like all humans don't act the same way to dairy products, not all canines have the same physiologies. Apart from that there are many calming supplements that don't have a regulated composition, and thus are hard to be categorised as 'Good' or 'Bad'. Hence while one supplement will work perfectly in calming a canine, the same might cause devastating effects on another pup.
To prevent such risks, I follow a few basic steps which includes:
Consulting with my vet regarding the various calming components and their probable effect on my little one through detailed tests.

Making a purchase from reputable manufacturers only. They are popular and in demand for a reason and that's what I tend to ensure when purchasing anything for my canines.

Always thoroughly scroll through the ingredients and avoid anything that seems even relatively toxic to the health of my little pupper.

Check for NASC quality seals and other Vet-recommended labels

Efficacy, precautionary measures and potential susceptibility to certain factors
Hope, the information I have shared through this blog works out in favour, the next time you are looking for the best supplement for dogs.
You may also like:
Use My Tips to Wash Smelly Dog Collars With Ease
If you are a dog lover then, Subscribe to our weekly newsletters. No Spams!