When searching for the best dog foods, there will be so many brands and food types that may come across your mind. And while all of them are carefully designed to fit your Fido's nutrition requirements, only a few of them are ranked the highest amongst pawrents of the UK.
The list for the best dog foods in UK include: Best Raw Dog Food (Paleo Ridge), Best Adult Dry Dog Food (IAMS Adult Dry Dog Food), Best Wet Dog Food (Barking Heads Beef Waggington Wet Dog Food), and the Best Fresh Dog Food (NomNomNow Subscription Dog Food). Additionally, we will also be covering many other categories, so make sure to read until the end.
Now starting with the main topic.
Best Dog Foods in UK
Best Raw Dog Food- Paleo Ridge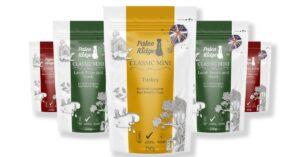 When we are talking about the best raw dog food, there is no way one can forget the Paleo Ridge products. Voted as the Best Raw Dog Food in the UK, this brand has been curating variable and customizable raw feed for canines for more than a decade now.
Available in several taste varieties, the Paleo Ridge is carefully designed to meet nutritional demands of the canines, no matter if they have been regularly having raw diets or are new to it. To make it even safer, all of their products come filler and grain free. This makes it an awesome option for all kinds of dogs.
First time pet parents can scroll through their enormous list of blogs during their free time to better understand the benefits and dangers of introducing raw diets to their lovely little ones. The company also offers a hamper option, which can be safely stored up to certain days, making it an affordable choice.
Pros:
Best for introducing raw diets

Suitable for sensitive canines and fussy eaters

Free delivery on hampers

Can be stored in freezer for a few days

Comes in reusable trays

Accorded as the Best Raw Dog Food in the UK

Complies to AAFCO standards

Offers Raw Feeding Advice through Vets
Cons:
Pricier than most raw dog food

Available in only two sizes: 500g and 1 kg trays
Best Adult Dry Dog Food- IAMS Adult Dry Dog Food
Another super popular canine food manufacturer, the IAMS Adult Dry Dog Food is no doubt one of the most preferred choices amongst pet parents. This particular item comes in numerous flavors and is designed to serve as a 100 percent complete balanced diet substitute for growing adults.
It holds a well balanced composition of Omega 3 and 6 fatty acids, Vitamin D, prebiotics, fiber, and all essential vitamins and minerals. All these components work together to provide the dog with an overall good digestive system. Moreover, when coupled with daily meals, these dry dog food prevents onset of any gastrointestinal issues, offering much needed relief to sensitive canines.
The crunchiness of the kibbles are a delight for the woofers, as it not only satisfies their chewing needs but also eliminates tartar and plaque buildup. Hence, when it comes to adult dry dog food, IAMS is a brand that you must definitely try.
Pros:
Has products for all breeds

Carefully designed with all essential components

Vitamin C & E and antioxidants improve immune system working

The crunchy texture helps get rid of tartar and plaque efficiently

Supports strong bones and proper growth

Available in many flavors and sizes

Fussy eaters love its taste
Cons:
The products have a non-return policy (differs platform wise)

The smell is a bit strong
Best Wet Dog Food- Barking Heads Beef Waggington Wet Dog Food
Now if your canine loves wet dog food, then Barking Heads Beef Waggington Wet Dog Food is a great option. As the name says, this wet dog food consists of a whooping 85 percent of fresh beef, an amount that is much higher than any other dog food manufacturing companies.
Apart from that, you can also find a perfectly calculated blending of garden chickpeas, spinach, apples, parsnips, and much more. This is to make sure that the canine is getting all kinds of nutrition and developing properly. Free from artificial flavors, colors and preservatives, most canines love the delicious smell and taste. Hence, if your woofer tends to leave food in its dish, then topping some of this delicious wet dog food can leave you with astonishing results.
This wet food is great for sensitive Fidos' as it doesn't pressurize their little tummies any further. And so there is no risk of diarrhea or constipation at any point.
Pros:
Made up of 85 percent grass-fed beef

Consists of no artificial colors, flavors and preservatives

Garden herbs ensure a uniform nutritional breakdown

Slow cooked to perfection

Gluten, grain and wheat free

Suitable for sensitive woofers

Available in multiple flavors
Cons:
Pricier than other dog food options

Shorter shelf life than dry dog food variants
Best Fresh Dog Food- NomNomNow Subscription Dog Food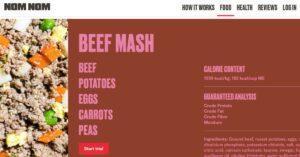 A company that believes in offering 100 percent human grade dog food that is further customized to suit each pooch's body needs, the NomNomNow Subscription Dog Food is our highly sought after choice in fresh dog food variants. This company has been working in close association with UK's leading vets for decades now, ensuring that every piece is filled with the goodness of health and taste.
Each of NomNomNow's products carry an AAFCO standards approval, making it a trust-worthy destination for all your Fido's dietary needs. And while the company also offers other dog food types, the NomNomNow Subscription Fresh Dog Food is undeniably the best.
Upon visiting the site, pet parents are encouraged to answer a questionnaire that helps the vets to better understand your little canine. Once done, you can then scroll from the available choices and order whatever pack you would like. Their fresh dog food plan starts from a minimal daily charge of £2.70 which is quite an affordable plan to be frank, if you are into quality fresh dog food.
Pros:
Handmade by leading licensed Vets and Canine Nutritional Specialists

Complies to the AAFCO Food Nutrient Profiles

Customizable and completely safe

Arrives in several flavors, blends, and vegan options

Made from human-grade meat and vegetables

Feasible subscription plans

Offers one-on-one consultation with Vets and Dieticians
Cons:
Shorter shelf life

Relatively affordable only on subscription plans
Best Cold Pressed Dog Food- Salubrious Cold Pressed Dog Food
A worthy contender to popular air-dried and hot-pressed dog foods, the Salubrious Cold Pressed Dog Food is super nutritious. As the name suggests, these particular kibbles are made at a considerably lower temperature which helps retain all nutritional benefits of their components.
The cold-pressed kibbles are perfectly balanced with a variety of ingredients. When administered properly, the dry food is gentle on the canine's tummies, nutritionally supportive for their body functions and also immensely beneficial for their gut. Furthermore, as the pellets are relatively smaller sized than normal dry kibbles, they don't result in bloating or pose any choking hazard to the pup.
The company also claims that all of its ingredients are grown and produced within Staffordshire. This means relatively lesser Carbon Print and therefore less bucks spent on taxes.
Pros:
For all life stages and canine breeds

All ingredients grown and produced within Staffordshire

Promotes gut health

Has zero toxic chemicals, additives, preservatives, and artificial flavors

Comes in many flavor and meat options

Complies all AAFCO standards
Cons:
Fussy eaters may not like the taste

Prior vet consultation is a must
Best Grain-Free Dog Food- Lily's Kitchen Chicken and Duck Countryside Casserole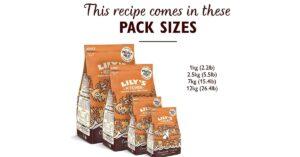 Specially manufactured keeping in mind the needs of sensitive canines, the Lily's Kitchen Chicken and Duck Countryside Casserole elegantly carries both taste and utmost safety. Composed with 31 percent chicken and 8 percent duck meat, this particular product ranks highest amongst all other hypoallergenic brands.
More importantly, thanks to its human grade dog food composition, Lily's Kitchen has also been accorded by a Royal Warrant from HRH The Prince of Wales. What more do you need when it comes to the product's quality certificate?
Keeping in mind the requirements of hypoallergenic breeds and sensitive pooches, the feed contains glucosamine, chondroitin, Omega 3 &6 fatty acids, no sugar, and is completely grain free. While the former is responsible for ensuring stronger bones and joints, the latter supports shinier, softer, and smoother dog skin and fur. So, with a single investment, your little beloved fur baby gets a number of benefits.
Pros:
Nutritionally balanced diet

Contains no sugar and is completely grain free

Best for canines that have weak digestive systems

Accorded by a Royal Warrant from HRH The Prince of Wales

Verified by the PFMA and complies all AAFCO standards

Blended with organic chicken, duck and sweet potatoes

Several quantity options
Cons:
Needs a prior vet consultation for safety

Expensive when bought individually
Best Dog Food for Sensitive Skin- Eukanuba Daily Care Sensitive Skin Dog Food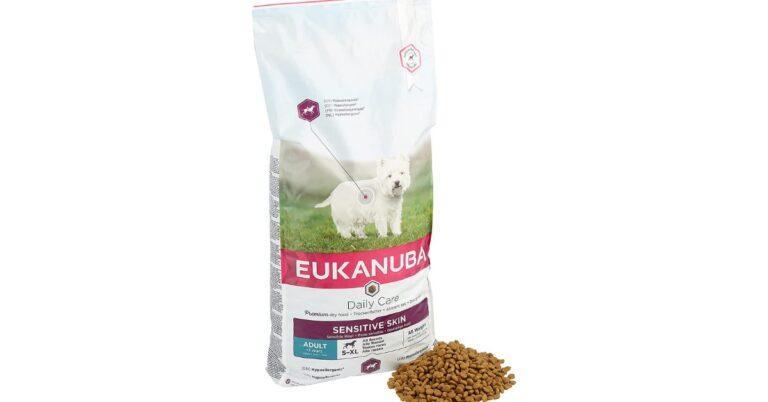 Unlike any other dog food brands mentioned here, Eukanuba Daily Care Sensitive Skin Dog Food is particularly made for dogs with skin issues. So, if you have got a pup that tends to have painful itchy rashes every time he/she is introduced to a new feed, then Eukanuba has got your back.
Consisting of a single protein, fish, each of the kibbles are loaded with Omega 3 & 6 fatty acids. This makes the feed a wonderful option for their skin and fur, preventing the onset of allergies or worse food sensitivities. This is however a prescription dog food, and hence pawrents should only go for it if advised by their vets or qualified and experienced canine nutritional specialists.
Additionally, the kibbles are coated with DentaDefense. A special coating which keeps tartar and plaque away from the little one's teeth and gums, making sure they have great oral hygiene.
Pros:
Ideal for hypoallergenic dogs and woofers with sensitive skin

Keeps skin issues on bay with its single protein composition

Regular consumption warrants healthy skin and coat

Encoated with DentaDefenese to help keep teeth and gums healthy

Supports healthy digestion

Best for dogs with unique health needs
Cons:
Fussy eaters may not consume the feed initially

Vet consultation is necessary before administration
Best Dog Treats- Lily's Kitchen Dog Treats
Lily's Kitchen Dog Treats, a well-known brand well loved by pet parents as well as leading vets, this pack of dog treats is a highly sought after product both online and offline. Made up of all organic elements, these treats are suitable for both puppies and adults. However, make sure that the puppy is at least 6 months or older to ensure a safe digestion.
To make it even more safer and nutritionally rich, the products are made without any grains, derivatives, preservatives and fillers. So, with every bite the woofer is exposed to ultimate delicacy and superior health. These treats are ideal for regular consumption, rewarding and even for use as training treats. Just take a few of these palatable wonders within your hand and treat your dog every time they follow your command.
Carefully manufactured to not hinder your Fido's digestive system, pet parents will however need to maintain uniformity in the amount of treats offered. Dog treats should never cover more than 10 percent of your dog's daily diet. As an unmonitored use of treats can easily lead to obesity and loss of appetite.
Pros:
Contains multiple treat variants in one pack

Ideal for training, rewarding, and meal times

Safe for consumption in all life stages (puppies over 6 months)

Made with all natural ingredients

Arrives in multiple flavors and sizes

Without any fillers, grain, preservatives, derivatives, etc

Best for fussy eaters
Cons:
Smell is very strong

The dog may not like all treat flavors
Best Food for Puppies- Wellness CORE Puppy Original Dry Puppy Food
Now coming on to a canine product that is specifically made for younger pups, the Wellness CORE Puppy Original Dry puppy Food arrives in many variants. Starting from a tasty blend of chicken and turkey, to individual packets of both meat types, this one is something every pet parent should try for their little ones.
Unlike other dog foods, this dry puppy food is perfectly blended with many essential nutrients, vitamins and minerals. Thus, when administered the feed not only fills their little tummies but also ensures overall growth and development. Known to aid in brain and eye development, when offered in the right quantities the antioxidants within enhance the working of the immune system. This allows the pup to grow strong and not fall ill with infections every now and then.
The feed is also made up of fresh meat and when it comes to nutrition, it is packed with a whopping 32-37 percent of proteins. This makes it a must try for all pawrents, although consulting with a veterinarian is something that should never be compromised.
Pros:
Consists of optimal levels of DHA, essential vitamins and minerals

Arrives with fresh organic meat

Supports strong immune system

Easy to digest and aids better stool quality

Improves immune system working

Comes without inclusion of soy, wheat, dairy, cereals, gluten, corn, eggs

No artificial colors, preservatives and flavors added
Cons:
Prior vet consultation is necessary

Available in only chicken and turkey flavors
Best Senior Dog Food- Harringtons Complete Senior Dry Dog Food
Just like puppy food, the Harringtons Complete Senior Dry Dog Food is exclusively designed to fulfill health and nutritional needs of senior dogs. Thus, contrary to normal adult food types, these kibbles are power packed with vitamins and minerals that are essential to their aging muscles, bones and joints.
The feed, unlike many other dry dog food brands, consists of zero artificial colors, flavors, soy, dairy, and wheat. This makes them a good choice for all breeds, as it is both easy to digest and doesn't risk the onset of allergies and other health conditions.
Additionally, this particular feed is also rich in Omega 3&6 oils, whole oats, and prebiotics FOS. This helps ensure that the canine is getting everything it needs for its daily activities. The feed will keep them not only healthy but also offer them with ample energy, so that the canine can run here and there without pressuring their joints or bones.
Pros:
Suitable for all canine breeds

Glucosamine and Chondroitin ensures improved joint structure and movement

Rich in Omega 3&6 oils

Regular usage ensures softer, smoother and silkier coat

Supports healthy heart and gut health

Keeps stool quality uniform

Improves digestion and absorption

Arrives in multiple flavors
Cons:
On the pricier side

Some senior fussy eaters may not like the taste
Best Overall Dog Food- Royal Canin
A name that has been in headlines for everything good, Royal Canin is a dog food brand that deals in both retail and vet prescribed feeds. Developing premium quality products for all breeds, including our feline friends, Royal Canin claims of following all health and food safety standards.
Starting from mini gravy chunks to specifically vet prescribed feed for gastrointestinal issues they have products for everything that a canine might need in its entire life. The company also works in close association with many leading vets and canine nutritional specialists who work together to create new formulations and therefore ensure safety of all little canines.
Royal Canin also offers a loyalty program for its repeated buyers and is neither too expensive nor too cheap. Pet parents with special needs pups can also consult with a vet directly at the site before purchasing from the platform.
Pros:
Best overall food brand

Products available for all life stages and canine breeds

High quality products with top food safety reviews

Accorded by many prizes and recognitions

Offers an affordable loyalty program for regular buyers

Available in both online and offline platforms

Vet consultation is also accessible

Products designed by leading canine nutritional specialists
Cons:
Vet consultation before administration is a must

Individual purchases can be expensive
So, this was all about the best dog food in the UK that you can buy for your canine. We will be looking forward to your reviews and opinions, so don't forget to comment down below.
NOTE- This is a list that has been designed after extensive research and comparison of numerous popular dog food brands and products available in the UK. So, we will not be held responsible in any way for issues occurring due to faulty orders, deliveries or hiked prices. This blog is for informational purpose only and has no other meaning to it.
You may also like:
Best Age to Train Dog for Electric Fence
If you are a dog lover then, Subscribe to our weekly newsletters. No Spams!