The thought of having a pet dog directly leads us to our likes in breeds. Finding a dog breed that can relate to your personality is like a reward. 
If you are searching for a royalty dog, then your first option can be a Cavalier King Charles Spaniel. The name shows that this breed comes from British royal history.
About Cavalier King Charles Spaniel
The Cavalier has a sweet and soft look that can melt hearts. Besides lovely looks, Cavaliers are full of graceful joy, making them the nobles among other dog breeds. 
The average height of these dogs is no taller than 13 inches. A Cavalier King's silky and richly colored trait makes it the most adorable pet dog. 
We can call Cavalier's sophisticated nobles. But they can become very friendly and leave their royal standards at times. Additionally, they get along well with children and other dogs as well. 
You will see the fantastic trait of adaptability among the Cavaliers. Also, they can show the spirit of athletes and couch potatoes, depending on your lifestyle.
A brief description of the Cavalier King Charles Spaniel breed so far must be enough to make you excited already. But before you proceed, here are the 7 questions to consider before getting a Cavalier King Charles Spaniel:
1. What are the Common Health Problems in Cavalier Dogs? 
Like many purebred dogs, Cavalier dogs are also prone to health problems. The following are the most common health issues found in Cavaliers. 
Heart Problems

are widespread among Cavaliers. Heart diseases are caused because of the weak mitral valve in dogs. 

 

Dental Disease

can be caused by tartar buildup on your pet's teeth. This tartar leads to irritation, inflammation of gums, and tooth loss in the end. 

Ear Problems

are caused because Cavaliers have long and floppy ears. Overgrowth of ear hairs and accumulation of earwax lead to ear diseases. 

Neurological Diseases

such as Epilepsy in Cavaliers is the most common disease among this breed. This condition is primarily genetic in nature. 
2. Do Cavaliers have Good Temperament and Sociability? 
The ability of pet dogs to build positive relations is essential. It helps your pet to interact with new environments positively. 
Cavaliers are highly friendly and capable of connecting with people around them. For new owners, this social behavior would be a dream-like situation. 
Usually, Cavaliers show their love by quickly jumping in your lap; this is why they are considered a toy breed. They get comfy with new surroundings in no time. 
Note that Cavaliers' behavior depends on their mental and physical health. They may show irritation initially due to separation anxiety but get better with time.  
Your pet can get along very well with proper training. Your Cavalier's sociability can be increased through training from one of the Cavalier King Charles Spaniel Breeders. 
3. Is it Easy to Groom Cavalier King Charles Spaniel?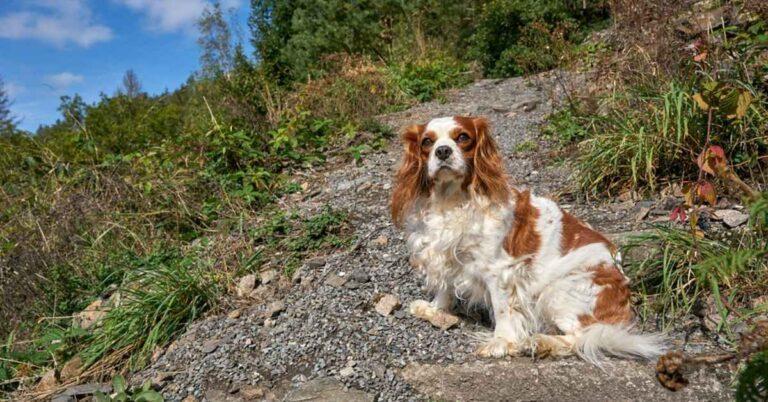 Spaniels, as companion dogs, love to please their owner. So it is much easier to train them as pets. 
The Cavaliers are quick learners. They learn basic commands quickly at a very young age. 
When training your Cavalier, you must consider exposing your pet to other animals, people, and environments. This way, you can help your pet adjust to your environment.
4. Are Cavalier good watchdogs? 
Cavaliers are not good guards because they are a sweet and calm dog breed. Cavaliers always try to stay calm and quiet when they see new people, unlike Guard dogs such as Pinscher, German Shepherd, and Bullmastiffs. 
Also, the small size of the Cavalier King Charles Spaniel does not allow them to show any violent behaviors against threats. It means that you and your pup are in danger in any alarming situation.  
Usually, this dog breed stays happy and healthy among the loving people around them. Alarming situations and loneliness can hurt the Cavaliers.
5. Are Cavaliers good for Therapy?
Did you know that dogs are very helpful emotional support animals? Cavaliers are famous for their healing company, like many other dog breeds. 
Cavaliers are special therapy dogs because of their joyful and optimistic nature. They are mentally sharp and easy to train.
Many people choose Cavaliers to add joy to their lives for such reasons. Being a toy breed, Cavaliers make wonderful service animals. 
So, a Cavalier pet dog can brighten up your everyday life in no time.
6. How much having a Cavalier can Cost?
Like any other pet animal, having a Cavalier will need financial input for a healthy lifestyle. Your budget must cover the essential needs of your pet. 
Usually, Cavalier King Charles Spaniels are considered one of the costliest breeds of dogs. But if you are looking for a cheaper deal, you should look for a mixed breed. 
The costs of having a Cavalier as a pet may include their maintenance. Such expenses may include the following:  
Vaccinations

Trays and Bowls for food

Leash

Collars

Dog License

Vet appointments
The above things are essential to help your pet grow happy and healthy. So, it would be best to plan the cost of having a Cavalier beforehand.
7. Are Cavaliers Comfortable with Other Animals?
Having a Cavalier pet along with another pet animal is a good idea. We already know that the Cavaliers are highly playful pets. 
They show friendly behaviors towards people, places, and environments. Usually, Cavalier King Charles Spaniels love to spend time with the ones they know. 
Also, they show a playful attitude toward other dogs as well. More importantly, they do not feel intimidated by big dogs. 
Similarly, Cavaliers can quickly get along with other animals if trained correctly; They accept pet cats as friends instead of prey if they grow up together. 
With small pets like birds and hamsters, Cavaliers try to chase them to play. So, it is a relief that this breed is suitable for pets with other animals at home.
Closing Remarks
Before getting a pet dog, you should always consider many essential things. If you want a Cavalier King Charles Spaniel, you must know about health issues, costs, behaviors, and good ways to train your pet. 
This breed of dog does not necessarily need high maintenance. But just like any other dog breed, Cavalier may need preparations beforehand. 
By knowing the Cavalier's nature and needs, you decide whether to have a Cavalier dog pet or not. With a cheerful breed like Cavaliers, you can always hope for a joyful friend.
If you are a dog lover then, Subscribe to our weekly newsletters. No Spams!