Cavalier King Charles Spaniels!!! A majestic sub-breed of Spaniels, these pups are known to be people-pleasers. They absolutely adore their families and love spending time lazing and cuddling on their pawrent's laps.
And while this sub-breed is categorized to toy AKC classification, given their small stature, some pups may keep you second guessing with their size. So, if you too have a huge Cavalier King Charles Spaniel, this blog is for you.
Why is my Cavalier King Charles Spaniel so Big?
Typically the side effect of overfeeding, and not providing ample physical stimulation, sometimes these woofers grow twice or even thrice their normal size. The official height for Cavalier King Charles Spaniel ranges between 12-13 inches with a normal weight of 10-18 lbs. But if they are overfed, then the canine will fast gain fat layers, making them look huge.
And even though some over enthusiastic pet parents may claim their pups to be 'simply healthier than others', it can cause devastating impacts on the pup in the long run. Therefore, most vets and canine nutritional specialists advise keeping a close tab on everything that goes inside your little Fido's mouth.
Is there any other reason for the big size of my dog?
Apart from an unmonitored diet and lack of exercise, some Cavalier pups might also become big pertaining to health conditions. A poorly functioning metabolism, digestive issues, kidney and liver problems, and a genetic exposure are the most common causes leading to the huge size.
To understand the notion better, here is a brief description of how each one of these factors affect the canine's size.
Low metabolism rate
All dogs are different. So, while some Cavalier King Charles Spaniels might need a relatively higher nutritive supply to keep on going, others will do fine with a normal amount of calories.
Given these variable nutrient requirements, pet parents are generally advised to seek consultation from a professional. This way there won't be a risk of overfeeding your pooch, and all ingested components would be properly digested. However when ignored, low metabolism rate can quicken the fat accumulation process, giving rise to undesirable size increase that can lead to far worse medical conditions.
Poor Digestion
Just like low metabolism, a dog with digestive issues is also prone to gaining size uncontrollably in a short amount of time. This is because such a digestive system keeps the pup from absorbing essential nutrients and later being used for regular activities. Hence as a result, the food just keeps piling up one after another, leaving no space for the canine to work it out.
Kidney and Liver problems
Another reason why your Cavalier King Charles Spaniel is gaining enormous size could be due to potential kidney and liver problems. While these two organs don't act as primary digestive structures, they do play a major role in ensuring a smooth digestion.
Responsible for secreting the bile juice, when the canine's liver is not working properly, it also affects their kidneys. As a result, the little one's body is not able to efficiently digest fat from the food, which then leads to fattening up. Kidney and liver issues can also lead to extremities in the later stage, so if the woofer shows any secondary signs, immediate vet care must be administered.
A rarity
Usually, Cavaliers weigh around 10-20lbs. However, some could weigh up to a staggering 30-50 pounds without any record of medical conditions. Such pups, also known as 'Giant Cavaliers' are although very rare to find, but they do exist.
These pups are relatively frequent when one of the two parents or both of them are giant Cavaliers themselves. They look exactly like other Cavalier King Charles Spaniels, the only difference being a little more height and weight.
To know if your pup is one of them, you could consult with the breeder or have the pup go through a DNA test at your vet's clinic.
Genetic Exposure
Finally, if the pupper's parents are obese, then the risk for the pup suffering from the same is also simultaneously heightened. Although the risk of running into a obese Cavalier is very low, thanks to their gun dog tendencies, in case the condition runs in their blood, there is nothing much you can do.
To avoid running into such circumstances, experts advise pawrents to get a pup from reputed and licensed breeders only. Such breeders are very focused and knowledgeable when it comes to following the standard breeding norms, and therefore you run a lower chance of ending with a pup that is predisposed to obesity from its birth.
So, how do I know if my dog is overweight?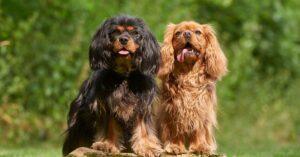 There are a couple of methods you can try. These include:
The touch and feel method
As the name suggests, you simply need to use your fingers to recognize if your pet is overweight, underweight or in perfect size.
So, if you can touch their ribs without having to press too much, the dog is severely underweight.

In a healthy Cavalier, the ribs won't be visibly sticking out, but upon nudging gently, you can feel them against your fingers.

However, if you have to force your way in just to touch their ribs, then the pup is extremely overweight.
Depending upon the results, proper care must be ensured immediately. You can also seek a professional's consultation in case you don't know what should be done to curb the issue.
The aerial view
A less prominent method, in this process you will need to stand up on a chair or a tool to get an elevated view of your Cavalier King Charles Spaniel. Once done, look over your pup carefully. Healthy pups don't have their ribs sticking out, exhibit an hourglass figure, and a visible waistline that gives them an overally healthy appearance.
However, if the pup is either underweight or has too many fat layers, this will also give them an unrealistic outlook. In the former case, you would be able to mark their ribs layout while in the latter case the hourglass figure, and the waistline would be missing.
Both of these methods are highly efficient when done in the correct manner and bear no extra costs. They are also beneficial for routine checkups as they give an idea on what is needed to be done in the next phase.
What are the dangers of an overgrown Cavalier King Charles Spaniel?
There is a reason why AKC follows a standardized chart for all breeds, including height, weight, and other necessary factors. The chart is specially designed to facilitate pet owners (both beginners and pros) upbring their Cavalier puppies the right way. Without this, there could be a total mayhem in their development, giving rise to sick puppies and what not.
For instance, when a Cavalier King Charles Spaniel seems bigger than the rest, it could lead to:
Increased exposure to many types of cancer, diabetes, heart conditions

Severe lethargy and irritability

Extreme mood swings

Urinary bladder stones

Osteoarthritis and heightened pressure on knees, joints and bones

Less tolerance to heat and cold climates

Chronic kidney and liver issues

Gastrointestinal problems

Trouble in breathing, etc.
All of these conditions are severely deteriorating on the pup's health. Hence if you suspect your Cavalier to be gaining size uncontrollably, seeking a veterinarian's advice is the first thing to do.
So, in this blog we covered everything that is there to know about the Cavalier King Charles Spaniels. For more interesting blogs, subscribe to our mailing list at spanieldogs.com today.
You may also like:
How to know if your Dog is Vomiting or Regurgitating?
Reference:
vcahospitals.com/know-your-pet/obesity-in-dogs#:~:text=Using%20body%20weight%20as%20a,above%20their%20ideal%20body%20weight.
If you are a dog lover then, Subscribe to our weekly newsletters. No Spams!