For a pet parent watching their pooch throw up is never a good experience. While there could be a lot of factors behind such an instance, the way the mess looks can mean either of two things, i.e. the dog has either vomited or regurgitated. But what do these two terms mean?
In layman's language, vomiting is when a dog retches digested or semi digested food out of his/her stomach. However, in regurgitation, they simply burp out anything they might have consumed prior to the act. The thrown out components are generally undigested food or other things that could have irritated their esophagus. And while both of them initially seem the same, there are a lot of subtle points that make one of them a really scary and painful experience for the canine.
To know more keep on reading.
What is the difference between Vomiting and Regurgitating?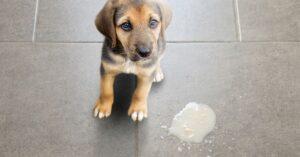 Vomiting
An active process through which canines get rid of semi-digested contents , vomiting is relatively a gradual process. When feeling like throwing up, the dog will start pacing around, make retching sounds, which is then followed by the ejection of partially digested contents. As all the stomach muscles of the dog are being used, the mess might also consist of a little intestinal fluid.
The color of vomit is usually clear, white foamy or yellow, although sometimes it could also be brown or green in color. This depends upon the food that they have consumed or the bodily fluid that has managed to seep within the content that they thrown out. Apart from that, vomits are usually fine textured, given most of the components are already digested or half past the initial breakdown process.
At times, vomit may also be red in color. This usually happens if the dog suffers from severe gastrointestinal issues or other severe medical conditions. The red color is due to fresh red blood cells that have mixed with the puke and can be quite scary to look at. Thus, if you notice even the tiniest bit of red tinges, immediately take the pup to a vet clinic. This way you can save them from health extremities, pain and discomfort by starting necessary treatment at the right time.
Regurgitating
Unlike vomiting, regurgitation is a passive process and doesn't include contraction of stomach muscles. So, during this act, the canine simply burps out the content, with no sound, which is why most often you don't even know when the canine has made a mess.
Upon regurgitating, undigested components come out of the little Fido's body. This can be anything, from recently consumed food, water, to even toxic items like small plastics, fabric, fur, or paper that the canine has managed to munch down. So, regurgitated mess is typically rough textured, with things visible clearly. They appear rugged and may sometimes have mucus along with the ejected elements.
Now if you have ever noticed some dog breeds are more prone to regurgitation than others. This mostly includes brachycephalic breeds, although a lot of other factors could also be the cause. The most common causes include megaesophagus (a condition where the esophagus dilates and loses mobility leading to issues during food transfer), ulcers or if any foreign object is stuck within the food pipe.
However, no matter what the cause might be, regurgitation is not something to be ignored carelessly. Immediate medical attention is a must for the woofer to recover to its previous health, delaying which will only worsen the situation.
What causes vomiting or regurgitation in canines?
While the underlying factors can be many, here are some commonly reported factors that could be contributing to the same.
Causes of Vomiting
Stomach or esophagus irritation

Ulcers, inflammation or foreign obstruction

Pancreatitis

Kidney stones, infection or obstruction

Liver disease

Hormonal disorders

Extreme body aches

Ingestion of toxic materials

Consistent headache and a feeling of nausea

Extreme play or jerking actions after meal time
Apart from these, if the food has gone bad, then also the pooch will want to eject the ingested contents. Similarly, serious health conditions such as parvo can make the woofer vomit every now and then. When infected, their intestinal walls get severely weak, leading to throwing up anything and everything they try to consume. Such an instance will require immediate advanced care, as parvo has a high mortality count, like several other critical health issues.
Causes of Regurgitation
Esophagitis (inflammation of the esophagus)

Megaesophagus (severe dilation of the food pipe with reduced mobility)

Vascular Ring Anomaly/Persistent Right Aortic Arch (malformations in the aortic arch of the main blood vessel)

Myasthenia Gravis (chronic autoimmune neuromuscular disease)
So, as compared to vomiting a regurgitating dog is a greater bad news. While once in a while regurgitation is okay, if it happens too frequently or after consumption of certain feeds, then the pooch needs specialist care at the earliest.
Why should I care about differentiating the two?
Like we covered above, vomiting and regurgitation occur due to completely different reasons, each one being a little more scary than the other. So, when you understand the basic difference between the two, it is easier for the doctor. They can carry on further diagnosis and treatment, without having to utilize time and resources in finding what might have happened. More time is saved which can then be used in ensuring that the canine is getting optimal treatment to recover back to its previous health.
What is the diagnosis and treatment procedure afterwards?
Depending upon the mess they have created, the doctor will at first run the pooch through several blood and urine tests. This will be followed by either a detailed analysis of their stomach on intestine (in case of vomit) or a diagnostic testing of their esophagus (if regurgitation). This may include X-rays, MRI, or other advanced procedures that may be available at the vet's disposal.
The diagnostic measures are done to find the underlying reason of the constant throwing up episodes and thereby devise a treatment plan that can efficiently cure the tiny Fido. Usually, based upon the severity of their condition, the treatment plan can last for days, months or even years, until the pup is all fit and fine.
So, in this blog we tried covering everything there is to know about dogs and the difference between their vomiting and regurgitation. If you would like us to cover more such interesting topics, make sure to subscribe to our mailing list today.
You may also like:
Reference:
vcahospitals.com/know-your-pet/megaesophagus#:~:text=Megaesophagus%20is%20not%20a%20single,move%20food%20into%20the%20stomach).

mayoclinic.org/diseases-conditions/vascular-rings/cdc-20389579#:~:text=Vascular%20rings%20are%20malformations%20of,your%20mouth%20to%20your%20stomach.
If you are a dog lover then, Subscribe to our weekly newsletters. No Spams!