Yes, dogs can eat rice pudding, given that it is made up of canine-safe ingredients. Generally rice pudding that is made for humans has a lot of butter, milk, raisins and sugar which are very toxic for dogs. So, if your dog is good with lactose, you can offer him/her a little of this sweet dish, minus any other spices. Ignoring this simple thing can lead to devastating consequences on the pooch's health and therefore is an unwise choice.
But before we start, here's a detailed breakdown of what goes into the making of rice pudding.
What is Rice Pudding? How is it cooked?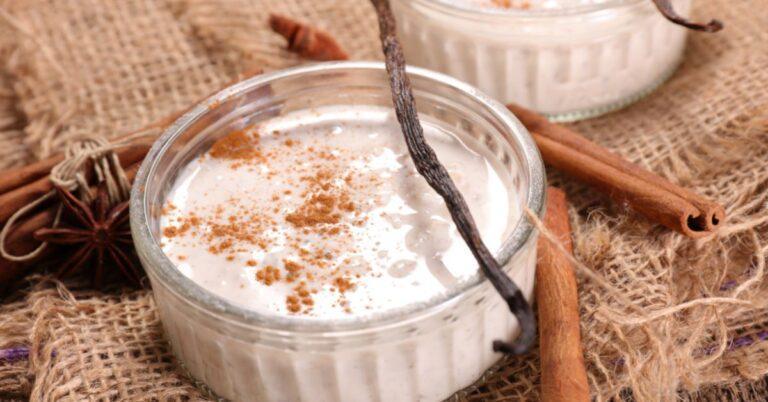 Rice pudding is a human-grade food that is often cooked for snack purposes. As the name suggests, this particular feed is made up of rice. However to add taste, butter, egg, and milk is usually added which can be later coupled with a few other things.
For instance, sugar and honey adds to the sweetness, while raisins, cinnamon and other spices give the dish a sweet smell, improving its aesthetics. Some individuals also put nutmeg into the dish, making it a creamy, palatable snack that they can feast upon every now and then.
So, is Rice Pudding Safe for Canine Consumption?
Well, the answer depends upon what ingredients have been used to make the dish. If you are going the traditional way and pouring all kinds of spices and dry fruits, then the rice pudding is not safe for canine consumption.
Dry fruits like raisins are proven to be completely toxic for our little Fido's and the same goes for spices like cinnamon, nutmeg, cocoa powder, etc. Even a tiny bit of this relatively amazing feed can severely impact their digestive and neural systems, so offering rice pudding which is cooked using these elements is never a wise choice.
However, on the other side, if the rice pudding consists of milk, eggs and butter, then your beloved pupper can have a few slurps. The huge amount of butter is never good for their health, thus always be mindful of how much you are letting them have from the dish.
Similarly, if feeding for the first time, look out for any symptoms of potential lactose intolerance. Not all pups can seamlessly digest milk and dairy products, and hence might exhibit certain side effects to the dish. These situations can easily go out of control, therefore keeping a safe eye on the pup is absolutely necessary.
What are the risks of giving Rice Pudding to my Dogs?
The list of potential side effects include:
Diarrhea/Constipation

Vomiting

Skin rashes and blisters

Xylitol toxicosis

Gastrointestinal issues

Swelling in throat

Trouble in breathing

Loss of muscle control

Nausea

Loss of appetite

Violent concussive seizures

Fainting

Pancreatitis
Moreover, as discussed previously, if the dog is lactose intolerant, the entire situation can go out of hand real quick. The dog may suffer from severe tummy ache, leaving them rolling from here and there in pain.
So, to be on the safe side, it is always advised to consult a vet or a qualified canine nutritional specialist for the same. Any new food introductions should always be carefully evaluated by a specialist before administering to the canine directly. This way there won't be any risk of exposing them to serious health conditions in a bid to impress their palate.
How to make my own Canine safe Rice Pudding?
While there are literally thousands of recipes you can scroll through, this is by far the simplest canine-safe rice pudding recipe you can try out. For this you will need:
½ cup of uncooked rice (preferably white rice)

2 tablespoons of cooked ground beef

1 ½ cups of milk
The amount of ingredients can vary based upon how much you are thinking of preparing. Once everything is ready, combine all the ingredients into an oven safe dish and cook for about 45 minutes at a temperature of 350 degrees Fahrenheit.
Make sure to keep on stirring every once in a while to keep the rice from sticking to the bottom of the dish. Afterwards, let the dish cool down before serving a tiny amount of the homemade dog-safe rice pudding to your beloved Fido. You can also store the dish in the freezer for at most 2 days and offer a little bit of it to your canine as a treat or a quick snack.
Does the dish have any nutritional benefits for dogs?
When prepared in the correct manner and the right proportions, consumption of canine-safe rice pudding can be quite beneficial on a dog's body. To understand these in detail, let's have a detailed look at the dish's nutritional breakdown.
White rice
A common ingredient in most dog foods, white rice offers high amounts of energy to the pup. Consisting of 79 percent of carbohydrates, copper, manganese, Vitamins B5 and B6, a monitored consumption of white rice has been linked to strong bones and a healthy gut system.
White rice is also comparatively less pressurizing on their little tummies. It is easy to digest and doesn't cause gas or bloating issues, unlike other rice forms.
Eggs
Almost all puppies love eggs. They are not only a high source of protein and calcium, but also quite easy to digest and completely safe for canine consumption.
Eggs also come bearing an enormous quantity of Vitamin B5, B12, protein and fats which supports overall health. Vets often advise offering boiled eggs to growing puppies as it supports stronger bones and teeth. And although many pet parents may advise offering only the white part of the egg to the canine, believe me everything from the yolk to the whites is highly nutritious to the little Fido, when given in the right amounts.
Milk
Another proteinaceous feed, milk is high in calcium, potassium and other essential vitamins and minerals. However, the composition of dog's milk is very different from that of cow's milk, with the latter being much more nutritious and hence hard to digest.
This is why most vets advise not offering milk too often. Usually, allowing your dog to sip this nutritionally delicious feed once a week is nothing to be worried about. However, make sure that the same is done with a 1:3 ratio, with milk being the former and water in the latter ratio.
Additional items: Meat
Now, meat is something that a canine will never steer away from. Even though their particular interest may vary when it comes to the meat type, this is an ingredient that no dog will ever deny.
Meat (when cooked properly) serves as a crucial building block of their life as it offers them both nutrition and taste. The high amounts of protein increase their overall muscle growth, offer energy in the form of calories and also improve the working of their immune system.
So, even though rice pudding is not necessarily a mainstream canine-safe dish, offering tiny bits of this delicious creamy entree can prove to be a tasty distraction for the little ones.
You may also like:
Reference:
If you are a dog lover then, Subscribe to our weekly newsletters. No Spams!