As the name suggests, dog wheelchairs are physical support systems for canines with limb-related disabilities, just like human wheelchairs. Their special design aids woofers suffering from mobility issues move around freely without further hampering their affected limbs. They are available for almost all breeds, with some being especially crafted to suit any additional requirements and ensure the maximum comfort.
So, when it comes to finding the best dog wheelchairs, you will like: Walkin' Wheels Dog Wheelchair, K9 Carts Dog Wheelchair, Best Friend Mobility Wheelchair, HobeyHove Adjustable dog wheelchair, and the S-easy Cart Pet wheelchair for canines. All these models are made up of high quality premium materials, thereby offering long lasting results no matter if they are being used indoors or in outdoor settings. Additionally, these wheelchairs are marketed both online and offline for all canine breed sizes, ranging from miniatures to the giant ones.
Below we have pointed out detailed specifications of each of these wheelchairs, along with the right way of purchasing them. So, make sure to read until the end.
Top 5 Best Dog Wheelchairs
Walkin' Wheels Dog Wheelchair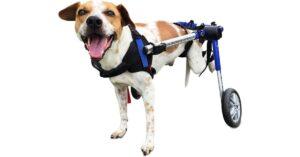 The Walkin' Wheels Dog wheelchair arrives with a professional patented design that provides easy-to-customize back legs fit for disabled canines. The durable body slides perfectly onto the back legs, offering them with much needed support, and thereby letting the pup run, jump, or stroll happily for long hours.
Additionally, the product is highly adjustable. Pet parents can adjust the height, length and width of the setup by making simple adjustments, so as to fit their pooch's needs with time. The aluminum frame and dense foam wheels with rubber treads go a long way and are impact-proof.
For cleaning, owners can directly subject the wheelchair under running water or go for professional solutions. So, when it comes to cleanliness, durability, adjustments, and fitting, this wheelchair definitely ranks the highest, as per its customer reviews.
Pros:
Folds flat for easy transportation

Suitable for use on all terrain types

Washable materials

Veterinary approved patented design
Cons:
Stitchings may open with rough usage
K9 Carts Dog Wheelchair
A suitable option for dogs with more severe issues, the K9 Carts Dog Wheelchair comes with the added advantage of being usable on both front and rear legs. The parts are made up of aircraft-grade aluminum with highly durable wheels backing their functioning.
To add to this, the company manufactures this model in different sizes, rendering to the needs of every canine breed, irrespective of their size or severity of the issue. The K9 Carts enjoy huge popularity in many nations and has been built and tested after years of research by qualified and experienced canine orthopediatrics.
Pet owners can mail the exact requirements, including length, girth, height, and other adjustment minutes when placing the order or else go with the standard adjustable fittings when placing an order.
Pros:
Veterinary and Orthopedic approved design

Aluminum-grade base materials

Available in many sizes

Handmade in the USA
Cons:
Wheels are plastic

Screws may get loose often
Best Friend Mobility Dog Wheelchair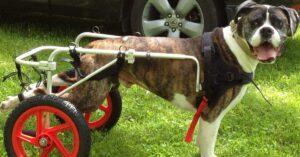 Coming in the third rank is the Best Friend Mobility Dog wheelchair. Made up of a durable lightweight aluminum frame, this wheelchair is very easy to glide over your pooch's back legs. Therefore, using it aids save both time and energy allowing the fur baby to enjoy itself more.
Similarly, for enhanced comfort, the wheelchair comes covered in a deluxe neoprene front and rear harness. This provides a perfect comfortable fit around their back portion, preventing the risk of physical injuries when the pup is on move.
To add it up nicely, the material is easy to fold, has an extremely lightweight configuration, and is designed by leading canine orthopedic surgeons. Hence, along with proper fit the product also provides ample support to their back legs.
Pros:
Non-rust galvanized bolts

Hex wrench for easy height and length adjustment

Available in many sizes
Cons:
Initial setup is hard

Cheaper materials as compared to other premium wheelchairs
HobeyHove Adjustable Dog Wheelchair
The HobeyHove Adjustable Dog Wheelchair is yet another top-quality hind-leg support system with pet-friendly design. With soft straps supporting the whole lightweight frame, there is no more risk of your pooch getting hurt with the continual friction between the straps and their fur.
Easy-to-set this wheelchair folds promptly, making it the best choice for puppers who love to stay active with their parents. Even more, the manufacturing company has also added an option where owners can hang the tow rope at the buckle, thereby ensuring their safety at all times.
Although the wheelchair has height and length adjustment options, you will need to be extra careful with the pre-available measurements. Furthermore, unlike other choices mentioned above, this wheelchair is best used temporarily as the setting may not be suitable for dogs with severe hind leg problems.
Pros:
Easy-to-use design

Affordable yet good quality materials

Available in many color options
Cons:
Thin adjustment straps for rear and front harnesses

Not much information on fitting on dogs
S-Easy Cart Pet Wheelchair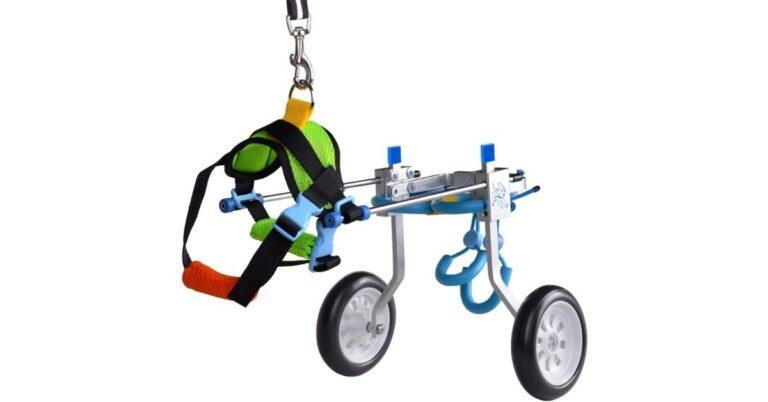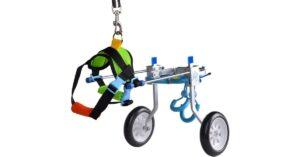 A wheelchair for both canines and felines, the S-Easy Cart Pet Wheelchair arrives with a user-friendly design that is usable for pets of all ages. The cart is supported with high density materials, an impact-proof wheel set and customized fitting points. This allows pet owners to seamlessly fit the product, once they have got the materials according to their pup's condition and requirements.
The product features a body-fit strap system which gently hugs the canine's body, preventing it from getting loose when the woofer is on the run. However, the hind-leg adjustment is only possible up to a certain limit, after which the wheelchair may not work out the best.
Pros:
Lightweight aluminum frame

Easy to clean, transport, and fold

Suitable for a range of hind-leg issues

Usable to both dogs and cats
Cons:
The harness will require exact measurements

The screws will require frequent tightening
Now let's move on to the next most important thing, the buyer's guide for dog wheelchairs. But first we will need to know about the various types of wheelchairs, their advantages and disadvantages.
How many types of Dog Wheelchairs are there?
According to your pooch's needs, you will find:
Wheelchair for Front Legs
These wheelchairs are especially designed to act as support systems for pooches that have lost control or have amputated front legs. The design is rather complicated as compared to the other styles, and hence front leg canine wheelchairs are often needed to be custom-made.
Wheelchair for Hind Legs
The total opposite of the first type, hind leg dog wheelchairs are easily available on both online and offline platforms. As the name suggests, this blueprint allows pooches to rest their back legs while conveniently passing their time doing normal activities, including running, walking, and even doing crazy zoomies.
Moreover, thanks to their popularity, you can easily find both customized as well as adjustable hind leg canine wheelchairs to choose from. Just put in your details, and the company will offer you with the best fitting in absolutely no time.
Wheelchair for both legs
Finally, the most advanced of all, these wheelchairs are specifically made for dogs that suffer from severe neurological disorders or have been in a very bad accident. They are typically coupled with four premium-quality wheels that support the entire weight of the pooch's whole body.
This arrangement in turn allows them to roam around freely, although performing full movement may still be hectic as well as uncomfortable for the fur babies. These wheelchairs are custom designed as getting the right measurements is the only full-proof way of getting the perfect fit. However, once designed, they are generally kept adjustable to suit the pooch's body needs for the later years.
Buyer's Guide for Dog Wheelchairs
While there are many options, when it comes to finding the right wheelchair for your canine, you will need to be extra careful of several factors. Always remember, they are not only expensive but also serve a major role in ensuring the quality of your adorable fur baby's life for the next years to come.
Support Placement
Just like we discussed earlier, one of the first vital things to consider before getting a canine-made wheelchair is to find the one with the right support placement. Depending upon their condition and vet consultation, you will have to scroll through the above-mentioned three types of wheelchairs.
This is because each one of these designs serve a specific purpose, and therefore compromising with their settings is not a valid option.
Size of the cart
The second most important point, the size of the cart also keeps a huge importance in finding the perfect fitting wheelchair for your pup. These products come in various designs, including strap systems and even ones with buckles. Hence, based upon the style that suits your canine's lifestyle the best, you will have to go for the cart sizing.
Wheels
Has your dog been diagnosed with a neurological or spinal disorder? Then the four wheels variant is the one that will suit their body requirements. Such pups eventually lose control over all their limbs, and thus investing in a four-wheel canine wheelchair is much better than going for two-wheeled ones.
So, while the former is better suited for dogs with chronic or severe issues, the latter one is usable if the problem is either with their front or back legs.
Material bulkiness
People often think that the bulkier the product, the longer it will last. However this notion doesn't really apply when it is about choosing the right wheelchair for your adorable fur baby.
Almost all dog wheelchairs are either made up of aircraft-grade aluminum frame, stainless steel, or other metals, which are all highly resilient and durable upon being used properly. But, ignoring their strength, it is the bulkiness of the product that in general matters.
The product should be lightweight enough for your pooch to effortlessly carry it around, depending upon their own body weight and condition. Similarly, travel friendliness is also an essential point that should never be ignored.
Additional features
Canine wheelchairs come within a broad price range structure. So, even though affordable ones may seem to do the job, with more price you will be entitled to get better features. This includes adjustable height and length straps, veterinarian and orthopedic certified settings, easy customizable features, etc.
Such wheelchairs grow with the pooch, and thanks to their easy maneuverability, you won't have to switch to advanced models repeatedly.
Factors to stay away from:
The search for 'Premium'
Many-a-times, pet parents go for so-called 'premium dog wheelchairs' without performing extensive research on the materials, hence ending up regretting their choices at a later stage.
Not every product that claims to be 'premium rated' is or made up of top-quality materials, and this is something that needs to be understood by everyone. For instance, although plastic wheels may work for a while, they are not designed for rough usage and therefore, their shelf life is much shorter than that of rubber ones.
Affordability
While we do understand that cheaper wheelchair options are tempting, there is usually no benefit to purchasing them. In a bid to cut down on the manufacturer costs, such companies use low-quality parts that don't last long. Not only that but sometimes these parts may also cause movement-related injuries, risking the overall safety of the canine.
Additionally, there might be no customization or adjustability options for the straps. So, everytime your pooch's condition changes, you will be bound to go for another wheelchair.
FAQs
Are Dog Wheelchairs cruel?
No, dog wheelchairs are not cruel. Rather they are physical accessories that are designed to make the lives of compromised canines much more enjoyable and happier.
The whole blueprint is based upon the idea of supporting their weaker muscles without adding any pressure to it. So, when used as per veterinarian and canine orthopedic consultations, it extends their functional life while simultaneously allowing their bodies to get over small surgeries and injuries in no time.
Can my dog poop and pee in a wheelchair?
Although some pooches may find it uncomfortable to relieve themselves whilst standing a first few times, they face no problems whatsoever defecating when in wheelchairs.
A wheelchair arrives with leg rings which are spaces especially designed to insert the injured or amputated legs of the dog. This arrangement leaves them with ample space at both front and back side. Therefore every time they poop or pee, their waste easily drops onto the ground, without getting stuck in the wheelchair frame or making a mess at the wheels.
How long can a dog stay in a wheelchair?
This will differ from dog to dog based upon their condition severity, age, medical risks, and other crucial factors. However, if the situation is not that worse, your vet will typically advise you to have the woofer on a wheelchair for not more than 15 minutes to 1 hour. At other times, they should be allowed to continue their daily activities without the physical support system.
When is a canine wheelchair necessary?
Your pupper will be advised to have a wheelchair if they have:
Hip dysplasia

Degenerative myelopathy

Partial or complete limb paralysis

Neurological issues

Severe leg injuries

Arthritis
Additionally, a veterinarian will also prescribe a dog wheelchair if the canine is recovering from recent surgeries or injuries.
Do these products work on carpet and grass?
Yes, a top-quality dog wheelchair can easily glide over challenging terrains, such as carpets and grass. And this is all thanks to the dense foam structure coated with tough rubber wheels.
Unlike their plastic counterparts, such wheels maintain a good grip at all times, keeping the puppy from skidding or getting stuck at places, and are even usable on rocky terrains as there is no fear of punctures.
But just to be extra sure, pet parents should always read through the manufacturing guidelines and only proceed if the product is green-flagged for outside use.
How can I train my dog to use the wheelchair?
Positive reinforcement training is hands down the best way to train your canine to use wheelchairs.
It is natural for dogs to exhibit fear when introduced with new things. So rather than forcing them to insert their legs in the designated spaces, it is better to slowly work through the process.
Always start by letting the pup explore the items after which you can proceed to the next steps. Once they are sure that the accessory is nothing to be afraid of, they will eventually warm up to the product, letting you wrap the straps around their body and tighten the mainframe.
In this blog we covered the very basics of choosing the perfect dog wheelchair along with the top five wheelchairs that you could invest in. For more don't forget to follow us at spanieldogs.com.
If you are a dog lover then, Subscribe to our weekly newsletters. No Spams!