Is your dog shaking its head too much lately???? Don't worry, we have got you covered.
Excessive head shaking in dogs can be linked to ear infections, presence of ear mites, water in the ears, ear allergies, hypothyroidism, and even head tremors or other grave neurological disorders. However, not all head shaking means trouble in canines.
To understand this better, keep on reading until the end.
Why do dogs shake their heads?
Dogs shake their heads for a variety of reasons. From relieving stress to warding off flies and insects and even for displaying playful behavior when with other animals, the meaning behind their action generally differs according to the given situation. So, while an occasional head shaking has no major meaning, when done in extreme and in repeated frequencies, it might refer to some underlying issue.
What does it mean if my dog is shaking its head excessively?
Ear Infections and Allergies
One of the most frequently diagnosed health problems in dogs, ear infections and ear allergies are two very different things. With the former resulting due to a bacterial or yeast infestation, the other one often occurs due to food or environmental allergic reactions. However, typically both are usually associated with excessive head shaking, scratching and rubbing of the face.
Sometimes when kept ignored for long, these health issues can also aggravate more grave conditions, including visible redness, pus formation, high fever, severe lethargy, vomiting, etc.
Water in their ears
Most often dogs tend to shake their heads excessively after a bath. This is a natural course of action which they do to get rid of any remaining water in their ears that must have sneaked in when giving them a clean through. Usually this continues for a small time after which they move on to their daily activities. But in case your pooch continues the behavior for an abnormally longer period of time, don't back away from lending them a hand with the cleaning.
Put a cotton ball inside their ear and keep it there for some time. This will aid eliminate any such traces of water, allowing the canine to calm down gradually.
Otitis Externa in Dogs
Otitis Externa is a medical condition in canines where the outer ear canal starts swelling and causes extreme pain and discomfort. This happens predominantly due to ear allergies, ear mites, and even when there's trapped water within the ear canal. So, as the swelling progresses, the pooch feels uncomfortable and tries to relieve the heaviness by shaking its head. Some other secondary symptoms include, red and swollen ears, yellowish white stinky discharge, excessive head shaking, ear scratching and a typical pungent odor coming out of their ears.
In an extreme case, it can also impact the dog's hearing permanently, leaving them fully or partially deaf.
Pinnal Vasculitis
As the name suggests, pinnal vasculitis causes severe painful inflammation in the blood vessels running through their ear flaps and generally needs immediate vet care. This mostly happens due to a faulty immune system response where the immune cells start attacking the blood vessels as foreign bodies, leading to painful blockages, crusting of the skin, inflamed red or purple spots, hair loss, and extreme itchiness.
Similarly, fluid-filled cysts may also develop in some pups requiring advanced professional care and consumption of powerful medications to prevent the spread.
Ear Haematomas
A type of haematoma, ear haematoma in dogs starts when a pool of blood accumulates between the skin and cartilage of the ear flap. It can also be described as a blood blister which should never be tampered with, unless done by a professional. This condition is usually serious with only a few recovering on their own.
Also known as aural haematomas, these blisters are often self-afflicted by the dog or may happen due to a physical trauma. Very rarely ear infections and ear allergies may also be the cause for such eruptions.
What do I need to do?
Try and examine the cause
Many-a-times the reasons behind excessive head shaking in dogs are pretty normal and hence examining the cause before running to the vet can come extremely handy. For instance, if you see a leaf, or something stuck in the fluffy part of their ears, it could easily be removed with a cotton or even using your fingers. Moreover, having a look through can also aid the vet in finding the cause and hence start their treatment immediately.
Never experiment with ear drops or medications
Ears are one of the most vital parts of a dog's body. Thus, no matter whatever the cause, until and unless you are yourself a certified veterinarian with ample experience, never put anything in your dog's ears. There are many websites that often claim that pouring warm water or oil into their ears helps ease the symptoms, but believe me most of them are CAPS.
Never try playing doctor-doctor with your pooch's well being and only use prescribed medications or drops in their advised dosage only.
Have them checked by a professional
Ultimately, never miss getting a vet's consultation if you find your canine shaking head excessively in more than one instance. This could be the early symptom of some underlying health issue, and hence pet parents need to have the canine checked at the earliest.
When should I be concerned about this behavior?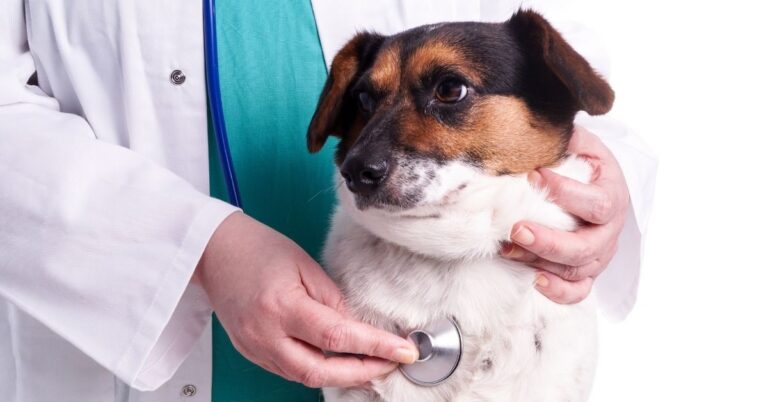 As discussed earlier, head shaking in dogs is a common way of eliminating any foreign objects or moisture that may have made its way inside the delicate ear canals. So, there is nothing to worry if they shake their heads once or twice, and sometimes even thrice. But if the action goes on, then definitely there is a bigger problem which will require instant professional diagnosis and treatment.
Some other telltale signs and symptoms that could be regarded as a warning sign include:
Swelling and redness

Excessive scratching of the ears

Pus oozing out from the ear canals

Disorientation or blurry vision

Blood tinged discharge from ears

Severe lethargy

Appetite loss with vomiting and high fever
These symptoms can range from mild to severe. But once you see any of these don't waste more time thinking what to do and what not. This is because even the tiniest of symptoms could turn severe in the blink of an eye requiring you to spend huge bucks at the vet clinic.
Note: All of the information mentioned here is for informational purposes only. To get a clear and accurate understanding of your dog's situation, please consult a veterinarian at the earliest.
For more interesting dog-related updates like these, don't forget to follow us at spanieldogs.com or subscribe to our mailing list to always stay updated on our new releases.
If you are a dog lover then, Subscribe to our weekly newsletters. No Spams!