Hibiscrub is an antiseptic solution primarily used for treating skin issues in dogs. Mostly used for skin infections and oral care, Hibiscrub however has its set of advantages and disadvantages that every pawrent should  be aware of.
Here is a detailed runthrough of the antiseptic solution, its usage, side effects and precautionary measures. So, make sure to read till the end.
What is Hibiscrub?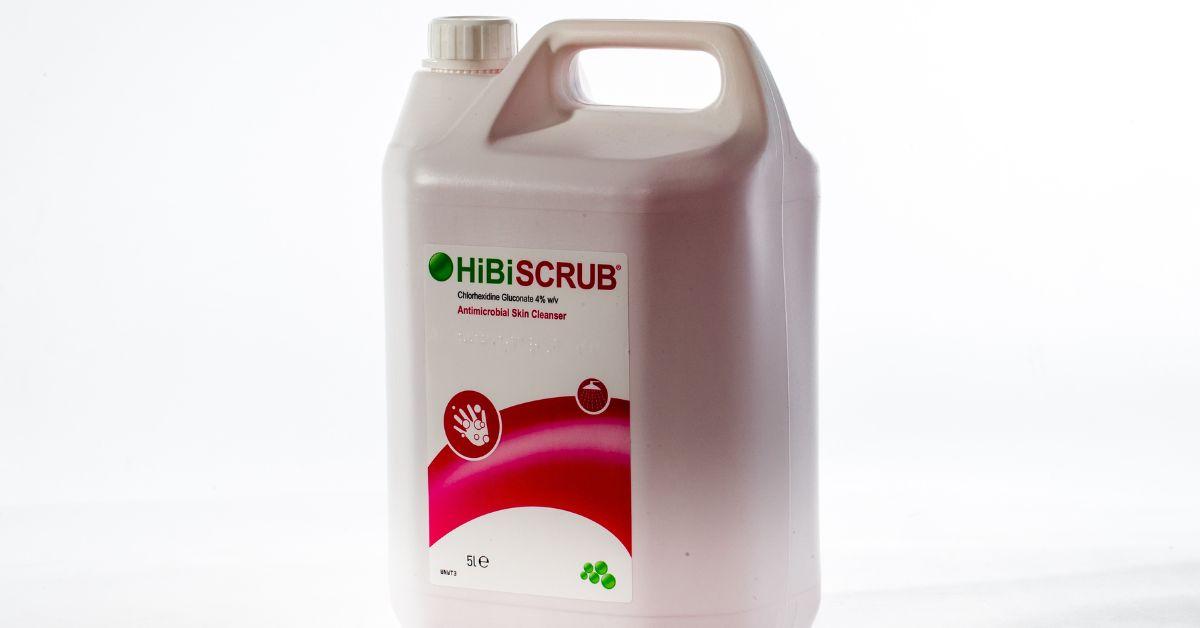 As stated earlier, Hibiscrub is a medicated solution that consists of chlorhexidine gluconate. This chemical ingredient works as an antiseptic and belongs to the drug classification 'antimicrobials'. Thanks to this very property, using the solution helps cut down on harmful microbes that could be causing various health disorders in canines.
Initially, Hibiscrub was only intended for treating skin disorders. However with time, vets are nowadays preferring the same for ensuring optimal oral condition in dogs. The rinse is relatively safe and offers a wide range of benefits to our furry partners.
Is Hibiscrub safe for canine usage?
Yes, Hibiscrub is completely safe for canine usage. This FDA approved antiseptic has been in use for decades now and has been tested by numerous safety standards.
Originally manufactured by the Regent Medical (Overseas) Limited, currently there are more than one antiseptic rinse with the same composition but just different names. Usually the difference between them is the ratio of the contents, although apart from that all work the same.
But even though Hibiscrub has a safe composition, there are always exceptions. This is why experts often advise using the antiseptic wash after a thorough consultation with a professional. If ignored, it could result in serious health hazards for the canine, requiring emergency vet care afterwards.
What is Hibiscrub Allergy in Dogs?
In layman's terms, Hibiscrub allergy is a health condition in canines, similar to other allergies. This happens when a sensitive canine that is allergic to all or any of the mentioned components of the medication is exposed to the solution. The allergy is basically the body's way of protecting itself from the 'medicated particles' that it mistakenly interprets as danger.
Upon occurrence, the pooch may suffer from either mild or extreme allergy symptoms that is normally based upon the exposure duration and amount. The side effects usually start appearing within a few minutes, although some may even take hours to appear.
What are the most common symptoms of Hibiscrub allergy in dogs?
Some of the most common symptoms of Hibiscrub allergy in dogs include:
Incessant itching

Redness and swelling around the area

Hot spots

Troubled breathing

Swelling of lymph nodes

Contact dermatitis, etc
In severe cases, the dog will also exhibit symptoms of hay fever and will be extremely fatigued.
Although these side effects are extremely rare, in case of any of the above-mentioned symptoms, immediate medical intervention will be required. The pooch must immediately be taken to a vet, but before that pet parents should rinse the area under running water. This will aid delay the onset of any side effects of Hibiscrub usage.
How is Hibiscrub Allergy treated in dogs?
The diagnosis and treatment of Hibiscrub allergy in dogs is much similar to other canine allergies. Upon receiving the case, the vet will give the woofer a thorough physical check up, which includes looking for hot spots, examining the redness and swelling, measuring temperature, and heartbeat.
In mild situations
If the symptoms seem controllable and mild, the dog will be released after a dose of antihistamines. This could be administered intravenously or oral in the form of tablets. Such pups often recover fast and don't need much medical aid, apart from a temporary prescription of antihistamine pills and topical lotions to apply on the area.
In extreme cases
However, if the pup's condition is worse, then apart from a physical examination, he/she will also be put on an intravenous drip of antihistamines. This will be coupled with a few injections that will help boost the pup's energy, so that they can perform their daily activities.
Later depending upon the test results, the pup may have to spend a few nights under careful observation before being discharged home. Once out of danger, the vet will prescribe some pills and frequent check-ups for a few weeks. Following this the pup will be completely normal and healthy.
Here are a few frequently asked questions regarding Hibiscrub allergy in dogs.
FAQs
Is Hibiscrub necessary for dogs?
Hibiscrub is an antiseptic wash as stated earlier. So, every time a pooch is diagnosed with hot spots, eczema, dermatitis, and other skin issues, the medicated rinse is prescribed by veterinarians.
Upon usage it not only eradicates the bacteria and other harmful microbes from the dog's skin, but also offers relief by minimising the itching and discomfort. This in turn prevents the dog from constantly scratching, biting and licking the area, and therefore aids in faster recovery.
Are there any substitutes to Hibiscrub?
Yes, there are plenty of options to choose from. Some of these include:
Vetasept

®

Chlorhexidine Surgical Scrub

Clorexyderm shampoo

Clorexyderm spray

Microbex anti fungal shampoo

Malaseb
Can I prepare antiseptic rinse at home for my dog?
Yes, this is very much possible. For this you will require:
Step 1: Take an appropriate amount of water and boil it for 5-10 minutes under medium flame
Step 2: Let the water cool down
Step 3: Take one teaspoon of salt and put into the now cooled boiled water
Step 4: Stir for 20-30 seconds
Step 5: Pour this home-made saline solution into a spray bottle and use as required
NOTE- A homemade solution of saline water is only effective for treating small cuts or wounds. For major skin issues, it is better to seek medical help and follow the vet's directions.
What is the best method to use Hibiscrub on dogs?
If you are using Hibiscrub for the first time, here are a few things you need to know:
Always thoroughly wash your hand, preferably with an antiseptic handwash. This will prevent the transmission of microbes from your hand to the canine's body

Follow only the prescribed dosage of Hibiscrub. Putting more of the wash won't be helpful at all

Hibiscrub should always be diluted before use. Usually the recommended mix is 1:10 ratio of Hibiscrub and water (for mild skin problems) and 1:4 ratio for severe issues

The rinse should be directly applied to the contaminated skin. Afterwards, rub until it starts to foam

The foam should stay on for at least 5 minutes or as stated by the veterinarian. Without this there will be no use to its application

Next rinse off the area and pat dry with a clean towel or cloth
You can also do a small patch test first to detect if your canine's body reacts negatively to any of the components.
Can I use Hibiscrub on Open Wounds?
No, you should never use Hibiscrub or other rinses consisting of similar ingredients on a dog's open wounds. The antiseptic rinse is for treating certain skin infections and conditions only, and hence should never be experimented with.
Can I bathe my itchy dog with Hibiscrub?
Only if your veterinarian agrees to it and your dog has no open wounds, then only Hibiscrub can be used for bathing canines. Much like their application on skin infections, the solution must be diluted with water in 1:4 ratio.
Next pour the solution all over your dog, minus their eyes and nose. Rub gently until it lathers up. Afterwards leave the foam for 5 minutes while being mindful that the dog doesn't lick itself or the foam. Once done, bathe the woofer with clean water, thoroughly removing every bit of the solution and then pat dry with a clean cotton cloth.
Reference:
If you are a dog lover then, Subscribe to our weekly newsletters. No Spams!