One of the two reasons why you are searching for the topic might be: your dog has eaten something it shouldn't have or you are simply looking for extra knowledge. No matter whatever the root, here's what you need to know.
As per clinical findings, Hydrogen peroxide 3-percent solution is the safest and the most effective vomit inducers in dogs. When administered, the solution takes around 10-15 minutes to start working. The liquid is known to work for a majority of toxins, although a lot depends upon the timing and type of the emergency. Similarly, while vomiting may seem as the fastest way out, if not done properly it can backfire, leading to irreversible and even fatal medical issues.
Keep on reading till the end to find out why inducing quick vomit in dogs may not always be a suitable option. But first, let's grab a little more detail about the chemical compound and how it works in a canine's body.
Why use Hydrogen Peroxide 3-Percent solution?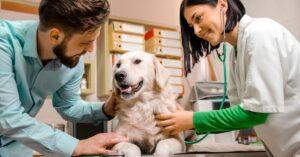 A mild antiseptic solution, the Hydrogen Peroxide 3-Percent solution is also referred as an oral solution for pets that have consumed any toxic substance. The unique chemical composition of the solution acts as an intestinal irritant, causing the dog to throw out ingested toxic contents within a short time of administration.
Usually the concoction starts working within 5-15 minutes, although it may take longer in certain cases. Once the vomiting starts, the action continues for a very long time, with pups recurring vomits every few minutes. During this phase pups grow immensely weak and may show other severe signs and symptoms. Thus it is always better to perform this procedure under the guidance of a certified medical practitioner.
Hydrogen peroxide 3-percent solution works for most toxins. However, the blend may not be effective in case it has been too long since the dog has eaten a virulent item. Similarly, inducing vomiting forcibly doesn't work well in all cases, given their high risk factors and lower recovery rate.
How much Hydrogen Peroxide 3- percent solution is okay?
When administering the right dose of Hydrogen Peroxide 3-percent solution, vets usually prefer 1 teaspoon (5ml) of the liquid per 10lbs of body weight. However, this frequency may greatly vary based upon certain essential factors, including:
Type of the toxic component

Duration since the ingestion

Canine breed, weight, and health conditions

Record of any existing powerful medications
All these above-mentioned factors are carefully examined by a veterinarian before suggesting the dosage. And while generally reactions are pretty much visible in the first 10-15 minutes, some dogs may even require double doses. This is mostly done in case the first attempt in regurgitation doesn't seem to work.
However if everything fails, then the pooch would be required to undergo immediate surgery. The vet may or may not use anaesthesia (based upon the toxin side-effects), after which complete flushing of the canine's stomach would be done to remove any and every harmful material. The dog would be kept under observation and may also have to stay for a few days before being discharged.
How do I make my dog throw up at home?
Even though a certified vet should be the one performing the procedure, there could be situations when they aren't available. In such a case you could get a prescription from vets providing online consultations and proceed with the after-steps.
1. Ensure that the solution is given at the right time
Just like every other anti-toxic medications, there is a time limit when it comes to the efficacy of Hydrogen peroxide 3-percent solution. The concoction is only effective if the duration of the toxin ingestion is less than two hours, as any more than that and their bodies might have absorbed a majority of the harmful substance.
2. Use a feeding syringe to properly measure the dosage
Next, take a feeding syringe and carefully fill the solution onto the barrel. Never take more than the required dosage as it could leave detrimental effects on the already suffering pup.
When feeding the solution, make sure that the pup does not inhale the substance. Given its chemical nature, the smell can trigger the pooch's smell receptors, leading to aspiration and further degradation of their health.
3. Feed the right way
Once done with the dosage measurements, pull back the canine's lips, making way for the syringe. Separate their jaws for a clear view and gently squirt the barrel contents into their mouth.
The dog will show some resistance and may even try throwing out the contents. To prevent this, it is better to hold their jaws together for a few seconds before letting them be.
4. Monitor their reaction
Like previously discussed, the fur baby should start vomiting in about 10-15 minutes. Stay with them during the process, consoling them with encouraging words and patting their backs gently. This will serve as an emotional support for them, making them feel at ease.
Afterwards, collect the vomit and let your vet analyze the contents. This can come handy in reaching to a specific conclusion and thereby proceed cautiously with the after-treatment options. 
NOTE- Certain special cases may need a second dosage of the Hydrogen Peroxide 3-percent solution, mostly if the pooch doesn't vomit within 15 minutes of the first dosage. Talk to your vet before the administration and go with the prescribed amount of second dosage.
Similarly, always keep an eye out for any complications to the chemical solution. In case the dog seems to have severe runny diarrhea, gastric-dilatation-volvulus(GDV), lethargy, bloating, make sure to take the pup to a professional on an emergency basis.
When should I not induce Dog Vomit?
You will be required to seek a vet's consultation and not persuade a dog to vomit if:
They have consumed batteries, sharp objects, or any caustic materials
Unlike poisonous food items, trying to recover batteries, sharp objects or caustic materials out of their system through induced vomiting is not the right step. However ignoring this could cause them internal injuries, risking aspiration pneumonia, blockage, perforations, and much more.
They seem lethargic, comatose, having seizures, or are exhibiting uncoordinated body movements
If your dog is exhibiting any one of these above-mentioned symptoms, then you should not waste any more time and have them checked by a vet as soon as possible. Performing regurgitation when the pooch has already started shutting down is bound to result in irreversible damages, and may even cause death.
They aren't swallowing anything or having difficulty in breathing
Moreover in case the pup isn't drinking water or seems to have trouble when trying to breathe, immediate professional care is what's needed. This mostly happens when the oesophagus expands/contracts more than normal, preventing proper passage of oxygen or any other liquid. If not treated soon or forcibly induced to vomit, this could result in suffocation and death. Therefore, tracking your dog's signs and symptoms after it has ingested something poisonous is very essential.
Had a recent abdominal surgery or are on powerful medications
You may also want to think twice before administering Hydrogen Peroxide 3-percent solution to pups that have undergone recent abdominal surgeries. As their organs are in the healing stage, forceful regurgitation can pressurize the already weakened walls, risking rupture or bleeding.
The same also goes for pups that are currently under powerful prescriptions. You never know what could go wrong and hence getting your vet's green flag is of absolute necessity.
Belong to brachycephalic breeds, like the Bulldog, Pug, Boxer, Pekingese, etc.
Finally, if your beloved fur baby belongs to brachycephalic canine breeds, then also inducing dog vomit is a rather perilous move. Born with compact snouts and constricted air pathways, such pups face breathing issues when forced to spew. And thus, if you suspect that the canine has ingested something toxic, getting them to a veterinarian is what's best for their health.
So, this was all about inducing dog vomit in an emergency. For more interesting topics like these, don't forget to subscribe to our mailing list today.
If you are a dog lover then, Subscribe to our weekly newsletters. No Spams!