If you ever ask a Spaniel parent to share their most dreaded experience with their pup, a majority will definitely reckon upon the nail trimming phase. A grooming step that not many pups like, getting them to show their nails and trim them is a task that requires both time and patience.
So if you are thinking of trimming their overgrown nails the first thing you will need to do is to allow them to properly relax. Making haste is never advised as it can lead to severe injuries. Next mark the area where the pinkish section ends as this is where the blood vessel within their nail ends. Cutting too high will be too painful, result in severe bleeding and may even lead to sepsis. Trimming overgrown nails is not an easy task and if you want to avoid the heavy expenses with professional services, here's what you need to know.
But prior to that let's understand why it is so essential to get rid of long nails in Spaniels.
Why is trimming overgrown nails so essential?
Overgrown nails can be very uncomfortable for every dog breed. And thus given their short elongated stature, Spaniels are by far the most vulnerable to side-effects resulting from too long nails.
Apart from their paws, a Spaniel's nails also play a major role in ensuring proper body balance. However if everytime they walk, their nails hit the floor, then this may put tremendous pressure on their leg structure leading to the early onset of tendon injuries, or bone and joint issues. Similarly, a  pup with overgrown nails is also bound to fall and slip much more than pups with properly trimmed nails.
So, even though their long nails may not bother you too much, it is sheer discomfort for the innocent animals. Besides, scratching with a long nail may leave their skin surface seriously traumatized, leading to cuts and bruises, and therefore adding on to their suffering.
Why is my Spaniel afraid of Trimming its Nails?
To better understand this, imagine yourself spending time with your favorite person when they suddenly pull forth a shiny pair of instruments from their pockets that you have never seen before. And to add on that they are all pointed and give off a dangerous aura….
Won't it be too scary!!!
Now we all know that dogs are super curious animals. But this doesn't mean that every woofer will jump on the next new thing they come across. Many may exhibit variable behaviors, with some tucking their tails and ears in fear to others becoming visibly aggressive. So, if your Spaniel also exhibits similar body language, it could be due to:
A previous trauma or painful experience including trimmers or clippers

Fear of shiny objects or anything new

Afraid of the sound the clipper or trimmer makes

Scared of cutting their nails in general
Fortunately, these are treatable with the right methods which we will be discussing next.
The Proper way of Trimming Overgrown Nails of Spaniels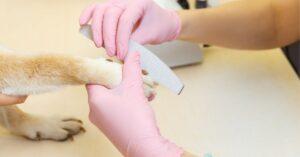 Before we start, make sure to understand that this can be a lengthy process and hence should never be rushed.
Desensitize them to the tools
The first and foremost thing you need to do when trying to trim overgrown nails of your Spaniel is to slowly introduce them to the tools. As discussed previously, not every Spaniel may feel okay interacting with newer things and therefore it is always better to let them explore the grooming tools on their own beforehand. Let them sniff and find out that the tools are nothing to be afraid of.
To make it even more enjoyable on the pooch's part, you can also reward them with treats. This will help them associate good memories with the trimmers and clippers and hence be less afraid of them.
Relaxation is the key
Trimming your Spaniel's nails is no rush game. So, no matter how much time it takes, have your pup settle down comfortably prior to proceeding with the process. If the pooch isn't rested completely, they will be more anxious of what's going down on their nails. As a result they may scamper away, make sudden movements, whine, or even snap at your hands aggressively due to the sudden spike in their stress hormones.
Next you will need to try and accustom them with the sound as much as you can before turning on the grooming tools. Typically nail grinders are the noisiest when compared to clippers and trimmers, and hence it is better to start with the grinder and then proceed with others. Don't forget to add in delicious treats every time your pup sits down calmly even though the tool is turned on. This will help them understand that Grinder/Clipper/Trimmer=Treats, and behave accordingly.
Locate the 'Quick'
'Quick' is the part where the blood vessel ends and the nail continues. While this is easily distinguishable in Spaniels with light color nails, you may need to be extra careful if your fur baby has black nails.
To locate the nails better you can take the help of a marker before actually cutting down the nails. But if the pup has darker nails then the only solution will be to keep cutting small pieces of the nail, while simultaneously checking for any grayish pink oval or a black dotted appearance on their nail. This is generally where the blood vessel starts, and if you spot them stop cutting further immediately.
Trim or grind the nails
Finally, once you have set all the grooming tools aside, got the puppy in a relaxed position and marked the quick, it's now time to cut down the overgrown nail. Gently raise their legs and squeeze their toes to get their nails protrude out. Next clip/trim/grind their nail ever so slightly, giving ample breaks with each leg and also following with soothing talks and treats.
Once done completely, make sure to wash their legs and wipe it with a clean cotton cloth to get rid of any remaining dirt or grime that may have stuck within their nails. Follow it with some cozy, cuddly time and your pup will definitely thank you for the attention.
How often should I trim my Spaniel's nails?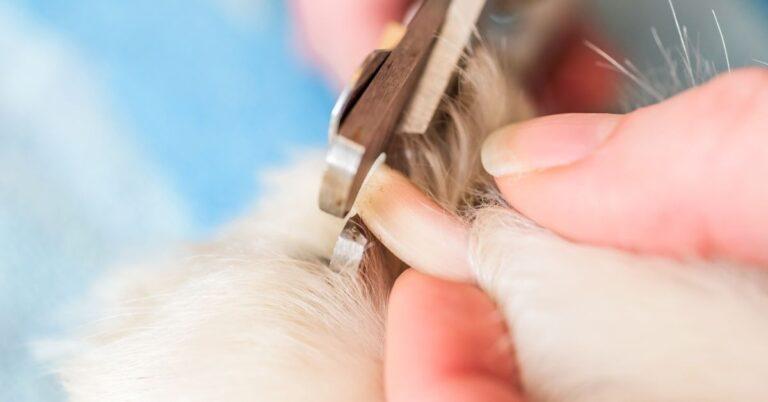 Vets and professional pet groomers suggest cutting your Spaniel's nails the moment they touch the ground. Waiting for too long can cause them severe discomfort and even increase the probability of injuries. So why delay???
Every pup has a different growth pattern and thus there's no definite answer as to how much time it may take for their nails to grow after a trim. Therefore regularly checking their nails is a must if you want to avoid the dilemma of overgrown nails.
However, you can regularly file up their nails to eradicate any sharp points that may injure their skin when scratching. For this you will require a good quality dog-nail filer and proper follow-up of the above-mentioned steps.
What should I do if I cut the quick accidentally?
Accidents happen and more so with overgrown dark nails!!! So, if you have accidentally cut the quick and it's bleeding out severely, then don't panic and take the pooch to the vet center on an emergency basis.
In the vet's clinic, the doctor will bandage the wound or apply clotting ointment on top of it to stop the bleeding before going ahead. Next they may perform a little surgery depending upon the trauma site, but this is generally a non-invasive process so there's nothing to worry about.
The doctor may also prescribe topical ointments or medications if the case isn't as severe and send the woofer back home the very same day. You will just have to follow as directed and your pooch will be back to its previous health in no time.
Follow spanieldogs.com for more interesting articles like these.
If you are a dog lover then, Subscribe to our weekly newsletters. No Spams!