Spaniels, just like other dogs, are THE MOST ADORABLE breeds out there. With their fluffy, luscious mane of coat and tiny little bodies there is absolutely nothing that anyone could ever complain about, umm…except a rotten fishy odor that can be very overwhelming on the nose.
Spaniels may exhibit a fishy smell due to bad dental hygiene, a severe yeast infection, unexpressed anal glands, or even due to gastrointestinal disorders.
Mostly based upon the location of the smell the diagnosis can be confirmed, so without wasting any more time, let's start with our endeavor.
Why does my Spaniel smell like fish?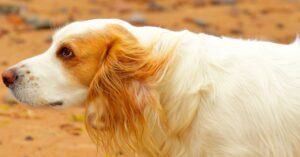 All dogs have their own typical body odor which helps them differentiate one from another. While this smell may not be noticeable when the pooch is clean, it can often be pinpointed if the pooch hasn't been bathed for long. And if the smell suddenly starts deteriorating, like for example their bodies smell like a fish, it generally denotes a problem.
Below we will be discussing the various parts of the body from where the smell may come from and what it means.
Mouth
If lately, your Spaniel's mouth has been giving a very disgusting smell and not the usual one, it mostly means that they are suffering from dental and gum-related issues or gastrointestinal disorders.
Periodontal Disease
Often caused by periodontal disease this is when their gums swell up and are infected by harmful microbes. The teeth are further covered with enhanced tartar formation, puffy gums, and various other secondary symptoms, all indicating the health condition.
SOLUTION- For this, the woofer will need a thorough regular vet consultation and dental hygiene management so as to recover well and fast. However, depending upon the severity, some pooches may also be administered anesthesia to make the whole process more seamless.
Gastrointestinal Disorders
If not periodontal, then the smelly breath may actually be burps that are coming out of the canine's digestive system. Predominantly this is caused when the pup is suffering from acid reflux that happens if there has been an increased production of stomach acids or may also be due to food allergies or food intolerances.
SOLUTION- These situations will require you to consult your vet immediately before it worsens even further. The vet may advise certain pills, or even a prescribed hypoallergenic bland diet to soothe its agitated digestive senses.
Rear Part
As we had discussed previously, a rotten fishy smell may also emerge from a Spaniel's body due to anal gland issues. Present at their anal openings, anal sacs are fluid filled sacs which are a naturally occuring biological part of their bodies. Filled with nasty smelling liquids, these sacs are automatically expressed when the dog poops, and even sometimes when they are frightened.
But in case, their stool isn't hard enough or there are other underlying conditions impacting the same, the sacs may remain unexpressed. This in turn brings in a whole new lot of medical risks that the innocent animal could fall prey to. From a very smelly rear to scooting over and excessive licking of the area, the pooch will show many clear signs and symptoms.
SOLUTION- So, if that's where the smell is coming from, the furbaby will definitely need a professional consultation. When taken to the vet, they will start with a rectal exam which is then proceeded with a manual expressing of the anal glands. Afterwards, weight loss regimen, high fiber diets, medications and supplements may also be prescribed to prevent further issues and recurrence.
Pee
Sometimes just like their rear, the fishy smell may also come everytime your Spaniel pees. Dogs pee smell, but not as bad when there is a urinary tract infection slowly progressing in their urinary tract. This is also possible if they have kidney or bladder stones, prostate issues, or have been diagnosed with bladder cancer. In these cases the smell is very pungent and gives off an acidic smell that can be resembled as rotten fish.
SOLUTION- Such pups should be consulted with a professional as early as possible and run through all necessary tests. Usually, the vets might do a urinalysis, where a sample of the urine is taken and tested under lab conditions to find the underlying causes.
Based upon the findings or if the situation further deteriorates, the canine may also be administered to an ultrasound of its abdomen area. This will aid in getting a better perspective and therefore find the best solution for it.
Private Parts (Female)
Vaginitis
Often reported in unspayed females, sometimes their lady parts might be the area which is causing the smell. It could result due to bacterial or yeast infection which gradually spreads all over the area, often resulting in a light-colored discharge from the vagina. This is a painful and uncomfortable health condition which could make the female Spaniel snappy or anxious when left untreated for long.
SOLUTION- To treat this, the only solution would be to get in touch with a veterinarian. With their proficiency and experience they will be able to rule out the causes and prescribe any necessary medications that could provide them with comfort. This is also why vets often advise spaying females from an early age.
Pyometra
A much more serious condition, Pyometra is a secondary infection which can prove fatal in many female canids. Generally taking place due to an unusually enhanced progesterone production, the health issue starts getting much more severe when the bacteria is able to snuck into the uterus.
This infestation then brings on many serious changes to the internal parts, out of which a white-yellowish pus-like discharge is the most scary. The female will get overly anxious, may even drop blood spots, and avoid touch completely.
QUICK REMEDY- Although there's not much to do once your pup has been diagnosed with the condition, you can make sure her resting place is safe and clean. Clean the area with hot water when possible and give her clothes and bedding a good, warm wash.
PERMANENT SOLUTION- Pyometra needs to be dealt soon and with utmost professionalism. This will require the Spaniel to go through an extensive surgery. Although if detected early and in its benign stages, it may also be recovered with optimal care and with the right drugs.
Other factors
Ultimately, a Spaniel may also smell like a fish if they are suffering from certain bacterial or fungal skin diseases. These pesky little microscopic nuisances crawl up into their bodies, making their way into the skin pores where they grow and multiply. This causes the pooch to have skin infections which could really smell bad, depending upon the microbe type and the case gravity.
Simultaneously, rough flaky skin is also a major contributing factor to dandruff or seborrhea in Spaniels. This eventually causes their coats to seem lifeless, lackluster or too greasy, causing their skin pores to clog and cause a very bad smell. Moreover, given their furry long down-faced years, these woofers are also prone to ear infections. So, always be on a look out for these health issues.
SOLUTION- Cleaning their ears and regular brushing and proper grooming is a must to avoid these issues. Or else at the end, you will be required to spend quite a lot at the vet's clinic while also causing your beloved furbaby a whole lot of pain and discomfort.
So, this was all about the many reasons behind why your Spaniel is smelling like a fish, along with the quick and permanent remedies. Follow us for more interesting updates like these.
If you are a dog lover then, Subscribe to our weekly newsletters. No Spams!