Hey, everyone!!! I hope you are doing well….
Today at spanieldogs.com we will be discussing the top five best wet dog foods that you could give to your canine. All of these have been reported as the most popular and to be filled with high nutritional content, so do give a try.
In the list of the best wet dog foods comes the: Nulo Adult Grain Free Canned Wet Dog Food, Hill's Science Diet Wet dog feed, Purina Pro Plan Sport High Protein Beef & Bison Entree Dog Food, Royal Canin Veterinary Diet and Gastrointestinal Low fat canned dog feed, and the Blue Buffalo Homestyle Puppy Canned Dog Food. Apart from these there are many other brands which have really good compositions, but the above ones are generally highly preferred amongst pet parents.
Top 5 Best wet dog food Review
Nulo Adult Grain Free Canned Wet Dog Feed
Starting our list with the top-rated wet dog feed brand, Nulo Adult Grain-Free Canned Dog Feed has no soy, corn, white potatoes, tapioca, carrageenan or wheat. Best for pups with sensitive stomachs, this particular dog feed comes in many flavors, including chicken, beef, lamb, and other dog-friendly meats.
However this is not the only thing that makes it so popular. Filled with healthy omega fats, essential vitamins and minerals, this wet feed is also super delicate and extremely palatable. So, no matter if it is breakfast or lunch, putting even the tiniest of scoop will make your dog clean out their plates.
Pros:
No corn, wheat, or grains

No artificial colors or chemicals

Contains essential omega fats and vital nutrients

Easy on digestive system
Cons:
Some dogs may not like the flavor
Hill's Science Diet Wet Dog Feed
The next in line, the Hill's Science Diet Wet dog feed is best for pups within 1-6 years. This feed combines almost all the favorite ingredients of a canine, such as chicken, brown rice, dog-friendly vegetables and more. So, not only the pup will enjoy the gravy mixture, but also get all essential nutrients with each scoop.
Pet owners can also go for the turkey, beef, and lam variants depending upon their pooch's taste buds and product pricing. The company claims its product to be high in protein, Vitamin E, and omega-6 fatty acids, all of which are superb for their skin and coats.
To make it more favorable on their bellies, the feed is also moderately leveled in both sodium and phosphorus, making it the perfect diet for healthy as well as sick pups. What's more??? This particular dog feed has also been ranked as the #1 Vet-recommended wet canned dog feed available in both online and offline stores.
Pros:
Formulated for optimal digestive health

Highly vet recommended

Slow-cooked stew for ensuring higher appetite in canines

Filled with grain-free formula
Cons:
Poor packaging leads to spoiling or drying of the content
Purina Pro Plan Sport High Protein Beef & Bison Entree Wet Dog Food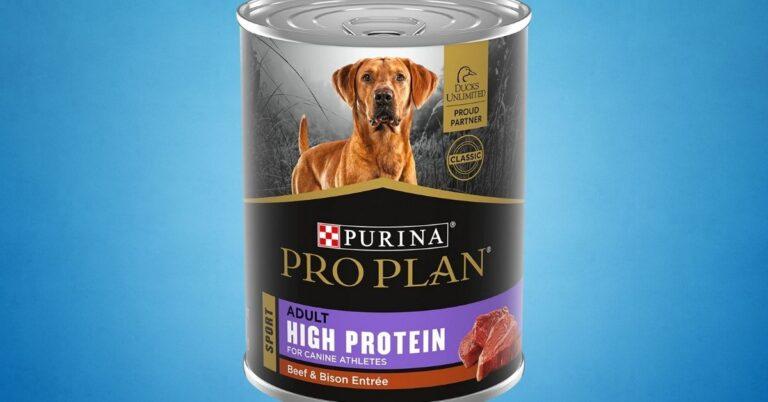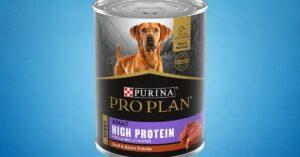 Safe for pups of all sizes and ages, the Purina Pro Plan Sport High Protein Beef & Bison Entree is a must try for all pet owners. It has only premium quality ingredients, and hence regularizing this delicious wet dog food is said to aid in overall physical and mental development in growing pups.
The company manufactures its product with a 30 percent protein and 20 percent fat composition which is highly essential in maintaining lean muscle mass. Therefore, this product is often used by canine athlete owners all over the globe.With premium beef and bison entree, glucosamine, vital omega fatty acids, vitamins and minerals, your pooch will definitely enjoy this wet dog feed.
Pros:
Best for maintaining canine weight

Dogs love the smell and taste

23 essential vitamins and nutrients

Premium beef and bison composition
Cons:
Some dogs may not like the strong smell
Royal Canin Veterinary Diet
Another highly preferred veterinarian grade wet dog food, the Royal Canin Veterinary Diet is the same as its name. Best advised for pups with weak digestive systems, this feed comes in a gel form and hence even a small bit is enough for your pooch's palette.
This wet dog food is high in calories, prebiotics, digestible proteins, EPA, DHA, Omega fatty acids, and more. Therefore, even if your pup doesn't always complete its meals, they will be having enough calories and essential nutrients backing their little bodies. However, beware that this product is not ideal for every canine health condition. You will need to speak with your vet, before starting the wet feed as the amount to be fed needs to be appropriate.
Pros:
Best for dogs with GI issues

Infused with highly digestible proteins and prebiotics

Low fat content
Cons:
Expensive

Not ideal for pups with healthy digestive system
Blue Buffalo Homestyle Puppy Canned Dog Food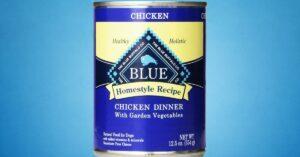 Finally, the Blue Buffalo Homestyle Puppy Canned Dog Food is a rather cheaper version of the Nulo Adult Grain Free Wet Dog Food that we discussed earlier. The food comes excluding corn, wheat, artificial preservatives, and is a strict no chicken and poultry-by product composition.
A sensible substitute for raw diets, each scoop of this delicious wet dog feed will nourish your pooch with all the essential vitamins, minerals and nutrients. Moreover, the product also comes in many other variants, each one of them consisting of a powerful combination of only premium quality meat and dog-friendly veggies.
Pros:
Cheaper price

Dogs love the taste

High in prebiotics, antioxidants, and organic
Cons:
Do dogs need wet canned food?
Well, first of all, unlike dry feeds, wet dog food has higher hydration content. Therefore, if your pooch skips drinking water as if it's a plague, then giving them wet feed is definitely the best choice.
When consumed the hydration level will keep their bodies going well and good, preventing dehydration mishaps. Moreover, canned dog food is also known for its delectable taste which is highly preferred even by the pickiest of pups. So, if your woofer has been previously showing disinterest to his/her food, you can always go for these better options.
What is the right trick to finding the right wet dog food for my canine?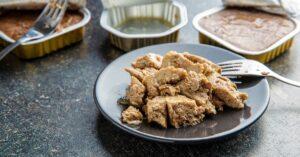 There are a lot of factors that need to be pointed out before choosing the brand or variety of canned dog food. These include:
Age-

Not every wet food comes bearing an 'all-age' safe manufacturing formula. Therefore, if you have a pup less than one year old at home, it is better to choose a feed that's compatible for his/her age. Similarly, senior, sick, or sports dogs will need separate composition levels for their bodies, and hence carefulness is a must.
Health risks-

There are many canine

health conditions

that are essential to be treated with utmost care. So, if your pooch is diagnosed with a medical condition or is continuing medications, consulting the vet is the basic step to ensuring their safety.
Flavor and smell-

Dogs have super powerful noses and although most of them don't think twice before munching down what's given to them, a lot might show disinterest if the flavor or smell isn't up to their liking. Thus, before you start with a big can of a particular brand, it's better to start with a trial pack. Only continue if your pooch seems to enjoy it or if you can see a raise in their appetite.
Brand-

Wet dog food can be expensive. And even though their cheaper counterparts may seem to be doing the job at half the cost, branded feeds come with a much greater trust threshold. They are much more experienced and equipped to create safer canned dog food as compared to a newly setup company.
Composition-

To know if it's safe or not, pet owners should also focus on the compositional factors of the canned item. Starting from the food to the packaging material minutes, make sure to do a thorough read before purchasing the item off the shelf. This will come handy if your canine has a food allergy.
Reviews- Finally, reviews are the one thing that you should never miss when purchasing from online outlets. Every company will publish appealing context regarding their product, which may or may not be true. An effective option to find the truth is to scroll through all reviews posted by its consumers. Always make sure to check all-stars reviews and then click on the purchase option.
If you are a dog lover then, Subscribe to our weekly newsletters. No Spams!