If your adult Cocker Spaniel sleeps a lot more than the average schedule, it might be due to underlying health conditions. From viral infections to age-related disorders, there are many factors that could be causing the sudden change. But, if your Spaniel is still a puppy (within 12 weeks of age), then this is nothing to be worried about. In fact they need the sleep to allow their senses to develop faster and hence waking them up forcibly is not a wise choice. So how does one know what's okay and what's not???
Well for that keep on reading until the end to find answers to your questions.
How long do Cocker Spaniels sleep?
On an average Cocker Spaniels will require about 10-12 hours of sleep everyday. However, this is typically divided into many short parts rather than a single long one.
Unlike other canine breeds, this particular fur baby has endless amounts of energy which it loves to disperse with his/her human more than spending time languidly on the couch. Thus most of the time, these pups will be more than thrilled to run around the house, chase squirrels or bark at strangers.
Why do Spaniels sleep so much?
Well, the scientific answer to this lies in their REM Cycle and ancestral origins.
As dogs are said to have originated from wolves, it is in their genes to stay conscious of their environment even when they are sleeping. Their senses typically keep on working almost all the time keeping them from enjoying a complete REM sleep. And that is the first reason why your Spaniel may be sleeping a number of times during the day.
The next reason is that the REM these pups, and all dogs go through, is much shorter when compared to humans. Thus even if they fall asleep quite frequently, that doesn't mean they are fully invested in the phase. So to feel completely rejuvenated your dog will require a lot of short naps during the day, apart from the long one at night.
In some cases if your Spaniel is in its first few weeks of age, then also they are likely to sleep a lot. The more sleep they get, the faster they mature. But if they are adult woofers, and sleeping more than 12-14 hours, it might be due to: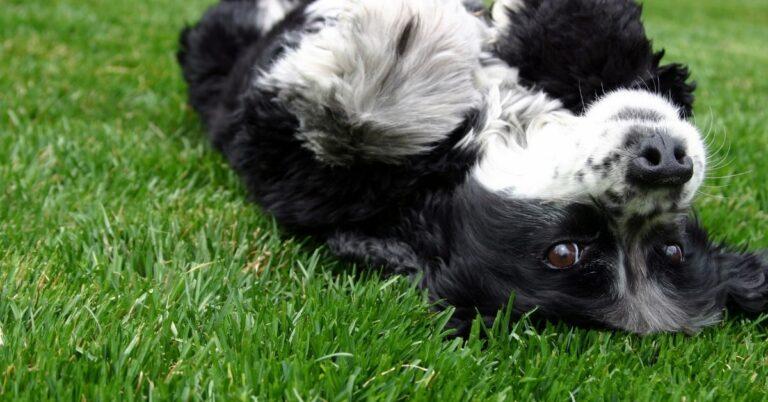 Just like puppies, older dogs may also exhibit increased sleepiness. This mostly happens due to the gradual loss of energy in their bodies, although health problems, such as bone and joint problems, troubled breathing, might be the cause too.
The best cure here will be to consult a veterinarian. When consulted they will be able to provide a much detailed outlook on the condition's cause and proceed with respective treatment options, if required.
An improper BMI (Body Mass Index) causes Cocker Spaniels to get severely lethargic. Due to the increased pressure on their body, the pooch won't enjoy standing or sitting too long, and hence roll down every chance it gets.
Therefore, vets and pet nutritionists often advise Spaniel parents to follow a strict dietary schedule for their pups. Depending upon their age and health conditions, the diet chart must be prepared, with extra attention to physical and mental exercises.
Now let's be frank. Not every Cocker Spaniel we meet has an active, highly energetic character. Some do love to spend their time snuggling with their humans. And this might be very well due to the genes they have got from their doggy parents, you just never know.
To confirm this you could ask your breeder to provide you detailed information about the pup's pedigree beforehand. This usually causes no issue and is somewhat treatable with the right exercises, and training methods.
A Spaniel facing psychological ailments, including stress and anxiety will doze off every once in a while. The sudden spike in the hormones puts tremendous pressure on their little mind, and bodies, making their energy disperse much faster than other pups in the house.
These psychological issues are never good for any dog. Therefore, seeking a professional's consultation is a much better choice. Based upon their fears and other stress causing factors, they may have to take calming medications or train under a certified pet behaviorist to be able to bid goodbye to a poor mental health.
Contrary to woofers with consistency in exercising or daily activities schedule, dogs that have no task whatsoever to do in the absence of their owner are most likely to pass their time sleeping. This is because they feel bored and don't know what to do if not sleep.
Apart from sleeping for most part of the day, the pups may also become super destructive and destroy anything that comes in reach of their paws. Thus, preparing a working schedule, especially if you are a parent to an active Spaniel, is a must. You may also want to stake up their exercises, so as to tire the pup out before leaving them all alone in the house. 
If your Cocker Spaniel is suffering from hypothyroidism then also the pup will try to revitalize themselves by falling asleep more. Given the under secretion of thyroxine, a hormone that plays a major role in maintaining metabolism, their bodies gradually start producing lower energy levels, giving rise to the issue.
A good comeback from such an overwhelming situation is to enroll the pup under vet prescribed medications. When started at the right time, the pup will be able to bounce back to its previous state much faster and smoothly.
Bacterial and Viral Infections
Some infections such as leptospirosis, parvo, tracheobronchitis, etc, pull down the overall health standards of the pup drastically, giving rise to increased lethargy and sleepiness. In such cases, the pup has no energy and hence resorts to sleeping most of the time, just so to reduce the feeling of pain and discomfort.
There are a lot of secondary symptoms that mark the probability of these conditions. And if you see any of them, please consult a veterinarian as soon as possible, as delaying it may prove fatal to the fur baby.
Caused by presence of nasty fleas and ticks, or other internal and external parasites, anemia causes increased drowsiness in affected pups. The loss of blood automatically reduces their metabolism, and may even cause them to lose consciousness, or have bad seizures when kept untreated for long.
When consulted with a professional, they will most probably carry out blood, urine, and stool tests to confirm their doubts (presence of roundworms, whipworms, heartworms, or tapeworms). Afterward, based upon the final result, your pup will have to go through a dedicated treatment plan with regular visitations to the vet's clinic.
When to visit a vet if my Cocker Spaniel sleeps a lot?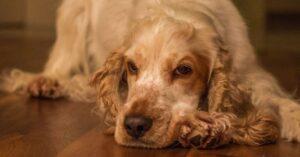 You should take your pup to a vet if:
There is a sudden change in their

sleeping pattern or position

.

They aren't waking up even for their favorite things, such as going on a walk, car ride or to run freely in the yard.

They start exhibiting a serious dip in their appetite.

They have

sleep apnea

.

They fall asleep when playing or walking, also known as

narcolepsy

.

Severe drooling when asleep.

Frequently waking up in a state of stress or fright in mid-sleep.
Delaying the symptoms is never a best choice as it may affect the woofer's quality of life. Additionally, as a responsible pet parent, you should take care of this by organizing your dog's activities to a daily routine, with surprises every once in a while.
This will help keep the little baby on its feet and you won't have to worry about them getting bored or lethargic in that case.
FAQs
Why does my cocker spaniel sleep with one eye open?
All dogs, including cocker spaniels, sometimes sleep with one or both of their eyes open. However, that doesn't necessarily mean their eyes are really open. Actually, dogs have a third eyelid called a nictitating membrane covering their eyes when asleep, giving a false appearance of an open eye. 
Although sleeping with one or both eyes open is normal, we shouldn't rule out any medical issues. Certain conditions like Brachycephalic Ocular Syndrome and neurological issues such as epilepsy or narcolepsy may prevent dogs from closing their eyes completely during sleep.
How much sleep does a newborn old Cocker Spaniel need?
Most newborn cocker spaniel puppies can sleep up to 22 hours a day. At their infancy, puppies only wake up for feeding, but they sleep lesser as time passes. This is because they learn to be more adaptable to their surroundings. By 8 weeks, their sleep time can go down up to 16 hours a day. At 12 months, 10-15 hours a day sleep time is enough for your furry friend.
Why my cocker spaniel doesn't want to sleep?
The cocker spaniel is a naturally energetic and lively breed with varying temperaments. That means some dogs like to play all the time. However, the hyperactive trait of cocker spaniels usually goes down as they mature, around 2-3 years of age. However, some dogs might take longer to settle. Additionally, you can try training, exercise, and socialization to help your cocker spaniel to manage its energy, making it goes to bed at the right time.
 

Do Cocker Spaniels snore?

 
Cocker spaniels belong to brachycephalic breeds known for their short snouts. Any dog with that physical characteristic is likely to snore. This is completely normal unless you see any issues of difficulty breathing.
Contact your Vet if your dog is snoring frequently or too loudly or is accompanied by symptoms like coughing, wheezing, panting, and labored breathing. It could be due to brachycephalic obstructive airway syndrome (BOAS), which is a matter of concern. 
If you are a dog lover then, Subscribe to our weekly newsletters. No Spams!