Hello and welcome you all to our new blog. Today we will be looking at the reason behind the itchy bums of dogs. So, if you have been worried about your dog's sudden strange licking behavior at the base of its tail, you are at the right place. Without further ado, let's dive into the topic.
The most immediate cause of a dog licking the base of its tail is an itchy bottom. Generally, such cases arise when your dog runs late on its worming schedule. However, the same may also arise due to other severe complications. Therefore, although occasional sniffing and licking of the butt is okay in dogs, if the behavior progresses much more frequently, then your dog definitely needs an immediate vet check-up.
What is itchy bottom?
As the term defines, it is when your dog's bottom is scratchy than usual. Dogs do love to scratch, and by scratching it means everywhere. However, if you find your adorable pupper dragging their bottoms over the floor or licking it more than usual, your pup is no wonder suffering from an itchy bottom. There are various causes as to why this might happen, anal gland problems being the most common causes. Such situations have a relatively faster and risky way of progression, and hence consulting with a vet immediately is the best resolution.
What causes itchy bottoms?
A dog's body!!!
Although dogs have the same organs as humans, it functions a lot differently from us. Therefore tagging their behaviors without having enough knowledge about it or without consulting with a professional might not work all time.
A similar issue is with itchy butts. While it might seem that your dog is just doing its usual cleaning and keeping their bottoms clean, the cause is not always the same. Here are a few causes as to why your dog has suddenly started obsessively licking its tail and bottoms.
Flea or parasites
Fleas and parasites are not only some little nuisance makers that risk your dog's health and hygiene, but their presence might also be triggering your dog to lick or nip its tail constantly. With their pesky little claws and ravenous mouths, they constantly keep on sucking your precious pooch's blood while on their body. This, in turn, causes a severe urge to itch, and hence the behavior.
To avoid such instances, proper maintenance and grooming of your dog are highly essential. Pet parents need to regularly check for fleas and parasites on their woofer's body, whether it stays alone or with other pets. Vets also recommend occasional washing with flea and parasite prevention shampoos for the best results.
Anal gland issues
Even though they might not seem much, any issue with a dog's anal glands can quickly turn into severe health conditions. So, if you see your dog licking the base of its tail much more than before, it is mainly because he/she is having trouble expressing his anal sacs. Such dogs often develop a foul fishy smell which when ignored leads to sticky brown-colored substances coming from their butts.
The only solution is to take your pooch to a vet in such cases. After a thorough examination, the vet will squeeze the anal glands through specialized machines until the sacs are fully expressed.
What are anal glands?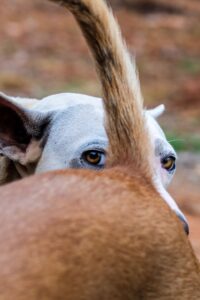 Like every other organism, dogs have special sacs around the opening of their fluffy little bottoms. Also known as 'anal glands,' they are responsible for the distinct smell of your dog's poo. A healthy anal gland secretes a unique blend of pheromones that gives a distinct poo smell to every dog. So, if you have ever witnessed your dog sniffing some other animal's excreta and wondered about their sanity, here's the reason.
Born with incredible smelling power, the pheromones of the excreta help your pupper to gather much-needed information about the environment as well as the 'poo owner.' Pretty gross, right???? Well, this is the fundamental rule by which dogs identify others. And hence what seems gross and unnecessary to us is a survival tactic for these adorable canines.
How can anal gland issues compromise a dog's health?
Although pet parents may laugh it out, your dog is not very comfortable when going through an anal gland issue. Due to the faulty working of the anal glands, the hole gets gradually small, thereby leading to painful excretions. On top of that, your dog's pheromones stop secreting overally with constant thickening of the anus with mucus. Over time, the area becomes red, swollen, and sore, causing both discomfort and pain to the dogs. 
When kept unattended for long, such issues have the probability of turning into dire circumstances, including sacculitis and Perianal Fistula. The continuous pain may also lead to a sudden change in your perfectly polite pooch's behavior, making them extremely aggressive and snappy. Some other side effects include:
Excessive scooting rear along the ground

Obsessive bottom licking or nipping

Heightened tail chasing

Foul-smelling odor from their bottoms

Straining to defecate

Discomfort when sleeping

Brown or red discharges from the anal area

A hole near the rectum releasing bloodish or greenish-yellow pus
What needs to be done in such cases?
CONSULT WITH A VET ASAP!!!!
To stop the issue from rising into super painful nightmares for your dog, taking them to a vet as soon as possible is highly necessary. As discussed above, the professional will start with a thorough examination in the area where they might touch or press on your pooch's anal sacs. If confirmed, then a detailed anal sec expressing is done, which is a super messy affair. The doctor will squeeze out any remaining sticky substance that may hinder their sacs' normal functioning. Your vet might also administer topical or oral steroids to prevent repetitive occurrences.
However, it is necessary to remember that this is just a temporary solution. Thus, if your dog's lifestyle is not changed, you might have to knock on your vet's doors in the next few months. Similarly, depending upon the severity of the condition, your doctor might also take a few samples for further testing.
What do I need to do?
All pet parents want their furry four-legged parents to have a wonderful, happy, healthy life. So, they often unknowingly feed harmful food items dishes that although leave a delectable taste in your dog's palette and have them whining for more, have hazardous effects on their little tummies. These include high protein diets, food with no or negligible fibers, salty and spicy dishes, etc.
As a pet parent, it is necessary to design a highly scrutinized feeding regime for your pup to prevent such instances from happening. BARF diets are generally the best in these matters. This is because feeding your dog raw meaty bones and vegetables helps ensure a firm stool texture. Thus, the better their stools, the fewer anal gland issues they suffer from.
No surprise having a dog as your partner is a boon for all. But, unfortunately not heeding them proper care can quickly go south, causing your baby to go through severe discomfort and pain. Therefore, it is always crucial to have your pup checked by a professional the instant they start exhibiting any weird or excessive behaviors, including licking the base of its tail.
Because as a wise man once said, "Prevention is better than cure."
If you are a dog lover then, Subscribe to our weekly newsletters. No Spams!