Today in this new blog at spanieldogs.com, we will be going through the 5 best waterproof dog coats with legs you can choose from for your furry partner.
Starting with the Canada Pooch Slush Suit for Rain & Snow, we have the Dogs Waterproof Jackets which arrive in many sizes. Next is the Cosibell Waterproof Puppy Dog Raincoats that are especially designed for puppies and small sized canines. In fourth place is the GabeFish 9 Colors Dog Raincoat and finally the YAODHAOD Waterproof Dog Coat. These best waterproof dog coats arrive with decent sized legs and amazing color options that will make your pet easy to recognize.
Now moving ahead to the main part, here's a detailed explanation of each of their individual strengths, weaknesses, followed by a short commentary on how we feel.
Top 5 Best Waterproof Dog Coats with Legs
Canada Pooch Slush Suit for Rain & Snow
An adorable, premium looking dog raincoat, the Canada Pooch Slush Suit for Rain & Snow arrives with the best water deflecting materials. Designed for almost all canine sizes, the watercoat covers their entire body leaving no space for mud, water or snow to pass through.
While the coat arrives in various lengths and sizes, there is also the provision of an easy-to-fit buckle system. This allows seamless fitting of the coat along the pooch's body and can be used for either tightening or loosening the cloth around certain parts. Furthermore, the on side zipper and button snaps on the legs ensure complete protection to your pooch no matter the weather.
The material is breathable and hence doesn't overheat the dogs, no matter how long it is worn. When in contact with water, not only the droplets slide down the coat almost instantly, but the thin clothing keeps their bodies warm and comfy too.
Pros:
Long legs with button snaps

Full coverage against mud, snow, slush, and rain

Water resistant exterior

On side zipper and adjustable neck

Dries superfast

Suitable for small, medium and large canine breeds

Prevents fur matting

Easy-to-clean and maintain
Cons:
Not suitable for giant breed dogs
What we think- For pooches that love to jump onto mud or rain-puddles during walks, this product is a must-have. With its easy to wash feature and top-tier water deflecting properties, pawrents need not worry much. However, the coat is rather pricey, so make sure to find the right fit for your canine in the first go. Or atleast check for their 'Return and Refund' policy before making your purchase.
Dogs Waterproof Jacket
Bearing the best quality composite fabric the Dogs Waterproof Jacket makes it to our second most preferred waterproof dog coats with legs. Arriving in amazing bold colors, the jackets are further coupled with reflective strips which is a convenient safety feature. So, when in dark or blurry environments, the strips will reflect light allowing other passersby to detect your dog and hence pass safely.
The turtle neck dog jacket is pretty easy to fit as it consists of small adjustment markers at neck, feet and chest portions. So, even if the size comes a little too large, pet parents can seamlessly adjust to their pup's body requirements. To make it last longer, the product comes with reinforced stitching that unlike normal stitches don't come out undone with a little tag and pull.
A SBS metal zipper ensures easy fitting to the canines, while the fabric type makes it the best choice for both windy and rainy days.
Pros:
Customizable fittings at neck, feet and chest

Legs cover a good portion

Reinforced stitching that lasts longer

Premium composite fabric offers insulation and ventilation

Consists of a leash hole

Available in 15 sizes and four bold colors

Coat has reflective strips
Cons:
The leash hole can let water in if not insulated properly
What we think- Featuring a relatively new design, this waterproof dog coat does go easy on pricing, but also has certain drawbacks. Pet parents may need to further insulate the leash hole by covering it, as water or snow can easily slide through. Apart from that, the dog coat with legs does make a good choice for areas with heavy winds.
Cosibell Waterproof Puppy Dog Raincoats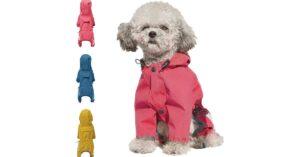 Apparently, the only waterproof dog coat with legs that has a full cover hood, the Cosibell Waterproof Puppy Dog Raincoats is especially designed for small and medium sized breeds. This thick coated polyester coat doesn't impose too much pressure on the puppies and hence can be worn all day long.
Coupled with reflective material, the body fabric is super soft and breathable. Thanks to this, the coat can be worn during both day and night and almost in every weather condition. The canine-safe polyester hugs the canine at all the right places and is further coupled with buttons at the chest and belly part with drawstrings in the hood and waist. This makes it quite easy for pet parents to dress their pups without having to fumble around any zippers and thereby risk wear and tear.
Pros:
Easy-to-clean and carry

Reflective canine-safe polyester fabric

Has buttons and elastic drawstrings for seamless fitting

Suitable for small and medium sized dogs

Consists of leash hole
Cons:
Fabric is quite easy to stain

Not suitable for large and giant breeds
What we think- Cosibell waterproof dog coats with legs are a great choice if you have a small or medium sized pupper. The addition of buttons and elastic drawstrings is what makes it special as it doesn't let the hood be blown away during super windy days. But, unfortunately, the raincoat doesn't seem to be suitable for larger canines.
GabeFish 9 Colors Dog Raincoat
Another polyester based raincoat for canines of all sizes, the GabeFish 9 Colors Dog Raincoat has a rather unique design. This particular product has a half-hooded design that although covers most part of their face, doesn't go all around their head. This is best for puppers who don't like hooded designs or create a fuss every time you try covering them up.
The fabric is composed of highly water-resistant materials that don't let water droplets stand on it and hence is the perfect accessory for your furry companion in heavy rain weather. Similarly, to offer a comfortable fit, pet parents can easily adjust the fittings with its button closure and fast strapeners that are provided alongside the leg design.
A built-in hooded leash hole can be found near the neck, from where pet parents can attach their leashes without risking water from going inside. However, as a drawback, pet owners will be needed to cut pee holes for their male dogs by themselves. There is no dedicated space for the same and hence can be troublesome for many.
Pros:
Velcro design with double waterproof outer shell

Button closure with fast strapeners running around the leg

Breathable material

Suitable for long-lasting usage in harsh weather conditions

Comes in 12 sizes, bold colors and patterns

Machine washable and easy to carry
Cons:
No dedicated pee hole space for males

No reflective strips on the fabric

Quite hectic to get the canine in and out of the coat
What we think- GabeFish 9 raincoat is an average alternative for pet parents staying in areas with harsher conditions and on a budget. The coat does a decent job in protecting the pooch from blizzards and rainstorms, although some hairy pooches like the doodles, golden retrievers, etc may have a hard time trying to protect their legs, given their long fur arrangement. Otherwise, it's a pretty good option.
YAODHAOD Waterproof Dog Coat
The YAODHAOD Waterproof Dog Coat is a lightweight versatile raincoat that is manufactured using decent quality plastic fabric. Thus, unlike the above stated waterproof dog coats with legs, this one is not suitable to be used during heavy showers. Rather, it is a protective clothing which offers shelter from light rain, morning dew, and harsh sunlight.
Best advised for canine with super sensitive skin, the fabric is breathable, thanks to its unique composition of other good fabrics. So, the coat can be used for extended periods of time without creating more skin issues for your dog. Best suitable for small and medium sized breeds, the clothing provides full coverage, and has reflective strips running along the spine part.
Pet parents can choose from the various available sizes, although button closure and drawstring arrangement is also offered for a substantial fit. All the four corners are coupled with elastic bands which adds on to the stability and therefore keeps the pet completely neat and dry.
Pros:
Lightweight and dries quickly

Reflective safety strips

Adjustable design with seamless fitting

Full coverage and easy to clean

Suitable for early morning walks and lightshowers
Cons:
Not ideal for heavy showers, blizzards or puddle jumping

Relatively poor quality fabric materials

Not for larger sized canines
What we think- This coat or should we say protective clothing is only suitable for early morning walks and puppers with super sensitive skins. Wearing them to harsher climates will be an unwise move and hence investing in better options will be more advisable. But if it's for lightweight purposes, then this protective clothing can be a good pet accessory.
Buyer's Guide to Choosing the Right Waterproof Dog Coat with Legs
When purchasing a waterproof dog coat with legs for your canine, (it may be for the first or the 'Nth' time, make sure to consider these factors:
Canine's Breed
The most essential factor of all a canine's breed keeps major importance when choosing a waterproof dog coat with legs. Without the proper sizing and breed information you will not find the right size and hence end up making an expensive choice.
To find the correct sizing, it is always better to measure the dog's length from the back of their neck up to their tail. Similarly, don't forget to measure the area around their front chest, legs and abdominal area for exact fitting proportions.
Fabric Quality
For the raincoat to last longer, the fabric needs to be of the optimal quality. Usually, polyester and composite fabric make up as the most preferred choices, given their easy stretchability and long lasting shelf life.
While at the same time, plastic based fabric might not be a good choice, although they are conveniently affordable. When thoroughly wet, these fabrics are more prone to wear and tear, and may also leave PVC residues on their bodies. This in turn can lead to toxification and onset of various skin and health problems.
Design
Apart from the ones discussed above, you can always stumble across cool looking jackets which although seem pretty premium are not at all comfortable to the canine. This is because many coats come with poor-quality zips and buttons that can irritate their skin when dressed.
Therefore, be extra careful of the add-ons that come with the canine raincoats. For instance, zippers with protective clothing under it don't risk matting of their fur and hence are very comfortable for the dog.
Similarly, the coat should have water-resistant reflective strips, breathable fabric that offers ample space for ventilation and covers their body pretty well from all sides.
Cleaning and Maintenance
Dirty dog coats are not only dirty to look at but also unhygienic. Thus, investing in a waterproof dog coat with legs that's easy to clean and maintain should be your next priority.
While most canine raincoats are hand-washable, a few good ones do have the option to machine wash them. So, depending upon their particular washing, drying and maintenance options, the choice should be made. Additionally, NEVER EVER forget to follow the manufacturer's washing guidelines during every use for the product's long shelf life.
Waterproofing and Insulation
Even though waterproof dog coats keep your pooch safe from light and heavy showers or snowstorms, a few coats offer insulation simultaneously. The interior part of the clothing needs to be thick enough so as to keep the canine's body from freezing and must be coupled with air-tight zips to prevent water from entering into the slits.
Weight
The next important thing to consider is the weight of the raincoats as they can be either big and bulky or thin and lightweight. The fabric's thickness and weight generally depends upon the insulation and comfort. Therefore, pet parents will be required to make a balanced choice when purchasing waterproof dog coats with legs for their beloved furry partners.
This is because while a big, heavy raincoat could put immense pressure on the pooch's joints, a thin, lightweight one may not keep their bodies as warm as you may think.
Leash Attachment
Finally, leash attachments are a must for all waterproof dog coats with legs. Given their usual designs, pet parents may find it difficult to latch on their pups onto a leash when going on walks, and hence pre-availability of a leash attachment is a must.
Additionally, the dedicated space should also be covered by a hood so as not to let water in. Ignoring this simple factor can make your whole investment go into waste. Thus, not being hasty and taking time to carefully go through their specifications is what's essential for the right purchase.
You may also like:
If you are a dog lover then, Subscribe to our weekly newsletters. No Spams!