Dogs are adorable creatures and are very food motivated. But as they grow old, this inclination towards food usually starts declining. This could be due to numerous factors, including aging. Upon growing old, some dogs suffer from weak teeth, while others may lose a couple of their pearly whites. So, if you have a canine that has lost its teeth recently due to age or health conditions, here are a few food bowls for dogs with no teeth.
Starting with the Neater Feeder Deluxe for Dogs, we have the BurgeonNest Slow Feeder Dog Bowls, Havniva Raised Non-Slip Ceramics Dog Bowl, JWPC Bulldog Bowl Anti-Slip Dog Dish, Super Design Mess Free Slanted Bowl, LE TAUCI Dog Bowl Slow Feeder Ceramic, and the Outward Hound Fun Feeder Slo Bowl. All of these products come bearing an easy to access mouth that makes it easier for a dog with no teeth to much down on the food.
To know more, keep on reading.
Best Food Bowl for Dog with No Teeth
Neater Feeder Deluxe for Dogs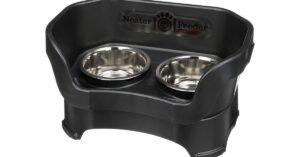 One of the top rated food bowls for dogs with no teeth, the Neater Feeder Deluxe for Dogs is packed with many unique features. First of all starting with its food and water spill-proof design, canines with weak teeth structure can easily access their feed, without spilling half of its content onto the floor when consuming. The bowls are also decently deep and non-stick, preventing the food from sticking to the sides.
Additionally, the product is a two-bowl design which pet parents can use to offer both food and water at the same time. These bowls lie at a height of 5" from the ground, making it easier for medium size dogs to get their food or water without putting more pressure on their neck. At the bottom, a catch basin is inserted where any spilled water is collected, therefore keeping the surrounding area relatively clean.
The legs are further supported by high quality anti-skid rubber feet which keeps the stand in position. So, no more skidding while the dog is having its sweet time having their food.
Pros:
Mess and spill proof

Consists of a catch basin for spilled water

Feeding height of 5"

Contoured design with deep enough bowls

Splash-proof raised walls

Available in multiple colors and sizes

High quality manufacturing materials
Cons:
BurgeonNest Slow Feeder Dog Bowls
A dog bowl especially designed to suit variable canine needs, the BurgeonNest Slow Feeder Dog Bowl is a rather wise choice. This 4-in-1 dog bowl set comes with differently designed bowls that can be easily fit into the gap as per your canine's special eating style.
Thus, pet parents can find a wide stainless steel dog bowl, slow feeder bowl, stainless steel deep dog bowl along with the spill-proof silicone pad. While the slow feeder bowl is relatively better for dogs with weak teeth, the stainless steel ones will be the ideal choice for canines with no teeth at all. The broader space will allow them to comfortably ingest their meal without hurting their jaw every now and then.
Overally, the mat is made up of food-grade, high strength PP materials, which is further outlined by silica gel. This keeps the mat stick to one position and can be placed on any surface. Even more, the silicone pad is highly durable, and hence can be used both inside and outside the house.
Pros:
4-in-1 design for all feeding needs

Long lasting, food-grade, high-quality manufacturing materials

Non-skidding silicone pad

No-spill mat design ensures less mess

Can be used on any surface

Easy to clean and maintain

Doesn't stain the walls
Cons:
Bowls are on the ground-level
Havniva Raised Non-Slip Ceramics Dog Bowl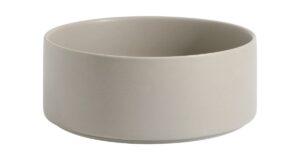 Another of the popular food bowls for dogs with no teeth, the Havniva Raised Non-Slip Ceramics Dog Bowl is a rather affordable purchase. Arriving in two beautiful colors, the bowl is pretty heavy and large. This makes it quite impossible to be tripped over by naughty dogs and hence is a safe purchase.
Additionally, the company claims the ceramic bowl to be made up of non-toxic, lead free, durable materials, making it a much safer option for canines with no teeth. When using this bowl, the dog can insert its whole snout without risking touch with the tough walls and thereby prevent discomfort or pain.
Similarly, the anti-skid silicone bottom makes it a good choice if you don't want to deal with the mess later on. To clean it, the ceramic bowl can be either hand-washed or put into the dishwasher and voila you have a clean feeding or water bowl for your beloved canine once again.
Pros:
Wide and deep bowl for all-sized dogs

Highly-durable materials with a non-skid silicone bottom

Cannot be easily nudged or kicks

Food-grade, lead free, non-toxic material

Microwave safe

Suitable for almost all breeds
Cons:
May wobble a little

The bottom stand could have been better
JWPC Bulldog Bowl Anti-Slip Dog Dish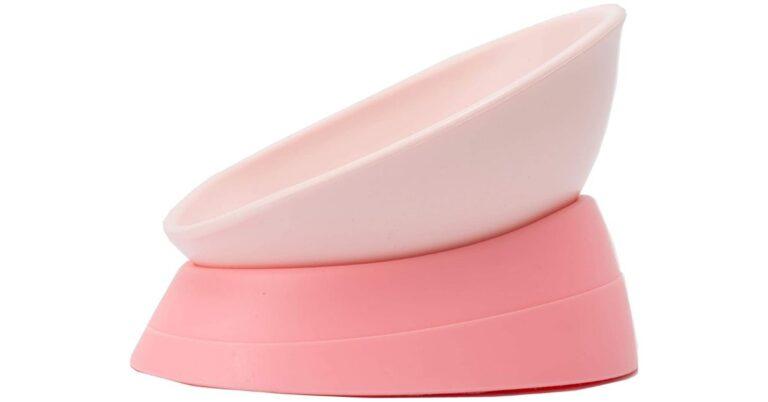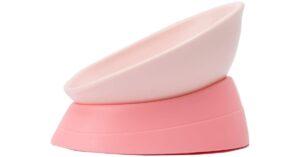 Designed to last long, the JWPC Bulldog Bowl Anti-Slip Dog Dish is crafted using top quality food-grade plastic. Originally made for bulldogs and other flat faced breeds, the dish comes with a stand that can be placed anywhere. Additionally, the dish can also be tilted to facilitate easy consumption by shorter woofers, flat-faced canines and dogs with no teeth.
This raised bowl has a deep design that keeps the content fairly balanced in the center. So, no matter if you place it a little tilted or in its regular position, the food won't fall out. Furthermore, the base is anti-slip and stays in one position when the dog eats out of it.
Pros:
Broad face and deep mouth design

Suitable for flat-faced, short breeds and dogs with no teeth

Made of high quality resin

Food-grade composition and eco-friendly

Adjustable base height

Base is anti-skid
Cons:
Consists of relatively poor quality manufacturing materials

Not for chewy canines
Super Design Mess Free Slanted Bowl for Dogs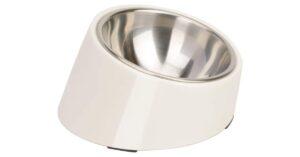 Another slanted bowl design, the Super Design Mess Free Slanted Bowl for Dogs makes it to the fifth position in our list. This uniquely designed bowl is best recommended for canines that usually suffer from digestion issues, as given its ergonomic 15 degree tilt, the bowl makes it easier for the dogs to chomp down their food without further pressuring their food pipe.
Coupled with a non-slip,stable base, this bowl design is tough to be knocked over, and hence best for naughty woofers that love making messes when it's feeding time. Easy to wash, clean, and maintain, this product is specially made for pet parents that stay on the move. When it's time to clean them, just put it in your dishwasher or wipe them clean with a damp cotton cloth.
Pet parents can choose from multiple sizes, and vibrant color options, from both online and offline platforms.
Pros:
15 degree tilted arc design

Higher round arc design to prevent food or water spillage

Dishwasher safe manufacturing material

Stable and non-slip melamine stand

Long-lasting and chew-proof

Bowl is made up of high quality stainless steel

Available in numerous sizes, and colors
Cons:
Rubber band attached to bowl is of poor quality

Not suitable for all kinds of surfaces

Doesn't offer much elevation
LE TAUCI Dog Bowl Slow Feeder
The LE TAUCI Dog Bowl Slow Feeder is a ceramic slow feeder that keeps canines from chin disease and digestion issues. Thanks to its toxic-free, durable ceramic manufacturing, dogs with no teeth can have their food or water in a slow pace without risking exposure to harmful bacteria and thus hurting their compromised jaws anymore.
This slow feeder comes in numerous shapes, sizes, color options and designs, making it a wise purchase for pet parents. Unlike plastic bowls or slow feeders, the components don't fall off easily and therefore the bowl can be used for years without further investments.
Additionally, the bowl is also microwave safe, can be cleaned in dishwashers and can hold a decent amount of food and water in it.
Pros:
Toxic-free, highly durable ceramic design

Microwave and dishwasher safe

Easy to clean, store, and maintain

Suitable for fast eaters and dogs with no teeth

Arrives in multiple sizes, colors, and differently styled ridges

Doesn't break off easily

Improves digestion by ensuring slow feeding
Cons:
Risk of breaking when tipped from heightened surfaces

No anti-skid base provided

Elevated ridges may come in contact with your canine's snout
Outward Hound Fun Feeder Slo Bowl
Finally, the Outward Hound Fun Feeder Slo Bowl is a dog bowl featuring long round elevated ridges. These ridges keep fast eaters from munching down into their food uncontrollably, thereby allowing them to consume food in a much regulated way. Regular usage of this bowl has been found to be quite beneficial in preventing bloating, regurgitation and neck issues and hence can also be used for canines with weak teeth structure.
The manufacturing company further claims the bowl to be highly recommended by vets worldwide. This is mostly because of its BPA, PVC, and phthalate free composition. Thus, there is no risk of canines suffering from any health side effects resulting due to toxic elements found in the bowl.
Available in many sizes, the bowls can hold a decent amount of food (both dry, wet, and raw) which is then distributed within the elevated ridges. This makes the feeding time fun for the canine, with lesser mess afterwards.
Pros:
Slows down feeding tremendously

Reduced risks of stomach bloating, canine obesity, and regurgitation

BPA, PVC, and phthalate free components

Ideal for fast eaters and dogs with compromised jaws

Top-rack dishwasher safe

Food safe materials
Cons:
Internal design could have been better

Cleaning inside the notches can be difficult

Not suitable for chewy eaters

Made in China product
Tips to find the Best Food Bowl for Dog with no Teeth
Before starting with the purchase, as a pet owner it is necessary to mark certain requirements of your beloved canine. Starting with their condition, a dog with no teeth should be provided with feed that doesn't need chewing. Wet food, gravy, or soupy feed are best advised for such dogs as solid elements can hurt their jaws or friction against it.
Now moving onto the next important topic, here are some factors worth considering when purchasing a food bowl for dogs with no teeth.
Wide, deep bowl
First of all, you will need a bowl that has a wide enough mouth. Such bowls will allow the dog's snout and jaws to dig in deeper and thus easily access their food and water. Using products like these prevents their jaws from getting in contact with the tough walls, and hence prevents discomfort or pain.
Non-skid bottom
The next important thing is a non-skid bottom. You don't want your canine to spend most of its time desperately trying to keep the bowl in one place rather than consuming the contents from it. A non-skid bottom also makes less messes and therefore once they are done eating, there is less to clear afterwards.
Adjustable height
For canines with no teeth, a bowl with an adjustable stand is quite beneficial. Given their easy-to-adjust feature, the stand or bowl can be fixed into the most convenient positions, ensuring a rather comfortable feeding time for the pups. Such bowls are also highly preferred by veterinarians as they are known to help minimize digestive issues with regular usage. There is no pressure on their internal organs, and thus they can have their feed without suffering from stomach bloating, regurgitation, etc.
Non-stick walls
Another thing to look out for when purchasing a food bowl for a dog with no teeth is their wall materials. Usually a majority of the food bowls come bearing stainless steel, ceramic, or top-quality, food-grade porcelain, however some cheap ones may also consist of plastic and similar components.
And while the difference may not seem to be much initially, wet food or gravy items typically get stuck in the latter ones. This makes it quite difficult for the pupper to clean and therefore leads to wastage of food. To prevent such instances, it is highly advised to get them bowls with non-stick walls.
Bowls with elevated ridges
Similarly, if your canine is a fast eater but has no teeth, then investing in bowls with elevated ridges is a good choice. The variably designed ridges will keep them from slurping down everything in a few seconds, and might also mentally stimulate them.
Just make sure that there is enough space between the notches to let their little snouts inside without risking friction with the elevated structures. For this always ensure to buy a size higher, as larger bowls have ample spaces between the walls and the ridges.
Easy to clean
Finally, a doggy bowl should always be easy to clean, maintain and store. Without this basic feature, there is no use of such a product as it could easily risk your pooch's health by exposing them to harmful microbes that may have settled down on the remnants.
Nowadays, a lot of the canine bowls come dishwasher safe. However, depending upon their particular manufacturing materials further washing guidelines may also be mentioned on their package. So, do ensure to give them a full read before tossing them into the dishwasher or giving them a thorough hand wash.
For more interesting topics like these, subscribe to our mailing list at spanieldogs.com and stay updated.
If you are a dog lover then, Subscribe to our weekly newsletters. No Spams!