"Dogs love bones". There's no doubt about this statement. However, did you know that you can even use these delicious snacks to treat your canines' separation anxiety???
I personally have tried the Smokehouse Meaty Knuckle Beef Bone and the Pet Craft Supply All Natural Knuckle Bones for both my pups and absolutely loved the result. Both my doggos had an enjoyable experience and even though they don't really have separation anxiety, it did help them do something more than sleep in my absence.
But why knuckle bones??? Let's find the answer to this question in detail below.
What are Knuckle Bones?
The term 'knuckle bones' arises from the bones forming or lying adjacent to the knuckles of an animal, predominantly beef, lamb or goat. These are by far one of the strongest and tastiest bones that canines absolutely love and hence apart from regular bones, these are readily available in the market for canine consumption.
What are the benefits of administering knuckle bones for dogs?
Having been constantly administering all kinds of bones to my pups, I can safely say that knuckle bones are by far the best and safest bones for dogs. This is because:
They are hard to break
Arriving from the toughest parts of the animals' body (preferably cattle, lamb or goats), the knuckle bones are quite hard to break. Usually these bones are derived from the top most region of the femur leg joint of the cattle which is by far the strongest bones in their body.
This means they don't easily break or splinter, ensuring there is no choking hazard as in other bones. A single knuckle bone can easily last for more than a few days, therefore being the most economical option for pet parents with canines who love to chew.
They are highly nutritious
Another reason why I will always prefer these bones is because they are packed with calcium, vitamins and minerals. Femur joints are where most of the calcium is stored and hence by allowing your canine to chew on these juicy bones you are making sure they are getting all necessary nutrients from their delicious treat.
Thanks to this, many vets and canine nutritionists often advise allowing sick and recovering pups to consume knuckle and shin bones, every once in a while.
They keep the pup incredibly busy
Best advised for pups suffering from severe separation anxiety, knuckle bones act as an elixir. These delicious nutritious treats keep them super busy, and hence away from the panic attacks that such pups are mostly susceptible to.
The constant chewing eventually tires them, leaving them happily snoozing until you get back home. This in turn means that you no longer have to worry about the safety of your furniture and other important items in the house. Having both physically and mentally stimulated, your anxious pup will soon cuddle into deep sleep, preventing any risks of destructive behaviours or other messy accidents here and there.
They help maintain oral hygiene
Finally, knuckle bones also do a great job in helping maintain a dog's overall oral hygiene. The constant friction between the pup's teeth and the bone eliminates any tartar or plaque formation, thereby preventing any future oral issues.
A good quality knuckle bone does a better job than any canine toothpaste. Thus if you are looking for an easy way to deal with your pup's whites, letting them enjoy these bones every once in a while is a good option.
Best Knuckle Bones for Dogs with Separation Anxiety
Now that we have covered the pros of administering knuckles bones, here is my experience with the Smokehouse Meaty Knuckle Bone Treat for Dogs and the Pet Craft Supply All Natural Healthy Knuckle Bones.
NOTE- In this section, I will cover the tit-bits of my experience with the above two products. This is in no way a marketing gimmick, and therefore I don't reserve any right to the product's sale, delivery, and quality issues, if any. Pet parents should always consult with their veterinarian prior to starting with the item.
Smokehouse Meaty Knuckle Bone Treat for Dogs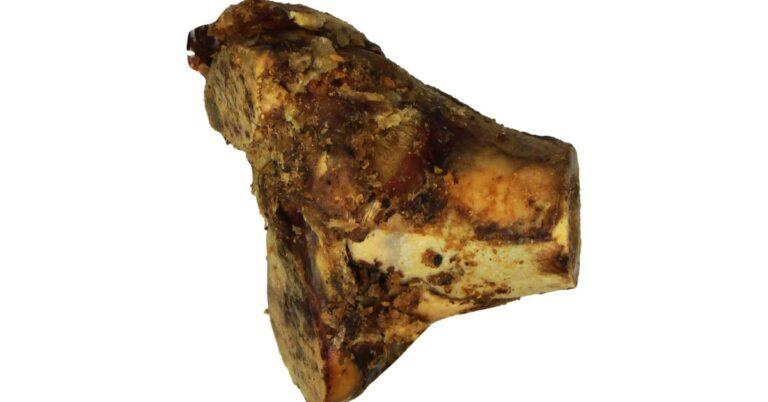 The Smokehouse Meaty Knuckle Bone Treat for Dogs was referred to me by one of my friends, and boy the results were quite astonishing. When I first opened the package, it seemed like a regular smokey bone piece and I was initially sceptical about the quality. However, soon enough both my pups proved me wrong.
So, to start off with its' manufacturing process, the company claims the bone to have been slow-roasted and naturally processed. Hence, unlike other commercially sold dog chews, they don't appear to be rubbery or crusty and are incredibly strong as they nearly lasted more than a week. Usually my Lab, Bruno breaks down any kind of bone within a few hours, and so I was very amazed by its durability.
Moreover this bone is derived from the best quality beef and hence there is no risk of breakage or splintering. The bone also doesn't contain any chemicals and preservatives, adding to its safety factor as a canine consumable. However given its size, it is only best suitable for medium to large sized dogs, as it would be too difficult for smaller breeds to chew on.
Pros:
Made from high quality beef

Slow-roasted and naturally processed to retain maximum flavour

Contains no preservatives and added chemicals

Lasts more than a week

Doesn't break or splinter

Available at an economical price range

Can be used for training or treating separation anxiety in canines

Big enough size for medium to large dogs
Cons:
Not suitable for smaller canines

Prior vet consultation is a must
Pet Craft Supply All Natural Healthy Knuckle Bones
Coming to my second most preferred choice, the Pet Craft Supply All Natural Healthy Knuckle Bones arrive in a relatively smaller size than the former option. This although makes it safe for consumption by smaller breeds, still pet parents should look for other better alternatives.
Now unlike the Smokehouse Meaty Knuckle Bones, this company specialises in various types of bone variants that are derived from high quality pork and beef. However, I generally opt for their Beef femur knuckle bones as they are made up of human-grade pure beef bones only. So, there are no colours, additives, or other nasty fillers that could possibly harm my dogs' health and teeth.
Similarly, the company is also based in the USA and hence each one of their ingredients comes from the USA lands, ensuring federal level safety for your canines. To add on to that, their treats are soy grain-free, contain all essential nutrients, amino acids and fatty acids, and even are coupled with a soft knuckle cartilage that enhances the taste of the bone even more.
Pros:
Federal approved composition

Made up of high quality beef and pork

No artificial colours, fillers, and preservatives composition

Bones are soy-grain free and highly nutritious

Arrives with a soft knuckle cartilage on top for enhanced taste

The package arrives with a variety of bones (2 knuckles, one femur, and one saddle)

Best suitable for all life stages
Cons:
Can pose a choking hazard in smaller dog breeds

Has a very strong smell

Prior vet consultation is necessary
Are there any possible side effects of administering knuckle bones in canines?
Even though a properly prepared knuckle bone doesn't bear any negative effects on a canine's health in general, there could be exceptions. For instance, if your woofer suffers from severe gastrointestinal issues or has a weak digestive system, then these bones might not be the best choice.
Similarly another factor that could play a major role in the occurrence of side effects is the amount and frequency of consumption. Extremes of anything is never good and hence maintaining a proper regimen when offering these delicious bones should be every pet parent's first priority.
For reference here are a few commonly reported side effects that may occur after improper and unguided knuckle bone consumption in dogs.
Constipation

Vomiting

Diarrhoea

Severe gastrointestinal upset

Cuts in mouth resulting due to extensive chewing

Blood spots in stool

Lack of appetite

Stomach bloating, etc
If any of these symptoms occur, make sure to consult with your veterinarian and have your pup run through a detailed health checkup. Ignoring this may further intensify the consequences, which is never good.
You may also like:
How can I get Hard Plaque off my Dog's Teeth?
If you are a dog lover then, Subscribe to our weekly newsletters. No Spams!