Introduction
Originally bred as a hunter's companion to hunt and retrieve water birds, today there are 15 known breeds of cocker spaniel recognized by the AKC, out of which the blue roan cocker spaniels and kings charles spaniels are most popular. 
Definition of Blue Roan Cocker Spaniel and King Charles Spaniel
The blue roan cocker spaniel is a member of the spaniel family with a distinctive coat pattern. Unlike what their name suggests, roan is not blue but has a grayish tinge of fur on a black body giving them a bluish tint. In addition to blue, orange, brown, and black and brown roans are other species of the spaniel variety exhibiting a roan pattern. 
King Charles Spaniel is a small breed dog of the spaniel variety that derives its name from its royal reference to King Charles of Great Britain. Being a combination of the toy and the larger-sized spaniel, the king charles spaniel is known for its color patterns and unique markings.
The breed is notable for its four distinct color patterns, each of which, at various times, was associated with a particular noble family. E.g., chestnut markings on a white background for Blenheim, black markings on white background for Tricolor, black with tan markings for Black and Tan, and a rich red coat representing Tricolor.
Overview of the similarities and differences between the two breeds
Physical Characteristics
A. Size and Weight Comparison
Blue Roan is a medium-sized cocker spaniel with a slender – athletic build depending on whether its pedigree is American or English. The average height of a blue roan to the withers is between 38-41 cm with a weight ranging from 13-14.5kgs. 
Males are of a slightly larger build than females. A male blue roan has an average length of 15 inches and a weight of 28 pounds/13 kg. Female roan, in comparison, reaches a height of 14 inches with a weight of 25 pounds / 11 kgs.
Male and female cocker spaniels have the same size despite the male looking slightly bigger because of ruffled fur. The approximate size of a king charles ranges from 9-11 inches with an average weight ranging from 8-14 pounds / 3.6-6.4 kg irrespective of their sex.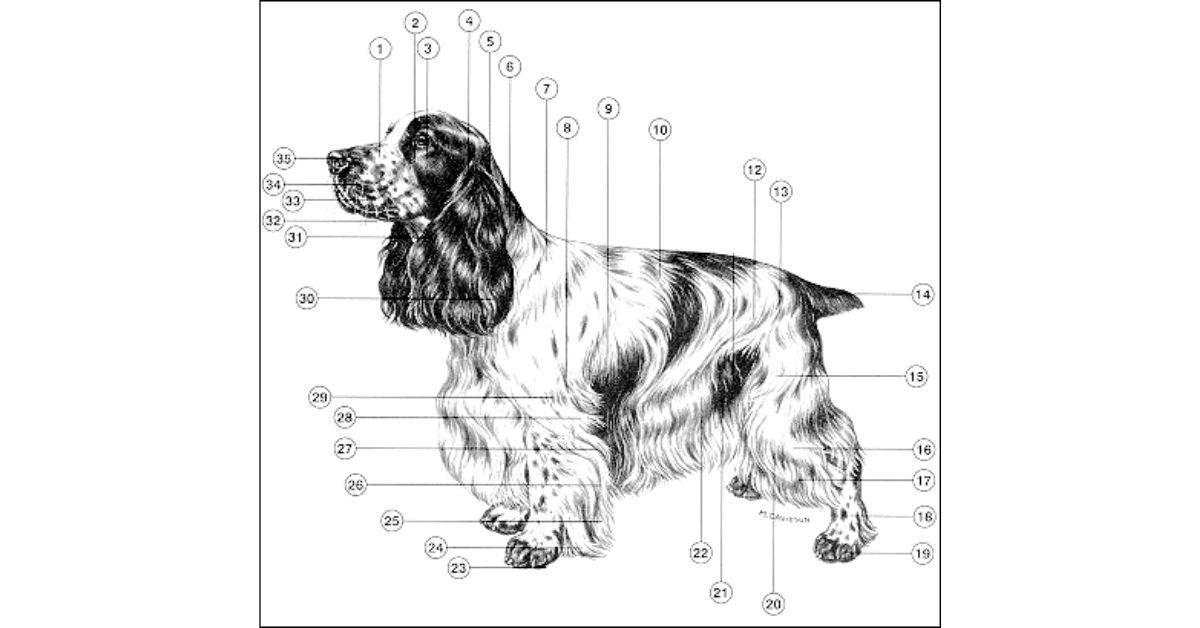 1- stop
7 – withers of a blue roan cocker spaniel
| | | |
| --- | --- | --- |
| Characteristics  | Blue roan  | King Charles  |
| Overall Size  | longish features  | Squarish features |
| Length  | 13-14.5 inches  | 9-11 inches  |
| Weight  | 11-14.5 kgs  | 3.6-6.4 kgs  |
| Impact of gender on size | Males are slightly larger than females | Males and females have the same size |
B. Coat Color and Texture Comparison
The blue roan cocker spaniel is predominantly black and white with a layering of black-white hairs in equal amounts. Keeping in mind that roan is a coat pattern with a primary base color into which different color hairs are added that mute the base color, a blue roan at first glance may look slightly white mixed with gray. 
The coat of a blue roan has smooth and silky hairs that look wavy near the ears and on the neck. The fur needs to be combed regularly to avoid knots and tangles.
Kings Spaniels can either have a chestnut or white coat, a solid red coat, a black and tan coat, or a coat of black and white with tan markings. The coat is smooth and wavy with mid-length fur.
| Characteristics  | Blue roan  | King Charles |
| --- | --- | --- |
| Types of coat pattern | Single pattern  | Four variable patterns |
| Color of coat  | Black mixed with white  | Chestnut with a white, black, and tan mix of black/tan/white, solid red |
| texture | smooth texture with a layering of hairs | Wavy texture with a tendency to form curls |
| Maintenance  | Regular brushing at least twice in 5 days  | Daily brushing required |
C. Facial Features Comparison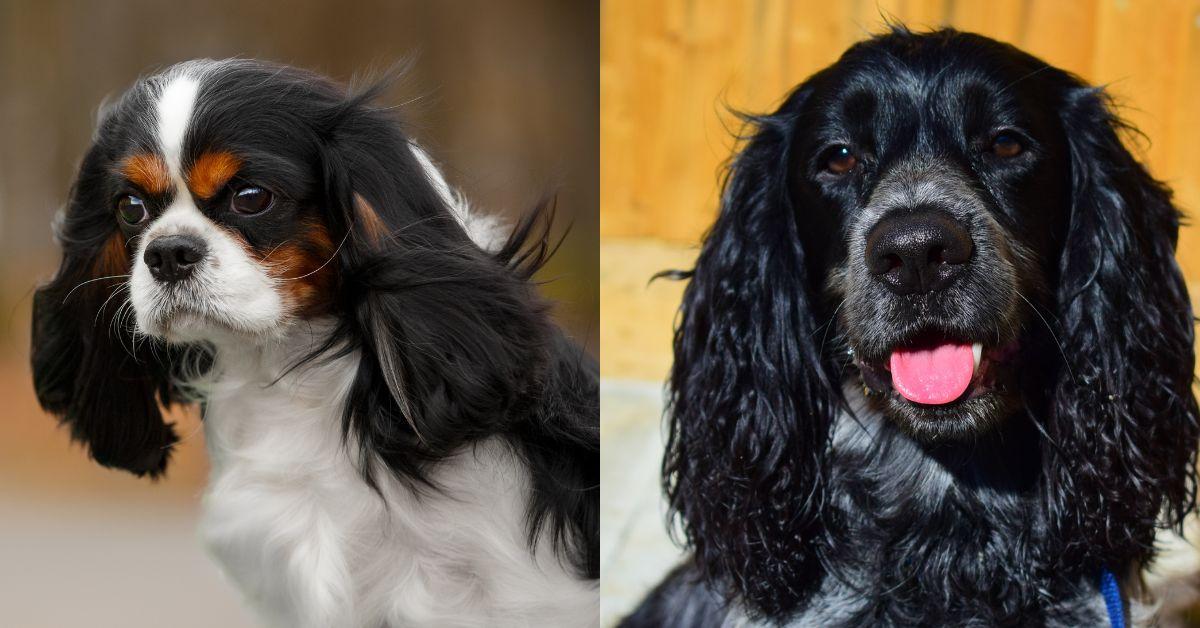 Stop, eyes, eyebrows, occiput, lips, muzzle, and nose form the significant portions of canine's facial features that vary to a mild and moderate extent in both breeds. 
Roans have angular faces with a more prominent muzzle and nose. Because of the even color of fur around the eyes, the eyebrows are indistinct.
King Charles Spaniels have rounder faces with flatter muzzles and noses. Unlike roans, they have prominent eyebrows that are especially evident in breeds with tan pigment
| | | |
| --- | --- | --- |
| Characteristics  | Blue Roan | King Charles |
| Stop  | Angular  | Roundish  |
| eyes | Almond shaped  | More roundish in shape  |
| Eyebrows | Indistinct | Distinct eyebrows of a brown color  |
| Lips  | Slightly more prominent | Less prominent  |
| Muzzle  | Elongated muzzle  | Flatter Muzzle  |
| Nose  | Darker, bigger nose | A smaller nose that can be dark or of a reddish hue  |
Temperament and Personality
Factors like Energy, Affectionate levels, and Trainability determine the temperament of either breed. Let's discuss them better.
A. Energy Level Comparison
Blue roans have a good energy level and need about 30 calories per pound of body weight daily to maintain optimal weight. 
Kings Charles Spaniels are not an overly active species. But keeping in mind their higher metabolic rate, they require approximately 40 calories per pound or 520 calories on a daily basis. 
| | | |
| --- | --- | --- |
| Parameters  | Blue Roan adult | Kings Cavalier Spaniels adult  |
| Energy levels  | High  | moderate |
| Daily Energy Requirement | 30 cal/pound body weight | 40 cal/pound body weight |
| Metabolic rate  | moderate | On higher side |
| Daily exercise time  | Approx 70 mins walk | Approx 4o mins of walks  |
B. Affectionate Level Comparison
Roans are an affectionate breed that does well with kids. They are known for their mouthiness and sassiness and need to please their owners. 
King Charles is a gentle breed that loves to be with kids. They don't make much noise and are the happiest when surrounded by loved ones of younger and older age groups. 
| | | |
| --- | --- | --- |
| Parameters  | Blue Roans  | Kings Charles Spaniels  |
| Affectionate nature | Enjoy affection and attention | Friendly and companionable |
| Type  | Boisterous  | Gentle and quiet  |
| Kid-friendly  | Moderately fond of kids  | Very good with kids  |
| Protective  | Moderately protective | Not protective  |
| Barkers  | Avid barkers  | Cannot be considered excessive barkers  |
C. Trainability Comparison 
Blue Roans can be trained using positive reinforcement methods. But they get over-excited and distracted easily, because of which owners should not extend the training sessions for more than an hour in one session. 
King Charles Spaniels are relatively easy to train primarily because of their show-dog genes and respond best to reward-based training methods.
| | | |
| --- | --- | --- |
| Training Parameters  | Blue Roans  | Kings Charles Spaniels |
| Trainability  | Need patience and consistency from owners during training period | Relatively easy |
| Ideal training method | Obedience training and positive reinforcement  | Reward-based training  |
| Ideal age of training  | 8 weeks  | 7-10 weeks |
| Training behavior exhibited  | Get over-excited and distracted easily  | Calm behaviors that make it easy to train them |
| How long can they be left alone | Not more than four hours  | Can be left alone for 4-8 hours |
Grooming and Care Requirements
A. Coat Maintenance Comparison
To maintain their coats, Blue Roans must be groomed every 4-6 weeks. They can be bathed weekly or bi-weekly to preserve the shine of their fur. The ears need special trimming to get rid of knots.
King Charles Spaniels need to be brushed daily to keep their coats shining. Because of their show-breed origin, they do not require trimming of body fur. Only a light trim at the bottom of their coats. They can be bathed weekly if needed. 
| | | |
| --- | --- | --- |
| Coat Maintenance Parameters  | Blue Roan  | King Charles Spaniel |
| Brushing  | Weekly / once in 4-5 days | Daily  |
| Trimming  | Once in 3 months  | Light trim at the coats bottom every 5-6 months |
| Bathing  | Bi-weekly  | Weekly  |
B. Exercise Needs Comparison
Blue Roan Cocker Spaniels have higher energy levels and can easily manage more than an hour's exercise through walks and hikes. They can walk long distances and have an average sleep requirement of 12-14 hours daily.
King Charles Spaniels have comparatively lower energy levels and, because of their short legs, can't walk long distances. They need more sleep time of 12-18 hours, with older dogs sleeping for 20 hours a day.
| | | |
| --- | --- | --- |
| Exercise Parameters  | Blue Roan  | Kings Charles Spaniel |
| | | |
| Daily exercise time  | Approx 60-70 minutes  | Around 40-50 minutes |
| Hiking  | Can manage a half-day hike  | Can comfortably hike 2-3 miles  |
| Protein requirement  | 15-23% dry protein in daily diet  | 18-20% dry protein in daily diet |
| Energy- levels  | High energy levels  | Low energy levels  |
| sleep – requirements  | 12-14 hours daily  | 12-18 hours daily  |
C. Health Concerns Comparison 
| | | |
| --- | --- | --- |
| Health Concerns  | Blue Roan Cocker Spaniel | King Charles Spaniel |
| Life Expectancy | 12-14 years  | 9-14 years |
| Eye Problems  | Acute Closed Angle Glaucoma  | Cataracts, Dry Eyes, Corneal Dystrophy |
| Shedding  | Moderate – Severe  | Mild – Moderate  |
| Skin Problems  | Allergies, oily skin conditions  | Dryness of skin. ichthyosis |
| Joint problem  | Prone to Osteoarthritis  | Prone to Hip Dysplasia  |
| Heart Risks  | Prone to Dilated Cardiomyopathy  | Prone to Mitral Valve Disease |
| Cancerous risks  | Lymphoma and Melanoma  | Syringomyelia  |
Conclusion
While Social media, trends, and the hype about their goofy personalities are some of the chief reasons for the hike in popularity, misinformation or lack of information has led to a lot of confusion regarding the blue roan cocker spaniel and the king charles spaniel. Before learning in detail about their distinguishable qualities, it is essential to have a brief idea about them.
If you are a dog lover then, Subscribe to our weekly newsletters. No Spams!