A staple diet amongst humans, there are literally thousands of videos where canines are shown munching down different forms of bread. From tasty sandwiches to long, big slices of English muffins, you can find lots of pet owners offering the little animal this white piece of food. But are breads safe for dogs?
The short and sweet answer would be Yes. Bread in its general form, i.e., without any alterations, pose no threat to the canine digestive system. Generally plain white or brown bread has no effects on them, although if the constituents include macadamia nuts, chocolate chips, raisins, onion, garlic, or xylitol, then it can dramatically impact the animal's wellbeing. Ignoring this simple rule may also lead to much more severe circumstances and therefore offering bread as occasional treats is a much better choice.
The Controversy behind Dogs and Breads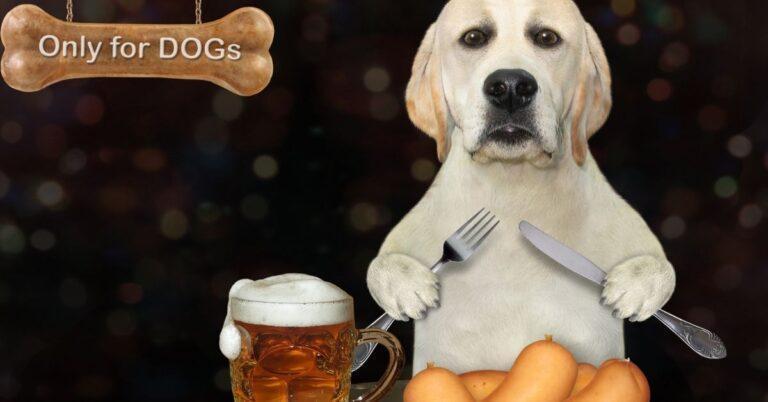 Usually made up of moistened, kneaded, or fermented flour or meal, breads are filled with essential fibres, protein, vitamins and minerals. This makes them a highly nutritious component of our daily balanced diet regimen, but unfortunately not all human diets are preferable or necessary for a canine.
Given their high grain composition, plain white or brown bread is only good when treated as an occasional treat and nothing more. Moreover, until and unless you have yourself made the bread, there's no way of getting to know their base ingredients. So, in case there's even the slightest of canine-toxic elements present in the loaf, it could cause irreversible damages to the pup.
What are the side effects of giving excess breads to dogs?
Depending upon their composition, and frequency of consumption, a dog may suffer from:
Unexplainable Weight Gain
Apart from offering easy access to several micronutrients, breads are also one of the major suppliers of unhealthy carbs. While some may argue, the excess carbohydrates and fats aid in higher energy output, unless the canine works on a farm or has a large yard to run and play around, the extra energy simply keeps on accumulating.
This in turn causes them to gain weight superfast, leaving them with undesired chubby layers, which though may seem immensely cute initially, acts as a slow bane for the animal in question.
Gastric & Health issues
Another issue with bread consumption is how bread dough is formed. As yeast generally helps in the rising of the dough, then there's a huge chance that the said food item may still continue rising within their stomach. Yeasts are known to grow well in moist, warm environments and there's nothing better than the pooch's stomach for the same.
This pressure of the rising causes stomach bloating, making the dog feel really uncomfortable and irate. Physical swelling may also be seen in puppers who have consumed a lot of these dough. However, the worst of all is when the canine shows signs and symptoms of alcohol toxicosis. This happens due to the increased production and release of ethanol directly into their bloodstream.
Such a pup will show sudden weakness in their muscles, suffer from seizures, hypothermia, unsteady movement, depression and may even fall into a coma. The symptoms appear fast and are caused by the steep decline in the functioning of their CNS. In such cases, you will be required to seek a veterinarian's attention as fast as possible as delaying may also lead to a fatal cardiac arrest.
Allergies and Tooth Decay
Finally, wheat or gluten allergies are the next most commonly reported canine health problems, as studied by the AKC and other noteworthy institutions. Not all dogs have a strong digestive system, and hence sensitive pups or ones with wheat or gluten allergies fall highly susceptible to medical risks, when offered with bread.
And even though other substitutes can be found, heightened bread consumption is also linked to plaque formation and tooth decay. The sugar and other residues get stuck to their teeth and gums, serving as a breeding ground for nasty bacteria, slowly progressing to periodontal disease or other serious things.
Then, are all Bread Types Harmful to Dogs?
Well, No!!!
In case your pooch shows likeness to bread, you can give them:
Plain White bread
A bread type consisting of plain flour, water, salt, and dough yeast, plain white bread is undeniably the safest and the healthiest bread out there for canines. Given their simple composition, they don't pose much of a threat when given in controlled quantities and occasionally.
To make it a quick snack, you can also add a little blob of their peanut butter, a dog-friendly strawberry jam or even some marmite. However, make sure that the mentioned toppings don't have any contents that could prove toxic to the animal.
Plain Brown bread
Another one of the safe bread options, giving plain brown bread is also considerably healthier for dogs. Made of whole wheat flour, it comes loaded with all essential vitamins, minerals, proteins, carbohydrates, fats, and much more, making it a wholesome treat for the pooch. You can top them with peanut butter or dog-friendly mayonnaise and watch as the canine chomps the whole piece down.
But given their special manufacturing, brown bread may still be a riskier choice for some dogs. All those wheat bran and germ might incur skin or body reactions, if the said animal is allergic to wheat or any of its components.
Gluten-free bread
With gluten being one of the MOST DANGEROUS elements out there for canines, dog nutritionists advise investing in gluten-free breads. Such breads consist of no gluten, meaning they are basically wheat, rye, and barley free.
To make it more of a healthier choice, gluten-free breads are made up of four main starches, including cornstarch, rice flour, potato flour, or tapioca starch. This way not only the bread gets its size, but also preserves its taste and nutrition efficiency.
Pet parents having dogs with gluten intolerance can opt for this product, in case their fur baby loves the smell of freshly baked items. Yet, maintaining a proper feeding frequency and amount is highly necessary for their overall health.
Pumpkin Bread
Probably the one bread type that is both tasty and healthy (when made with the right components) pumpkin bread is a favorite of all pups. This easy-to-follow recipe can be either made within the comfort of your home or purchased from specific outlets.
Basically consisting of the tasty concoction of pumpkin puree, eggs, and other vegetables, the bread looks somewhat similar to the brown bread, minus any wheat components. It can be topped with peanut butter or given directly to the pooch. And given their delicious smell and a little sugary taste, pups wouldn't waste any time crunching down into the softness of the bread pieces.
However, similar to all other breads, the pumpkin bread should never be administered to a pooch with a sensitive digestive system. Any up or down in the measurement will make their stomach upset, leading to runny diarrhea, vomiting, stomach ache, etc.
How much bread is safe for dogs to eat?
For normal pups
Using bread crumbs as occasional treats every now and then is a better option. You can dip the crumbs onto peanut butter or top it with a tiny glob of their favorite dog-friendly jams. Generally, giving them bread, once or twice a week is fine, but the amount needs to be as minimal as possible.
For sensitive pups
Unless verified and cross-checked by your veterinarian, never and I repeat NEVER offer any kind of bread or related food items to your canine. This will only worsen their health, requiring you to seek emergency vet assistance while having their life at risk.
You may also like:
If you are a dog lover then, Subscribe to our weekly newsletters. No Spams!