Yes!!! Dogs can eat tripe, as long as it has been carefully and thoroughly cleaned. Derived from the stomach walls of ruminating animals, including cows, sheep and goats, this edible lining is considered as one of the most nutritious and healthy raw diets for canines. So, no matter if it's raw tripe or processed dried tripe treats, offering your fur baby this delicious food will definitely lift their mood, making them happy and super content.
Generally unprocessed, this food item comes along with extensive amounts of vitamins, minerals and micro-nutrients. Below, we will be covering the nutrient specifications in further details, but first let's know more about this delectable edible.
What is Tripe?
Mostly acquired from animals that chew cud, such as pronghorns, giraffes, deer, cattle, sheeps, goats, antelopes, and chevrotains, tripe is referred to the edible muscle walls of their stomachs. This tough, chewy textured meat is highly nutritious and easy to digest, making it a good supplement for both canines and their human companions.
And while tripe can be derived from any of the above-mentioned animals, beef tripe is the most popular of them all. This meat type is further available in four different kinds, including:
Blanket or Flat Tripe-

Cut out from the first stomach chamber walls, the edible lining is smooth, but not much palatable. Such tripes usually make as the cheapest available stomach linings of cattle.
Honeycomb Tripe-

Belonging to the walls of the second stomach chamber, the honeycomb tripe is by far the most tender tripe type, with a lip-smacking after taste. The name comes from the unique honeycomb-shaped meat and can be offered to dogs both in raw and boiled or stewed form.
Omasum Tripe-

Also known as the book tripe, this meat arrives from the third stomach chamber of cows and is a mix of both flat and honeycomb tripes. This is the second most desirable edible stomach lining found in hoofed herbivores.
Abomasum Tripe-

Ranging from having a mild to a strong palatable taste, the abomasum tripe belongs to the fourth and the final stomach chamber of cattle. This variety is also widely known as reed tripe and is used in many processed dried tripe treats and other pet foods.
Is tripe good for dogs?
If you are looking for a high-protein diet for your pup without subjecting them to the risks of obesity, then green tripe is definitely a good choice for your beloved pet. The name being given as such due to the presence of green tints at spots, resulting from the consumption of grass before their annihilation.
So, every bit of this delicious food consists of:
Proteins

Fats

Vitamin B12

Selenium

Zinc

Iron

Calcium

Phosphorous

Magnesium

Manganese

and, Vitamin B3
When consumed properly, the food item can benefit their little bodies in numerous ways. From helping them gain muscles to enhancing red blood cell formation, and even lowering the risk of age-related cognitive disorders, there's a lot that can be rectified by simply introducing tripe to their feed.
However, just like other high-protein diets, too much tripe consumption is never advised. Owners need to remember and carefully calculate the total number of calories the dog is being fed, to ensure them with a happy, pain free, healthy life.
Are there any side-effects to giving tripe to dogs?
Unfortunately, there has not been much veterinary research for this enticing product. Therefore, pet owners need to be extra careful if considering introducing tripe to their pets. Ignoring this may trigger:
Pathogen Contamination
Although the preference for raw diets has been on rise these past decades, one of the major drawbacks of switching to such a feeding regime is their high contamination risk factors. Raw, unprocessed food items easily attract deadly pathogens, such as Salmonella and E.Coli, which later transmits to the pet's body. This in turn affects their immune system, making them vulnerable to a variety of illnesses.
Pertaining to this very reason, even the American Veterinary Medical Association and other major institutions advise against feeding dogs a complete raw diet. So, unless green-flagged by your vet, it is better to stick to processed dried tripe treats or pet feed that consist of this amazing item.
High nutrient content
Another cause of concern with this edible cattle stomach lining is their high nutrition content. Packed with immensely high amounts of minerals like sodium, magnesium, and copper, if not offered in the correct amounts, it could easily lead to nutritional imbalances.
Similarly, for pooches with a sensitive stomach the result can be even dire. Given their already weakened system, a diet that's super rich in proteins and amino acids could easily lead to an upset stomach, runny diarrhea, and gastrointestinal disorders.
Therefore, to prevent such instances, vets often advise pet owners to consult the tripe composition and type with them, prior to offering them the food. This way the professional can seamlessly analyze the exact nutrient frequency and decide the proper amount for the canine.
Smell
Ultimately, smell can also be a major turn-off for some dogs. Although a majority of pups are attracted to the somewhat stinky and strong smell of raw meat, others might not be much of a fan. This varies from dog to dog, and hence if your canine shows less interest in chomping down the raw form of this beneficial stomach lining, you can always offer them with its processed forms.
How can I introduce green tripe to canines?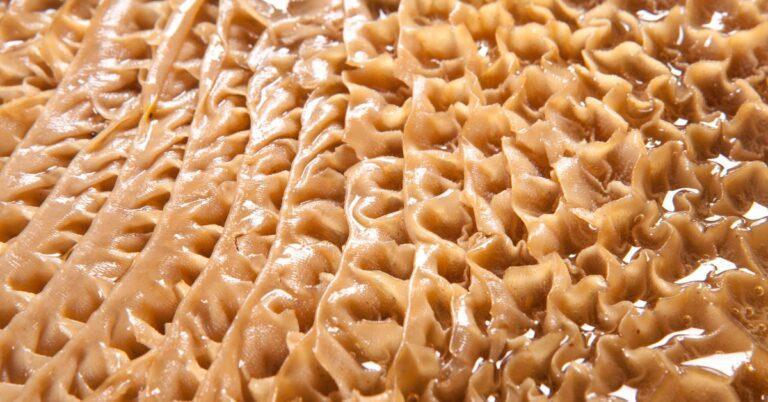 The trick is to start slowly. Let the dog have a good sniff of the food, following it by offering small slices or kibbles consisting of the tripe. Depending upon whatever form of the lining you are going for, this initial process may vary by a few steps.
To understand it better, we have outlined the various available forms of the green tripe along with its proper way of feeding.
Raw Green Tripe
As the name suggests, this is the unprocessed, and unbleached tripe type which comes typically frozen in air-tight containers. The packaging is to ensure that the meat stays free of deadly pathogens and any further contaminations.
Given its absolute raw form, pet parents should go for a vet consultation before jumping on to the trend of canine raw diets. Once termed safe, then only the pup should be started off with small amounts of the high-protein diet or as prescribed by the vet. You could add the linings to their breakfast or offer them as treats during training. But make sure to wash your hands properly afterwards, as the raw form is quite stinky.
Freeze Dried Green Tripe
Usually arriving as frozen nuggets or mini-patties, the frozen dried green tripes are another form of frozen raw diet. Thanks to their manufacturing, they can easily stay on for a longer amount of time as compared to simple raw green tripe, and hence can be easily found in many stores.
Pet owners can introduce this particular form of edible stomach lining as frozen lickables or use them as occasional treats.
Dry Green Tripe
Now this one can come off as either hard-crusted kibbles or delicious chew sticks. Such tripe forms may or may not have other constituents, depending upon the manufacturing company. And while you may feel like being cheated initially, these are relatively much more nutritionally balanced and can be offered to your fur baby without much worries.
This tripe form can be offered as normal kibbles or training treats. But make sure to read the constituents and do a nutrient analysis, just to be on the safe side.
Canned Green Tripe
This wet green tripe is by far the tastiest and healthiest of all discussed tripe forms. Similar to its dry form, the manufacturer may choose to add other vital components into the feed, making it an overally balanced meal supplement for picky eaters or pooches with sensitive stomachs.
Moreover, adding canned green tripe to a pooch's diet is also relatively easier. Canines love both the smell and taste of these specially made food, and hence adding even a tiny scoop of this palatable treat can make them lick their bowls squeaky clean.
Conclusion
Tripe is hands down the best form of meat a canine can have. However, as a responsible pet parent it is also our duty to have this dish tested, prior to introducing them to the pup. This way, there won't be any lingering risks on their health and hence the canine would be much happier and healthier.
For more, subscribe to our mailing list at spanieldogs.com today.
If you are a dog lover then, Subscribe to our weekly newsletters. No Spams!