PERIODS!!!
A menace to all females out there, including female dogs, this time of the month is no wonder hectic and tiring for these little creatures. With all those bustling emotions, restlessness, and discomfort, however, some female dogs may also exhibit more extreme behaviors such as crying or howling, often seeming as if they are having period cramps.
According to scientific findings, yes, dogs get period cramps. Although, the 'cramps' may not mean the same as in humans. A female dog's heat cycle bears similar resemblance to that of a human female's menstrual cycle. Therefore, along with the blood-tinged discharge and swollen vulva, the canid may often cry to show that they are in pain and discomfort which is often misunderstood as having 'menstrual cramps'.
Do dogs get periods?
While it may seem unrealistic to many, yes, dogs do get periods. Almost all female dogs come into heat twice a year (sometimes more or less depending upon the breed) which is marked by the swelling of the vulva and occasional red spots on the floor. The heat period also known as the Estrus cycle lasts for 18 days generally, which is when dogs mate and have babies. A female dog gets its first periods around 6 months of age and is a sign of your little puppy maturing into a full-grown lady.
When in estrus, the bleeding lasts around 8 to 10 days, after which the female dog might not be well-receptive to advances by a male dog. This can lead to aggression or sudden snapping when the male tries to get closer to the female.
What happens when dogs get their periods?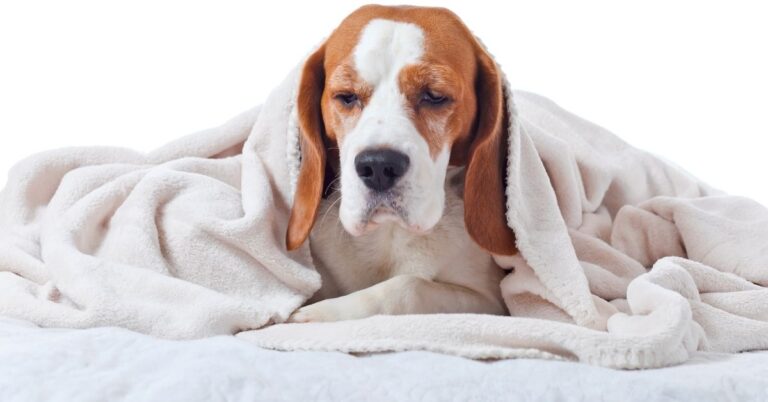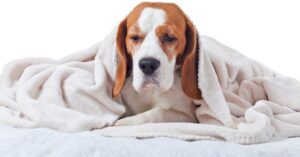 When dogs get periods, it signifies the onset of their heat cycle. Thus unlike human females, the reproductive system in dogs starts thickening with blood linings, presumably getting ready for a successful fertilization and implantation. Their body starts producing the fertility hormone estradiol and progesterone which is essential in case they successfully mate with a male dog.
All this while, pet owners will also notice a few drops of blood which passes through the vulva through a process known as diapedesis. This is typically a passive process and does not cause muscle contractions in the uterine walls. So, even though the sight of sudden red spots may be unnerving to many owners it is a perfectly normal biological occurrence for your female dog.
What is the Canine Estrus Cycle?
The Canine Estrus Cycle is a long process and occurs every 6 months in a female dog's life. To understand it better, we have further divided it into four cycles- the proestrus, estrus, diestrus, and the anestrus.
Proestrus-

Also known as the phase which marks the heat period in canids, this is when estrogen levels are at its all-time high. Their vulva starts swelling gradually and is often marked by blood tinged discharge. However, the canine is not receptive to males at this time which ranges between 0-27 days from the start of their bleeding.
Estrus-

The second phase in the cycle ranging from 9-24 days, estrus traces the ovulation in female dogs. The female shows distinct behavioral signs such as clingy behavior, constant marking, and looks for a male to mate. Clinically, estrogen levels dip low while progesterone levels start to increase. This is to support a fertilization in case a successful mating takes place.
Diestrus-

The mating cycle ends with the onset of diestrus which may last around 2 months. Even though the female shows no sign of infatuation to the males, intact male dogs may still try mounting their partners. There is also a fluctuation in the production of progesterone, no matter if the mating is successful or not. This change in hormones often leads to extreme mood swings in the female pupper, making them extremely snappy when provoked.
Anestrus-

Generally, the time between diestrus and the next proestrus is commonly known as anestrus. The vulva is neither swollen nor there is any vaginal discharge. The canid resumes its normal behavioral attributes and depending upon the status of mating, the body starts to prepare for the next phase. The phase on an average lasts for around 4 months, but this may take even longer depending upon the female dog's breed, health condition, or age.
Do dogs get period cramps just like us? How do I know my dog is in pain?
As per a recent study, dogs do have comparably similar neural pathways and neurotransmitters as humans and hence they feel pain, as much as we do. So, even though their pain may not be due to the very same reason as human females, they do get period-related pains .
In dogs the period 'cramps' starts when their estrogen levels spike suddenly causing their uterine linings to be permeable and therefore be easily absorbed. So, while every dog may not start whining or howling loudly, there are clear telltale signs of discomfort in pooches.
Some of these include:
Twitching muscles

Excessive shaking

Arching their backs

Constant licking of their vulva

Unable to sit for long

Panting when lying down

Holding their head below their shoulders

Aloofness

Disinterest in walks or playtime

Moody or snappy behavior

Nausea and lethargy

Vomiting and diarrhea

Loss of appetite

Slight fever
Similarly, when it comes to crying in dogs during the heat cycle, some experts also have different speculations. They believe a female dog's moaning or crying is often a 'mating call' to potential males. Therefore, talking to a trained behavioral specialist or consulting your vet can also come handy when looking for the exact answer to the question.
What can I do to alleviate my dog's discomfort?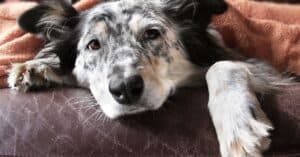 If your female woofer has been showing signs of discomfort you can:
Limit the amount of daily exercises-

The dog is already distressed due to the emotional and physical changes and hence subjecting it to daily exercises will definitely incur more discomfort.
Use vet prescribed pain relief medications-

Period pain in female dogs usually goes away in a day or two. But, if not improving, you can consult with your vet and administer prescribed drugs for a good night's sleep. But, always make sure to go with a professional's prescription only to prevent further worsening of the situation.
Be patient and loving-

Dogs are not human and this is something that many pet parents tend to forget. So, if your little female pup has started on its first periods or this is just another of those days for your adult canid, speak lovingly with them and keep loads of patience. They are already going through an emotional and physical mess and shouting at them won't help at all.
Be the cuddle buddy-

Female dogs in heat tend to be super clingy and hence don't forget to spend lots of cuddly time with your female buddy.
Provide extra potty-breaks-

With all that physical discomfort going on, your lady will be needing extra potty breaks than normal. So, don't forget to take your lady outside and carefully monitor her when she is relieving herself.
Do spayed dogs get periods?
No. The only reason why most pet owners spay their lovely female woofers from a small age is to get rid of this messy affair. Moreover, as it saves the canids from any risks of contracting fatal lady-diseases in the future, vets also recommend spaying them after a certain age. So, until and unless your queen is of an extraordinary show breed or belongs to a preservative breed, spaying them is the best option.
To know more about the importance of spaying your dogs, you can visit here.
If you are a dog lover then, Subscribe to our weekly newsletters. No Spams!