Has your dog been sneezing excessively recently??? Then, you have arrived at the right place.
There are many causes behind the continual sneezing spree of your pooch including the presence of foreign particles in their nose to the probability of a nasal tumor.
And today in our new blog of spanieldogs.com we will be addressing the very reason behind such an occurrence and what it may mean for both the canine as well as the owners. Let's start now.
What happens when a dog keeps on sneezing?
Although occasional sneezing is a biologically essential process of eliminating any irritants or toxic substances, the extreme of the process is never good news. Apart from causing discomfort, it also puts tremendous pressure on their nasal and throat walls, which could lead to their weakening and even rupture in worst case scenarios.
Therefore, if you witness a sudden increase in your dog's coughing or sneezing, it's highly advised to have them checked by a vet as soon as possible.
What causes excessive sneezing in dogs?
Based upon the suddenness and frequency, this may happen due to:
Fortunately not all sneezes mean the canine requires emergency care and this is what most parents don't know. When playing with their mates, dogs are known to sneeze every once in a while (mostly when playing roughly). This is a typical behavior passed down to them from their ancestral wolves and is a typical play behavior.
So, if your pet is sneezing when playing, this is an expression of them playing, and hence any bites, nibbles, or growling must only be taken as a form of play. This is a typical pacifying behavior, so there is nothing to worry about.
The next thing that pops up in our minds when our beloved furbaby starts sneezing uncontrollably is that they may be suffering from certain allergies. Just like their human companions, dogs also exhibit specific allergies. Although this differs from one pup to another, the most common ones include food allergies, environmental allergies. Some of these might also happen due to skin conditions, requiring professional care.
Thanks to their super powerful nose, canines are very much susceptible to strong smells. So, if you regularly use strong deodorants, perfumes, or burn scented candles in your home, your woofer might be having a reaction to that. These irritants get into their nose, irating their senses and causing the endless wheezing, much like certain individuals with intolerability towards strong aura.
Another cause includes reaction to certain food items, dairy products, and even plants or other animals.
Often resulting due to peak excitement or inhalation of foreign irritants, reverse sneezing can be described as the sudden, repeated inhalations through the nose that is coupled with a typical honking sound. While in the first look it may seem as a drastic condition where the pooch is having trouble breathing, it usually goes away in a few seconds to minutes.
But in case the condition seems to worsen, it is highly recommended to instantly seek your vet's aid.
Ranging from upper respiratory infections to the presence of nasal mites, anything abnormal happening with the nasal pathways can also trigger a continuous sneezing phase. The same also applies for nasal tumors, where a specific area starts to grow uncontrollably.
Such causes are often accompanied by a thick bloody discharge from either side of the noses, loss in appetite, excessive wheezing, breathing problems, etc.
How to deal with a dog that keeps sneezing?
Here are a few easy home remedies that can come handy in controlling excessive wheezing in dogs. However, remember that these are temporarily effective and should be followed up with a proper professional diagnosis and treatment.
Let the dog have ample rest
Sometimes the best cure is to take the four-legged baby away from the source triggering the reaction and let them rest. This is applicable only when the sneezing is due to external factors like allergies, strong smells, etc. During this time limit the pup's exercising and keep them inside at a safe, clean, hygienic place until further help arrives.
This change in the environment will not only make them feel safe but also cause them to gradually calm down.
Most of the time indoor air is also filled with a number of pollutants that could serve as the major contributor to the excruciating phase. In this case, using an air purifier can help reduce these irritants by a huge amount. You could also add in a humidifier with proper humidity settings if you see your dog having a dry, hacking cough.
The increase in humidity and the clean air will calm their senses. Some dog experts also advise applying a tiny bit of petroleum jelly on to their nose ends to maintain proper humidity levels. But make sure the pooch isn't licking it off right after application.
Always consult a vet before giving any medications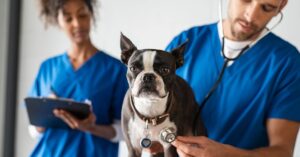 Even though you might have read Benadryl and certain other antihistamines to be the best in curing excessive sneezing of dogs, it is very essential to consult the vet first. As discussed previously, there are a plethora of reasons as to why your pupper is keeping on sneezing. So, if you administer medications without knowing what's causing the issue, it won't be effective at all. In worst cases, the pup might also have a drug overdose, adding to their suffering.
When does excessive wheezing become a problem?
You will need to rush the fur baby to the vet if:
They start having severe breathing problems or their nasal pathways swell up

This happens on a frequent basis

The dog is pawing or scratching his nose, thereby causing injuries

There's a thick nasal discharge or blood coming out of either of the noses or both

The dog is severely lethargic with a red, swollen nose

They have fever and are unwilling to eat or drink

The canine accidentally sniffed any harmful chemical or has a foreign object in its nose
Is surgery the final answer for treating continuous sneezing in dogs?
NO!!!
In fact surgery is the last method that vets choose when every other treatment option fails. Until and unless there's a severe symptom, almost half of these cases get resolved on their own when the triggering cause is eradicated from the scene or the pup is taken to another area.
Rest are curable through a regular administration of prescribed antihistamines, antibiotics, nasal decongestants, etc. The doctor may also advise a change in the environment, feeding and exercising regimens to fasten the recovery process. Such conditions get cured usually within a span of 3-4 days or sometimes a week, after which the woofer can resume its daily activities normally.
What do I need to do to help the cause?
As a responsible pet parent you will need to:
Keep your fur baby's bedding, clothes, and living area clean

Brush them regularly and maintain proper grooming schedule

Recognize their allergies and eradicate any triggering factors

Complete their prescribed medication dosage and take them for further vet consultations when recovering

Ensure complete removal of ticks, mites, and any other external parasites by investing in high quality flea and tick control measures

Never administer any medications or so-called instant solutions without the advice of the veterinarian. You don't know what could cause another severe reaction and hence it's never wise to play with their lives.
For more interesting updates like this one, subscribe to our mailing list today.
If you are a dog lover then, Subscribe to our weekly newsletters. No Spams!