Cavalier King Charles Spaniels are among the calmest spaniel breeds one can find. Yet, many owners often wonder why do cavalier king charles sleep so much. Here, we delve deep into the reasons behind these beloved pets' extensive sleeping patterns, offering scientific insights and observations from decades of experience.
Cavalier King Charles Sleeping Needs
Just like human infants, all puppies, regardless of their breed, require a significant amount of sleep. This phase in their life is marked by physical and mental growth. Sleep not only helps in their development, but it's also a time when they process new information, recover from their playful activities, and build energy for more exploration.
Cavalier King Charles Spaniel (CKCS) puppies are no exception. While they are renowned for their lively and affectionate nature, they still have the same intrinsic sleep needs of puppies from other breeds. Some might even argue that they nap more frequently. Whether they're snuggling on a lap or finding a cozy corner, CKCS puppies relish their sleep time.
Adult CKCS Sleep Habits
With the transitions from a playful puppy to a mature big Cavalier King Charles Spaniel, its sleep habits also evolve. On average, an adult CKCS tends to sleep around 12 to 14 hours a day. This might seem excessive, especially when compared to the sleep needs of humans, but it's quite standard for this breed and many other adult canines.
Several factors can influence the sleep patterns of an adult CKCS:
Activity Levels: A CKCS that is more active, engaging in regular play sessions and walks, might sleep more deeply than one that's less active. After a day of excitement and adventure, they require adequate rest to recuperate.
Health: Just like humans, a dog's health can significantly impact its sleep. Issues such as obesity, heart problems, or even minor ailments can lead to increased sleep or, conversely, restlessness.
Environment: The environment is crucial to a dog's sleep pattern. A peaceful, comfortable, and safe environment promotes better sleep, whereas a noisy or disruptive one might lead to more frequent awakenings.
Age: Even though we're discussing adults, it's worth noting that as a CKCS progresses from early adulthood to its senior years, its sleep needs might increase slightly, mirroring the patterns seen in aging humans.
The Senior Years
As the Cavalier King Charles Spaniel (CKCS) gracefully enters its golden years, various changes start to become evident, one of which is its sleep pattern. Age undoubtedly impacts the sleep habits of CKCS, just as it does with many other breeds and even humans.
In their senior years, CKCS tend to sleep more than they did during their sprightly adult phase. This increase in sleep duration can be attributed to several factors. Their energy levels naturally decline, muscles and joints might be more susceptible to stiffness or discomfort, and metabolic changes can also play a part.
Genetic Influences on Sleep
Delving deep into the annals of canine history, the Cavalier King Charles Spaniel (CKCS) has a lineage dripping with grandeur and royalty. Originating from the spaniel line, they once graced the laps of English royalty, particularly during the reigns of King Charles I and II, from which they get their regal name. However, beyond historical anecdotes and noble associations, genetics intricately influence their behavior and sleep patterns. Certain genetic traits predispose the CKCS to particular behaviors, sleep included. Over generations, these traits have been reinforced, crafting a breed that inherently values its slumber.
The Size Factor
While the saying "size doesn't matter" might hold in various contexts, size plays a pivotal role when it comes to canine sleep. Generally, smaller breeds tend to sleep more than their larger counterparts. As a toy breed, the Cavalier King Charles Spaniel fits snugly into this observation. There are several theories behind this phenomenon: smaller breeds might exhaust more quickly due to their fast metabolic rates or simply take more frequent but shorter naps throughout the day. Whatever the underlying cause, it's clear that for petite breeds like the CKCS, those additional hours of shut-eye are simply par for the course.
Energy Levels and Activity
While known for his docile and loving nature, the Cavalier King Charles Spaniel also possesses bursts of energy, displaying playful antics and enjoying brisk walks. However, every burst of activity is often balanced with periods of rest. It's a rhythm of expenditure and recuperation. The more active the CKCS is, the more rest it might require. This correlation between activity and sleep is not unique to this breed but is accentuated due to their size and genetic makeup. Their sleep isn't just a sign of laziness but a necessary recharge for their next lively escapade.
Diet and Sleep
Just as the food we consume profoundly impacts our sleep patterns and energy levels, the same holds true for our canine companions, including the Cavalier King Charles Spaniel (CKCS). A dog's diet is the foundation for its overall health and well-being, directly influencing its sleep.
An imbalanced diet can lead to various health issues in a CKCS, such as obesity or digestive problems, subsequently affecting their sleep quality and duration. For instance, rawhide for your King Charles Spaniel is bad as it can result in digestion problems. Conversely, a well-balanced diet ensures they receive the necessary nutrients, aiding in sustaining energy during their active hours and promoting restful sleep.
For a harmonious balance between energy and rest in CKCS, consider the following dietary recommendations:
High-Quality Protein

: Sources like chicken, lamb, or fish provide essential amino acids, ensuring muscle health and supporting energy needs

Complex Carbohydrates

: Ingredients like sweet potatoes or brown rice offer sustained energy, preventing sudden energy crashes and promoting more consistent rest patterns.

Essential Fats

: Omega-3 and Omega-6 fatty acids, found in fish oils or flaxseed, benefit skin and coat health and support brain function and overall vitality.

Digestible Fibers

: Foods rich in fiber, such as vegetables and certain grains, aid in digestion, ensuring the CKCS doesn't experience discomfort that can disrupt sleep.

Avoid Fillers and Additives

: Steering clear of foods laden with artificial colors, flavors, and unnecessary fillers can prevent potential allergens or irritants that might impact sleep.
Health Concerns and Sleep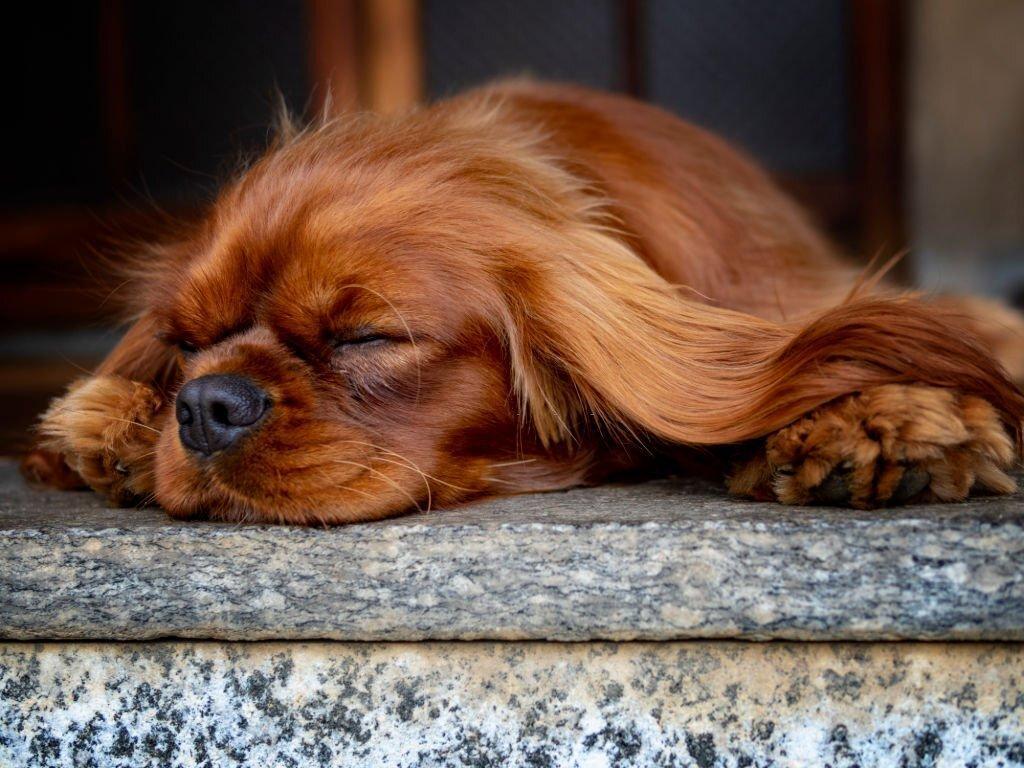 The Cavalier King Charles Spaniel (CKCS), while known for its sweet disposition and endearing looks, is not without its share of health concerns. Many of these issues, directly or indirectly, can have an influence on their sleep patterns, turning their usually peaceful slumbers into restless nights.
Some common health issues in CKCS known to affect sleep include:
Mitral Valve Disease (MVD): A prevalent cardiac condition in older CKCS, MVD can lead to discomfort, causing disturbed sleep or more frequent nighttime awakenings.

Syringomyelia (SM): This serious condition, where cavities or cysts form within the spinal cord near the brain, can be particularly painful and lead to evident restlessness during sleep.

Hip Dysplasia: Common in many breeds, this joint issue can make certain sleeping positions uncomfortable for the CKCS, resulting in them frequently shifting positions or appearing restless.

Ear Infections: Given their floppy ears, CKCS are more susceptible to ear infections which can cause itching or pain, impacting their sleep quality.
For CKCS owners, being vigilant about signs of sleep disturbances is pivotal. Indicators that a health issue might be affecting their sleep include:
Frequent Tossing and Turning: If your CKCS is constantly changing positions or seems unable to settle, it may be a sign of discomfort.

Whining or Moaning during Sleep: Vocal signs of distress, even subtle ones, can indicate pain or discomfort.

Increased Daytime Sleep: An abrupt increase in daytime napping or lethargy can sometimes indicate poor nighttime sleep quality due to underlying health issues.

Restlessness: If your CKCS appears restless, frequently waking up, pacing, or showing signs of anxiety during the night, it's a clear indicator of sleep disturbances.
Being attuned to your CKCS's sleep patterns and recognizing deviations can aid in the early detection of potential health concerns. Regular veterinary check-ups and maintaining open communication with your vet ensure that your furry friend receives the best care possible, promoting better health and peaceful, restorative sleep.
End Thoughts
The Cavalier King Charles Spaniel is more than just a pretty face; it has unique sleep habits influenced by various factors. Everything plays a part in its rest patterns, from its royal history to its diet and health. By understanding these aspects, we can better care for and appreciate our furry friends, ensuring they're both happy and healthy. In the end, every moment with these gentle dogs is worth cherishing.
FAQs
Are King Charles Cavaliers lazy?
King Charles Cavaliers are known for their affectionate nature and can be quite lively and playful. However, they also enjoy cuddling and relaxing with their owners. According to the American Kennel Club (AKC), while they have an athletic heritage and require regular exercise, they are also content being lap dogs. This might sometimes be interpreted as them being "lazy," but it's more about their adaptability and desire for companionship.
Why do cavaliers sleep on your head?
It's not just Cavaliers; many dogs display this behavior. One theory is that dogs sleep close to their owner's head for warmth and security. In the wild, dogs are pack animals and often sleep nestled together for protection and warmth. By sleeping close to you, especially near your head, they might feel safer and more comfortable. Additionally, your head releases warmth, which they might find comforting. Furthermore, Cavaliers are particularly known for their affectionate nature and strong bond with their owners, making them more inclined to seek close contact.
If you are a dog lover then, Subscribe to our weekly newsletters. No Spams!