Dogo Argentino and Cane Corso Italiano!!!
As majestic and dominant as their name sounds, the dog breeds are also famous for their fiery guarding behavior globally. Two of the most obedient dog breeds, emerging from the two beautiful and ancient cities, Argentina and Italy, respectively, they are not for the faint of hearts.
Although both breeds are known for their heavy masculine features and exploding protective nature, Dogo Argentino manages to emerge as the winner by some points. Initially bred to hunt mountain lions and participate in dogfighting games, the breed doesn't back away from any threat that comes on to its family or parent.
To further understand this point, below, we have arranged everything that is there to know about the two guard dogs. So, without further ado, let's start our topic.
Dogo Argentino Vs Cane Corso Italiano
Origins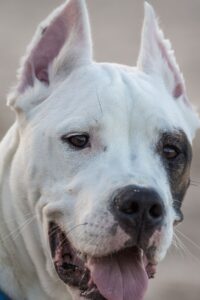 As stated above, the Dogo Argentino owes its origins to its now-extinct ancestor, the Fighting Dog of Cordoba. Antonio Martinez first discovered the breed in the 1920s, where he carefully eradicated the futile aggressive instincts of its ancestor and made it easy to train. The breed now enjoys its reputation as a loyal guard dog while also being gentle with kids and other animals when socialized properly.
On the other hand, Cane Corso Italiano is a descendent of the extinct Roman war dog, Molossus. Bred to participate in hunting games and guarding huge properties, not much has changed when it comes to the image of these regal dogs.
Size and Appearance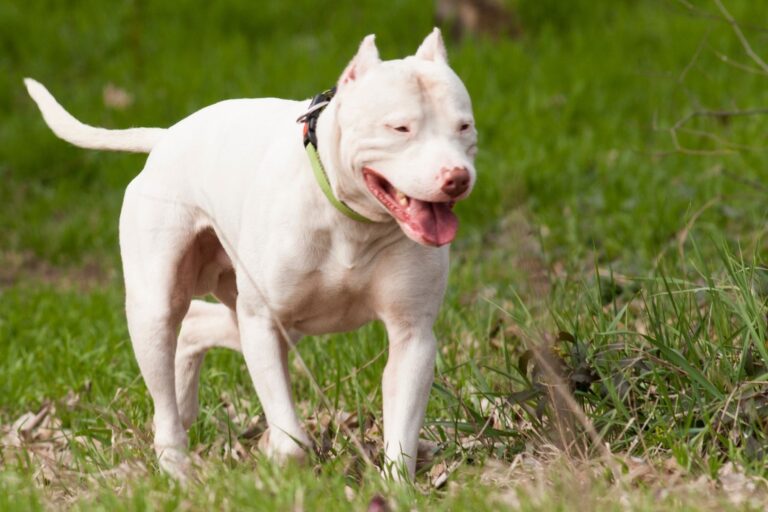 Both Dogo and Canes have similar heights, with males growing up to 27 inches and females around 25-26 inches. However, when it comes to their coat color, they come with a visible difference. Dogo are generally blessed with white, short, smooth coat with a large head and a thick yet elegant neck. Most puppies also have a dark patch near their eye, giving them a scary appearance to strangers. They weigh around 100lbs, a bit less than their competitor.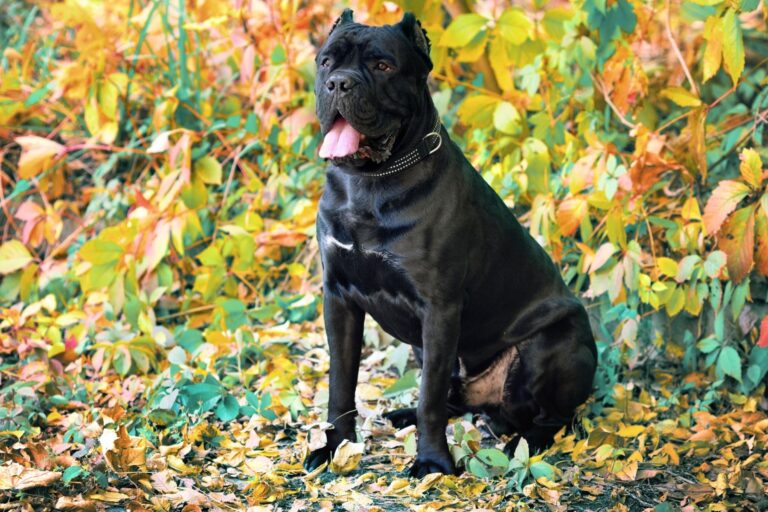 Cane Corso comes in many colors, including black, fawn, red, and even solid gray coats. Unlike their slender and elegant counterpart, Canes are widely known for their bulky muscular, solid bodies, enough to keep predators far away. Their coats are also short but are much thicker and stiffer, offering them an intimidating and raw appearance.
Temperament
Typically originating from fighting dog ancestors, both the breeds have time and again been reported to show signs of aggression to strangers. However, hands down, they only do so when provoked or feel their family is at risk. Therefore, wrongly accusing the breeds as 'aggressive,' 'ferocious,' and 'ill-tempered' is never OK. When socialized and taken care of properly, they come out as one of the most lovable, gentle giants who won't mind tolerating your toddlers' antiques at all.
Protective drive is high in both Dogo and Canes, and they won't mind attacking animals three times larger than them if their owner is in danger. This is why dog experts often advise seasoned pet owners to invest in these loving guard dogs. Such owners can easily tackle this breed's assertiveness and stubborn nature and portray themselves as the 'ALPHA' of the pack.
Intelligence and Trainability
Although both the breeds don't make it to the top five most intelligent guard dog breeds, they are highly intelligent, no doubt. Always eager to impress and challenge their own boundaries, Dogo and Canes make amazing partners to consistent and confident owners. Moreover, some Dogo Argentinos are also used as service dogs for their owners' emotional, psychological or physical support.
However, given their high-prey drive and territorial nature, they need lots of socialization from the very start. Ignoring this might bring forth a dog that can easily be deemed dangerous and displays highly aggressive and unpredictable behaviour in the presence of strangers or other animals.
The breeds are also often headstrong and may be resistant to certain training methods. But, if continued with patience and loads of positive reinforcements, they will soon be willing to perform as commanded and even participate in dog show competitions.
Exercising
Originating from two high-spirit, energetic ancestors, Dogo Argentino and Cane Corso Italiano, require heavy exercising almost every day. From going on 30 minute long walks to accompanying their owners on nature hikes, the breeds are best suitable for people who love to stay on their feet. While the same may also be achieved by letting them run free in large yards, they quickly grow bored of them.
Hence, proper mind stimulation is equally necessary to avoid destructive behaviour in these canines. From puzzle feeders to playing their favourite hide-and-seek or even teaching tricks, owners are required to think out of the box when opting for any one of these breeds for guarding purposes.
It is also important to remember that large-sized guard dogs such as Dogo and the Canes are unsuitable for apartment life. They will need a large fenced backyard to fend off their energy, and therefore keeping them in cramped surroundings might not be for the best. When bored, they won't back away from chomping down half of your furniture or tear anything that comes into their reach.
Grooming
Thanks to their beautiful, shiny short coats, grooming is not an issue with these breed's parents. Unlike most hairy dogs, they shed only twice a year, that is, during spring and the fall. Apart from these two seasons, they hardly shed anything, and so your bed and clothes will be fine with occasional brushing.
Combing with a soft bristle brush is best as opting for harder ones can aggravate friction with their skin, leading to unintended bruises. And if we have to compare amongst both, the Dogo Argentino is a better choice with little doggie odour and a great inclination towards being clean.
We have also lined out the facts in a much readable format below to make it easy for beginners. Check it here.
| | | |
| --- | --- | --- |
| BREED INFO | CANE CORSO | DOGO ARGENTINO |
| Life Span | 11 to 12 years | 11 to 12 years |
| Size | Large | Large |
| Activity Requirement | Lots | Lots |
| | | |
| --- | --- | --- |
| APPEARANCE | CANE CORSO | DOGO ARGENTINO |
| Ear type | Folded | Cropped, triangular in shape |
| Tail Type | Straight | Whip |
| Eyes shape/type | Medium | Dark or hazel, almond shaped |
| Wrinkles and folds | Yes | No |
| | | |
| --- | --- | --- |
| MAINTENANCE & TRAINING | CANE CORSO | DOGO ARGENTINO |
| Bath | Rare | Rare |
| Drooling | No | Yes |
| Shedding | Negligible | Negligible |
| Cold tolerance | Medium | Medium |
| Heat tolerance | Loves it | Loves it |
| | | |
| --- | --- | --- |
| HAIR & COAT | CANE CORSO | DOGO ARGENTINO |
| Coat Type | Short | Dense |
| Under Coat | No | No |
| Hair Density | Dense | Dense |
| Hair Length | Short | Short |
| | | |
| --- | --- | --- |
| BEHAVIOR | CANE CORSO | DOGO ARGENTINO |
| Friendliness | Aloof to strangers | Aloof to strangers |
| Trainability | Obedient | Obedient |
| Affection | Doting | Doting |
| Compatibility with children, dogs and other pets | Good | Very good |
| Guarding potential | Very good | Excellent |
| Therapy Dog | Snappy | Patient |
| Playfulness | Eager | Always ready |
We hope that we have successfully answered every question of yours about this breed. But, if you think we have missed out on something, do comment as to which section you would want to know more about.
Both the breeds are amazing dogs; no wonder, however, the key to their obedience, loyalty, and zeal to guard depends upon how they are brought up and taken care of.
Because "There is no love as great, pure and unconditional as that of a dog that loves its parents."
If you are a dog lover then, Subscribe to our weekly newsletters. No Spams!