Hey everyone!!!
We are back again with another huge demand topic, as you can see. English Cocker Spaniels have been a highly researched topic lately. With their fluffy voluminous coat and a regal appearance, pet parents all around the world have shown great interest in knowing about the breed.
And this has led to breeders experimenting on the tiny canines, bringing out newer variations, coat colours, hybrids and what not. So, while there are around 24 recognised colours and patterns that could count as a unique appearance, here are the twelve most popular ones.
Blue Roan, Black, Orange Roan, Black & Tan, Liver Roan, Tri-colour, Black & white, orange & white, liver & white, liver & tan, lemon & golden, ash- these make the 12 most popular English Cocker Spaniel colours and patterns.
Now it's time to know more about these colours and patterns and the deciding factors behind their occurrence.
12 Most PopularEnglish Cocker Spaniel Colours and Patterns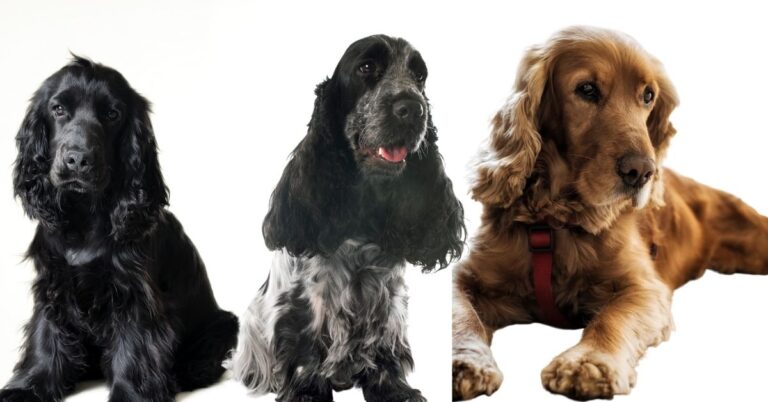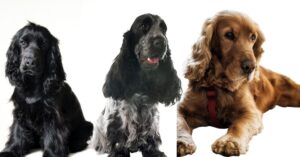 A rather quirky and decisive coat colour, this appearance comes when the pup's underbase coat is hidden by a secondary coat of another bold colour. For instance, a puppy may be born with a black underbase coat which further grows out another secondary coat of white fur, giving the effect of blue roan. These pups are highly expensive due to the odd colours.
Considered to be a solid coat colour in English Cockers, the black pooches are highly adored all around the world. The all black coat gives their little bodies an all natural dazzling shine that can't be outshined by other colours and patterns. They may also have a few small white patches or a tiny white spot on their forehead or paws, making them even more special.
Somewhat similar to the blue roan, here orange roan spaniels have a pure red undercoat which is later covered by a mixture of white hairs. This could happen all over their body or as flecks spread across different areas. Orange roans are often confused as red and white open marked patterns, however the former has more orangey shine to their coat and hence the name.
Next coming up is the Black & Tan English Cocker Spaniel. Featuring the mix of two highly sought after colours, these pups have a recessive (at) gene that can be passed down from similar tan marked parents or carrier parents. The markings can be found on their muzzle, ears, chest, face, and even under their tail. However, spots on other infrequent areas is also possible.
Ranking as the fifth most unique and preferred English Cocker coat colour and pattern, the liver roan is formed when the pup has a brown solid underbase coat. These puppies upon growing develop a white secondary coat that subtly mixes the two bold colours and gives the effect of liver roan. This coat colour also has similar dominant Roan (R) genes as in other roan combinations.
Similar to their name, tricolour English Cockers have three different colour combinations, mostly a mixture of black, white, and brown/red. So, such pups possess genes for all colours which are expressed dominantly over the undercoat. Certain pups may also have coat combinations for other non-dominant colours including liver, white, tan or red, white and black ones. The latter pups are a bit rare to find and hence very expensive.
Another colour coupled with black, pups with the above-said coat have the best of both the worlds. They are also a little less expensive compared to their pure black counterparts, given the existence of more white on their bodies. Here they have a recessive black coat gene and a dominant white coat gene, that unlike roan appears only in certain places, thereby the name. They are also popularly known as 'Oreo Spaniels' given their resemblance to the world-famous cookies.
Similar to black and white, orange and white coloured English cocker spaniels have clear white patches dimming the orange coat on various parts. This makes them visibly different as compared to Orange Roans or orange white tick patterned English Spaniels. These pups can be pure white or show a cream-white colouring, depending upon their parents colouring and coat genes.
A much rarer coat colour combination for English Cocker Spaniels, the liver and white coats have white as the dominant and liver as the recessive gene. The white patches mostly occur at their snout, chest, mid-back, ears, and sometimes near their eyes. Pet parents looking for cool appearances generally prefer these pups for their outlandish look.
A look that is almost identical to a brown coated English Spaniel, new pet parents often have issues recognising this colour initially. Covered with tan markings on their liver coloured coat, these pups can be born to parents with variable colour combinations or a recessive tan gene in their bodies. Their liver undercoat is marked by tan fur at several spots, offering them the raw, dignified look.
Two similar looking colours, a lemon and golden pattern often has two sets of recessive genes, i.e., a recessive gene for red (ee) and for liver (bb). Thus, depending upon the intensity of the genes' occurrence, such pups show a specific coat colour that can be recognised as either lemon (for lighter shades) and golden (for darker shades). However, it is essential to remember that they are very different from lemon roans.
Born with the second rarest coat colours in English Cockers, these woofers are also categorised as 'Grey Spaniels' at many places. Unlike a roan pattern, their genes have a set of recessive white genes that comes across mixed with their dominant black fur colour, thereby emanating the grey base. Such pups often have lighter shaded nose and paw pads, completing their unique look.
Are there any risks associated with different coloured and patterned English Cocker Spaniels?
While these are naturally beautiful colours that give this adoring loyal breed a mesmerising look, uncontrolled and improper breeding or severe gene mutation is what risks their health.
It has been proven time and again that such colour combinations result due to over-exploitation by greedy and uneducated breeders. This in return skyrockets the frequency of English Cocker Spaniels with variable colours succumbing to health conditions much higher than purebred Spaniels.
So, if your pup has no clear history, parent's or breeding information, it might be susceptible to a number of diseases. Some of these include:
Blindness and deafness

Heightened risks to skin infections

Frequent ear infections

Overeating or eating disorders

Progressive retinal atrophy (PRA), etc.
Moreover, according to a recent study by the Applied Animal Behavioural Science, it has also been found that Golden/Red English Spaniels are more prone to aggression than others. They are followed by the black coat colours with rest being mildly-mannered.
Thus, coat colour or pattern variations doesn't only mean the pup may have physical ailments, but owners may also find various temperament and personality hitches.
What can I do?
Well, first thing first, always get a puppy from a professional breeder only. And if searching for a particular coat colour or pattern type, make sure they have required qualification and experience in that.
Secondly, to show yourself as the 'boss' it is highly crucial for you to be 'the Alpha' and for this there's nothing better than positive reinforcement training. No matter what the colour or breed is, every canine responds well to the above-said training method, so why not give it a try???
Because, at the end of the day,
"A dog is a dog, whatever it's colour."
If you are a dog lover then, Subscribe to our weekly newsletters. No Spams!