Probably the most nutritious and easy-to-digest of all, chicken and rice is the ultimate favorite food for both Spaniels as well as their parents. This combination is also preferred highly amongst pooches suffering from digestive and gastrointestinal disorders. But, there's a specific amount that goes well with every Spaniel, or else you are just adding in to their health risks.
Toy breed spaniels weighing 10 lbs will require 0.75 cups of chicken and rice, while the largest of all, a full grown Clumber Spaniel (80-85 pounds) will require 6 cups of chicken and rice for its everyday feeding. This is an average calculated feeding measurement, and hence the final amount of chicken and rice required may depend on various other factors.
Let's have a look at them for a brief understanding.
Feeding Chart for Chicken and Rice Consumption in Spaniels
| | |
| --- | --- |
| Dog's Weight (lb) | Chicken & Rice Consumption (In Cups) |
| 10 lbs | 0.75 cup |
| 20 lbs | 1.5 cups |
| 30 lbs | 2.25 cups |
| 40 lbs | 3 cups |
| 50 lbs | 3.75 cups |
| 60 lbs | 4.5 cups |
| 70 lbs | 5.25 cups |
| 80 lbs | 6 cups |
P.S. This measurement is done in the ratio of 2:1, where the former denotes the amount of rice and the latter is for the chicken.
For instance, if your Spaniel falls under the category of 30-35 lbs, they will need 2.25 cups of chicken and rice on an everyday basis. To make it even more clearer, out of these 2.25 cups, two-third of the portion should be rice while one-third should be the mashed chicken.
Simultaneously, ensure that you are not feeding too much of the chicken and rice diet. Chicken is no wonder every dog's favorite but to keep their taste buds thrilled and to ascertain they are getting all other major nutrients, vitamins and minerals, you can also follow these 7 vet recommended easy homemade food for your Spaniel.
What is the purpose behind designing this feeding chart?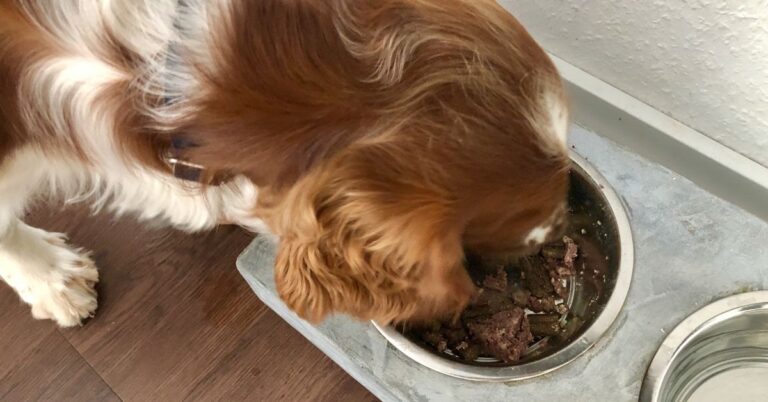 Spaniels are known for their lively nature and a huge appetite. Given that they are one of the best working breeds, all that running and zooming could leave them super ravenous by the time of their feeding, and hence they could end up munching down everything that is in the bowl.
Although many pet parents may not find this problematic, it is crucial to remember that Spaniels are very prone to gaining weight and becoming obese. So, not monitoring their diet or feeding them too much might end up creating problems and even compromising their life's quality.
Therefore, to tackle this very cause, this very chicken and rice consumption chart has been designed by professional pet nutritionists, vets, and even pet owners from all over the globe.
What do I need to remember when preparing chicken and rice for my Spaniel?
Now coming to the main part, even though preparing the dish may seem too easy, there are several things to consider. These include:
Thorough cleaning and cooking of the chicken is a must
Unfortunately chickens are notorious for serving as the carriers of salmonella and other harmful microbes that could affect your Spaniel's gut severely. Therefore, the first thing you need to do before prepping up a bowl of their favorite chicken and rice is to clean the piece of meat thoroughly.
Make sure to clean all blood clots and everything before marinating it in salt water. Lastly, rewash the chicken under running water to get rid of any salt and then dice it up into small pieces. Similarly, the chicken should be cooked thoroughly, as raw meat often has bacteria coursing through it.
Keep Chicken Bones out of their feeding bowl
While many parents may object to the idea of putting away chicken bones, keeping it can actually prove to be more hazardous. When munching down, these small pieces could get lodged into their throat causing them immense pain and even intense bleeding in rare cases. Therefore it is best to pick out all chicken bones which can be later offered to the Spaniel.
However, if you are worried of the bone pieces puncturing their stomach or intestines, avoiding them all together is also a better option.
Never add any seasonings or spices to the feed
Dogs have a completely different digestive system as compared to humans and hence they should only be fed what's specifically made for them. Offering them chicken that has been seasoned, or added with spices, such as onion or garlic, is downright fatal for them. These components can cause them to have severe reactions or lead to food poisoning, making the fur baby suffer a lot.
The chicken needs to be boiled in plain water, minus any spices, salt, or anything. Moreover, to make it properly cooked, it should be boiled for at least 10-15 minutes at a convenient temperature.
Chicken Breast is always best
Now if you are looking for a healthier way of feeding your Spaniel a chicken and rice diet regularly, using chicken breast is the best choice. Relatively low in fat and consisting of all healthier essential nutrients, this part is also the juiciest that your canine will love to have.
Apart from that the low concentration of fats and fatty acids makes it easy on the pooch's digestive system and hence is often referred to sick pups. Such a diet has lower probabilities of pancreatitis in dogs so you won't have to worry about their diet.
Don't keep it for long
Although storing the boiled chicken in refrigerators for long might seem to be easy on the pockets, it could have detrimental effects on the Spaniel's health. A duration of 2-3 days is the longest that you should keep the meat, as any later than that and yeast may start fermenting on the surface. This in turn leads to contamination and a typical smell coming out from the meat which when consumed will cause runny diarrhea, food poisoning, high fever, vomiting, etc.
What is the proper way of boiling chicken for Spaniels?
Although this may seem unnecessary, many pet parents make the most mistakes when trying to prepare chicken for their Spaniels. Therefore here is a rundown of all the essential steps if you are thinking of whipping out a bowl of chicken and rice for your beloved fur baby.
Dip the chicken in a medium-sized pot with water after it has been properly and thoroughly cleaned.

Cover the pot then and let it boil.

Make sure to boil the chicken unless it's completely cooked. Or for ovens you will need to cook the meat thoroughly for 20-30 minutes at 400 degrees Fahrenheit.

Once done, take the pot out of the gas stove and let it cool off. Don't get rid of the boiled water, rather let the whole content cool down.

Shred the now cool chicken into smaller pieces.

Add the shredded chicken pieces into your Spaniel's feeding bowl, topping it with two thirds of white rice.

Store the leftover pieces in the refrigerator for no more than 2-3 days.
To make it more delicious, you can also add:
Plain yogurt

Wet or dry dog food

Cooked veggies, minus seasonings and spices

Canned pumpkin

Vitamin supplements
Subscribe to our mailing list today to stay updated on all our recent releases.
If you are a dog lover then, Subscribe to our weekly newsletters. No Spams!