Everyone loves a nice, long massage. But did you know that there are a few massaging techniques that can help a constipated dog poop??? If not, then you are in here for a treat.
Usually vets advise massaging the rear end of the canines to instigate pressure and therefore help them have normal bowel movements. However apart from that massaging a canine's thighs, glutes, ears and even forehead have been found handy in assisting with the task. When applied with the right pressure, massage in the specific points activates chemicals that induces their brain to create enough bowel pressure for the dog to poop.
But the case is not as easy as it seems, as the amount of force applied and the point of contact play a huge role in deciding the result.
Can Massage Help a Dog to Poop?
According to a study, it has been proven that a proper systematic massage can go a long way in curing your dog out of digestive issues. And by such issues we mean acute gastroenteritis, acidity, and even constipation.
Applying gentle pressure on specific parts of their body allows their muscles to relax, while simultaneously stimulating the nerves. This in turn invigorates their intestinal pathway, creating enough pressure for them to poop. But this is not the only way how massage works.
A good shiatsu also calms down the pup. And hence if the constipation is due to anxiety, fear or stress related factors, peace of mind can serve as a necessary pacifier for their recovery.
How do I Massage my Dog to Poop?
Before starting with the hacks, do keep in mind that all of these require patience and a calm environment. Making haste won't do any good and may even injure the pup badly.
Practice 1- Circular Motions on the Stomach Area
Best suitable for pooches suffering from gastric related disorders, circling your hands on their stomach area with a gentle force can aid relieve the accumulated gas.
To perform this, it is best to position the dog on their back just like when giving a belly rub. Let the dog relax and then start with the massage technique.

Gently circulate your hands over your pooch's belly in a clockwise motion. After a few repetitions, change the direction and keep on continuing the same way for the next few repetitions.

Otherwise, pet parents may also knead the dog's lower stomach in an upside down U-shape. This will create enough force to make the dog go and poop on its own.
Doing so will get their bowel passage open up, in case any blockages may have occurred due to gas or poor blood circulation.
Usually after a 2-3 minutes of gentle belly rubbing, a pooch feels the need to relieve itself. However, if the issue still persists, you could switch to other areas on their body.
Practice 2- Stroking their Back
Just like massaging their tummies, stroking a canine's back has also been found to help with the task. As the spinal cord is where almost all major nerves pass through, pressing the points can aid get their bowel movement back to normal.
For this, first of all make your pooch squat or sit nicely. Once they have sat down, put your hands over their upper neck and press carefully. Make sure to never press the spinal cord directly, as it will be painful and uncomfortable for the pup.
Afterwards, proceed towards their rear, while pressing/stroking sensitively like mentioned above.

Repeat the massaging technique for at least 15-30 times.
This will alleviate any strains that might be causing increased pressure along their spine, preventing them from being able to squat when pooping.
Practice 3- Whole Body Massage
A normal dog poop stance uses a lot of muscles, and therefore if their body is sore, the pup might not feel like pooping. In the long run, a sore body can also make a dog sick and uninterested in doing anything they would normally love to do. Therefore to curb such issues, regular whole body pressing is a must.
Let the dog lie down on its side. When the pup has settled nicely, place your hands over their neck and put a little pressure.

Follow the same technique upto the base of their tail, covering and massaging as much area as you can. The dog will visibly relax and may even doze off if done nicely.

Keep on doing this until 15-20 repetitions.

Upon finishing with one side, make your dog stand up, but ensure they don't do it excitedly. Jumping up can cause severe muscle strains and hence the pup needs to wake up gently. The dog will then need to move around here and there for 20-30 seconds.

Next, make the dog lie on its other side and repeat the steps from 1-4.
Performing this particular massage technique not only provides much needed relief to their aching muscles but also can cure the canine of multiple ailments. This includes vomiting, stomach issues, bladder problems, muscle strains, etc.
Practice 4- Massaging their Limbs
If rubbing their body doesn't seem to be working, it is now time to switch on to their hind legs. Mostly prevalent in older dogs or pooches with weak muscle buildup, sore hind legs can pose a problem when trying to poop. This may happen due to arthritis, hip dysplasia, or any previous injury on their legs.
Start by allowing your dog to comfortably lie down or sit. Usually, lying down is much more enjoyable for the pooch, but if the canine is unable to lie down or simply doesn't want to, you can also do so when the little fur baby is sitting.

Using your two thumbs, put pressure on the dog's limbs, initiating from their thighs.

Slowly and carefully go down, while applying little strength on your thumbs. You can also stroke the dog or knead their muscles using your fingers in a clockwise motion forming a letter 'C'.

Repeat the steps for at least 10-20 times before switching to another limb.
While this works with almost all dogs, if your pup is severely arthritic, consulting with a vet before using any of these massage techniques is a must. When done without a proper consultation, the kneading may end up hurting the canine even more, and no pet owner would ever want this to happen to their little fur babies.
Practice 5- Acupressure on the Head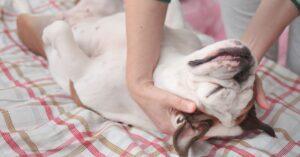 Apart from body aches and digestive issues, anxiety, stress and fear also play a huge role in normal day to day activities of a canine. Thus, if everytime you take your pooch outside, he/she seems anxious of its surroundings, then changing the place can be a good bet.
But if space is constraint, as in apartment living spaces, massaging the animal's head can do wonders. Dogs absolutely love head pats as it offers them a sense of adoration and security from their owners.
Unlike other places, you will need to be extremely gentle on the head. The dog may not like when too much pressure is applied, and therefore rather than stroking, rubbing the area is comparatively fruitful.

Carefully rubbing from their nose gradually move towards their head and then back to the nose. Repeat for a few times.

The same can be done with their ears. As these places are connected by all major blood vessels, applying pressure to these parts lets the pooch calm down, if suffering from any bad feeling.
Performing this massage technique has numerous benefits, such as whole body relaxation. Thus, as the body relaxes, this in turn impacts their digestive system, inducing regular and normal bowel movement as before. Additionally, the canine may even seem more confident and relaxed, when the procedure is applied on a regular basis.
Practice 6- Stimulating their Anus by Massage
If everything fails, the last bet is manual stimulation of their anal area. Typically advised by vets to aid a constipated dog poop normally, this step can be messy, and hence proper measures are needed to be taken.
Before starting with the massage, have a pair of disposable gloves and canine-safe wet wipes handy. Put on the sterile, disposable gloves and then position the dog in a comfortable position.

Take a wet wipe and slowly wipe their anal ring. The cold feeling will most definitely induce the urge to poop in the canine.
However if it doesn't seem to be working, then it is better to seek professional guidance as the underlying conditions could be much more severe than you previously thought.
When should I not Massage my dog to poop?
Not every dog is alike. And hence, while some may lie down peacefully, letting you touch their privates and other body regions without any issues, others may not be too happy about it. Hence, here are a few situations where massaging a dog to poop should never be attempted.
Snappy or aggressive behavior in response to your touch

Open wound/sores/painful bumps on the body

Diagnosed with severe arthritis

Have extremely weak bones and joints or muscle build up

Infection/tumors in the area

Blood clotting issues
If any of the above-mentioned symptoms occur, taking the pup to a vet clinic is a better idea. There the canine will get access to both effective treatment and required therapeutic care, aiing their overall recovery.
Reference:
If you are a dog lover then, Subscribe to our weekly newsletters. No Spams!