So, thinking of training your pooch to be a gun dog??? Well, you have arrived at the right place.
Using a dummy launcher to train your dog is not as easy as it seems. You will need the canine to be highly obedient to all your commands before starting with the real procedure. Once this is attained, covering the basics of gun dog training is what's required next. This includes, heeding to heel command, direction cues, drop, fetch and retrieve. After that only, a dummy launcher should be introduced to the canine.
Below we have discussed the whole ordeal in a detailed manner. But before that let's have a look at what exactly are dummy launchers.
What is a Dummy Launcher?
As the name suggests, a dummy launcher is a device that throws or fires a gun dog training dummy toy into a set distance. Thus in simple words, it can be described as a simple setup that trains your pooch to follow all gun training cues without the inclusion of a live bet.
Practically they are cylinder shaped devices with one end open and the other end attached to a spring bearing high tensile strength. The dummy is inserted to the open end, after which the launcher is then aimed upwards for a better projection. Upon pulling the spring, the dummy gets propelled into the desired direction, stimulating the dog to engage, fetch and retrieve it back to you.
Dummy launchers arrive in many shapes and sizes, making them a good choice for a variety of scenarios. For instance, there are launchers that shoot dummies upto a few feet at a time while simultaneously you can also find ones that are perfect for relatively small spaces like front yard or dog parks.
What is the benefit of using a Dummy Launcher?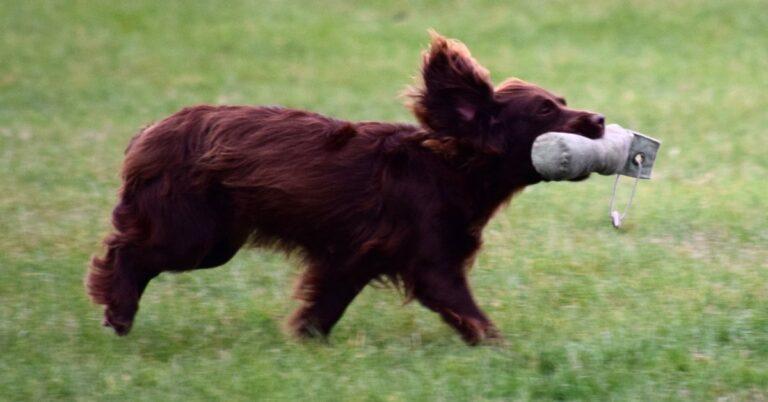 Well, first of all dummy launchers are typically used for their projection ranges. Thus, unlike manual throwing, these launchers can be easily set to propel the dummy into various distances, making them the perfect item for gun dog training. As the trainer/handler is able to put all their focus on the dog rather than the toy, they can better manage the ongoing process.
Similarly, these launchers also offer ample space for the pooch to learn and become obedient as a gun dog. This is a basic trait that every involved canine should possess without which there is a high chance that you might not succeed in the real field. Overally, this training ensures that the dog understands the importance of patience and has solid focus no matter whatever distractions there might be.
Ultimately, dummy launchers are relatively less messy. You can use the same toy again and again without having to include small birds or quails, therefore preventing a bloody mess.
How to use a Dummy Launcher for Gun Dog Training?
Like we discussed previously, before initiating gun dog training your pooch needs to be adept to all basic training etiquettes. This includes commands like, 'Sit/Stay/Heel' etc. Without these the canine would be too distracted to actually heed to your cues and thus lead the whole ordeal to a big failure.
So, here we will be covering every aspect, including the before and after must-do's of dummy launcher training.
Before:
Mastering the initial steps
Prior to starting gun dog training, it is highly essential that the canine has mastered all verbal cues. This includes heeling, proper placement and slip-lead, eye contact, unwavering focus, seeking, flushing, and retrieving. Only when a woofer is promptly listening and doing as commanded should you shift your attention towards training them with dummy launchers.
Find the right launcher
Next comes the critical task of finding the perfect dummy launcher for your canine. Based upon their breed, life stage and size, you will have to carefully scroll through the myriad of available choices.
The same also goes for their projectile motion. For instance, if you are training your Dachshund to be a gun dog, a dummy launcher that rolls or thrusts the dummy onto the ground is a better choice. This way the pup won't have to pop their little neck upwards for prolonged hours and thereby be utmost comfortable when learning to be a gun dog.
During:
Bring the pup to 'Heel'
Always remember, the first trick to training your dog to be a successful gun dog is to grab their attention. The pooch should calmly sit besides you, waiting for your next command (typically 'Fetch') before running in the way where the dummy was propelled.
NOTE- Make sure that the dummy launcher is out of their face and has been positioned in such a way that won't touch anyone's body. Given the high speed of the projection, the dummy could severely hurt anyone or even break bones upon coming in contact. Therefore, proper safety measures are a must both for the canine as well as passerbys or onlookers.
Position the Dummy
In the second step, put the dummy into the open end of the dummy launcher. The toy should be inserted completely for a smooth throw as leaving any threads suspended may cause the toy to get stuck during projection. Once done, pull the spring on the opposite end of the device (while positioning upwards to avoid accidental collision).
Depending upon the device's specifications and training space, you may have to pull the spring all the way back or go with a little jerk. This will ensure that the coiled spring bounces back to its original position with a powerful torque that propels the dummy to a faraway distance.
However, make sure to go through the device specifications carefully. Some might differ from the other in their working and hence a detailed go through can make the process easier.
After:
Command the Canine to Fetch/Seek
Once the dummy is set into motion, command your canine to 'Fetch/Seek' it. The dog should then immediately resort into action and run behind the toy. Based upon where you have propelled the toy, the woofer would have to run and try to find it.
Typically using a dummy launcher in areas with shrubs and bushes is far more enjoyable than firing them into plain areas. The former would require the dog to use his/her senses as well as nose, and therefore allow far greater mental and physical stimulation.
Next comes 'Bring it'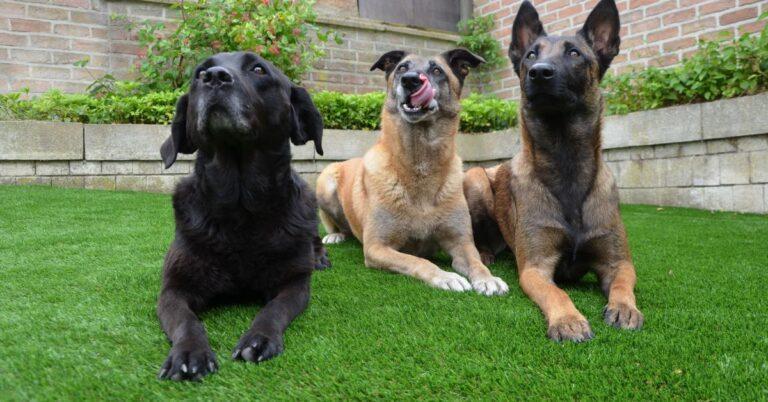 Finally, this process will come to an end with a 'Bring it', followed by a 'Drop' cue. A proper gun dog is not the one who knows only how to fetch but the one that brings back the game unharmed to its owner/trainer/handler.
Extreme focus and patience is required for a dog to do this. And therefore if your canine abides by every single of your commands when training with a dummy launcher, you can then shift to real game fetching.
What should I remember when using a Dummy Launcher for Gun Dog Training?
This includes:
Don't get a Dummy Launcher unless required
Given their high propelling power, many consider dummy launchers as firearms. So, unless you are going to enroll your canine for long retrieving work, a dummy launcher isn't actually needed.
In various regions, a gun dog trainer or handler is required to have a license for the purchase and usage of dummy launchers. So, it is better to check through all necessary guidelines before investing in one.
Be extra sure of your surroundings
A direct hit from a dummy launcher can cause severe damage to a person's body. Even more if the hit area is on any sensitive part, the results can be disastrous. In such cases, the trainer/handler may be imprisoned or have to pay a hefty fine covering the individuals' medical expenses.
Hence, apart from trying to make your canine heed to gun dog training by a dummy launcher, you will also need to ensure that the same is done with proper safety measures. For instance, shooting the dummy launcher in an upward position and with a clear area ahead is what's best for all. There should be absolutely no one within or nearby the path of the supposed projection of the dummy launcher.
You may also do it in spacious, abandoned fields with a clear visibility everywhere. Tall grasses or too many trees can pose an obstacle in your line of view, risking injury to potential passerbys.
Ensure your dog is properly trained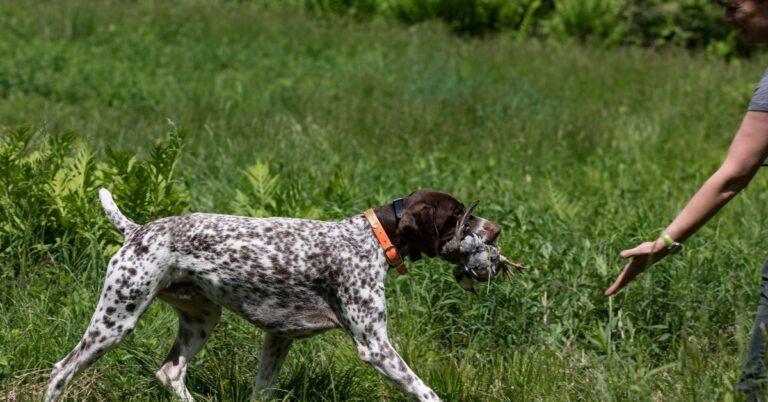 Another thing to keep in mind when gun training your dog with launchers is to do so only when they are properly trained. As dogs are generally off leash when seeking dummies, an untrained dog might pose a risk to itself or others present there.
When fired, most dummy launchers make a strong 'bang' that could scare the dog. In such cases, if not trained, the pooch may scamper away somewhere, run to the roads, or worse charge at someone. Therefore, not only will you need to ensure that the canine heeds to every command, but also desensitize them prior to the training.
Be ready for the Recoil
Ultimately, after you fire the launcher, be ready for a good amount of recoil torque. No matter whatever launcher model you go for, there will be some amount of force on your hand, shoulders and even in certain cases your whole body.
While it doesn't hurt much, being unprepared for the reaction can cause severe strain on your muscles. This could eventually lead to a loss of control on the launcher as well as sickening pain and discomfort. Hence, before you start training your dog with the launcher, it is better to practice it beforehand, so as to ascertain no injuries to anyone.
Follow spanieldogs.com for more interesting updates like these.
Reference:
If you are a dog lover then, Subscribe to our weekly newsletters. No Spams!