In this article, we will talk about ideal English Springer Spaniels training to hunt animals with useful tips from experts. These Spaniel breeds are exceptional hunting partners due to their unique blend of skills and traits. Their boundless energy, keen sense of smell, and natural enthusiasm make them adept at flushing out game birds from cover. Their agility and ability to work in various terrains allow them to navigate challenging landscapes. 
However, they need training. Incorporating good techniques for springer spaniel training to hunt will help them learn good behaviors, understand commands, and become familiar with different situations. It also builds a strong bond between you and your dog. Starting early makes them comfortable with training, and they grow up as well-behaved and skilled dogs.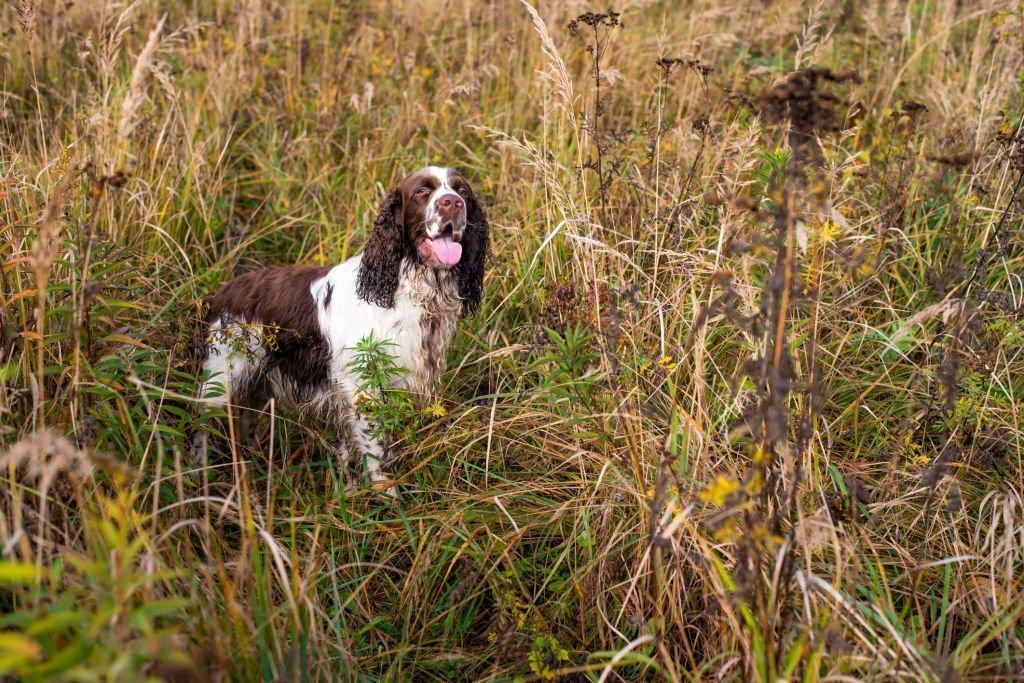 In this article, you will learn about the best techniques to train your springer spaniels, including retrieving drills, requisite equipment and gears, challenges faced during training and how to overcome them, and many more related to dog training.
So, let's start with learning about the history of Springer Spaniels.
The history of Springer Spaniels as hunting dogs
English Springer Spaniels were originally used as hunting dogs to flush game for hawks, coursing hounds, and nets. They were highly successful at flushing games for "flying shooting" after the invention of the wheel lock firearm in the 17th century. The history of the Springer Spaniel as a hunting dog can be traced to the 16th and 17th centuries, as depicted in prints and paintings. In the 1800s, spaniel breeding and training shifted to serve upland gunners, and the larger spaniels used for flushing game birds became known as "springers." The breed rose in popularity in North America after importing the first English Springer Spaniel from England to Canada in 1913.
Benefits of training Springer Spaniel for hunting
Training your English Springer Spaniel for hunting brings a wide range of benefits to both you and your furry friend.
Natural Instincts Fulfilled
Your Springer Spaniel is born with strong instincts to find and flush out game birds. With daily springer spaniel training to hunt, you let them follow these instincts, and keep Springer Spaniels engaged and happy.
Stronger Bond
As you train together, the bond between you and your dog grows stronger. You learn to communicate effectively, building trust and companionship.
Keeps Their Mind Sharp
Hunting training challenges your dog's brain. They learn to follow commands, track scents, and retrieve objects, keeping them mentally active and stimulated.
Stays Fit and Healthy
Hunting training involves lots of physical activity, from running to swimming. This keeps your dog in great shape, improving their overall health.
Boosts Confidence of English Springer Spaniels 
Successfully finding and bringing back the game builds your dog's confidence. They become more self-assured and adaptable in various situations.
Promotes Better Behavior
The discipline required during training carries over to daily life. Your dog becomes better behaved and follows commands more reliably.
Versatile Companion
Beyond hunting, one of the benefits of training Springer Spaniel for hunting is that your well-trained Springer Spaniel becomes an ideal partner for outdoor activities like hiking. They can also shine in various dog sports and events.
Equipment and gear beneficial for Springer Spaniel training to hunt animals
Training a Springer Spaniel for hunting requires some equipment and gear that can be beneficial for springer spaniel training to hunt:
Retrieving dummies
Retrieving dummies are essential for training Springer Spaniels to retrieve game birds or other small game that has been shot or captured. Purpose-made retrieving dummies or homemade items can be used.
Whistles
Whistles are useful for training Springer Spaniels to respond to hunting commands and instructions. Different whistle tones can be used for different commands, such as recall or stop.
Training collars for English Springer Spaniels 
Training collars for Spaniels can be helpful for reinforcing commands and correcting unwanted behavior. However, it is important to use them properly and under the guidance of experienced trainers.
Hunting vests
Hunting vests can be useful for Springer Spaniels to carry retrieving dummies or other gear while hunting. They can also provide visibility and protection for the dog.
Canvas dummy toys
Canvas dummy toys can be used for holding and retrieving drills. They are pretty durable even after they are used repeatedly.
Shoulder bags
Shoulder bags can be useful for carrying hunting gear, such as retrieving dummies, whistles, and training collars. They can also provide easy access to gear while hunting.
English Springer Spaniel hunting techniques
Training a Springer Spaniel for hunting requires a combination of basic obedience training, field training, and exposure to game. 
Here are some key points to consider in your springer spaniel training to hunt guide:
Start with basic obedience training for English Springer Spaniel
Before jumping right into hunting-specific training, it is essential to establish a foundation of basic obedience training. Some commands your dog should learn are sit, stay, come, and heel.
Focus on other training areas
While Springer Spaniels have a natural inclination for hunting, it is essential not to neglect other form of training. Overemphasis on hunting can lead to neglect in areas such as retrieving. Bring some balance to your English Springer Spaniel hunting techniques to make your dog well-rounded in all fields.
Introduce field training
It is crucial for Springer Spaniels to develop their hunting skills. This includes exposing them to different hunting environments, teaching them to quarter efficiently in front of the hunting party, and reinforcing commands related to hunting activities.
Expose them to the game
Effective training involves exposing Springer Spaniels to the game through controlled situations. This helps them develop their scenting ability and instincts. Start with calm days, slightly damp ground, and a minimal breeze to enhance their tracking abilities.
Control the hunting range
The English Springer Spaniels tend to push beyond gun range due to their strong hunting drive. Early training should focus on teaching them to stay within gun range and handle in range. This ensures a more controlled and efficient hunting experience.
Retrieve training
Retrieving is an essential skill for hunting dogs. Train Springer Spaniels to retrieve game birds or other small game that has been shot or captured. This can be done through positive reinforcement and gradually increasing the difficulty of retrieves.
Dedicate time to training
The more time and effort you dedicate to training, the more complete hunting experience you can expect from your Springer Spaniel. 
Springer Spaniel retrieving drills
Here are some Springer Spaniel retrieving drills that can be helpful for training:
Hold and retrieve
Start by teaching the dog to hold an object before moving on to the retrieve action. Sit with your Springer Spaniel on the floor, show them the toy, and reward them when they show interest. Once they pick up the toy, encourage them to hold it and then give the command to retrieve it.
Recall and retrieve
To work on recall and retrieve, as soon as your Springer Spaniel has picked up the dummy or ball, give them the recall whistle and encourage them to bring it back to you.
Steady retrieve
Progress the basic retrieve into a steady retrieve by teaching your dog to hold the object until you give the command to release it. This can be done by holding the object and giving the command to hold it, then rewarding the dog when it holds it. Gradually increase the time they hold the object before giving the command to release it.
Marking and working
To work on marking and working, throw a dummy or ball and encourage your Springer Spaniel to mark it. Once they have marked it, give the command to retrieve it and reward them when they bring it back to you.
Troubleshooting
If your Springer Spaniel is having trouble retrieving, consider using a purpose-made retrieving dummy or a homemade item to train them. You can also seek guidance from experienced trainers or join hunting dog forums for additional tips and advice.
Common challenges faced during training and how to overcome them?
Training a Springer Spaniel for hunting can come with its own set of challenges. Here are some common challenges faced during training and tips to overcome them:
Independence
Springer Spaniels can be independent and may have a strong desire to explore their surroundings. This can make it challenging to keep their focus during training sessions. To overcome this, establish a strong foundation of basic obedience training and gradually introduce distractions in a controlled environment.
High energy levels
Springer Spaniels are known for their energy and stamina, which can sometimes make it difficult to keep them focused during training. Make sure that your dog receives plenty of physical exercise and mental stimulation to help channel their energy in a positive way. Incorporate regular training sessions and activities to energize, engage, and stimulate them mentally.
Distractions
Springer Spaniels have a keen sense of smell and can easily get distracted by scents and other stimuli in their environment. Start training in a quiet and controlled environment, gradually increasing the level of distractions as your dog progresses. Use positive reinforcement techniques to keep their attention focused on you during training.
Overexcitement
Springer Spaniels can become overexcited, especially when engaging in activities they enjoy, such as retrieving. This can make it challenging to maintain control and focus during training. Incorporate impulse control exercises into your training routine to teach your dog to retain its calm and stay focused even in exciting situations. Gradually increase the level of excitement during training sessions to build their self-control.
Consistency and Patience
Training a Springer Spaniel for hunting requires consistency and patience. It is important to set aside regular training sessions and be patient with your dog's progress. Break down training tasks into smaller steps and reward your dog for each successful attempt. Consistency and positive reinforcement will help your Springer Spaniel understand what is expected of them and encourage them to continue learning.
Difference between Springer Spaniel show dog and field dog
A show Springer Spaniel is bred and judged based on appearance according to breed standards, focusing on traits like coat color and structure. Their temperament tends to be calm and friendly. In contrast, a field Springer Spaniel is bred and trained for hunting abilities, excelling in tasks like scent detection and retrieving. They have a more energetic temperament and a practical coat. Show dogs prioritize looks, while field dogs emphasize working skills.
A Side-by-side Difference between Springer Spaniel Show Dog and Field Dog
| | | |
| --- | --- | --- |
| Aspect | Show Dogs | Field Dogs |
| Emphasis | Appearance and breed standards | Hunting and working abilities |
| Appearance | Conformity to breed standards | Practical and functional appearance |
| Temperament | Calm, friendly, well-behaved | Energetic, driven, eager to please |
| Physical Features | Emphasized traits for show appeal | Practical coat, fewer exaggerations |
| Training Focus | Limited field training | Extensive hunting and retrieving training |
| Skills | Not specialized in hunting skills | Specialized in hunting and retrieving |
| Titles & Accolades | Titles like CH or GCH from shows | Titles like JH or MH from hunting test |
Best age to train a Springer Spaniel for hunting
How often you train your Spaniel for hunting depends on their age and what they're comfortable with. Here's a simple guide to help you:
Puppy Time (Up to 6 Months): Train your springer spaniel puppy in short sessions, maybe 2-3 times a day for about 5-10 minutes each time. Puppies have short attention spans, so these quick sessions work well. 6 months is also the best age to train a dog for an electric fence.
Growing Up (6 to 12 Months): As your Spaniel gets a bit older, you can make training sessions a bit longer, like 15-20 minutes. Aim for a couple of sessions a day.
Adult Life (1 Year and Older): When your dog is all grown up, you can do more focused training sessions. Try one or two sessions a day, lasting around 20-30 minutes each.
Additional Tips on Best Age to train a Springer Spaniel for Hunting.
Mix It Up: Make training interesting by trying different things. This keeps your Spaniel excited and eager to learn.
Rest Time: Don't train too much. Just like us, dogs get tired. If your Spaniel seems bored or tired, take a break.
Real Practice: If you plan to take your dog on real hunting trips, include some of those experiences in training, too. This helps them understand better.
Watch Your Dog: Pay attention to how your dog is feeling. If they're tired or not interested, it's okay to stop training for the day.
Have Fun: Make training fun and happy. Use treats and praise to show your Spaniel they're doing a good job.
Hunting techniques for Springer Spaniel vs. other hunting dogs
Springer Spaniels have distinct training techniques that set them apart from other hunting dogs. While similarities exist, differences arise due to the Springer Spaniel's versatile role in both flushing and retrieving game.
Springer Spaniels, known for their enthusiasm and energy, are trained in scent detection, retrieving, and flushing. Their training emphasizes controlled excitement and refined obedience. In contrast, pointing breeds like the Pointer or Setter are taught to freeze and point when they locate game, requiring steady training to hold a stance.
Retrievers, such as Labradors, excel at retrieving games from water and land. Their training focuses heavily on retrieving skills and commands like "fetch" and "deliver." Springer Spaniels, though also retrievers, require unique training to combine their retrieving and flushing abilities effectively.
Hounds, like Beagles, specialize in tracking scents over long distances. Their training hones their scent-following skills and perseverance in tracking games. In contrast, Springer Spaniels are versatile in close-quarters hunting, where their training involves controlled flushing and precise retrieval in various terrains.
Terriers, such as Jack Russell Terriers, are trained for their tenacity in hunting burrowing animals. Their training includes digging and going underground to locate prey. Springer Spaniels don't typically require this type of training due to their focus on above-ground game.
Conclusion
Incorporating effective techniques for Springer Spaniel training to hunt ensures a harmonious partnership between these energetic dogs and their handlers. By refining their natural abilities in scent detection, flushing, and retrieval, these versatile canines can fulfill their role as reliable and enthusiastic hunting companions. Through patience, consistency, and tailored training methods, a well-trained Springer Spaniel becomes a proficient and valued asset in the hunting field.
FAQs
What age is best to start training a Springer Spaniel for hunting?
The best time to begin training a Springer Spaniel for hunting is when they are still puppies, usually around 8 to 12 weeks old. This is important because it's when they're little and learning the basics is very important. During this time, they can start to understand simple rules, meet new friends, and learn how to do things like fetch and listen when you tell them to.
Puppies are curious and like to learn new things, so it's a good time to teach them. You can show them different things and introduce them to different sounds and people, and they will enjoy it. Training them early helps them learn and feel close to you.
 Are English Springer Spaniels suitable for all types of game?
English Springer Spaniels are good at hunting birds like pheasants, quail, and more. They're great at finding these birds in places with lots of plants and getting them to fly out for hunters.
But they might not be good for hunting big animals like deer or wild boars. They're not very big themselves, and they're not tough like some other dogs that hunt big animals.
So, if you're thinking of using a Springer Spaniel for hunting, they're really good for finding and getting birds. But for hunting big animals, you might want to look for a different kind of dog. Always ask experienced hunters for advice before deciding.
How often should I train my Spaniel for hunting sessions?
Train your Spaniel for hunting according to their age. Puppies (up to 6 months) should have short sessions, 5-10 minutes, a few times daily. Adolescents (6-12 months) can manage 15-20 minute sessions a couple of times daily. Adult dogs (1 year and older) benefit from focused 20-30 minute sessions once or twice daily.
If you are a dog lover then, Subscribe to our weekly newsletters. No Spams!