Have you ever wondered if dogs are also divided into different categories, i.e., men, women, gays, and lesbians, or is it just what we human beings do? If yes, then you have arrived at the right spot.
Hey everyone!!!! Welcome back to our yet new blog session, where we will be unveiling facts about another weird but fascinating question often imposed by pet parents. So, let's start.
Can dogs be gay?
Yes and No!!! The exact answer to this question is still uncertain and doesn't have enough concrete proof to back either one of these replies. However, many leading scientists and veterinarians have discovered that dogs exhibit what they feel. And that includes whom they like when they like, and what they like. So, if your normally well-behaved dog starts humping a same-sex dog or human guest, that doesn't necessarily make the dog gay or lesbian.
Then, why is my dog humping anything he finds?
HORMONES!!!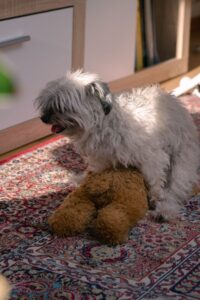 One of the most common reasons your pooch is humping literally anything, whether a same-sex dog, stuffed animal or even your legs, is because their hormones are lavishing out on their tiny adorable bodies. While dogs of most breeds come into heat twice a year, apart from Basenjis and Tibetan Mastiffs, their heat period is not limited to a particular season. Thus, your perfectly docile and trained labrador may also exhibit such annoying symptoms twice a year, requiring enough patience and attention from your side.
Are there any other reasons?
According to specific findings, dogs with a previous history of rage, dominance, or anxiety are more prone to humping objects and animals than a healthy pupper.
Dominant or aggressive dogs often display this behavior to other animals and even their owners, showing they are the 'real boss.' This generally happens if your pet considers another animal to be a threat and hence starts humping in a bid to subdue them. Both male and female dogs may show this behavior, and therefore proper socialization from puppyhood is highly advised to all pet parents. And though this might seem improper to us or display dog gay behavior, the case isn't the same.
Whether compromised or intact, some dogs may also playfully mount their partner during playtime. Primarily found in playful, hyperactive puppies that have been brought up all alone, this is a relatively common occurrence. Unlike dogs in groups, they cannot learn what's right and wrong and thus get excited enough to mount the others. This behavior is changeable through proper training and offset commands.
Like dominance traits, woofers with anxiety issues may also hump objects when cornered or provoked. Such dogs mostly hump soft pillows or plushies rather than going straight for your leg or other animals. This behavior allows them to feel physically and emotionally gratified, although it may weird out their owners entirely. The same goes for when your pooch is overly-excited and requires something to express their feelings. To help such cases, you will need to carefully observe their behavior and then only consult with a vet before proceeding with the most suitable training methods.
All dogs love scents. In fact, they love it so much that they also associate every scent to a specific memory, which later helps them recognize different people. So, similar to how they love their parents' scents, some animals' body pheromones may also seem intriguing to them. This may be a cat, a same-sex dog, a goat, or even a guest's leg. As a result, with every sniff, they naturally try to be closer to them and might exhibit possessive behaviors, including marking, humping, and even soft nipping now and then. This, however, doesn't make your dog gay.
If your pooch has suddenly started excessive humping, then the same might also be due to specific issues or health conditions. It has been found that dogs with prostate problems often seek shelter by humping things, as it helps reduce the pain or irritation on their groin areas. In such cases, it is better to immediately consult with a veterinarian and run your puppy through all necessary tests to be sure of what's wrong with them. Delaying it further will only end up creating more troubles for the future.
When does humping become an issue?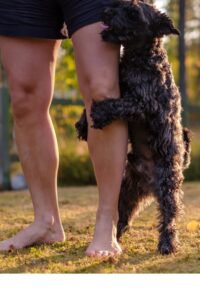 As a wise man once said, "Everything is good within limits," excessive humping is never good. While you, as a pet owner, might laugh it off, your guests might not like the idea of having a dog hump them every time they visit your house or sit down for a cup of coffee. Similarly, not every other dog might like the advances, be it a male or female and hence risk escalating the occasional action to a much more serious note.
Below are some pointers that can help you big time if you are unable to know when it's excessive.
Compulsive disorders or repetitive habits are when your dog starts humping just about every one out of habit. That may be any time of the day, any person, dog, or even other animals. This is a behavioral issue and needs the immediate attention of the owner.
Like prostate issues, priapism can be painful and frustrating to the dog. In this health condition, your dog suffers from excessive erections that make their groin area a much sensitive spot. Such instances will require the pet parent to seek immediate vet attention rather than term their dogs as 'dog gay' or a 'hyper-sexual pooch.'
Dogs don't secrete semen or other discharge from their private parts unless they are correctly mating. The act requires proper penetration into the female genitalia. Thus if your dog is leaving out releases on your leg or pillow, you will also be needed to take them down to the vet. These small events can quickly escalate into severe health conditions and must never be ignored.
So how do you correct these behaviors?
Even though these actions aren't very serious or life-threatening, no pet parent should encourage such behaviors. If allowed to last, the dog will slowly lose respect for you and therefore treat you as their submissives. This, in return, can cause your once obedient pup to throw temper tantrums or show their aggressive nature much regularly.
To escape from such instances, you might want to consider:
In this training method, you will be required to stay extra vigilant of your pup's actions. Be careful of the 'extra brushing past your leg' or 'following you too closely' actions. They are the precursors of your dog's humping tendencies, and having an eye on them can surely help you distract your dog much earlier, therefore reducing the chances of having to push your pup out of your leg or humping another dog.
Similar to nipping and puppy biting, small cues can also control this bothersome humping behavior. Start by using their favorite food or treatos as their motivator whenever telling them to 'leave it.' Dogs consider food with something happy and will be more than willing to follow your command. But, make sure to say the command before the humping act is started, as warding off then might be a real problem for anyone.
Introduce other dog-games
Another way to stop your pup from humping another animal out of boredom is to introduce mind and body-stimulating games. Simply handing them over their toys, expecting them to stay preoccupied for long, never works, and hence occasional surprises are always best. This will allow your pup's brain to process its energies in a much better way, so you won't need to face first-hand embarrassment in front of your guests.
Veterinarians often advise pet parents to spay or neuter their dogs when they reach a certain age. Not only does the practice eradicate any risks of STDs, but it also aids in maintaining their hormones level for the rest of their life. Although spayed and neutered dogs may sometimes mount or hump your legs, a stuffed toy, or another dog, the frequency is reduced severely.
We hope that by now, you have understood that dogs don't have particular choices when it comes to their sexual preference or orientations. Therefore, if you find your showing humping signs on a same-sex dog, it doesn't necessarily point out your dog's gay side.
Hence, rather than categorizing them into various gender roles, proper care is needed to ensure their action isn't a problem or doesn't escalate into one.
If you are a dog lover then, Subscribe to our weekly newsletters. No Spams!