Also commonly known as a Cockerpit or Pitbull Cocker, the Pitbull Cocker Spaniel Mix is an emerging hybrid between a purebred American Pitbull Terrier and a Cocker Spaniel. They are super famous for their fun loving, energy filled personas which are best suited for active pet parents. The hybrid is not only an amazing companion dog but also a breed that loves to work with their humans.
So, if you have been planning to get one of these adorable hybrids to your home, here's everything that you need to know before taking the step.
History of the Pitbull Cocker Spaniel Mix
First bred a few decades ago, there is not much information about the Pitbull Cocker Spaniel Mix. However, there's a lot of details that can be known from their parental breeds.
For instance, as Pitbulls are known for their super lovely nature with ferocious guarding abilities and Cocker Spaniels for their excellent prey-drive, the hybrid may have been bred for bringing the two qualities in a single pupper. Even more when their agile, muscular build-up is coupled with a smooth furry coat it would definitely give the resulting woofer an irresistible charm that is hard to pass by.
On the other side, some breeders might have induced the cross-breeding to create a pup which isn't wrongly termed 'aggressive/snappy' just like its Pitbull parent. Cockers are widely known for their calm, cool nature, so the drive may have been to normalise adoption of Pitbull-related hybrids.
How does a Cockerpit look like?
Blessed with some amazing genes, a Cockerpit puppy will have a round broadhead, a well-defined muzzle attached to a laid-back chest. They exhibit physical characteristics of both the breeds, just like 'Beauty with muscles.'
Their whole physical demeanour is athletic, compact, and is packed with muscular quarters that gives them a sharp but at the same time an ethereal look. So, until and unless your guests know your dog well, they may not seem much interested to pass through their territory unannounced.
When it comes to the coat texture and colour, it may be of various types, including smooth and glossy as the Pittie or thick, wavy and silky as a Spaniel. The most common of coat colours include black and white, golden, brown, red, and in rare cases blue or grey.
How big do Pitbull Cockers get?
A fully grown Pitbull Cocker Spaniel Mix weighs around 25 to 45 pounds, with males ranging between 40-45 pounds, and females a notch less. Similarly, their height measures between 15 to 20 inches and hence are categorised as 'Medium-sized canine hybrids.'
This compact size makes them the best solution for individuals looking for an okay-sized dog that can fit into the congested space of apartments perfectly. Moreover, in daily life, their physical attributes also allow them to move swiftly and therefore be the energy bundles they are known for.
How long does a Pitbull Cocker Spaniel Mix live?
Featuring the genetic combination of two typically-healthy breeds, the lifespan of these pups is about 12-15 years. They do well in almost all kinds of surroundings, however with everything good comes some bad things.
So, with this hybrid also there is a huge chance of them contracting serious genetic health issues passed down by their parents' genes. These include:
Hip and elbow dysplasia

Kneecap Luxation

Ear infections

Allergies and skin infections

Heart diseases and congenital defects

Hypothyroidism

Epilepsy

Progressive Retinal Atrophy (PRA)
Moreover, even though comparatively rare, the hybrid may also be prone to certain cancers depending upon its lifestyle, environment and feeding choices.
Therefore, when looking for a Pitbull Cocker puppy, it is highly crucial to always go for a reputed qualified breeder. They know what they are doing and hence there's a lot less probability of such puppies being born into the world. You may also check for their parent's pedigree and previous medical history to ensure your new pup doesn't have to survive a compromised and painful life.
Are Cockerpits hypoallergenic?
NO!!! A Cockerpit dog can not be considered 'hypoallergenic' as it creates moderate to high amounts of Can f 1 and Can f 2 allergens from their fur, dander and saliva. Known to be highly triggering to sensitive humans, a little contact may also cause serious allergic reactions, and hence they are not the perfect choice for individuals with dog allergies.
However if you are immune to the above said allergens and want one of these hybrids so bad, you can consult with your family doctor and a professional vet and then do as they say.
How to groom a Pitbull Cocker? Do they shed?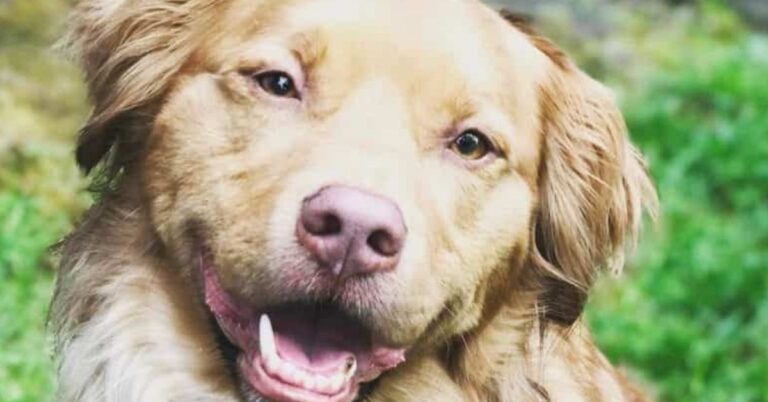 Based upon the parent's dominant trait, your new pup might have a soft, glossy coat or a dense, silky, but wavy one, or even a combination of the two. Thus, you will have to enforce grooming sessions as per your pup's coat texture and growing pattern. The same also goes for their shedding pattern, which means they will shed moderate to high.
For instance, if the woofer's coat represents its Pittie parent, combing it twice or thrice a week is more than enough. But, if it's the same as the Spaniel, you will need to invest time and care in ensuring they don't end up with stubborn matting. Such a pup will require daily thorough brushing and raking every once in a while to maintain that soft smooth fur layer. Apart from that, opting for professional grooming services every alternate month is also considered best.
Are Cockerpits good dogs?
A wise man once said, "There's no bad dogs, there are just bad owners."
Thus, if you are living under the heavily exaggerated misconception that Pitbull-related dogs may not be good, YOU ARE WRONG. Yes, they do need loads of exercises just like their parents, but they are also the sweetest, cuddliest, and super talented dog hybrids that you can ever come across.
They are loving towards all animals, be that a small Budgie or a large pet cattle, they make the most wonderful human companions. Even more, when socialised properly, they will give a beautiful tail-wagging welcome to all your guests, and be the 'ideal dog' that you have always wanted.
Additionally, these pups are really adaptable. So, keep them in a space-constrained apartment or give them a large yard to run around, their love and loyalty towards you will never falter. However, make sure to give them lots of exercises and walkies or their favourite mind-stimulating games to keep them indulged in your absence to prevent them from being extremely bored.
Do they bark?
Although every Cockerpit has a reserved calm side, thanks to its Spaniel side of genes; they have amazing watchdog capabilities. They are very wary towards the smallest of movements and will bark only when they need to inform you regarding the danger.
In extreme situations, the pup will never back away from protecting their family or parent with whatever means possible, even if it requires putting themselves in the face of danger.
How to train a Pitbull Cocker Spaniel Mix?
Given that the Pitbull Cocker Spaniel Mix is an intelligent, hardworking dog you won't have to invest much in training them. Positive reinforcement training methods work the best in handling these beautiful creatures and also ensure that they have a good time while doing so.
However, even though they are quick to catch the basics, they may sometimes exhibit stubborn, willful behaviour which needs to be handled properly. Giving in to their rebellious actions or using force is never a good option, as in the end your dog will lose every ounce of respect for you. Rather as a responsible and wise pet parent, you can regularise the training sessions and add in their stacks of favourite treats for a much desired response.
This was yet another blog by spanieldogs.com that intended to let pet parents know about these amazing hybrids and their parents before they welcome one home. For more interesting reads like these, don't forget to subscribe to our mailing list for quick updates.
If you are a dog lover then, Subscribe to our weekly newsletters. No Spams!