Your furry friends do not only need love, but they also need special supplies to keep them hale and hearty. One such item is a dog bowl for feeding. There are some factors to consider before choosing the right bowl for your Cocker Spaniel Puppies.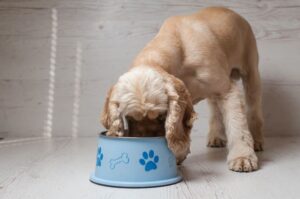 We have highlighted some tips to help you make the decision. 
Types of Dog Bowls 
Ceramic or Steel Bowl
Dog bowls come in different materials ranging from ceramic, steel, plastic and more. Knowing the benefits of each material will ease your buying decision. Metal bowls do not break easily and can be cleaned with ease. On the other hand, ceramic bowls are more stylish and quite durable. It also offers a wide range of colors.
Steel can be problematic when your pet is a messy eater. Plastic bowls bounce on the floor and can create a mess. They are also not safe for long term use. Ceramic cracks with time and is not ideal for extreme temperatures.
Check Ceramic Dog Bowls on Amazon
Check Steel Dog Bowls on Amazon
Metal or Wood Bowl
There is an option of metal as well as wood  bowls. They are more modern than their counterparts. These options are more expensive than usual. However, you should know that the cheaper options may incur more costs later on. With metal and wood bowls, you can add some interior décor to your house. The metal bowls do not break easily and last longer than wood. However, if you have wooden furniture, wooden dog bowl may come in handy.
The problem with metal bowls is the loudness when used. While wood bowls are quite durable, it also stains easily. Also, wood doesn't go well with water. It could begin to swell in the long run.
Check Metal Dog Bowls on Amazon 
Check Wood Dog Bowls on Amazon 
Stylish Bowl
Dog bowls differ in price. The stylish ones may cost a lot more than traditional bowls. While considering the best option, think about your interior décor and how long you want the bowl to last. Another thing to note is that stylish bowls are often made of higher quality materials. This means it could last a lot longer.
Asides, the cost, stylish bowls do not have lots of disadvantages. They last longer than simple dog bowls.
Check Stylish Dog Bowls on Amazon
Feeder Type Bowl
There are two types of feeders; raised and normal feeder. Raised feeders help your pet when it comes to digestion. It also prevents several health defects that can be caused by eating from omnivorous foods. Some of these health challenges include dog bloat or twisted stomach or mega esophagus. Both are fatal to your dog.
Raised dog feeders are easier to maintain since they prevent the dog food from dropping to the ground. Eating from a raised dog feeder will offer your pet more comfort as well as proper body posture. All these contribute to ease of swallowing food and reducing the pace of eating.
Sadly, raised dog feeders are more expensive than regular ones. Another thing to consider is the variety of heights they come in. if you prefer this option, then you need to ensure that you buy the correct height. Your dog may be affected negatively if you don't get the right height for the dog.
Check Feeder Dog Bowls on Amazon
You may also like to read : Best Cocker Spaniel Leash [ Dec 2020 Updated]
If you are a dog lover then, Subscribe to our weekly newsletters. No Spams!