Sprocker Spaniels!!!
A beautiful hybrid with unwavering loyalty and layers of soft bouncy fur, these Spaniels are no wonder a great treat for eyes.
But, wait!!!! Did we mention hybrid???
Sprocker Spaniels are in reality a hybrid between a purebred English Springer Spaniel and a English Cocker Spaniel. Combining the genes of two majestic dogs, these pups are highly intelligent, easy to train and make ideal family pets. They have short, low-shedding fur making them the best option for single pet parents who can't afford high maintenance requirements.
Origin History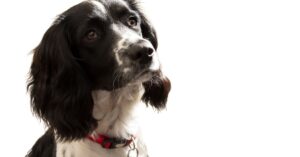 The birth story behind these august hybrids is quite simple. The breed reportedly came into existence because some Scottish gamekeepers wanted a more resistant and hard-working gun dog that could better toil along the larger areas around the North border. So, while the exact origin or the first ever reports of the breed is still uncertain, the breed is believed to be as old as twenty years.
Selectively bred since the 1600s, the breed recently got its distinctive name- Sprocker Spaniels. Previously, it was considered as a working dog with no official breed tag attached to it. So, thanks to the recent inclination of pet parents to this particular Spaniel species, they now have a unique position in the Spaniel hybrid charts.
Physical Attributes
Thanks to their mesmerising parents, these pups arrive with well-blessed physical characteristics making them one of the highly preferred hybrids all over the globe. Their small adorable bodies are covered with short smooth fur offering them the regal look like most purebred Spaniels. Their head is well-proportioned, with wide large doe-shaped eyes, long fluffy ears, and a wide-shaped muzzle.
Coming down, their shoulders seem relaxed and are coupled with muscular front and hind legs. Their body is athletic as they were particularly bred as working dogs which helps them move and run smoothly without putting any added pressure on critical joints.
Males measure around 43 to 51 cm while females are usually a bit shorter, that is between 40 to 50cms. Their weight difference is also very subtle, with males reaching 16 to 20kg and females ranging from 14-20kgs. When it comes to their coat colour, they are mostly available in black and white, although a lot of variations are also possible, including chocolate, liver and white, roan, triple colours or even solid tones.
Their fur requires low-maintenance and hence brushing every few days is fine. They are medium statured dogs with high energy levels and are best suitable for parents who can invest quality time with them.
Life Expectancy
The hybrid is typically very healthy, and has an average lifespan of 10-14 years. Although, with proper care, exercise and diet regime, some can live much longer with their human parents.
Featuring a combination of two very healthy genes in their bodies, some Sprockers may however fall prey to certain health conditions. These include:
Hypothyroidism

Hip Dysplasia

Hepatitis

Eye problems
The onset of these health problems normally depends upon their age, living environment, feeding regime and sometimes outside factors, otherwise the breed enjoys super comfortable and healthy days with their human owners.
Thus, if you are planning to welcome a Sprocker Spaniel puppy, be sure to learn and understand more about their breed-specific health issues and opt for an appropriate insurance to secure their life.
Temperament
First of all Spaniels are known for their easy going, die-hard loyalty for their families and hence a lovechild from two of the most popular Spaniel breeds also displays similar emotional and behavioural traits.
They are really sociable and easy to train, given their eagerness to please their owners. These little dudes and queens are packed with vast energy levels and hence require enough mind and body stimulation to not become 'home wreckers' when left alone and unattended for long.
Their brains are hardwired to easily get acquainted with even the toughest of canine agility and flyball training and hence these hybrids often have the spotlight anywhere they go.
But, in some cases, these very positive traits can become challenging and difficult to conquer, especially for first-time owners. Given their high intelligence quotient they may exhibit stubbornness when being trained. This being said, probabilities are also there that a perfectly trained and docile Sprocker Spaniel puppy may not care to listen to its owners, every once in a while.
While this may be frustrating, it is very common with dogs of all ages, breeds, and even mixed breeds such as this one. Therefore, rather than shouting at them you might want to regularise their behaviour training at least for 5-10 minutes every day. This way they will know who is the 'real boss of the house' and hence making them respect you as their Alpha.
Feeding Regime
Like most medium-sized puppies, this hybrid requires a balanced diet and clean fresh water for ensuring optimal health conditions. Puppies between 2 to 6 months are normally required to be fed more frequently, that is for 4-5 times with ample breaks to help their little tummies have enough time for digestion. This is because they are in the most essential period of their life and only great food and exercise can aid them grow healthily and happily.
Once they cross this age, owners can slightly lessen the food quantity and limit the feeding time to 3-4 times. They have reached almost 80 percent of their growth pattern and hence consulting your vet and deciding their feeding style is the best option.
Sprocker Spaniels do well with every kind of food but that doesn't mean you can change their food without getting a moody pup. Not all dogs like frequent changes in their diet, and hence every time you are changing their diet, make sure to do it gradually. Start with smaller portions mixed with the food they normally eat, while simultaneously checking for any signs of food allergies.
Exercise Needs
Along with an athletic body a Sprocker Spaniel comes packed with immense amounts of energy, thereby requiring owners to exercise them regularly. And by exercise, we don't mean a 10-minute walk or a little frisbee play during the evening, but at least 60-90 minutes of proper exercising.
You can make them run until they are exhausted or use unique mental stimulating games to help them deal with their bursting energy levels. They will surely thank you for that as keeping these unattended can lead to depression, stress, boredom or anxiety attacks. And no responsible pet parent wants that for their babies.
Similarly, it can also lead to increased destruction of furniture back in the home when left unattended as they are unable to express their pent up emotions in the right things. Thus, you may end up opening your doors to wrecked up vases, chewed up earphones or charging cables, or even worse, spread out all over the floor.
Do they make good pets?
All dogs make good pets, no matter whatever breed they might be and the same belongs to Sprocker Spaniels. They are good with toddlers, other pets and dogs and also adjust well to apartment life, given that they are properly exercised.
So rather than asking for the breed's compatibility with other outside factors, you need to ask yourself, "Are you ready to become a parent of this lovely breed? Are you ready to give a good life to this regal baby??"
In this blog we have covered all essential facts regarding the Sprocker Spaniel. So, before running down to your local breeder to get one of these puppies or adopt this mesmerising canine, make sure to go through all these pointers and then only welcome this beautiful creature to your home.
Don't forget to subscribe to our mailing list at spanieldogs.com and stay updated with all our new topics.
If you are a dog lover then, Subscribe to our weekly newsletters. No Spams!