Hey everyone!!! Welcome back to another outlandish topic with Spanieldogs.com. Just like any other day, today we will be discussing a heavily searched topic on dogs. So, let's start.
SCOOBY DOO!!!
An animated figure that is till now providing a constant form of amusement to small kids and even adults, the identity of the dog breed has been attracting a lot of debate all these years. There has been no considerable proof as to the specificity of the breed's origins, although there has been some clues. So, today here we will be performing a detailed research on the adorable munchkin that we all like.
Which dog breed is Scooby Doo?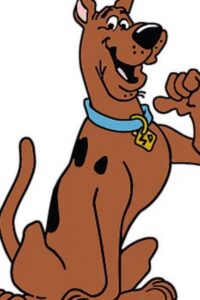 Created and designed by Iwao Takamoto, 'Scooby Doo' however doesn't belong to any specific dog breed. While many may argue that the klutzy canine bears resemblances to the giant friendly 'Great danes', the creator himself has denied the speculations.
When researching for the project, Takamoto had a brief talk with a breeder of show dogs and came to know about the 'ideal features of a prize great dane'. Even though he was greatly attracted by the breed's domineering presence and superb build, he chose to go unconventional by opting for the complete opposite features. And this is how the humpback, bowed legs, small chin, and unique colored Scooby Doo was born.
How different is Scooby Doo from Great Danes?
If you have ever watched Scooby Doo and know even a bit about the real-life Great Danes, you will find a huge wall differentiating the two. These include:
Physical attributes
Starting with the majestic great danes, according to the AKC, the ideal features in great dane include long, slender legs, majestic aura, great appearance, and a smoothly muscled body. In short they are the 'perfect picture of elegance and balance.' Similarly, they are also available in a set range of colours including merle, brindle, fawn, blacl, blue, mantle, and harlequin.
However, on the other hand, Scooby Doo has everything wrong in the right places. For instance, his feet are exceptionally large, his knees knock together most of the time, has a humped back that will even make a camel jealous, and a set of weirdly shaped bowed legs.
If this had been real life, Scoobert would definitely have a lot of issues even completing daily activities like running, playing, and even feeding. But, thankfully, he's not real.
Emotional characteristics
Great danes by nature exhibit true courage and spirit. Unlike their generally calm friendly behaviour, the breed won't back away from any challenge or danger that may threaten the safety of it's family. They are great home guardians with a regal appearance, enough to keep shady people far.
But, as planned, our loving Scooby Doo has the complete opposite set of emotional features as to the real-life dog breed. He along with his best friend Shaggy are the master escapers in the animation series "Scooby Doo, Where are you!". Apart from only being similar as friendly and loving, Scoobert loves to hide, run, and escape, given the chance. He is by-nature a chicken-heart and the very definition of 'timid', which by no offence makes the series such a BOP.
What are some interesting facts about Scooby-Doo?
If you have been an avid watcher of 'Scooby doo' we guess you might know that he is no regular dog. But did you know these???
The real name of Scooby Doo is

'Scoobert Do'

as

revealed

by Business Insider. However before the release, the first name that was mass agreed upon was "Too Much." A rather weird name for a dog wouldn't you agree?

Scrappy Doo, nephew of Scooby, has been made in the image of a Great Dane puppy. But, there is still time to find if he has the same characters as his uncle or represents the real-life breed.

Previously, creators wanted Scooby Doo to be a sheepdog. However, the likeness to

Hot Dog

from 'Archie Comics' made them amend the cartoon figure, and hence turning him into a misshapen Great Dane.

Scooby doo is actually a triple. Yes, his identical siblings exist and can be found in certain episodes. Their names include Skippy-Doo and Dooby-Doo.

Scooby is at least 6'6" on his hind legs as he can be seen coming up to Shaggy's shoulders when sitting. Too large for a real life breed, but never impossible.

Scoobert loves to eat and anyone who has watched the series knows how the woofer loves to hog Shaggy's food. But, still he somehow manages to maintain his large slim figure. Must be magic!!!

The cute large puppy has a speech disorder. Next time, mark how he often excessively uses the letter 'R' in every word. This is called rhotacism and it seems our favourite pup also has issues with forming words like many of us.

He is the only fictional and real-life animated misshapen Great Dane who knows 15 languages. The series is aired in more than 160 countries and has been translated into 15 major languages.

The name 'Scooby Doo' was named by Fred Silverman, the former director of daytime programming at CBS. During an interview, he once stated that the idea for the name popped up in his mind after hearing Sintara sing the song's scat refrain,

"Do be do be do."
Is there any real-life Scooby Doo?
Reportedly, Presley is the real-life Scooby Doo, minus the odd features. As per the claims of his owner Sian Barett, the pupper behaves the exact same as the fictional character. Despite being a large, muscle giant, Presley runs to his owner's arms at the sight of any danger, hence the reference.
When asked more about the pup's behaviour, Barett has also mentioned how the gentle giant is super afraid of small dogs, even mentioning about the instance where he ran away at the sight of a West Highland Terrier, a much smaller dog breed, after encountering it in the dog park. Additionally, Presley has also shown considerable fear of plastic bags, requiring Barett to hide them away from his pup's sight.
The pup also measures six feet in height and is a huge dog weighing around 13 and a half stone, much similar to Scooby Doo. Although big, the pooch is however too timid at the slightest of hints of fear and has his own snuggly blankie that he runs off to find comfort when his mom isn't around. To find more pictures of this beautiful dog, click here.
Are there more dogs like Scooby Doo?
You might like:
Scooby Doo has been no wonder one of the best cartoons ever to be made. Aired initially in September 1969 in American television, the animation series has been entertaining generations starting from Gen X to today's Gen A, respectively.
And while the dynamic duo of Shaggy and Scooby along with Fred, Daphne, and Velma have fought with 390 different villains to date, the casting and comic approaches have been as always super and exciting as the old times. While new entries have been making appearances, every once in a while, we hope the enigma of this special animation series never fades away.
Because as Scoobie says, "Like there's times I'll do anything for a Scoobie snack."
If you are a dog lover then, Subscribe to our weekly newsletters. No Spams!