Similar to all other cute little dog things, grass rolling is also something that every owner must have witnessed. While this seemingly bizarre canine behavior poses no grave threat, it is still considerably risky on the pooch's health.
How??? And Why???? Let's uncover the mystery surrounding these questions now.
Why does my dog roll in grass when on walks?
Predominantly, dogs roll in grass to either hide their scent, leave their body smell, or simply because it feels good. Although there are numerous reasons as to why the pooch has decided to ruin their perfect clean fur, sometimes it just means they are trying to relieve their joints and feel the stretch.
But why do they need to do so???
To hide their scent
Well, first and foremost, all canines, no matter their breed, have wild instincts. So, while they might not need the early 'hunt and prey' notion to keep them going by (given the easy food availability), they still sometimes feel the need to act as they want.
Hence by rolling in grass and masking their scent, the woofer is simply trying to seem unassuming to their target. By neutralizing their body odors, hunting becomes easy, which can be seen in most wild animal huntings.
To leave their scent
Another explanation as to why the canine becomes ecstatic on passing every single grass lawn is because they are super attracted to it. As discussed in our previous article, canines like most animals produce a set of pheromones that helps them distinguish one from another.
Thus, by rolling in grass, your pet is leaving its mark aka scent for other animals that may pass through the same way. This is how fur babies communicate, however sometimes it may also be a sign of territory marking or asserting dominance over the place.
If later is the case, then the woofer might also leave pee markings here and there before or after rolling in the grass. This mostly happens when the mating season is continuing and can be seen in both male and female canines.
To find about their surroundings
Dogs also roll in grass to know about their surroundings. Blessed with a super-powerful nose that can smell scents a million times better, we humans can only imagine the effect grass lawns have on our beloved fur babies.
Covered in hundreds and thousands of different scents, grass lawns are the perfect getaway for your pooch to take in information about their surroundings and other mates. This is why most pooches tend to indulge in self-rolling sessions while in dog parks, rather than play with other canines. By doing this, they are not only understanding and recognizing things but also initiating communication with others.
To scratch an itchy place
Sometimes when a dog is scratchy, especially along their spinal region, they will try scratching themselves by rolling on grass. Moving against the heightened grass leaves provides them comfort from the itch, while also stimulating the adjacent areas. It is like a self-caressing session without the need for their pawrents to pet or scratch them.
To relieve stress and be playful
Scratching up against the grass is oddly therapeutic for canines. Not only the plant growth gives them ample chances to mask their scent and what not, but pushing up against the scaly leaves aids in proper releasing of pent-up stress.
Apart from that, some dogs may also do the same when they are super excited and playful. There are many things which our furry partners do without context and if you have witnessed them go euphoric on grass every now and then, it might just be pure enjoyment and relaxation only.
When does rolling in grass become a problem?
As we learnt above, rolling in grass happens due to numerous reasons. And while all of this could be a playful behavior or dominance marking, too much rolling can also become an issue when not stopped at the right time. This is because:
The grass may have been sprayed with herbicides, pesticides or weedicides that could cause severe skin infections and allergies upon contact

Ticks and fleas may climb into their fur from the grass causing skin issues

The dog decides to roll in smelly grass, poo, garbage, or besides a dead animal

They start showing unhealthy obsession with rolling on grass during almost all walks
Such factors when left unchecked for long can lead to onset of health issues including:
Skin allergies and infections

Manges

Tick and flea infestations

Tick fever

Itchy coats

Vomiting

Diarrhea

Ear and eye infections

Sudden fever or body sores with no explanations
These health deteriorations may either start slowly or spread rapidly within the pooch's body. And although a majority of them are curable with the right treatment methods, some will require emergency professional intervention to eliminate any further damage to the canine.
How do I stop my dog from rolling on grass?
Seek a Vet's Consultation
Many-a-times the underlying issue is medical related. From a possible severe tick and fleas infestation to an uncontrollable marking behavior, there could be 'n' number of reasons behind your pooch's infatuation with rolling on grass.
Therefore, to find the exact cause and proceed with the right treatment methods, seeking a vet's consultation is the first step pet parents should go for. Once all necessary tests are done, the professional will guide you through the right nursing methods, making the task a bit easier.
Start with Treat Training
Also popularly known as positive reinforcement training, treat training is an effective way out of such dilemmas. Recommended highly by experts, this technique focuses on building a strong rapport between the pet and its owner while simultaneously mending their wrong behaviors.
The training strategies involve treating good behaviors at the right time and picking out of the wrong ones. For this you will need a dog clicker, some tasty treats, and lots of praises for the pup. Always remember it could take anywhere between a few days to some months to completely curb this behavior. So, be ready to invest lots of time on a regular basis to achieve the desired change.
When trick training make sure to start with the basic cues, including 'sit', 'leave it', 'stay', 'lie down', etc. Once the dog is properly heeding to your commands, proceed to further advancing of the training difficulty level.
For instance, take the pooch on a walk alongside a grass lawn and mark their actions carefully. The moment they try pulling the leash towards the grass, take out the treat, ask them to 'sit' or 'lie down' and treat them only when they listen to your cues. Follow this step regularly, and soon enough your pup won't even battle an eye towards the green lush lawns it was so excited to roll in before.
Get Professional Help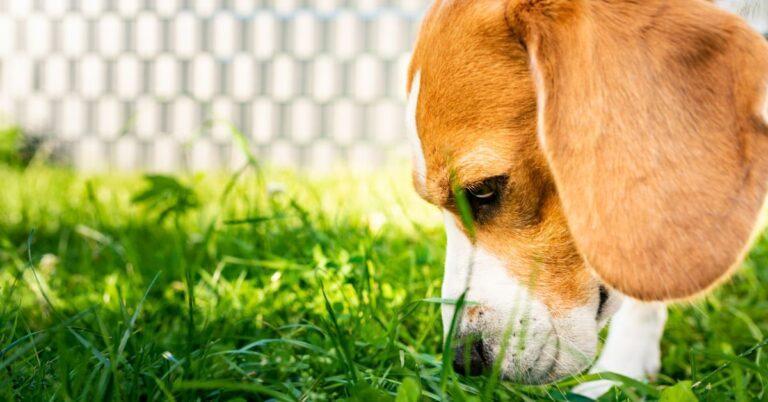 Unfortunately, if the trick training doesn't seem to be working out then getting professional help is the last bet. Usually done by canine behavioral specialists, they can work out better effective ways in reforming the pooch's bizarre behavior back into normal.
Getting a specialist's help is usually advised when the pooch behaves too aggressively, becomes snappy or is too stubborn for their own good.
Conclusion:
Even though occasional rolling in grass doesn't mean anything, pet parents should be mindful of their fur baby's behavior at every moment. This can come handy in detecting any major behavioral changes and hence take corrective steps from the very start.
For more interesting updates like these, subscribe to spanieldogs.com today.
You may also like:
My Dog Attacked my Other Dog over Food (Food Aggression): What to Do?
Reference:
If you are a dog lover then, Subscribe to our weekly newsletters. No Spams!