Has your canine been behaving weirdly? Have you ever walked into the bedroom with them peeing on your bed??? If yes, then you have arrived at the right place.
Today, we will be looking at the various reasons behind such shameful and messy acts and go through solutions specifically crafted by all leading trainers and veterinarians. So, let's start.
Why does my dog pee on my bed?
First of all, for dogs the concept of 'pee' is very different from humans. Therefore, it could have been a simple accident, rebellious behavior or an anomaly resulting due to a medical condition. So, when looking for specific reasons behind this bizarre behavior, owners should also look for other critical deciding factors, including the frequency, triggering factors, signs and symptoms, etc. Only by a thorough understanding can you unveil the secrets to the sudden temperament change and work out for their proper rectification.
To better understand this, here's a breakdown of the most common reasons:
Inconsistency in Potty Schedule
Dogs are creatures of habit. So, even though your pooch might have been perfectly potty trained, not heeding to their nature call timing will definitely cause them to have accidents.
Mostly observed in puppies or elderly dogs, when not offered with ample potty breaks, the risk factor increases by a lot. The pressure keeps on rising leading to them losing control on their bladders, and hence the mess.
Anxiety, Stress or Fear
Another leading cause behind such instances, if a pup is scared, anxious or super stressed, then also you might have to deal with the stinky aftermath. The cause of such emotional triggering factors can be many. From a sudden change of their environment to fear of thunderstorms and the anxiety leading from separation from owners, there are innumerable factors to be considered.
An anxious or stressed out pup is also most likely to exhibit other stress signs and symptoms, such as whining, tucking tails, hiding, sudden aggressive charging, and lots more. If you suspect the same, it is better to move the pup to a secluded, calm place without punishing them for the misdeed.
Health conditions
Apart from fear or other psychological reasons, your dog might also pee on your bed if they have been diagnosed with urinary tract or kidney problems. This is when they have absolutely no control over their bowel and bladder movements, and therefore punishing them or shouting at them won't work out well at all. Rather doing the latter would only create more confusion and fear towards you, further deteriorating their behavior.
Such health conditions are not only problematic but also extremely painful and uncomfortable for the fur baby. Usually a proper diagnosis and treatment leads to efficient and faster recovery, therefore seeking a vet's consultation at the earliest is a must.
Excitement
Every pet owner knows how their pups react upon finding their beloved hoomans back home after a long day at work. All that enthusiasm and excitement is generally exhibited through a lot of howling, whining, barking, frantic jumps, licking, and much more. However, rarely you may also find your pup dribbling urine while in a state of frenzy.
This is a behavioral problem and happens mostly in dogs with anxiety issues. The lack of control over their emotions induces increased production of cortisol in the pooch's body, causing them to sparsely lose control over their bladder.
Territorial marking
Canines, no matter if they are stray or adored pets, are biologically territorial animals. They don't like others' intrusion into their dominion and hence if you have more than one pet at your home, your dog may be exhibiting its dominance over you or the bed by marking the area with its pee.
Unlike humans, dogs use urination as a marking technique, by leaving behind their body-specific pheromones. Thus, if they have recently started peeing at various places within the house, then it could be a sign of dominance rather than any other above-mentioned factors.
This is common in growing pups or adult dogs who haven't been spayed or neutered. But, it may also happen if the pooch feels threatened or challenged within its own house by other animals in the home.
Why should peeing in bed never be encouraged?
Not only does a dog's pee stink but it also comes packed with many toxic elements. From urea, uric acid, creatine, sodium, potassium, magnesium to high levels of ammonia, there are a lot many elements which can easily stain your precious bedsheets. If that happens, in the end you will be required to invest in expensive professional cleaning services for getting that yucky yellow stain out.
Apart from that, a dog's pee also serves as a breeding ground for disease-causing microbes. Therefore, if kept unwashed for long, it has the potential of spreading infections amongst other animals or kids present in the house. Or else another one of your pets might want to add on to the pee scent, by urinating or worse defecating, nearby.
A pup with such poor control on their bladder is like a ticking time bomb. This means it could end up in either of two situations. One includes faster and more critical deterioration of their health, with the second being an uncontrollable personality, with no whatsoever basic skills. So, if you witness such actions, it is better to get help from the very first, rather wait around and add in to their bad actions.
How to stop my dog from peeing on my bed?
Well, the first wise thing to do is to make a trip to the vet. As there are both medical and psychological factors that could be backing up the reaction, having them properly checked by a professional can come handy. This way you could be extra sure of the after-measures and hence pacify the process of turning them into the perfect gentleman/lady.
For instance, if urinary tract infections, incontinence or kidney problems are causing the involuntary leak, then this needs to be carefully treated with the right treatment options. However, if it seems to be an acquired trait, then there are a few things you could do to bring about positive changes in the pooch.
This includes:
Positive reinforcement training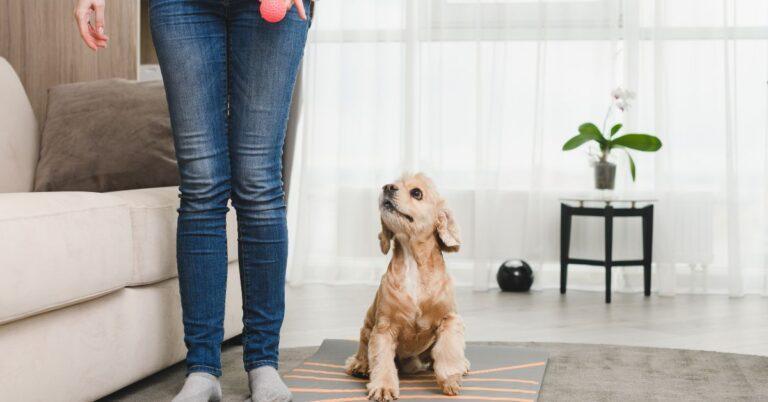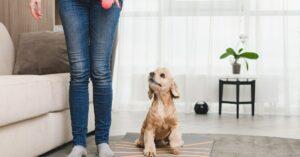 Nothing beats the likes of positive reinforcement training methods and this statement can be backed up by numerous pet parents all over the world. Crafted by leading trainers, this particular method of training revolves around a simple notion, i.e, 'rewarding the good deeds and rectifying the wrong ones in the proper way'.
So, if you have got a pooch that is peeing on the bed, given stressful situations or as a display of territorial dominance, then start off by closing access to your bed when you are not around.

Focus on re-applying potty training basics from the scratch. Take the pup out after every meal and reward them with treats upon completion of their business outside.

Regularize the training unless the pooch has fallen into a rhythm. Using crates is also a good idea for owners who have to stay outside for extended hours.

In case the pooch seems to have another one of those accidents, be sure not to treat them harshly. Use proper verbal cues, such as 'down', 'uh oh', 'no' before tugging them down gently.

Understand that the whole process is time consuming and requires a lot of patience as well as practice. Once the canine is completely potty trained, you will still need to be cautious of their timings and heed to them carefully.
Use pee odor eliminators
For pet parents that are looking for a quick fix, there are thousands of dog pee odor eliminators you could choose from. Available both in online and offline stores, these specially-manufactured chemicals are packed with enzymes that directly act upon the enzymes breaking them down into much finer particles. This action aids in the faster dispersion of the stink-causing bacteria, thereby completely removing the odor out of places.
These solutions are usually spray-based and compatible with a lot of surfaces. So, be sure to give a thorough read to their specifications before making the purchase.
Invest in pee pads
Finally, pee pads are also an excellent option for pet owners that have long working hours. Crafted to absorb pet urine within mere seconds, these pads are an ultimate save for individuals that are still potty training their beloved fur babies.
Thanks to their easy manoeuvrability and leak proof setting, when the urine passes through the layers it instantly turns to gel. This can then be easily scooped out of the pad and thrown in the trash. To make it even more convenient, some pee pads are also washable, making them an eco-friendly and economical choice. So, until and unless you are cent percent sure of your canine's control on their bladder, using pee pads is a much better choice.
You may also like:
How do you induce Dog vomit in an Emergency? Quick and Safe
If you are a dog lover then, Subscribe to our weekly newsletters. No Spams!