Another popular hybrid between a purebred Cocker Spaniel and a Poodle, the Cockapoo can resemble any of its parents, depending upon its genetics.
Unlike what many breeders love to claim, there's a very rare chance of the puppies having both their parental traits at a fixed 50 percent unless bred professionally and carefully. And hence such occurrences are rather common.
So, the next time someone asks you about your Cockapoo looking more like a Poodle, show them this answer.
What is the origin history behind the Cockapoo?
This gentle giant was predominantly designed to serve as a companion dog and therefore arrives featuring the goodness of both the American or English Cocker Spaniel and the Poodle. Unlike their parent breeds, who were bred as sporting and hunting dogs, this canine loves to mingle amongst its humans and is very eager to be the cuddle bud that you may have desired forever.
However, if talking about their origin details, there isn't much known about them, excluding the above-stated fact. But if we look closely at the origin history of their parents, it is of a high probability that the hybrid must have originated a few decades back only. So, it may take time for researchers to come up with extra details on them, and until then this breed can enjoy its mysteric popularity.
How does a Cockapoo look like?
Known by a wide variety of names, including the Cockapoodle, Cocker Spaniel Poodle Mix, Spoodle, Cocker Spaniel Poodle, Cocker Poodle, Cock-a-poo, and Cock-a-doodle, their physical appearance may represent any of the parents. Depending upon their dominant set of genes, they might seem to have a straight fluffy coat as Spaniels or exhibit a teddy bear look with curly fur as the Poodles.
But on average, the breed is known to have a round head, a short muzzle, and a deep chest coupled with broad strong shoulders. The pups further have an athletic build, perfect for their energy filled personas and quirky nature. Their eyes are generally black or brown, with very rare cases of odd colour eye combinations arising due to a genetic mutation.
The Cockapoo may also come in a variety of solid coat colours, such as black, white, brown, red, tan, blonde, sable or exhibit a combination of unique colours and patterns.
How big does a Cockapoodle get?
Now, a Cockapoodle can have a rather extensive size chart, based upon its parents progeny. Typically decided by the Poodle parents' size, these pups can be:
The Teacup Toy-

measures less than 10 inches in height and weighs not more than 6 pounds.
The Toy Cockapoodle-

comparatively sturdier than its

previous counterpart and measures around 10 inches in height and 12 pounds in weight.
The Miniature Cocker Poodle-

ranges between 11 to 14 inches high and weighs just about 13 to 18 pounds.
The Standard Cocker Poodle-

the largest of them all, these pups can grow up to a height of 15 inches and weigh around 19 pounds.
This variability in their sizes makes them the perfect breed for individuals looking for a family pet that doesn't take much space. Thanks to their tiny little bodies and gentle personalities they can suit almost any space and living conditions, with minute adjustments.
What causes the variation in the Cocker Spaniel Poodle Mix puppies?
Apart from their gene structure, a lot many factors also influence their growth pattern. These include:
Sub-standard cross breeding between breeds of both parents.

Breeding done by unqualified and inexperienced breeders with no idea on how the whole thing works

Other poodle hybrids being claimed and sold as 'genuine Cockapoos'

Huge

variability

in the expression of genes even in the breeding between top-quality 1st generation Cockapoo parents

No fixed standards for determining the hybrid from other 'mystery mutts' and mixes
Does this affect my Cocker Spaniel Poodle Mix's health?
Although breeders and many so-called pet fanatics may claim 'hybrids' and 'designer dogs' to be naturally more resistant to health conditions, there is no such clarification backed by science. This notion is only possible when the two parents have superb health and are bred right.
So, certain health conditions that the canine may be predisposed to, include:
Cataracts

Patellar Luxation

Hip dysplasia

Food or skin allergies

Eye and ear infections

Liver disease

Von Willebrand's disease

, etc.
To avoid such health issues it is better to get the puppies from a professional breeder only. Given their knowledge and experience they know what they are doing and hence won't affect the lifestyle of the pups. So, your Cocker poodle will definitely live a long, happy, and healthy life.
Are the Cockapoodles good dogs?
Loyal, intelligent and easy to train, the Cockapoodles are great companions for both families and single individuals. They have a friendly and a seemingly happy personality, and hence can be trusted with both smaller children and other pets. However, to be extra sure, proper socialisation from the very start is highly crucial, for just in case.
While almost all these pooches love social interactions, some woofers can inherit the aloofness of their Poodle parents. So if your pet does the same, early socialisation is the key to unlocking their goofy character. Similarly, another thing that pet parents need to remember about the hybrid is that they can be prone to severe separation anxiety given their people-oriented nature.
These puppies don't like to be left alone and hence could easily switch to their 'destructive puppy' mode when bored or not properly stimulated. In such cases, the only option for you will be to give them ample physical and mental stimulations before leaving them all by themselves. You can take them on a 15-minute walk or let them run off-leash in a fenced backyard to help relieve them of the pent-up energy.
Are the coats of the Cockapoo Hypoallergenic?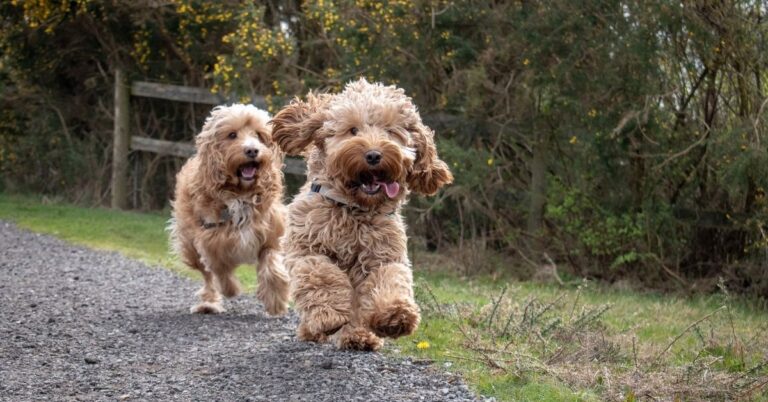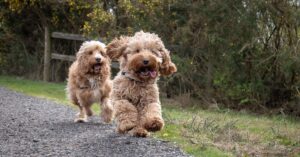 Featuring a low-shedding coat and an odourless fur, Cockapoos make one of the perfect candidates for parents with heightened risks to dog allergies. As they shed comparatively less to other Cocker Spaniel hybrids, their bodies naturally produce less allergens and hence pose a very low risk for sensitive individuals.
But, even though the Cockapoos are known to be hypoallergenic, it is highly essential to remember that no dog or no canine hybrid is 100 percent proven hypoallergenic. And hence some might still show allergic reactions to these pups. For such individuals, doctor consultation and OTC (Over-the-Counter) medications work best, so as not to worsen the symptoms.
Do the Cocker Spaniel Poodles bark a lot?
A variable trait based upon their parent's temperament and personality, no Cocker Spaniel Poodle puppy is the same, so there is no definite answer to the question. Cocker Spaniels are known for their excitable barking tendencies while Poodles are known to be observant onlookers.
Thus, if any of the parents have the tendency to bark at any passing thing, higher the probability that the pooch may also turn out to be the same. Therefore, proper training is a must to reduce extra irrelevant noise with more focus on strict following of positive reinforcement training methods.
Always remember hitting the woofer or raising voice is not only inhuman and inconsiderate but has no positive effect on the innocent creature. They may only end up being scared of you or turn out to be aggressive and snappy that is never good for anyone.
So, this was all about the beautiful and mesmerising Cockerpoodle. For more such interesting updates don't forget to subscribe to our mailing list and get notified on all our recent releases.
If you are a dog lover then, Subscribe to our weekly newsletters. No Spams!