The term "spaniel" refers to a group of dog breeds that share specific characteristics, including their hunting and retrieving abilities, friendly nature, and distinctive appearance. Spaniels are known for their close bond with humans and versatility in various roles, from hunting companions to cherished family pets. They come in different sizes, coat types, and colors, but they all share a common ancestry rooted in their historical roles as hunting dogs.
Spaniel breeds are known for their excellent sense of smell, intelligence, and eagerness to work closely with their human companions. They were initially bred to assist hunters in locating, flushing out, and retrieving game, often in challenging terrains such as dense underbrush and water bodies. Their agility, energy, and drive made them indispensable partners in hunting scenarios.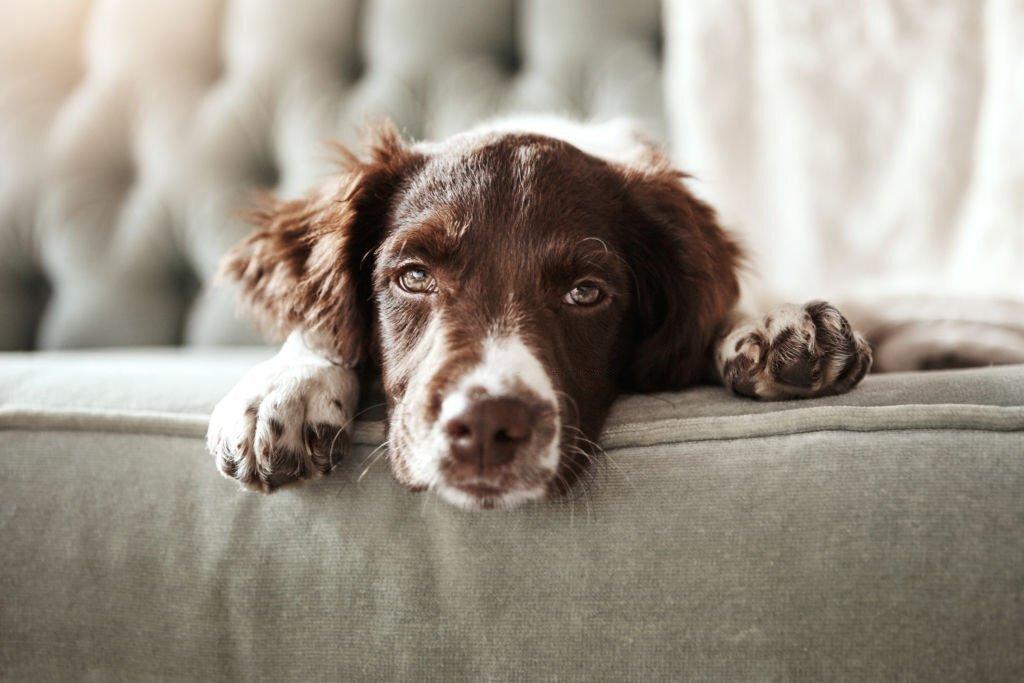 Why Smallest Spaniel Breeds Are Adorable?
The smallest spaniel breeds encapsulate a world of charm and companionship in compact packages. These miniature dogs are known for their endearing looks, friendly personalities, and versatile capabilities. From the English Toy Spaniel's delicate elegance to the Cavalier King Charles Spaniel's regal demeanor, each breed brings its unique blend of traits to enchant and delight. Despite their small size, these Spaniels often possess intelligence, loyalty, and a zest for life, making them beloved additions to households of all types. Their adaptability and affectionate nature ensure they thrive as cherished companions in various lifestyles.
Exploring the Smallest Spaniel Breeds
Here is a list of the smallest spaniel breeds:
Cavalier King Charles Spaniel
The Cavalier King Charles Spaniel, a beloved toy breed, emanates charm and calmness through its expressive eyes, silky coat, and gentle demeanor. Historically favored by royals, it carries an air of aristocracy. With its wagging tail and affectionate disposition, it's a faithful companion. This breed has four distinct color patterns: Blenheim, Tricolor, Black and tan, and Ruby. Despite its regal heritage, the Cavalier is down-to-earth and friendly, forming strong bonds with humans and other pets. Its adaptability to various lifestyles, loyalty, and loving nature cements its place as a cherished member of countless families.
Group: Toy Group (AKC, FCI)
Coat: Medium-length, silky
Color: Four recognized color patterns: Blenheim (chestnut and white), Tricolor (black, white, and tan), Black and tan, and Ruby (solid red)
Life Expectancy: 12 to 15 years
Height: Between 12 to 13 inches (30-33 cm) at the shoulder
Weight: 13 to 18 pounds (5.9 to 8.2 kg), with smaller dogs preferred within this range
English Toy Spaniel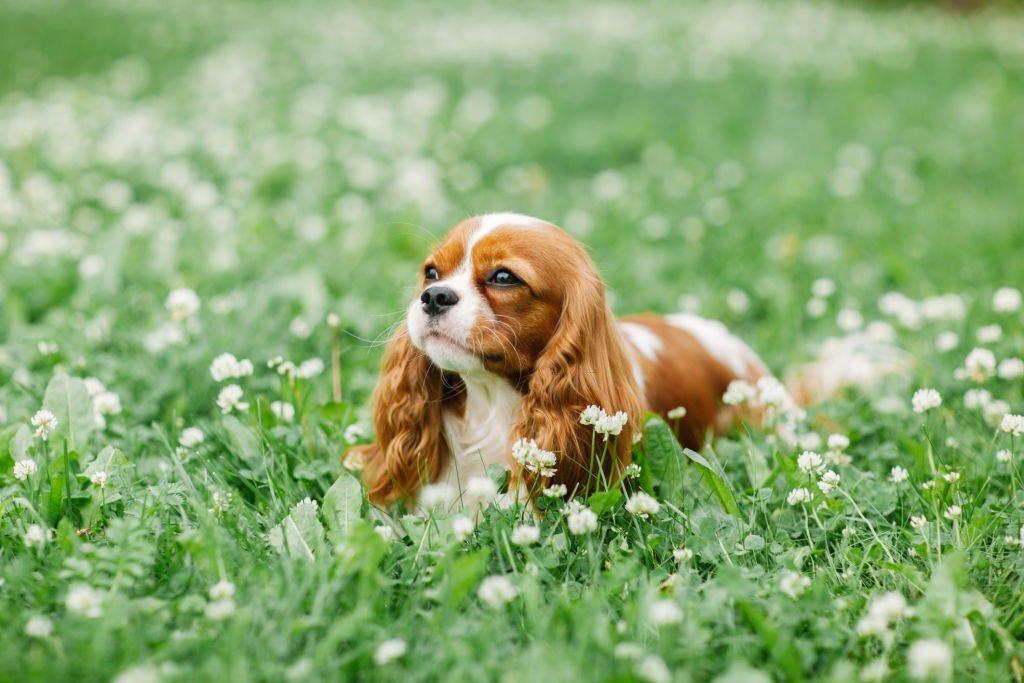 The English Toy Spaniel, a diminutive and elegant breed, exudes charm through its domed head and luxurious coat. A historical favorite among European nobility, it carries an air of sophistication. Its distinctive appearance, including oversized, expressive eyes, captures hearts effortlessly. This breed's coat has several recognized color patterns, each adding to its allure. Despite its refined appearance, the English Toy Spaniel possesses a gentle and affectionate personality. Its adaptability to various living situations, loyalty, and endearing nature cement its place as a cherished companion. With a lifespan of 10 to 12 years, it enriches lives with its timeless appeal.
Group: Toy Group (AKC, FCI)
Coat: Long, silky
Color: Black & Tan, Blenheim (chestnut and white), Ruby (solid red), Prince Charles (Tricolor)
Life Expectancy: 10 to 12 years
Height: About 10 inches (25 cm) at the shoulder
Weight: Between 8 to 14 pounds (3.6 to 6.4 kg)
American Cocker Spaniel
The American Cocker Spaniel, a vibrant and charming breed, radiates enthusiasm with its wagging tail and expressive eyes. Initially bred for hunting, it's now a beloved companion. Its medium-length, lush coat and distinctive feathering embody a classic spaniel look. The breed's coat has various solid colors and patterns, showcasing its diversity. Despite its playful nature, the American Cocker Spaniel exudes a gentle and affectionate demeanor. Its adaptability to diverse lifestyles, loyalty, and joyful spirit solidifies its place as a cherished family member. With a lifespan of 10 to 14 years, it brings enduring joy to households.
Group: Sporting Group (AKC), Gun Dog Group (FCI)
Coat: Medium-length, silky and wavy
Color: Wide range of solid colors (black, buff, brown), as well as parti-colors and roans
Life Expectancy: 10 to 14 years
Height: 13.5 to 15.5 inches (34 to 39 cm) at the shoulder
Weight: 20 to 30 pounds (9.1 to 13.6 kg)
English Cocker Spaniel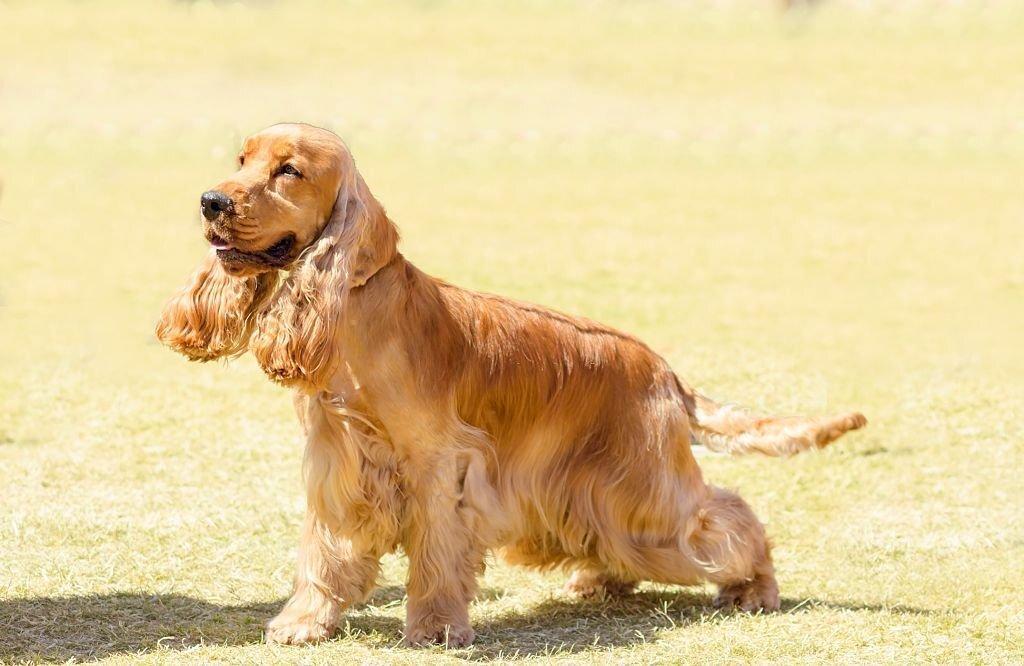 The English Cocker Spaniel, an agile and friendly breed, epitomizes a harmonious blend of athleticism and companionship. Initially bred for hunting, it showcases an alert expression and wagging tail. With its medium-length, water-resistant coat and feathered ears, it adapts seamlessly to various environments. The breed's coat boasts a range of solid colors, enhancing its striking appearance. 
Check our article on the 12 most enticing English Cocker Spaniel color patterns. 
Energetic yet composed, the English Cocker Spaniel excels in field and family settings. Its friendly nature and intelligence create a loyal and interactive companion.
Slightly larger than their American counterpart, English Cockers are still a compact spaniel breed known for their friendly nature and versatile abilities. However, these beautiful breed requires special care, such as food limitations for spaniels, training, and lots of love.
Group: Sporting Group (AKC), Gun Dog Group (FCI)
Coat: Medium-length, dense, and water-resistant
Color: Various solid colors (black, liver, red, golden), as well as parti-colors and roans
Life Expectancy: 12 to 15 years
Height: Between 15 to 17 inches (38 to 43 cm) at the shoulder
Weight: 26 to 34 pounds (11.8 to 15.4 kg)
Is a Smaller Spaniel Breed Good for You?
It depends on your circumstances and preferences. Consider factors like your living space, activity level, grooming commitment, and the type of companionship you seek. 
Here are some considerations to help you decide:
Size Suitability: Smaller spaniels are well-suited for living in apartments or homes with limited space. Their compact size makes them more manageable in smaller living environments.
Easier Handling: They are generally easier to handle and control due to their size. Adopting a smaller spaniel breed is beneficial for individuals who may have physical limitations or are first-time dog owners.
Indoor Adaptability: Smaller spaniels often have lower exercise requirements than larger breeds. They can thrive with indoor play and shorter outdoor walks, making them potentially better companions for people with less active lifestyles.
Portability: Smaller spaniels are more portable and can be taken with you more easily when traveling or running errands.
Meanwhile, larger spaniel breeds offer certain advantages while retaining the characteristic spaniel traits. Their size can make them more resilient to rough play and outdoor activities, making them suitable for families with active lifestyles. Additionally, their larger stature often provides a sense of security as watchdogs. At the same time, their increased endurance and strength make them well-suited for tasks that require more physical exertion, such as longer hikes or fieldwork.
However, their size can be challenging in smaller living spaces, such as apartments, where they might feel cramped. Additionally, their increased weight can lead to greater strain on joints and bones, potentially making them more prone to specific health issues.
Ultimately, it depends on your preferences, lifestyles, and what you seek in a canine companion. 
How do you take care of Small Spaniel Breeds?
Caring for small spaniel breeds involves specific considerations to ensure their health, happiness, and overall well-being. 
Here are guidelines for providing proper care:
Nutrition and Diet Guidelines:
Choose high-quality food appropriate for the dog's age, size, and activity level.

Go for a 

balanced diet

 with essential nutrients such as protein, fats, carbohydrates, vitamins, and minerals.

Portion control is crucial to prevent obesity in small breeds. Consult your veterinarian for portion recommendations.

Avoid feeding human food that may be harmful, and be cautious with treats to prevent overfeeding.
Exercise Requirements:
Although smaller, spaniels are active dogs that need regular exercise.

Engage in daily walks, playtime, and mental stimulation activities.

Provide appropriate toys for play and cognitive engagement.
Health Monitoring and Regular Check-ups:
Schedule regular veterinary check-ups to monitor the dog's health, vaccinations, and preventive care.

Stay up-to-date with vaccinations, parasite prevention, and dental care.

Watch for signs of illness, including changes in appetite, behavior, or energy levels.
Grooming Techniques for Long- and Short-haired Breeds:
Like the Papillon, long-haired breeds may require daily brushing to prevent tangles and mats. Use a soft-bristle brush or comb.

Like the American Cocker Spaniel, short-haired breeds still benefit from regular brushing.

Bathe your dog when necessary using dog-specific shampoos to maintain coat health and cleanliness.

Regularly clean ears, trim nails, and brush teeth to prevent dental issues.
Training and socialization are of utmost importance to raise a well-behaved and confident small spaniel breed. Here's a guide on how to approach these aspects:
Importance of Early Training:
Begin training as early as possible to establish good behaviors and habits from a young age.

Small spaniels are intelligent and eager to please, making them receptive to training.

Early training helps prevent unwanted behaviors and builds a strong foundation for further learning.
Positive Reinforcement Techniques:
Utilize positive reinforcement techniques such as treats, praise, and rewards to encourage desired behaviors.

Reward your spaniel immediately after it performs the desired action to reinforce the connection between behavior and reward.

You must be patient and consistent in your training approach. Avoid harsh methods, as they can lead to fear or anxiety.
Socializing Your Small Spaniel:
Socialization

 is crucial to help your spaniel become comfortable and confident in various environments and around different people and animals.

Expose your spaniel to different sights, sounds, and experiences from an early age to reduce the likelihood of fear or aggression later on.

Arrange controlled playdates with well-mannered dogs to promote positive interactions and appropriate play behavior.

Gradually introduce your spaniel to new places, people, and situations, and monitor their reactions.

Encourage positive interactions with people of all ages and ensure they experience positive encounters with children.
Tips for Successful Training and Socialization:
Keep your training sessions short and engaging to maintain your spaniel's focus.

Use high-value treats as rewards during training to keep your spaniel motivated.

Consistency is key – use the same cues and commands to avoid confusion.

Be patient and understanding; every dog learns at their own pace.

Enroll your spaniel in puppy kindergarten classes or obedience training to work with professionals and learn valuable skills.
Conclusion
Choosing the smallest spaniel breed that aligns with your lifestyle is paramount. Consider living space, activity level, grooming commitments, and temperament. Reflect on your ability to provide proper care, training, and socialization. By understanding the needs and traits of each breed, you can make an informed decision that ensures a lifelong, joyful companionship.
Whether you're drawn to the regal elegance of the English Toy Spaniel or the playful nature of the American Cocker Spaniel, each smallest spaniel breed offers a unique blend of traits that can make your life better by creating a lasting bond between you and your furry friend.
FAQs
Which is the smallest Spaniel Breed in the world?
The Cavalier King Charles Spaniel is considered the smallest spaniel breed, weighing between 9 and 15 pounds. It is known for its easy-going nature and is a popular choice for those seeking a small, friendly companion. Other small spaniel breeds include the Cocker Spaniel, Papillon, and English Toy Spaniel. However, the Cavalier King Charles Spaniel is often recognized as the smallest of all the spaniel breeds.
Which spaniel breeds have separation anxiety?
While separation anxiety can affect dogs of various breeds, some spaniel breeds are more prone to this condition due to their strong attachment to their owners. Breeds like the Cavalier King Charles Spaniel, Cocker Spaniel (both American and English varieties), and Springer Spaniel are often mentioned as having a higher likelihood of experiencing separation anxiety.
Which spaniel is easily trainable?
Among spaniel breeds, the Cocker Spaniel, particularly the American Cocker Spaniel, is often considered to be easily trainable. They are highly intelligent, eager to please, and respond well to positive reinforcement training methods. Their willingness to learn and their desire to bond with their owners make them adaptable and trainable companions.
English Springer Spaniels also tend to be quite trainable due to their intelligence and work ethic. They do great in various dog sports and activities that require training, obedience, and focus.
Which spaniel breed sheds the most?
Among spaniel breeds, the American Cocker Spaniel is known to shed more compared to some other spaniel breeds. American Cocker Spaniels have a dense, medium-length coat that requires regular grooming to manage shedding and prevent mats. However, regular brushing and proper grooming practices can help manage shedding and keep your spaniel's coat healthy and comfortable.
If you are a dog lover then, Subscribe to our weekly newsletters. No Spams!