Big beautiful eyes with soft fluffy thick fur, Siberian Huskies are everyone's favorite for a reason. But apart from their vividly colored eyes and distinct wolf-like appearance, they are also famous for other not-so-good reasons, such as dramatic Husky.
Huskies are THE MOST EXPRESSIVE DOGS ever. And every pet parent who has ever owned these beautiful creatures will agree to it. Unlike most breeds, they carry a fun, stubborn, and goofy attitude, which gives them the tag of 'being dramatic' by humans. They reply to everything you say or command them and hence make them the best candidates for fun candid videos. In short, they are 'little humans' within dog coats.
Are Huskies dramatic?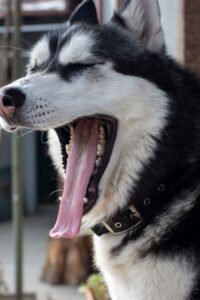 While Siberian Huskies are known for their very playful nature and love for mimicking expressions, tagging them 'dramatic' is not fair. Everything they do is a way of expressing their reactions and having fun. So, why interpret them as dramas or anything???
Why does my Husky behave like this then?
Originating from the mighty and stubborn Chukchi dogs, Siberian Huskies are often headstrong and love to do whatever they want. This includes shouting at the top of their lungs or pacing through the home like a madman. They are very vocal about their feelings and hence always expect them to protest to you. For instance, if you command them to 'sit' or 'stay' and they are not in a mood to entertain your command, they will for sure start with their antiques. This includes howling, making strange noises, silly staring, or just pretending to be asleep.
Such actions, although they can give you a good laughter every once in a while, should never be entertained. Laughing out their antiques or rewarding at the wrong time can prove to have a pretty detrimental effect on their training. And thereby, you might end up with a loud howling machine that will blow your eardrums off if given a chance.
What makes them so reactive?
Behind every reaction by a Siberian Husky can be a wide variety of reasons. Starting from physical ailments to their typical ever-changing mood, there's a lot that might trigger their howling, pacing, or silly staring episodes. So, if you have been looking for reasons behind your dramatic Husky, you have arrived at the right place.
Stress
Yes, you read that right. Not only humans but animals are also prone to psychological ailments, including stress, anxiety, and depression. The only difference is that, when depressed, animals don't spend their time gulping down liquor bottles at some corner or have the option to consult with a counselor. Instead, Huskies take it a notch higher by being vocal about their likes and dislikes.
It is essential to consider that, by nature, these dog breeds require proper mental stimulation and loads of exercise. Or else their pent-up energy makes them cranky and bored out of their minds. This boredom leads to constant whining and howling, which can be genuinely frustrating for the pup, their owner, and even their neighbors.
Triggering environment
Another reason why your adorable munchkin might be turning into a 'dramatic husky' is because of its surroundings. Many-a-times, a passing police car, ambulance, a squeaky toy, or even your kids crying can trigger this reaction. Given their origin from a wolfy ancestor, it is in their DNA to be vocal about anything abnormal. And hence just how trained your Siberian Husky might be, they will never leave a golden chance to do their' signature antiques.'
Unfortunately, there is no other way of subduing this behavior apart from positive reinforcement training methods. You might also ask for a professional's help if you cannot control their frantic zoomies or ear-blasting howlings.
Separation anxiety
A common issue prevalent in almost all pet animals, if your Husky is prone to hyper reactions, then he might be having separation anxiety. It is expected that dogs love their owners and are almost always desperate for their owner's attention. However, this want may be more than usual for some pups, which can also be due to a vast number of factors. As a result, they exhibit related symptoms every time they are left alone, such as constant whining, howling, pacing around the house, or scratching doors and furniture.
If this is the reason, it is better to have your pup checked out by a vet. Through special procedures, they will better point out the underlying reason and hence work out solutions for their proper recovery.
Way of expressing feelings
Depending upon the tone your Husky is using, it may also mean that your Husky is simply trying to communicate with you. Different dog breeds communicate variably with their owners, and hence not every husky needs to be going through some issues to be their vocal self. To recognize such instances better, you will have to concentrate on their body language. If your Husky is making weird chirping noises or is howling, it means they want something from you, may be treatos or attention. But, if your 'dramatic husky' is frantically running everywhere, it downright means they are excited about something.
Although such behaviors might be how your pup expresses himself, entertaining their bizarre behavior will only worsen the situation more. This will only make them think that they will be getting your attention only by being a crazy lad.
Your personality
Finally, scientific studies have shown that intelligent dog breeds such as Siberian Huskies tend to pick up their owners' personalities over time. So, if you are a loud person who loves to goof around a lot, it might also be affecting your pup to be as dramatic as yourself. Similarly, if you tend to scream or shout at your dog when it misbehaves, your husky might also start acting out the same way. Thus, at last, none of this will be considered your dramatic Husky's fault; instead, be counted as yours.
If such is the case, you can start by changing your persona first and then progress to the innocent fur-baby's later. Like a human child, dogs behave as they are trained or molded to do. And hence, if you have a problem or dramatic husky, it is only you, your actions, or your ignorance leading to such circumstances.
What do I need to correct such behavior?
You will need to:
Opt for professional training- Huskies can be really stubborn, and if your pup is not giving any attention to your commands, it is time to call in a professional trainer.

Portrait as the 'Alpha'- Pertaining to their wolfy instincts, it is highly recommended to portrait yourself as the 'Alpha' or leader of the pack to keep your dramatic Husky under control. Rather than fearing you, they should respect you.

Reward good behavior ONLY- Instant rewarding of good behavior is a must if you want your Siberian Husky to be proper. Always ensure the training is done through positive reinforcement training methods only.

Give attention- Siberian Huskies thrive on attention. They are the 'Divas' of the home who constantly desire to be pampered, petted, and cuddled almost all the time. So, make sure your pooch knows how much you love them as much as possible by physical actions.

Ensure loads of exercise- Before your neighbor files a 'noise complaint' against you or your dog, ascertain that your Husky is well-exercised and taken care of. They are dogs with high physical activity requirements, and hence take them on long runs or give them mind stimulating games to keep them packed when you are away.
Controlling a so-called 'dramatic husky' is no rocket science. Like many things, the same also needs your understanding, patience, and zeal to carry out the task.
Because "Love is wet noses, sloppy kisses & wagging tails."
If you are a dog lover then, Subscribe to our weekly newsletters. No Spams!