Dog breath fresheners arrive in many forms, including sprays, chew sticks, teeth cleaning powder and much more. However, out of all available best dog breath fresheners, here are the six most preferred and positively reviewed canine breath fresheners.
VETRISCIENCE Perio Support Teeth Cleaning Powder, Ark Naturals Brushless Toothpaste Dental Chew, Minties VetIQ Dog Dental Bone Treats, TropiClean Fresh Breath Oral Care Water Additive, Merrick French Kisses Dog Dental Treats, and the Oxyfresh Premium Cat & Dog Water Additive. These dog breath fresheners come with a variety of features, although collectively they work together to prevent tartar and plaque formation, thereby instantly lessening their stinky breath.
Now, let's dive into each of their specifications while comparing their strengths and weaknesses side-by-side.
Best Dog Breath Fresheners
VETRISCIENCE Perio Support Teeth Cleaning Powder
Curated with 100 percent dog-safe components, the VETRISCIENCE Perio Support Teeth Cleaning Powder is unlike any other teeth cleaning powders. This special formula is clinically tested to be safe making them the perfect add on to your pup's meals, no matter their breed or age, for a regular fresh breath.
When mixed with their meals, the powder smoothly dissolves within the food, allowing greater absorption from the very basic source of most bad odors, that is the gut. Once inside the gut, the components instantly start attacking bad odor causing bacteria and microbes, while simultaneously clearing the pathway up until their mouth. This in turn offers them a fresh cleaning mouth which stays on for long, contrary to many instant dog breath freshener sprays that provide a temporary result.
This teeth cleaning powder is also suitable for dogs diagnosed with periodontal diseases or gingivitis, although seeking vet consultation before administration is considerably better.
Pros:
Contains natural zeolites, probiotics and other essential components

Suitable for both felines and canines

Clinically proven safe for consumption

Ideal for all life stages and breeds

Removes tartar and prevents plaque formation
Cons:
Some pups may not like the taste
Ark Naturals Brushless Toothpaste Dental Chew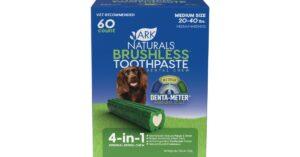 Another wonder product for canines with bad breath issues, the Ark Naturals Brushless Toothpaste Dental Chews comes with an unique chew design. Featuring hard ridges on the outside and toothpaste in the center, pet owners can offer two of these chews regularly to their canines for a fresh clean breath.
Thanks to the outside ridges, upon chewing, the exterior part frictions against their teeth, removing hard coated tartar formations. Meanwhile the toothpaste goes deeper into their system, killing all bad microbes that may be adding on to the nasty stink. The toothpaste is proven safe for consumption and hence doesn't end up putting a toll on the little canine's body.
This vet recommended brushless toothpaste dental chews are however ideal for medium breed adult dogs only. They are free of soy, wheat, artificial colors, flavors, and preservatives, making them a safer choice for dealing with stinky breath issues.
Pros:
4-in-1 cleaning, protection, reducing plaque and freshening components

Preservative, gluten, soy, wheat, artificial color and flavor free

Organic composition

Prevents breeding of bad odor causing bacteria from the guts
Cons:
Vet recommendation required

Not for all breeds and life stages
Minties VetIQ Dog Dental Bone Treats
Highly preferred by dog parents, the Minties VetIQ Dog Dental Bone Treats arrive with a power packed blend of five breath fresheners. Consisting of alfalfa, parsley, peppermint, fennel and dill, this dog chew gets its results by extensive rubbing between the particles and the canine's teeth.
Manufactured in the USA, these chews can be offered regularly to medium and large sized adult dogs after their meals. So, not only does it act like a breath freshener but the harder crust also serves as a chew toy for them. And what's more? With this chew, you don't have to constantly worry about their accidental ingestion. All of the components are proven safe for canine consumption and leave no side-effects whatsoever on the pooch.
Pros:
Maintains healthy gums and teeth

Prevents tartar and plaque formation

Satisfied the pooch's chewing needs

Easy-to-digest and gluten free
Cons:
Results are relatively temporary especially when compared to the above two products

Not available for all life stages and smaller breeds

Some canines may not like the minty smell
TropiClean Fresh Breath Oral Care Water Additive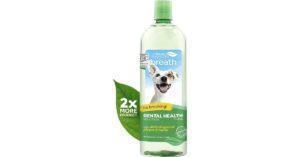 Arriving with a claim to provide results within 14 days of regular usage, the TropiClean Fresh Breath Oral Care Water Additive is a tasteless and odorless teeth cleaning solution for canines. Contrary to dog chews with strange minty smells or teeth cleaning powder, this particular product is basically an additive. So, pet parents simply need to add a drop or few of this liquid into their pooch's clean bowl of freshwater and voila the job is done.
Upon regular and proper usage, this solution acts as a bad breath cleanser that works all the way into their gut. Moreover, thanks to its anti-microbial and instant freshening composition, the liquid attacks odor-causing bacteria everywhere it touches, offering a long lasting freshness.
However, this solution is only safe for pooches that are 12 weeks or older and hence heeding care is a must. Similarly, pet parents will also require a vet consultation before administering the solution to their canines.
Pros:
14 day instant results

Tasteless and odorless

Keeps mouth healthy and teeth clean

No brushing required

Clinically tested to be safe
Cons:
Not for sensitive canines

May cause vomiting if not administered in the right dosage
Merrick Fresh Kisses Dog Dental Treats
A wonderful product for small breed canines, the Merrick Fresh Kisses Dog Dental treats arrive in a whole new design. Crafted to look like a small brush, the design bears a two-sided brush style. Thanks to this very texture, it aids in efficient cleaning of their gums and teeth, and thereby removing any accumulated tartar and plaque.
Additionally, to make it even more of a safer choice, these dental treats are clinically proven to be absolutely safe for canine consumption. They are coupled with special spearmint strips that keep the freshness lasting longer. So, the next time your canine leans in for a sloppy kiss, there won't be any nasty stink pushing you away from their love display. Pet parents can also go for other flavor combinations, including coconut + botanical oil, and pumpkin + cinnamon.
These dental treats are free of potatoes, grains and gluten and should be offered to canines as prescribed by the veterinarian.
Pros:
Available in many exciting flavors

Unique two-sided brush design

Contains no potatoes, grains and gluten

Dental strips infused with long lasting freshness

Ideal for instant fresh smelling breath
Cons:
Doesn't clean their mouth or reduce tartar formation

Not for serious bad breath issues, like gingivitis, periodontal disease, or halitosis
Oxyfresh Premium Cat & Dog Water Additive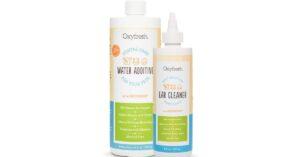 Finally, the Oxyfresh Premium Cat & Dog Water Additive is yet another form of additive cleaning agent that can be added to your pet's water. This bad breath cleansing product comes with an advanced pet ear cleaner, and hence is a good investment for most pet owners.
Similar to the TropiClean Fresh Breath Oral Care Water Additive, adding a few drops of this solution to their water offers a brush-free fresh breath experience. Furthermore, the components are completely safe on the canine's digestive system. So, there is nothing to be worried about.
To top it up, the solution is also vet recommended and can be used regularly. Although a vet consultation is necessary to find the perfect dosage for your canine based upon their weight, breed, and other existing health factors.
Pros:
Made in the USA

No mint or tea tree components

Cleans teeth and gums

Fast-acting solution
Cons:
Oxyfresh is a rather new company

Not ideal for long-term use or effects
You may also like:
Best High Fiber Dog Foods for Anal Gland Problems
If you are a dog lover then, Subscribe to our weekly newsletters. No Spams!