Manufactured with all the right products, you may like: Royal Canin Veterinary Diet, Hill's Prescription Diet Gastrointestinal Biome Digestive/Fiber Care, Blue Buffalo Life Protection Formula, Hill's Science Diet Dry Dog Food (for sensitive stomach), and the Hill's Science Diet Dry Dog Food. All of these products are carefully catered to fulfil a canine's natural fiber requirement, and hence can aid in normalizing anal gland problems as well as other gastrointestinal issues in no time.
But before that, if you need a brief walkthrough on the canine anal gland issues, along with their symptoms, causes, and treatment options, click here.
Best High Fiber Dog Foods for Anal Gland Problems
NOTE: Pet parents should be extremely careful when choosing the fiber-rich supplements for their fur babies. Every manufacturing company follows a different composition frequency, which when not analyzed properly, may further worsen the pooch's condition. Therefore, consulting with your vet about the product, its components and exact dosage is a must for the canine's safety.
Now proceeding ahead with our top-reviewed list of fiber-rich dog foods, we will be covering:
Royal Canin veterinary Diet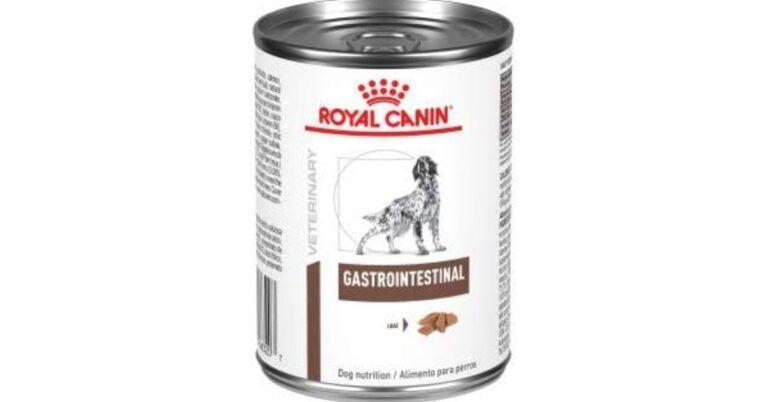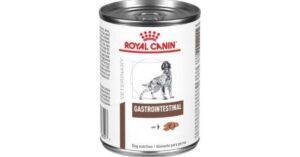 Loaded with the health benefits of Omega-3 fatty acids, EPA, DHA, and many other essential soluble and insoluble fibers, the Royal Canin Veterinary Diet is one of the highly preferred vet recommended fiber-rich dog foods. Available in gel form, pet parents can mix it into their pooch's breakfast, lunch, or dinner, enriching their diets as well as palates.
When offered daily and in a proper dosage, the feed aids regulate their bowel movements much more efficiently. As a result, owners will soon start noticing desirable changes in their stool texture and color, allowing faster recovery from anal gland issues. Thanks to the blend of antioxidants, fish oil, and highly digestible proteins, the components work by soothing the digestive tract, thereby leading to easier and comfortable ejection of faeces.
Apart from that, this particular product is also advised in case of canine GI issues, vomiting, severe diarrhea, lack of appetite, malnutrition, etc. However, as advised earlier, veterinary recommendation is a must, and may be required when placing an order.
Pros:
Aids in proper expressing of anal glands

Hardens stool texture

Improves GI tract functioning

Improves taste of other feeds

Ensures optimal nutrition

Consists of all essential micronutrients and prebiotics
Cons:
High fat and calorie content

Price on the expensive side
Hill's Prescription Diet Gastrointestinal Biome Digestive/Fiber Care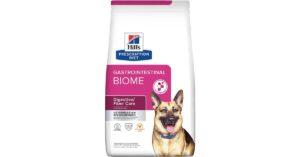 The Hill's Prescription Diet Gastrointestinal Biome Digestive/Fiber Care is a dry dog food that is highly preferred by veterinarians for anal gland issues. Carefully manufactured with the company's proprietary ActiveBiome + ingredient technology, experts at Hill's Prescription Diet claim that the unique blend of ingredients rapidly acts on the pooch's weakened system.
The composition is highly beneficial for ensuring a healthy GI microbiome balance, which in turn enhances the texture of the stool so fast that the company itself claims its product to start working within the first 24 hours. Evenmore, continuing these kibbles prevents further recurrence by activating gut bacteria which then work together to aid better absorption of food with reduced wastage.
However, being a therapeutic vet recommended food, pet parents should definitely consult with a professional before starting with the kibbles. With proper consultation and dosing frequency, your pup will be able to bounce back to its previous health.
Pros:
US Vet recommended therapeutic pet food

Improves and balances GI microbiome balance

Works instantly within 24 hours

Specific for anal gland and GI tract issues

Suitable for all breeds and ages
Cons:
Some canines may not like the smell or taste
Blue Buffalo Life Protection Formula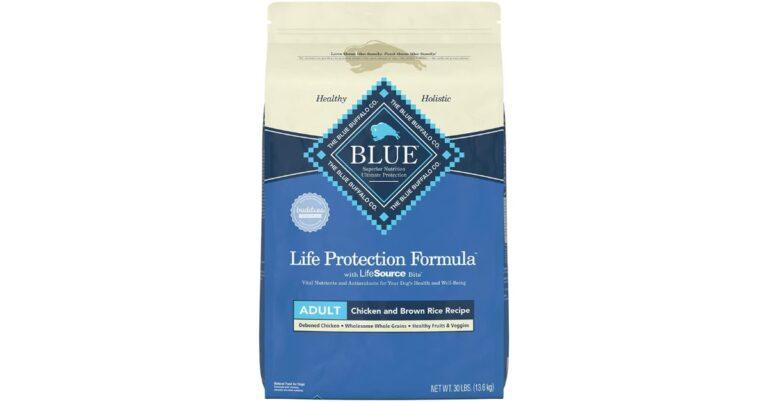 The Blue Buffalo Life Protection Formula arrives with a special mixture of real meat (no poultry by-products) and brown rice that is also a safe choice for everyday use. Packed with antioxidants, omega 3&6 fatty acids, carbohydrates, and necessary fibers, these kibbles are a great way of improving the canine's overall immune system.
A single scoop of this special made dog dry food, consists of enough nutrients and proteins to keep the pup energized and healthy at every life stage. Similarly, with long usage, gastrointestinal issues and anal gland problems become a rarity, encouraging a holistic and comfortable lifestyle for the pooch.
Available in multiple flavors, pet parents should slowly switch to the product from their existing feeding regime. A vet consultation is also necessary in case the canine has been suffering from an upset stomach, as the fluctuation in nutrient frequency may further worsen the scenario.
Pros:
Real meat with no poultry-by products

Suitable for all adult breeds

Easy-to-digest components

No corn, wheat, soy, artificial flavors, and preservatives
Cons:
Some canines my not like the strong smell

Not for all life stages
Hill's Science Diet Dry Dog Food (Sensitive Stomach)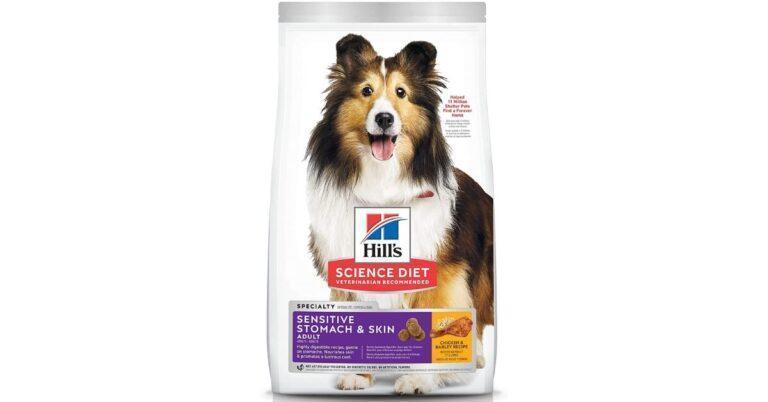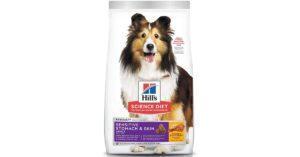 Another one of the dry dog foods, the Hill's Science Diet Dry Dog Food comes specially crafted for pooches with a sensitive digestive system. These adult-specific kibbles are a high source of prebiotic fibres and essential vitamins and minerals, which when offered regularly aids improve the texture of the stool, thereby relieving the pooch of anal gland issues.
Upon consumption, the kibbles enhance the working of the natural microbiome. This in turn reduces wastage of food, as more and more nutrients are successfully absorbed by the intestinal walls. Moreover, given the presence of Vitamin E and Omega-6 fatty acids, pet parents also claim a noticeable improvement in their fur babies' skin and coat. This is also why most vets prescribe this particular kibble for skin issues in canines.
Pros:
Vet recommended diet dry dog food

Works for sensitive skin and stomach

Made in the USA

Best for overall gut health
Cons:
May cause food allergies in certain canines

The kibbles are relatively larger
Hill's Science Diet Dry Food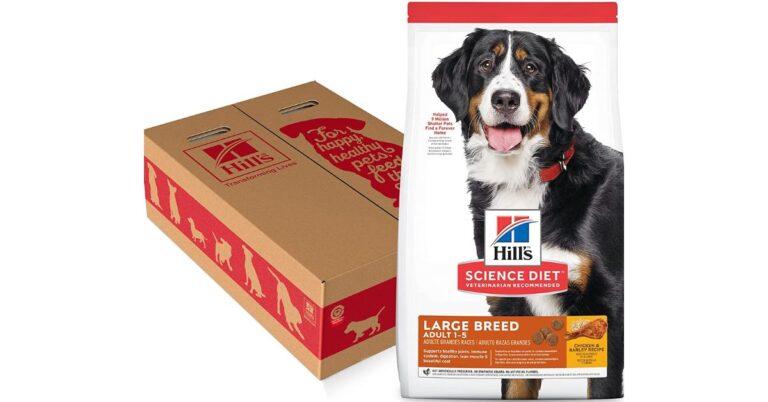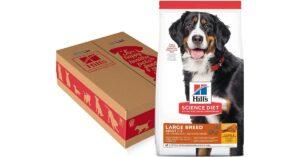 A feed formulated for large breeds (adults only), the Hill's Science Diet Dry Food is another one of the company's popular products. The kibbles are packed with nourishing micronutrients, amino acids, fatty acids, and vitamins that work together to ensure a heightened immune system.
Apart from that, pet parents may also notice a gradual healthy increase in appetite along with better stool formation. This is all thanks to the conveniently sized kibbles and nutrient frequency which when regularized also aids promote lean muscle mass, support joint health, provide smoothness and shine to the coat, and offers them with ample energy to play.
Furthermore, this feed is veterinarian recommended and can be safely offered to even the most sensitive of pooches. However, before completely changing to this carefully prepared formula, it is better to consult with your vet about the exact dose you should start with. Given its dry composition, sudden changes may result in constipation problems, hampering the lifestyle of the canine.
Pros:
Available in two flavors

Supports joint health, and promotes lean muscle mass

Ensures beautiful skin and coat

Easy to digest

Natural sources for glucosamine and chondroitin
Cons:
Only available for large adult dogs

Consists of a lot of grains
Conclusion
Taking care of a pup with anal gland issues is definitely a stinky and messy affair. But it is rather essential for the parents to understand that the same discomfort goes for our furry partner, as well. Therefore, early diagnosis and treatment is the only way out in such cases. The vet may suggest a change in their feeding regimen, advise specific exercises or may even conduct a manual expressing of the anal glands.
To know more about its causes, signs and symptoms, and proper treatment methods, click here.
If you are a dog lover then, Subscribe to our weekly newsletters. No Spams!