A must-have for all pet parents, here are some of the best dog poop bag holders that will make your dog scooping a lot less messier and easy.
Out of all choices, we present you the 10 best dog poop bag holders of 2022. The list includes, Bone Shaped Dog Poop Waste Bag Holder, Tuff Mutt Dog Poop Bag with Holder, Aluminum Dog Poop Bags Holder, SVD.PET Dog Poop Bag Dispenser, Tuff Mutt Poop Bag Holder, OllyDog Scoop Pick Up, AmazonBasics Dog Poop Bag Dispenser, Earth Rated Dog Poop Bag Dispenser, Hanjo Pets Dog Poop Bag Holder, and the LZSOMPK Poop Bag Dispenser.
NOTE- All of the products mentioned here have been compiled after an extensive research on both online and offline platforms. We don't reserve any rights to the sale and purchase of any of these products and therefore won't be held responsible for any issues resulting due to faulty purchase or delivery.
10 Best Dog Poop Bag Holders
Bone Shaped Dog Poop Waste Bag Holder
Starting our list with the Bone Shaped Dog Poop Waste Bag Holder, this product is both cute and convenient. Arriving in multiple bold colors, this trash bag dispenser comes with a hook that can be attached to the canine's leash. So, no matter if you are going on a walk or just visiting the dog park with your pooch, you can now always stay ready for messy situations.
The trash dispenser is made up of high quality plastic which neither easily breaks nor seems too heavy on the leash. Available in 9 bold colors, the bags can hold a number of poop bags at a time, aiding to better feasibility. When it comes to the quality of the poop bags, they are completely leak proof and hence don't let the odor seep away.
The product comes with 50 pet waste bag dispensers of multiple colors, with each dispenser having a roll of poop bags within it. This makes it both affordable and long lasting and therefore a must buy for every pawrent.
Pros:
Lightweight poop bag dispensers which can be attached to leash

Sturdy, high quality plastic dispensers

Comes in 9 bold color options

50 dispensers with a roll of poop bags inside it

Doesn't easily break or fade

Bone shaped design

Consists of a hole for easy retrieval of poop bags

Twist and turn design

A built-in hook offers easy attachment
Cons:
Tuff Mutt Dog Poop Bag Holder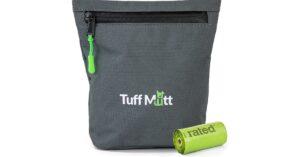 For individuals that dread the feeling of having to carry the stinky poop of their canines, the Tuff Mutt Dog Poop Bag Holder is the ultimate choice. Bearing an odor blocking activated carbon lining, this bag keeps the stink sealed away, thereby ensuring that your hands don't end up retaining the smell afterwards.
Additionally, the bag also has air-tight zippers, so no more spilling risk when you are on the way to the trash can. However the one feature that makes it stand out from the rest is its huge size. Measuring 8"X8" in size, this oversized pouch can be used to store multiple poop bags at once. Be it the large poop bags or several smaller ones, with this product at hand, you can store the mess and then get rid of it at once. This is a great feature for pet parents who spend most of their time outside with their canines.
Other beneficial features include an easy to pull out waterproof lining, water resistant shell, adjustable waist belt, and an Earth-friendly roll of 15 unscented poop bags.
Pros:
Multi-purpose pouch

Oversized bag can handle more than one poop bags at a time

Air-tight long lasting zippers

Convenient to carry and clean

Unscented poop bags with every purchase

Odor blocking carbon activated lining

Comes with an adjustable waist belt

Water resistant fabric for durability
Cons:
The bag opening is rather small
Aluminum Dog Poop Bags Holder
Ranked third amongst the best dog poop bag holders, the Aluminum Dog Poop Bags Holder is also a good purchase. As the name suggests, these dog poop dispensers are much harder and durable than any other products, given that they are made up of high quality aluminum. To make the item even stronger, the manufacturer claims that the top and bottom are curated of top quality ABS which makes the holder scratch-resistant.
Apparently, this poop holder bag also comes with three different attachments. This includes an elastic rope with two buckles, one carabiner and one hook along with a loop fastener. The availability of these add-ons makes this item an amazing option, as it allows the pet parent to use the product however they may want.
Similarly, the dispensers are big enough to hold several poop bags at a time. Although there is no air-tight zipper that can keep the odor locked away, they do complete the poop scraping task a lot less arduous.
Pros:
Big enough to hold several poop bags at a given time

Harder and more durable aluminum manufacturing

Comes with 15 poop bags

ABS manufactured top and bottom with PA hooks for longevity

Scratch-resistant

Comes with three different types of attachments

Responsive customer service
Cons:
The elastic string is not up to the mark

The bottom is rather loose
SVD.PET Dog Poop Bag Dispenser
Amongst the best dog poop bag holders, comes the SVD.PET Dog Poop Bag Dispenser. Unlikely to any of the other dog poop dispensers mentioned here, this one looks more like a small gadget. But contrary to its compact appearance, this holder can hold 8 rolls of standard sized dog poop bags at the same time. This allows you to stay ready no matter wherever you might be.
When it comes to its design, the dispenser is made up of top quality all-weather plastic, that is ideal for both outdoor and indoor usage. So, no more drenched poop bags during untimely showers. The outer layer is also durable and doesn't wear or tear away with extensive usage.
However, the major disadvantage with this poop bag dispenser is that it is not portable and can only be used for storing poop bags. Given its rectangular size, carrying the dispenser when out with your canine will no wonder be super difficult and hence it is only suitable for installation at home. The dog poop bag holder can be either stuck on to the wall with adhesive tape or by fixing them using screws. Thus, if you are looking for a poop bag holder at home, then this could be a good choice.
Pros:
All-weather plastic used for the manufacturing

Compact design

Can hold up to 8 rolls of standard sized dog poop bags at the same time

Rain-proof design makes it suitable for both indoor and outdoor use

Easy installation through adhesives or screws

Has a magnetic lid to aid smooth retrieval of the bags
Cons:
Not portable

Doesn't come with poop bags
Tuff Mutt Poop Bag Holder
Another one of the products from Tuff Mutt, this poop bag holder is a relatively smaller yet more user-friendly version. Coming in a seamless carry bag design, the poop bag holder is coupled with two long lasting velcro attachments. This makes them easy to hook on to not only your canine's leash, but also to harnesses, running and waist belts.
Even though the bag may seem small initially, it does a good job in holding several poop bags at once. Hence, when needed just open the zipper, pull out a bag and conveniently clean the mess up. Once done, you can also store the waste bag within the holder itself unless you find a trash can.
The slim lightweight design is an add-on which is easy to clean, store and transport from one place to another. Also the company offers a lifetime guarantee with this particular model, meaning you can get a partial or complete refund after communicating with their customer care.
Pros:
Lightweight, trendy design

Adjustable velcro straps that can be latched on to waist, leash, harness or belts

Can hold a large number of poop bags at a time

Easy to clean, store and carry

Arrives with a lifetime guarantee

Earth-friendly rated poop bags included

Comes in a bold color combination
Cons:
Relatively smaller than the TuffMutt product mentioned earlier

Velcro straps could have been better for the price
OllyDog Scoop Pick Up
Another one of the simple designs, the OllyDog Scoop Pick Up comes up next in our list of the best dog poop bag holders. This durable bag is made up of recycled fabric and although may not seem much, does a fantastic job in holding a standard sized poop bag roll without adding much weight.
The bag has a snap closure that allows feasible attachment to almost anywhere you might like. Be it the pooch's leash, your waist belt or to the woofer's harness, this pouch can attach to anything without making it heavy. The zippers are also of premium quality and contrary to cheaper holders, don't stick or break when used extensively.
Moreover the bag opening is large enough to address easy removal of the waste bags. When dirty, you can dump this holder to your washing machine and wash them on a gentle cycle with a mild, pet detergent. Doing so will ensure that the pick up bag is absolutely clean and dry before you start with your next excursion.
Pros:
Available in both solid and print patterns

Small but greatly durable

Premium quality zippers

Manufactured material is made up of recycled fabric

Can hold on standard sized dog poop roll at a time

Safe for machine wash

Comes with a lifelong warranty (refer to the warranty and care section for more info)

Snap closure
Cons:
Not preferred for larger canine breeds

The snap closure gets loose fast

Only holds one dog poop roll at a time
Amazon Basics Dog Poop Bags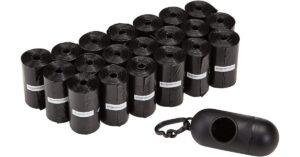 A rather affordable purchase, the Amazon Basics Dog Poop Bags can save you extra expense with the whole combination. Consisting of 300 polyethylene dog waste bags, this product also includes a small but lightweight trash bag dispenser.
Made up of decent quality plastic, the dispenser has a small hole in the front which is to store the poop bags. You can also find a carabiner-style clip that helps keep the dispenser hooked up safely to the dog's leash or harness when on a walk or a run without risking their fall.
The bags are leak proof, unscented, and further marked with an arrow. This arrow helps point out the opening side, therefore aiding you pull out waste bags without having to fumble around the dispenser. To add on to it, the bags also keep the smell trapped, making sure neither your hands nor your clothes smell like fresh dog poop.
Pros:
No installation required

Comes with a carabiner-clip for an easy attachment

Lightweight and compact design

Includes 300 unscented polyethylene bags

Highly portable

Manufactured using top quality plastic

Leak-proof waste bags
Cons:
The waste bags are very thin

The dispenser hole is quite small and may lead to the bags getting stuck

Relatively cheap quality manufacturing
Earth Rated Dog Poop Bag Dispenser
For pawrents that are running under a budget, the Earth Rated Dog Poop Bag Dispenser is a good option as a dog poop bag holder. Arriving in a compact design, this versatile holder is easy to attach, lightweight and also quite durable. Thanks to all these attributes, they are indeed one of the best dog poop bag holders out there, although not as highly preferable as the top scorers in this list.
While the dispenser has all the features of popular dog poop bag holders, the one that makes it stand out is the hands-free hook. Designed to help pet parents attach the used waste bag, this hook ensures that your hands don't get dirty or smelly while you are searching for a trash can. The hook can hold considerable weight and is pretty long-lasting.
Along with the package, you will also get 15 unscented waste bags that are unscented and leak proof. But the one disadvantage with this product is that it is not suitable for larger breeds and therefore can only be used for smaller and medium sized canines.
Pros:
Affordable

Hands-free hook to keep waste bags

Comes with a roll of 15 unscented dog poop bags

Has a screw for easy retrieval and refilling

Highly durable manufacturing materials

Leak proof design
Cons:
Bags are pretty thin

The dispenser handle is not of good quality

Not ideal for larger canines
Hanjo Pets Dog Poop Bag Holder
A dog poop bag holder that seems more like a pouch made for human usage, the Hanjo Pets Dog Poop Bag Holder is your one-stop destination for all your pet's belongings while on a walk. Bearing a double pocket design, this bag not only holds pet waste bags but also comes handy in storing keys, cash, and treats. You can even use the second pocket to store the used waste bag while on the move.
Made up of 900D waterproof fabric, the bag is a suitable option for travel enthusiasts. It has a slim frame and can be attached to both the canine's leash, harness or your running belts, without adding extra weight. Moreover, unlike other dangling dog poop bag dispensers, this product stays in a single position thanks to its durable velcro attachments.
Other benefits of using this holder includes a strong hook, auto lock zippers, smooth velcro material, fine workmanship and affordable price.
Pros:
High density 900D Oxford fabric

Durable auto-lock zippers

Reinforced stitching that goes a long way

Strong hook

Two pockets for greater feasibility

Waterproof fabric
Cons:
Made in China product

Zipper quality could have been better

The zippers face downwards that could lead to spillage

Not air-tight
You may also like:
If you are a dog lover then, Subscribe to our weekly newsletters. No Spams!