Today at spanieldogs.com, we will be looking at the best portable dog washers that you can find in the market. So, let's start.
The list for the best portable dog washers include: Bissell, Flying Pig Pet Dog Washing Shower, GARTOL Portable Dog Shower, Waterpik PPR-252E Pet Wand Pro Shower Sprayer, Muddy Buddy Portable Dog Shower, Hozelock 4140 4-in-1 Multiuse Portashower, Aquapaw Dog Bath Brush, ddLUCK Multi-Functional Collapsible Pet Bathtub, Pets Shower Attachment, and the MTSLYH Dog Shower Attachment.
What are the Best Portable Dog Washers of 2022?
As per our survey, here are the best portable dog washers of 2022 that you could choose from for an easy bathing experience for your canine.
NOTE: The products mentioned here are chosen after a thorough research of canine portable washers both on online and offline platforms. Thus, we will not be held responsible for any issues arising due to faulty purchase, delivery or receipt. This blog is meant to be for informational purposes and therefore must be treated the same.
Bissell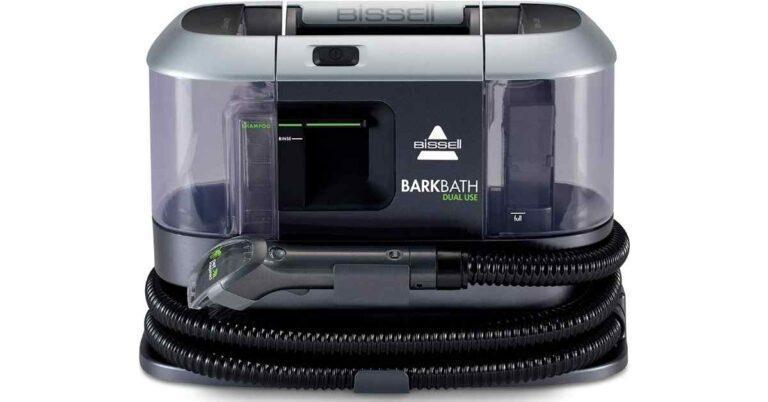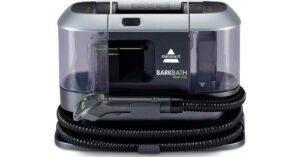 A company that has been long known for creating outstanding products related to dog grooming and maintenance, Bissell is our ultimate choice. This particular model features a 2-in-1 system which not only includes a portable dog washer but also a deep cleanser for effective cleaning. The powerful motor when used gives a mess-free thorough wash and hence has been one of the top preferred products amongst pawrents.
The product comes along with three customisable spray nozzles. These nozzles all have variable designs specifically designed to suit woofers, no matter what their fur length might be. So, based upon your Fido's fur length and coat type, you can easily switch between the nozzle types to ensure that they are thoroughly cleaned all the way down to their scalp.
Another added feature of this portable dog washer is its dirt suction. When being used, the suction collects all the dirt and debris from your canine's body, storing into a separate dirty water tank. This in turn makes cleaning afterwards a bit easier and a lot less hassle-free. The washer can be used for up to 80lbs of a dog and uses relatively lower water as compared to traditional ways of dog bathing.
Pros:
A powerful noiseless motor

Three different nozzles for varying fur lengths and coat types

Best suitable for all canine breeds and sizes

2-in-1 function provides both bath and deep cleansing

Uses relatively less water

Has a separate dirty water tank to clean the after-mess

Every purchase is linked to the BISSELL Pet Foundation which aims to save homeless pets

Comes along with a detailed instruction manual
Cons:
Expensive than most portable dog washers
Flying Pig Pet Dog Cat Washing Shower
Now if your pet likes to bathe in a tub, then the Flying Pig Pet Dog Cat Washing Shower is a must explore. Unlike other typical tubs that you may have come across, this one has adjustable stands that are made up of stainless steels. So, no more escaping drama midbath. Also, as you can adjust the height of the stand, there's no added pressure on your knees and back every time you put your canine inside the bathing area.
Available in two colour options, the tub is wide enough to fit small to medium sized canines as the design in itself can carry 150 pounds of weight easily. Furthermore, the basin is made up of heavy duty plastic material. This not only makes it considerably lightweight to be carried around but also sufficiently strong to hold the pooch in place when you are giving them a relaxing bath.
This tub is indeed a good choice for pawrents who struggle bathing their not-so-excited canines. The 360 degree access prevents the pup from cornering to a side, therefore making the bath session less stressful for both the woofer as well as you.
Pros:
Unique elevated bathtub design

Comes with adjustable and sturdy stainless steel legs

Can fit small to medium sized dogs up to 150lbs

Ample space available for the dog to sit or stand when you give them a bath

360 degree access

Light weight unlike other tubs

Leveller can be used to adjust to uneven floors

No more strain on your knees or back
Cons:
The basin material could have been better

No straps available with the package to keep the dog tied during bathing
GARTOL Portable Dog Shower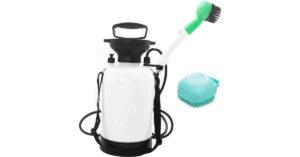 In the list of the best portable dog washers, the GARTOL Portable Dog Shower is our third most liked product. Suitable for multiple kinds of pets, including our very own canine friends, this shower system comes along with a portable water tank. This water tank is made up of durable materials and is lightweight enough to be carried seamlessly from one place to another.
To make it even easier, the tank comes with adjustable shoulder straps. However, what's more interesting is that this portable shower doesn't need power to operate. Working by the principle of hand pressure, you simply need to relieve the pressure release valve, which then allows water to shoot out of the sprayer in whatever pressure frequency you want. This pump shower comes pre-assembled and has both a brush and shower head that you can use to give your canine a clean bath.
The tank can easily carry 1.3 gallons of water at a time and is hence for a quick shower when travelling outside with your dog. Pawrents can also add shampoo or other cleansing solution directly by opening the top lid of the brush. Once done add as much shampoo and water you want, before shaking it well to create enough foam.
Pros:
Works without requiring power consumption

High quality manufacturing materials

The tank can carry 1.3 gallons of water at a time

Sprayer works silently

Non-toxic and does not create any smell

Keeps water warm for long

Shower system comes pre-assembled

Includes brush and a decent quality sprayer

Shoulder straps available
Cons:
The water quantity may not be enough for thorough cleaning of larger canines

The brush quality could have been better for the price
Waterpik PPR-252E Pet Wand Pro Shower Sprayer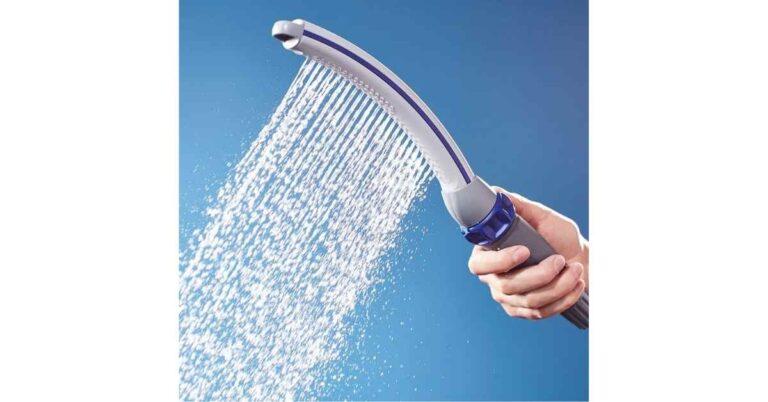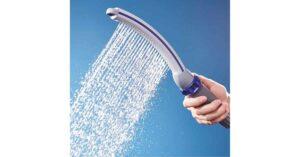 The Waterpik PPR-252E Pet Wand Pro Shower Sprayer is a professional grade shower sprayer that is extremely liked by pet groomers worldwide. Unlike its competitors, this particular wand comes with a powerful and unique sickle shaped water combing spray that easily makes its way into the canine's scalp, offering them a thorough cleanup.
The special design offers full coverage as well as the benefit of one-handed operation. This in turn allows pet parents to better focus on cleaning their woofer's coat rather than worrying about having to handle the sprayer with both hands. To use this simply you need to install it into your shower or you can also go for the garden hose and voila you can now bathe your canine wherever you may want.
The package comes along with a 8 foot flexible hose, the water combing spray, suction cup hook, outdoor hose adapter, indoor shower diverter, and an instruction manual. In case of any problems, the manufacturing company even offers fast customer redressal, thus if interested you can definitely try this portable dog shower.
Pros:
Unique water combing sprayer that goes deep into the scalp

Uses 30 percent less water

Can be used in both indoor and outdoor surroundings

Comes along with 8 foot flexible hose, suction cup hooks, outdoor hose adapters, etc

Offers convenient one-handed operation

Suitable for dogs of all sizes

Can be connected to both shower and garden hose with available adjustments

Easy to store
Cons:
Manufacturing materials are of cheaper quality

Made in China

The rubber seal connecting shower heads is not suitable for extensive usage
Muddy Buddy Portable Dog Shower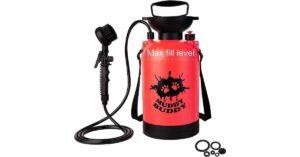 Another one of the tank-designed shower systems, the Muddy Buddy Portable Dog Shower comes in a bold red colour and cool graphics. This tank holds enough water to give your canine a quick warm shower, and is hence best suited for pawrents that spend most of their time outside with their beloved fur babies.
The five litre water tank is also surrounded by durable temperature insulating plates that can maintain the perfect lukewarm temperature up to 2.5 hours. This makes it relatively easy for offering your canine a warm bath, no matter if you are camping in the outskirts or just lazing on your porch with your woofer running rampant within your fenced yard.
When it comes to maintenance, the tank and its attachments are easy to clean, store and maintain. Just remove the attachments and give them a thorough wash under cool running water, making sure you are covering every nook and corner. However never use boiling water, as it can severely affect the insulating plates as well as the sprayer and brush.
Pros:
Manual sprayer uses hand pump principle to spray water

Works silently

No need for power requirement

Five litre water tank with temperature insulating plates

Multiple usage

Uses less water

Comes in a bold red colour and many attachments
Cons:
Quite pricey for the quality of materials

Only suitable for a quick shower

Can be tough to use for first timers
Hozelock 4140 4-in-1 Multi Use Portashower
A decent quality multi-purpose sprayer, the Hozelock 4140, although may not seem much initially, its 4-in-1 usage makes it to our list of best portable dog washers. Best suitable for both indoor and outdoor use, the product consists of a 7 litre bottle, a carry strap, and an adjustable shower spray head.
Working without batteries or power, the sprayer when turned on releases the stored water through the nozzle. However to ensure a convenient bath, the shower head consists of a high quality nozzle which divides the water into various branches rather than spraying it directly onto the canine. This allows it to cover more areas at a time, and hence leads to less wastage of water.
Such a product is suitable for quick baths only and therefore you shouldn't expect anything more from it. Additionally, attached with a carry strap the bottle can be picked from one place to another without much effort, and hence is a considerably okay product for those having a budget restraint.
Pros:
7 litre water bottle for giving quick baths to your woofer

4-in-1 multiple usage shower head

Comes with a carry strap for easy transportation

Compact design ensures easy storage

Doesn't require batteries or power consumption

Affordable as compared to other tank-designs mentioned above
Cons:
No temperature insulating plates available

Not suitable for storing boiled water

Cheaper quality manufacturing materials
Aquapaw Dog Bath Brush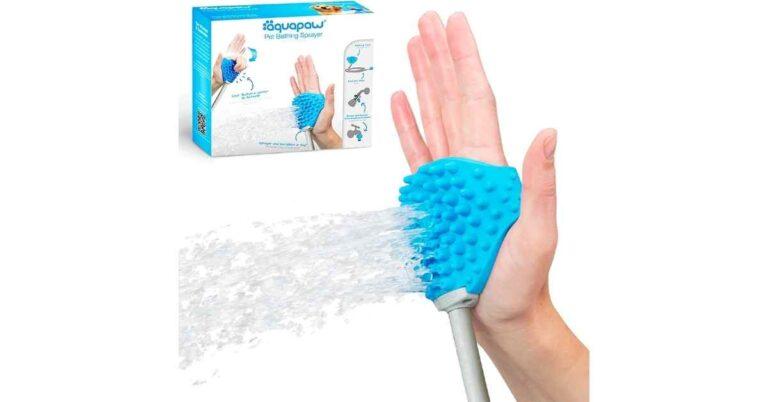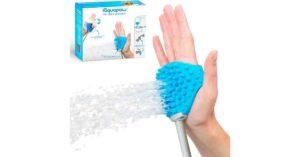 A product that has been featured in Shark Tank, the Aquapaw Dog Bath Brush is indeed one of the most unique portable dog washers that you can come across. This all-in-one tool comes with adjustable straps that you can wear around your hand while giving your canine a bath.
When attached to your palm, the on/off button rests within your pal making it easy to switch between the two. Moreover, this shower head is also detachable and hence can be reattached to both showers as well as garden hose for a convenient bath time. To make this easier, the manufacturing company also includes durable adapters that can be fitted to almost all hose sizes.
However the one feature that makes it a must buy is that the brush comes with a decent quality scrubber. So, when bathing your beloved pooch, you can also scrub their body to get dirt off in a better way. The silicone is 100 percent FDA-grade and quite gentle on their body, hence you don't have to worry about tugging or pulling on their fur.
Pros:
Affordable and full of amazing features

Ergonomic design that can be worn on your palm

On/Off switch located within an accessible place

Brush comes along with 100 percent FDA-grade silicone scrubber

Connectable with hose adapters

Easy to install and operate

Comes with adjustable straps for a perfect fit
Cons:
The scrubber is not for extensive usage

No option to adjust frequency of water

Selector button wears out easily

May not fit all shower head types
ddLUCK Multi-Functional Collapsible Pet Bath Tub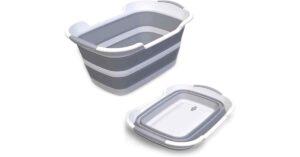 As the name suggests, this product features a collapsible pet bath design. Carrying a sturdy, tub like look, the ddLUCK collapsible pet bath tub is made up of soft and strong PP and TPR material. This makes it not only feasible to be carried around but also quite strong to resist everyday usage.
One of the best portable dog washers, this design is a must have for all pawrents that spend most of their time outside with their canines. Given its special customisable design, you can fit your puppy inside, give them a nice clean bath, and then get rid of the dirty water by opening the drainage seal that is placed on the tub's floor. To clean the tub, you can either keep it under running water or use a soapy solution to get rid of any spots or oily grease like items that may have stuck on to them.
Although the collapsible design is a definite beneficial attribute, this design is only suitable for small and mini sized canines. For others the tub space might not be enough, leading to tripping of the dirty water outside when trying to bathe the canine.
Pros:
Multi-functional collapsible design

Made up of soft and strong PP and TPR material

Best suitable for small and toy canine breeds

Easy to clean, store, maintain and carry

Has a drainage hole to get rid off dirty water

Great for the price range
Cons:
Not for medium or larger sized dogs

Cannot hold more than 50 pounds of weight

Not ideal for rough usage
Pets Shower Attachment
Unlike any other products described here, the Pets Shower Attachment is only meant to be used over your existing tub spouts (w/front diverter). But the reason why we have included this portable dog shower is its patent design and ease of usage.
When fitted properly, the attachment makes the task of bathing your dog a lot less frustrating by offering the right pressure and water spray coverage, thus leading to reduced water wastage. The sprayer is also lightweight, meaning you can use the sprayer to rinse the pups with one hand while washing them off nicely with the other.
To make it last longer, the manufacturer offers a solid brass connection diverter valve, a silicon rubber washer, high strength ABS engineered grade plastic spray cabinets and hand shower. However, the one issue that pet parents may face with this item is the complexity of its installation. Even though a detailed instruction manual comes with the product, unless you have ideas about shower heads and connectors, you will definitely require professional help.
Pros:
High grade ABS engineered materials

Silicone rubber washer lasts long

Solid brass connection diverter keeps the fittings tight and leak-free

Portable and easy to use once installed

Patented design by YOO.MEE Professional Pets Shower
Cons:
You will need to have a proper measurement of your tub spout

Doesn't connect with all spout types

Complex installation

The plastic hose is not flexible
MTSLYH Dog Shower Attachment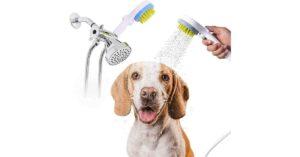 Finally, we have the MTSLYH Dog Shower Attachment. A cheaper option for pet parents looking for the best portable dog washers, this shower attachment can be used as both a sprayer as well as a sprayer + scrubber.
Arriving with a number of accessories, the shower attachment is considerably easy to use all over your house, thanks to the four different adapters that come within the package. So, no matter if your dog likes to bath within the privacy of your home or while basking under the sub, this attachment will be your knight in shining armour.
Additionally, the shower attachment has a curved anti-slip handle with on/off key just placed above. A simple press induces the sprayer to work and therefore you don't have to keep on holding the key all the while you are bathing the dog. The shower head is also usable on all kinds of dogs, no matter their sizes or fur type.
Pros:
High quality ABS made shower head attachment

Comes with four different adapters and one diverter

Has a curved anti-slip design

Easy to use and super accessible on/off key

Easy to switch between only sprayer and sprayer + scrubber option

The scrubber efficiently removes dirt without hurting the dog's skin

Suitable for all sized canines and fur types
Cons:
Installation may be confusing

Doesn't have a shower head holder

Spray head is plastic and hence not for extensive usage

Hose isn't much longer
You may also like:
10 Highly Rated Interactive Electronic Dog Toys [2022]
If you are a dog lover then, Subscribe to our weekly newsletters. No Spams!