Hey, everyone and welcome to our new blog at spanieldogs.com where we will be discussing the 7 best dog ramps for Spaniels. This article will also carry a detailed comparison between their features, price and offer buyer guide pointers. So, let's start.
Out of all dog ramps available, the top-most ranking and positively reviewed names include: PetSafe Happy Ride Dog Ramps, Pet Gear Stramp Stair and Ramp, Pet Gear supertraX Ramps, PetSafe CozyUp Bed Ramp, TNELTUEB Folding Pet Stairs, YEP HHO Lightweight Ramp, and the Topmart High Density Extended Dog Ramps.
PS- All this information is based upon extensive research of the best dog ramps available in the market and hence we don't bear any responsibility in case there is an issue with the purchase.
Why do Spaniels need Dog Ramps?
As discussed earlier, Spaniels are gun dogs typically ranging between a small-medium size, with only the Clumber Spaniel passing as a large breed. So, given their small stature most Spaniels aren't always able to jump to higher grounds, requiring their owners to lift them up every now and then.
Therefore to reduce the workload and make the pups self-sufficient, dog ramps also popularly known as dog stairs were designed a few years back. Since then this amazing product has proved to be quite efficient amongst owners with senior dogs or small puppies as it allows them to move freely from lower to higher places, such as beds, or car seats, and vice versa.
Similarly, if your Spaniel is a rather naughty fellow, introducing the ramp will also reduce the risk of injuries. Once trained properly, the pooch will happily use the ramp to climb up or down, lessening your worries and ensuring their safety.
Top 7 Dog Ramps for Spaniels 2022
PetSafe Happy Ride Dog Ramps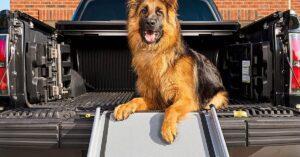 Popular amongst pet owners for their customizable and sturdy dog ramps, the PetSafe Happy Ride Dog ramps are an absolute must if you are a beginner. Suitable for puppies and elderly dogs alike, the most attractive feature of this product is its extra long telescoping tube. Thanks to this, making adjustments to the ramp's height is no longer a difficult task.
Additionally, built to be sturdy and highly durable, the ramp easily supports even the largest of dogs weighing around 300lbs and has ample moving area. When in use, dogs can walk or run over the ramp without risking their safety as the ramp area is anti-skid and guarded by rails on both sides.
The PetSafe product weighs only 18 pounds and has a convenient patented design that locks the latches making it easier to carry and store in all kinds of vehicles. And while the ramp may seem costlier initially, it is the quality that matters.
Pros:
Lightweight aluminium frame

Easy maintenance

Additional accessories, including carry case and adapters

Available in many sizes

High-traction wak surface with guards on both sides
Cons:
Pet Gear Stramp Stair and Ramp
A ramp design featuring the best of both worlds, the Pet Gear Stramp Stair and Ramp is a polyester based easy to assemble ramp-stair combo that is another one of the highly preferred choices amongst canine parents. The design is absolutely soft and is secured by several rubber grippers at the bottom for safe climbing no matter whatever the terrain is.
Given its lightweight configuration, the ramp stair combo also makes a good choice if you like being on the roads for most part of the time, or simply want your pup to cuddle with without having to lift them up every instant. The mat part is supertraX, a feature that enables slip-free passage for the dogs, ensuring top-notch safety.
Pros:
Bi-fold ramp and stair design

Supports pets weighing up to 150lbs

Lightweight unit with supertraX mat

Rubber grippers on bottom for a steady positioning

No-tools setup
Cons:
Pet Gear supertraX Ramps
Another one of Pet Gear dog ramps with a supertraX traction surface, this product is proven best for many small-medium sized breeds like our beloved Spaniels. Thanks to the added feature, there is no risk of slipping when the puppies are on the move. Moreover it doesn't hurt their paws at all as the pressure activated grips does its job way better than other popular ramp surfaces.
When not in use, the ramp can be easily folded and doesn't take much space as the Pet Gear Stramp Stair and Ramp Combo, making it a good choice for travelling pet parents. The built-in-handle also allows better manoeuvrability and is a bonus for easy portability.
The ramp measures around 48 inches in length and 16 inches in width and seamlessly supports 150lbs of pup's weight. Any further than that and the ramp can easily snap, risking the pooch's safety. Therefore, always ensure that your pooch measures within the designated measurements before investing in this one.
Pros:
Pressure activated grip

Super-traction mat surface with supertraX

Compact build-up

Safety tether to fix the ramp with the vehicle
Cons:
Not for larger breeds

Requires a large flat area at the bottom of the car door
PetSafe CozyUp Bed Ramp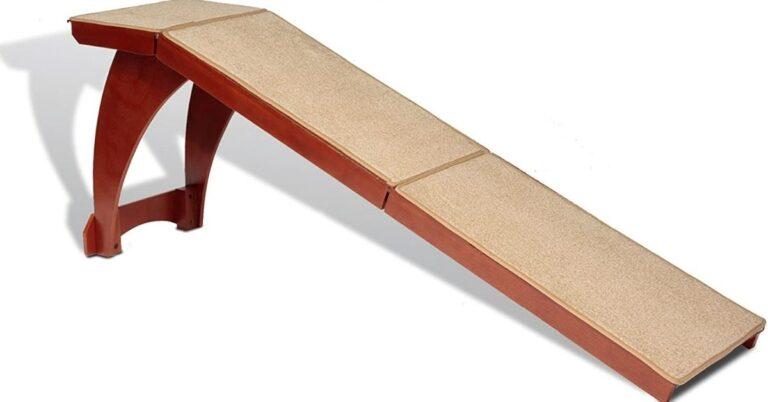 Now, shifting towards a bit more homely usage, the PetSafe CozyUp bed ramp although can be fitted to cars, the product itself was designed to be used up as a bed or couch ramp. For pet parents that are tired of having to lift their lovely little Spaniels to higher places, this ramp definitely proves to be a great help
Capable of supporting around 120 pounds, the cherry wood finish of this beautiful product seamlessly mixes with your home decors adding to the ambience. So, without any worries you could add in this little accessory to any of the rooms and then have them stored when not in use.
However, unlike other models, the CozyUp Bed Ramp is not foldable and hence could end up taking a majority of space in your room. The same also goes for their assembly, as a good 15 minutes is required to have them completely set up and going, but on the brighter side the package arrives with a detailed instruction guide.
Pros:
Spacious and sturdy

Cherry wood finish adds to aesthetics

Slip-proof heavy duty carpet

Available in white or cherry colour options

For both canines and felines
Cons:
Cannot be folded

No guarding grippers at side

Carpet is slippery when wet
TNELTUEB Folding Pet Stairs
Probably the smallest stair set in this list, the TNELTUEB Folding Pet Stairs does come with some powerful features of its own. This includes stair landing, easy installation, pressure-relieving mats, top-grade cushioning and much more. So, at an affordable price pet parents are getting not only a sturdy stair styled ramp but also a stair design that can be placed anywhere near your bed or couch.
To make it even more comfortable, each of these stairs are padded with a high-quality mattress-grade cushion. Thus every time their paws touch the material, it doesn't put any additional pressure on their bones or joints. And given this very feature, vets often prefer this product to their canine patients.
Best suitable for pups weighing 50lbs and less, this soft stair setup also features a storage design. Simply lift up the cushion covering and voila, you have ample space to store in your Spaniel's favourite treats, foods, toys, and much more.
Pros:
Easy installation and removal

Regular usage relieves joint pain

Can be broken down for folding and storage

Storage option available
Cons:
Not suitable for dogs weighing more than 50lbs

Comparatively cheap quality materials
YEP HHO Dog Steps
Another retractable stair design, the YEP HHO Dog Steps is made up of the best quality aluminium frame. This allows the steps to immaculately support even the largest of canines weighing around 150-200lbs without shaking or rumbling down. Besides to support the overall pressure, a non-slip rubber coating surface comes coupled with the overall structure.
This adjustable stair design is available in two variants- 5 & 6 steps, however, both the designs can also be further adjusted to perfectly suit your Spaniel's requirements. When in use, the stairs measure 48.4-36.6 inches with an open adjustable height from 23.2-25 inches. So, if you have a small-medium sized breed like the majority of Spaniel breeds, this stair can be your best option.
Pros:
Lightweight aluminium frame

Foam handle for easy portability

Arrives with a safety buckle

Adjustable height
Cons:
Narrow width than other above-mentioned products

Made in China

No side grippers for added support
Topmart High Density Extended Foam Dog Ramp
Now if you are a fan of visually aesthetic foam-based dog ramps, then you would definitely love the Topmart High Density Extended Foam Dog Ramp. As the name suggests, this particular model is the advanced version of its predecessor.
In this model pet owners get an additional extension of the steps by two inches, allowing canines with more space to climb safely. Moreover, thanks to the cushiony foam, pets can both climb or rest over the steps without facing any additional pressure from the material.
To make it more safer, the company has also coupled a corduroy cover. This cover's super frictional properties ensure that the Spaniel doesn't slip or fall off when in pursuit and hence is best for your living or bedrooms only. This dog ramp is for indoor use only and should never be used for lifting canines into cars or other vehicles.
Pros:
30D high density foam structure

Wider and deeper steps

Corduroy cover for extra support

Comes with a pet hair remover

Machine washable and easy to assemble
Cons:
Only supports pets up to 60lbs

Not for outdoor usage

Overpriced
So, this was all about the top seven best dog ramps for Spaniels. Now, let's further proceed to learning the correct way of purchasing dog ramps.
Buyer's Guide for Dog Ramps
So, what do you need to consider before investing in a dog ramp??? Here's a breakdown of the most important factors and the best way of making the rightful decision.
Measurements
Typically made to ascertain the safety and comfort of miniature sized dogs and elderly ones, a dog ramp needs to have ample space to contain your fur baby's body at all times. This includes their length, width, and even height dimensions.
For instance, a dog ramp measuring at least 3 feet in length denotes lesser incline and hence less pressure on their tiny feet and paws. This in turn allows the pups to climb up and down seamlessly without having to face any more discomfort or pain due to medical conditions.
Mat Type
The next essential thing in this list, pet owners need to be very wary of the mat types. There are numerous kinds of dog ramps, all featuring a variable mat material and while most of them are equipped with super frictional bases, there are also cheap products that could do more harm than good.
Therefore, if you are a beginner, it is better to carefully go through the full specifications of the dog ramp you think is worth investing in. Materials like corduroy and supertraX are the ultimate choices and are also available at a convenient price. But if you want to start from the affordable range, choose non-slip carpets or mats and train your pooch to use them accordingly.
Base Support
A dog ramp without a good base support is nothing. You don't want your Spaniel to tumble down and fall when running or climbing the ramp. And therefore for their safety and security, the dog ramp needs to be very stable and sturdy.
While most ramps claim to be holding off their positions really well, dog ramps with special adhesives or anti-slip rubber grippers at their bottom suit the task requirements better. Thanks to their added base support, even if your pup decides to go for a run on the ramp, there is a high chance that they would make it to their destination safely.
Ease of Assembly & Storage
Not all canine ramps are the same and therefore choosing the one that is easy to assemble, fold and store is of vital importance. For instance, where space is the constraint, going for bi or tri fold ramps is a better choice. When not in use, you could just fold them up and store them in your car backseat, inside your living room cabinet or push them below your couch.
Similarly, you will also need to be mindful of the assembly procedure. If you don't mind spending 10-15 minutes of your time setting or loosening the parts of the ramp every single day, then you could blindly go for any ramp design. But in case you are too busy for the task, there are many models that require a few seconds of assembly configuration before they are ready to hold on to your pooch's weight.
Weight Limit
Finally, understanding the ramp's weight limit is a must so as not to lead to its early wear and tear. Generally all companies mention the maximum weight restrictions in their instruction manual and features of the product. So, no matter if you are making the purchase online or offline, be sure to compare your Spaniel's weight and the item's weight limitations beforehand.
To be extra safe, go for dog ramps that allow at least 50lbs more maximum weight support than your fur baby's current weight. This way even if they decide to run or jump on the ramp, you won't have to be worried about their safety.
Price
Even though dog ramps are usually costlier, not every expensive ramp is bound to produce good results. Unfortunately, there are many companies that try stealing from their customers and hence adhering to the basics for a wiser and safer purchase is highly advised.
When you know which materials are best for you, you will be able to land on the final choice much earlier and with a lot less effort. The more you know, the better you can compare, and thus the best choice.
Besides, when purchasing from online stores, do check out the prices from various trusted websites and only go for the one that seems legit.
We hope we have successfully catered to all our doubts. For more interesting topics like these, don't forget to subscribe to our mailing list at spanieldogs.com.
If you are a dog lover then, Subscribe to our weekly newsletters. No Spams!