Spaniels!!!
An adored name amongst pet parents, although they were initially bred to be gundogs, they have developed into a more cuddly, friendly companion nowadays. With their majestic looks, small to medium stature and unwavering loyalty they can instantly tempt you with their whole being.
And while they come in many colors, the one color that has been reportedly the most common choice includes the typical black and white spaniels. So today we have compiled the list of the top black and white spaniel breeds you could choose from.
How many breeds of Black and White Spaniels are there?
With 14 popular spaniel breeds, the actual count for black and white spaniel breeds could go more than thirty, if we include the hybrids, as well.
This list is rather extensive and hence we will be sticking to the most popular ones of the regal breed. This includes:
American Cocker Spaniel
The American version of the English Cocker Spaniel, these pooches rank as the top most preferred Spaniels out there. Also the shortest of all, they are known to be a high-energy pooch with a friendly, gentle demeanor and easy to train personas. Their average life expectancy stays between 12 to 15 years, measuring between 13.5-15.5 inches and weighing around 20 to 30 pounds, only.
Group- Sporting (AKC)
Coat Type- Silky flat coat or may have a profusely feathered slightly wavy texture.
Coat Colors- Arrives in many solid and parti-colors
American Water Spaniel
A black and white Spaniel breed that absolutely loves water, this medium-sized breed is rather rare. Mostly used for flushing out games from water bodies, they are highly active and yet at the same time very loving. Initially bred between the Irish and English Water Spaniels, the American Water Spaniel is a relatively healthier breed with an average life expectancy of 10 to 14 years and is super active. Their height ranges between 15-18 inches and weigh around 25-45 pounds.
Group– Sporting (AKC)
Coat Type- Thick wavy coat with wavy or tightly curled fur
Coat colors- Black and white, Solid Liver, Brown, Dark chocolate with a few white spots
Boykin Spaniel
The official dog of South Carolina, the Boykin Spaniel apparently originated in the US lands. Mostly known for their deep love for water-related activities, they make a good pup for anyone who is active and has a large yard. They are very gentle, friendly, playful, but sometimes may exhibit aloofness towards strangers, which should be tackled with proper training and socialization skills. These pups grow around 14-18 inches, weigh 25 to 40 pounds, and have a life cycle that lasts upto 10-15 years.
Group- Sporting (AKC)
Coat Type- Straight to slightly wavy coat
Coat colors- Brown, Dark liver, dark chocolate, black and white, etc.
Cavalier King Charles Spaniel
The most regal of them all, the Cavalier King Charles Spaniel has been the favorite Spaniel breed owned by many celebrities and royal families, since the very start. Highly affectionate, sociable and amiable of them all, their little bodies are packed with high bundles of energy. They measure around 12-13 inches, weigh 13-18 pounds and have a life expectancy of 12-14 years on average. They also make great cuddle dogs.
Group – Toy (AKC)
Coat Type- Long, silky, shiny coat with ample feathering
Coat colors- Available in many colors and patterns
Clumber Spaniel
The 'saint' amongst all other spaniels, the Clumber Spaniel is by far also the largest, fluffiest, and the rarest. This gentle bear is a very happy-go-lucky woofer who will shower its family with utmost love, loyalty and dedication, but may be comparatively lazy. They are also wary of strangers and hence need proper socialization skills from a very young age. Upon hitting maturity, they will weigh 55 to 85 pounds, with a height of 17-20 inches and a life cycle of 10-12 years.
Group- Sporting (AKC)
Coat Type- Dense straight coat, Medium-length fur
Coat Colors- Generally white with yellow or orange markings, or black and white fur
English Cocker Spaniel
The '18th most intelligent dog breed', the English Cocker Spaniel is an absolute sweetheart with the fluffiest of coats. A very sporty canine, they have almost all of their physical and temperamental characteristics same as their American counterpart, although this particular breed exhibits a much stronger prey drive than the other. Thus, to train them owners will need to ensure regular hardcore physical and mental stimulations for the pups to behave well. These woofers reach upto a height of 15-17 inches, and have a weight of 26-34 pounds. They also live a healthy life which ranges between 12-14 years.
Group- Sporting (AKC)
Coat Type- Silky, medium-length, straight coat
Coat colors- Solid, parti colors, roan patterns
English Springer Spaniel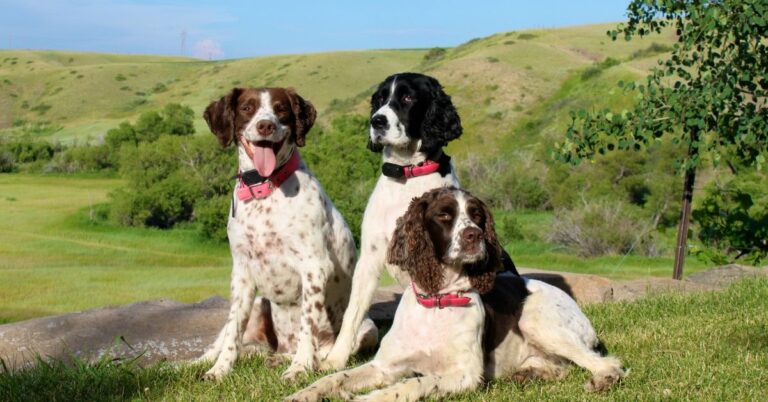 Blessed with a super powerful nose, the English Springer Spaniels may not be the best choice for a sedentary lifestyle. They thrive to do difficult tasks and hence can be destructive when not exercised properly. Thanks to this they are often used as drug and bomb detection dogs in the police force or military units. These easy-to-train dogs measure around 19-20 inches, have a lifespan of 12-14 years and weigh around 40-50 pounds.
Group- Sporting (AKC)
Coat Type- Has a glossy topcoat over a smooth undercoat, medium-length flat or wavy fur
Coat colors- Black and white, white and liver
Continental Toy Spaniel
A wonderful human companion and a beautiful toy breed, this canine is also popularly known as Papillon. Originating from the regular spaniel breed, breeders have selectively bred these woofers for a while now giving them the current butterfly-shaped upright ears. These little canines are knoen to be feisty, smartest, friendliest, and also the most loyal of all black and white spaniels. They can be a barker or yapper too. Upon maturing, they reach a height of 8-11 inches, have a weight of 6-10 pounds, and live up to 14-16 years.
Group- Toy (AKC)
Coat Type- Straight, long, single layer-coat with frills
Coat colors- Black and white, black, tan and white, black and liver, etc.
Welsh Springer Spaniel
Just like the super-active English Springer Spaniel, the Welsh Springer Spaniel originated on the Welsh lands and hence the name. A very gentle, sweet pup, this particular breed is good with both small kids and other pets in the house. They often indulge in a more laid-back life and hence make good cuddle buddies. These pooches are known to grow over 17-19 inches, weigh 35-55 pounds, and have a general life span of 12-15 years.
Group- Sporting (AKC)
Coat Type- Soft, flat, shiny coat
Coat colors- Predominantly available in white and red colors, but some may also exhibit a black and white coat color
English Toy Spaniel
Another popular black and white spaniel toy breed, the English Toy Spaniels have a sunny personality and are known to be highly devoted to their families. These little puppers love following their parents everywhere and can be greatly prone to separation anxiety issues. This lap breed needs moderate exercise and can easily fit into your laps as they only measure around 9-10 inches. They are also rather lightweight, typically between 8-14 pounds and have an average life expectancy of 10-12 years.
Group- Toy (AKC)
Coat Type- Straight or slightly wavy with silky and glossy textured fur
Coat colors- white with deep red or chestnut markings, black and tan, black and white, tricolor, rich mahogany red, etc.
Field Spaniel
Finally the workaholic and beautifully compact black and white Field Spaniels are another highly preferred spaniel breed. This canine is often best for people who have large fenced yards or fields or do hunting games. Known for their excellent smelling and game flushing qualities, they have loads of patience, are very intelligent and always eager to impress. They are very closely related to the cocker and springer spaniels and have a very healthy lifestyle. Growing up these pups grow up to 17-18 inches, weigh around 35-50 pounds, and have a life cycle of 12-13 years.
Group- Sporting (AKC)
Coat Type- Dense long coat that can be straight or wavy, water-repellent single coat
Coat colors- Black, Liver, Golden, Black and white, Golden Liver, Roan patterns
These were some of the most commonly popular black and white spaniel breeds and a little information regarding them. Subscribe to us for more interesting updates like these.
If you are a dog lover then, Subscribe to our weekly newsletters. No Spams!