Today in this blog we will be looking at the best outdoor bedding for Spaniels. So, without any further ado, let's start.
In the list of the best outdoor bedding for Spaniels, we have: the Brindle Waterproof Designer Foam Pet Bed, Sealy Dog Bed Lux Elite, The Green Pet Shop Dog Cooling Mat, Cheerhunting Outdoor Dog Bed, Tail Stories Outdoor All Weather Dog Bed, JMHUND Orthopedic Foam Dog Beds, and the Gavenia Dog Bed Crate Pad. All of these options are especially made for the rough and tough outdoor demands.
P.S.- We don't deserve any rights to the specifications, type or purchase of these particular dog outdoor beddings. All of this information is the result of extensive research done by our team and therefore we will not be liable to any issues arising from a faulty purchase.
Best Outdoor Beddings for Spaniels
Brindle Waterproof Designer Foam Pet Bed
So, first of all we have the Brindle Waterproof Designer Foam Pet Bed. As the name suggests, this amazing pet bed features a 4-inch thick foam, out of which 2-inch is comfort memory foam while the other 2-inch is a high-density support foam. Together, they work well to ensure ultimate comfort and support to the Spaniel's body after a thorough tiring play time.
The intelligent foam-distribution is also beneficial for older dogs or Spaniels with weak joints and muscles as it evenly distributes the canine's body weight, without intensifying the pressure at a single spot. Thanks to this very feature, even vets recommend pet owners with this bed for their pooches, if they are diagnosed with painful conditions like hip dysplasia, arthritis, etc.
Additionally, the bedding cover is both easy to remove, clean, and maintain. Just follow the manufacturer's cleaning guidelines and voila you have the bedding looking like new again.
Pros:
100 percent waterproof memory foam

Supports the canine's overall body weight

Best suitable for achy joints and muscles

Velour cover is super-smooth

Withstands dirt and pet hair quite well

Machine washable cover

Doesn't retain accidents and fluids

Breathable waterproof layer keeps the Spaniel body cool and ventilated
Cons:
Sealy Dog Bed Lux Elite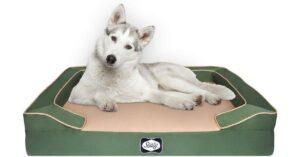 Another highly preferred outdoor bedding for Spaniels, the Sealy Dog Bed Lux Elite is best suitable for older Spaniels. This premium looking bed arrives with quad element foam that is known for offering orthopedic support and hence is quite popular amongst vets.
Designed to suit pups of all ages, this outdoor bedding has an easy to remove and wash cover. So, in case the bedding becomes dirty, with your Fido deciding to tramp over mud and then come and lay over it, there is nothing to be worried about. Just spin it a couple of times in your washing machine (preferably in gentle mode) and then place it back over the bedding in no time.
To make it even more resourceful, the manufacturer has added a pro-charcoal base. Therefore every time your Spaniel lies over the bed, the bed starts instantly soaking their body odors, keeping the little fur ball smelling clean and fresh.
Pros:
Quad element foam offers heightened comfort and support

Ideal for older dogs or canines with weak bones and joints

Odor absorbing pro-charcoal base

Removable and machine-washable cover

Bedding infused with cooling energy gel

Bio-orthopedic foam

Waterproof liner with non-slip bottom
Cons:
Assembly is a little tough
The Green Pet Shop Dog Cooling Mat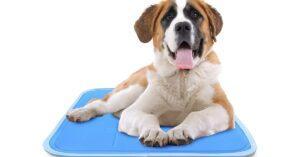 Even though The Green Pet Shop Dog Cooling Mat is most definitely not a proper bedding for Spaniels, it is indeed beneficial. Infused with pressure-activated cooling gel technology, this mat is best for pups that love to run around all day.
Upon laying on the bed, the cooling gel instantly activates and helps cool down the Spaniel's body at an appropriate rate. And moreover as this self-cooling pad doesn't need refrigeration, water, or electricity to run, most pet parents can invest in it without having second thoughts. The pad also recharges automatically when kept 15-20 minutes unused and thus is a great alternative for sunny days.
This self-cooling pad comes with a multi-use feature that allows it to be used on any floor type, including floor, tile, couch and even within your pet's kennel. The chilled effect is suitable for almost all pups, and therefore investing in this mat won't be a wrong decision.
Pros:
Pressure activated cooling technique

Self-recharging cooling gel

No need for electricity, water, or refrigeration

Can be used both indoors and outdoors

Easy to clean with a damp cloth

Available in multiple sizes
Cons:
Extremely thin mat layering

Coolness doesn't stay for long
Cheerhunting Outdoor Dog Bed
A suitable option for Spaniels that love spending time outdoors or often accompany their owners to treks and campings, the Cheerhunting Outdoor Dog Bed is a great choice. Perfect for both indoor and outdoor usage, this dog outdoor bedding is made up of premium quality Oxford cloth. So, no matter if it's raining or snowing outside, the bed can be put down anywhere for your pooch to rest.
Moreover, to make it more dog-friendly, the manufacturing company has added some real nice stitching that doesn't let water get inside the fabric. The surface is also scratch and claw resistant, making it last longer and hence an affordable and wise purchase.
To clean the outdoor bedding, pet parents can wash it anyway they want, including gentle machine washing, and hand washing. Afterwards, just fold the bedding and slide it into the bag that comes included with the purchase. However, unfortunately, this bag is not for chewers. So if you have a really chewy Spaniel, it is better to look out for bedding with more long-lasting materials.
Pros:
Easy to clean, store, and carry

Made up of water-repelling Oxford fabric

Ideal for both outdoor and indoor usage

Scratch and claw resistant fabric

Highly durable stitching

Can be both machine washed and hand-washed
Cons:
Not for chewy Spaniels

Not recommended to let water stay on for long duration

Doesn't contain any inner padding
Tail Stories Outdoor All Weather Dog Bed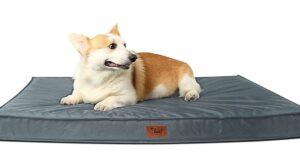 The Tail Stories Outdoor All Weather Dog Bed arrives with a 3.5 inch orthopedic egg-crate foam along with 600D Oxford Fabric and a premium quality stitching. All of these factors together make the outdoor bedding a decent choice for small to medium sized pups like Spaniels and also for canines with bone and joint issues.
When the dog lies on the bedding, the foam instantly supports their aching muscles while making sure their weight is being held out evenly. As a result, there is no further pain and discomfort when the canine sleeps after a good day of play or exercise.
To clean the bed when dirty, pet parents can seamlessly remove the outer cover and give it a thorough wash in the machine. Meanwhile, don't forget to swipe the insides with a damp cloth to get any leftover dirt and debris that might have managed to get in.
Pros:
Consists a 3.5 inch orthopedic egg-crate foam

Premium quality stitching with 600D Oxford fabric

Soft and supportive for canines with weak bones and joints

Easy to clean

Available in multiple sizes and thicknesses
Cons:
Not completely waterproof

Relatively poor quality materials

Not for chewy canines
JMHUND Orthopedic Foam Dog Beds
Another of the dog outdoor beddings consisting of foam arrangement, the JMHUND Orthopedic Foam Dog Beds has a plush looking design. So, unlike any of the products mentioned above, this pet bed combines both visual and comfort and presents the same at a rather affordable price.
Inside it is packed with a 3 inch high-mattress like egg-crate foam which not only provides comfort but also much needed support to their bones and joints. Thus, such a bed is not only ideal for a healthy Spaniel but also for woofers that may have been diagnosed with a bad case of dysplasia or arthritis. Furthermore, the bed is rectangle shaped which is another beneficial point.
The bed also features a non-slip studded, plastic bottom. This keeps the bedding in a single spot without risking slip and fall. And while pet parents can wash the outer cover, the bed itself is non-washable, making it a risky choice for canines that love to play in the mud or get excessively dirty.
Pros:
Plush looking bed with ensured comfort

3 inch high-mattress like foam for added comfort and body support

Ideal for both sitting and sleeping

Non-slip, studded, plastic bottom

Zip-lock, machine-washable cover
Cons:
The bed itself is non-washable

Not suitable for rough usage or extensive water contact

Plastic bottom is not long-lasting
Gavenia Dog Bed Crate Pad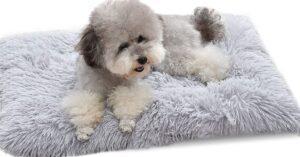 Finally, the Gavenia Dog Bed Crate Pad is a delight for pawrents and canines that love soft, cozy, and fluffy pad-sized beds. This premium looking reversible cushion has two sides with differing materials for the variable needs of the canines. On one side there is a heavy deluxe plush material and on the other side is a hard-wearing micro-fleecy polyester. This makes the dog outdoor bedding a delight for all seasons and climates.
Available in multiple sizes and beautiful color options, this bed is machine-washable. So, without worrying about their cleaning, pet parents can place this crate pad over any surface and let their beloved fur baby rest whenever they want. Even more, you can also reverse sides when one side becomes dirty.
Additionally, the manufacturer has also reminded potential purchasers of receiving a flat dog pad initially which needs to be rubbed gently for a few minutes to achieve the fluffy look. The friction aids the PP polyester filling to charge up, thereby gradually filling up.
Pros:
Two-sided reversible cushion

Offers comfort to the Spaniel's aching muscles

Machine-washable dog outdoor bedding

Suitable for any surface, including crate insides

Easy to transport, maintain and carry
Cons:
Doesn't offer any cooling

Not vet recommended for canines diagnosed with dysplasia or arthritis

Not ideal for hotter seasons

Not chew resistant
Now that we have covered everything there is to know about the individual specifications of our top-rated dog outdoor beddings, let's have a look at the proper buying guide.
Buyer's Guide for Choosing the Best Outdoor Bedding for Spaniels
As we discussed above, outdoor beddings for dogs arrive in many shapes, sizes, and bearing distinct inside packaging. Therefore, if you are looking for a good bedding for your Spaniel, it is best to start with pointing down all requirements first. This will streamline the entire process and leave you with the perfect choice in absolutely no time.
Typical climate and weather conditions
Well, the most basic thing to consider during this process is the typical climatic conditions of the area you reside in. For instance, if your region experiences harsh winters, then investing in dog beds that offer insulation is a better choice. This will ensure that the pup stays warm and cozy when spending their time outside without losing any more of their body heat.
Similarly, for areas with hotter climates, outdoor beddings with cooling gels are a good choice. Unlike insulating dog pads, these beds will cool down the Spaniel's entire body, offering aching muscles and joints a much-needed relaxation.
Outside and Inside Packaging
In the second step, pet parents will be required to carefully choose the outside and inside set-up. Generally, beds made of high-quality foam with claw and scratch resistant exterior materials are highly preferred, given their hard-to-destroy nature. The fittings must be precisely done with no spaces for the moisture to seep in.
Other good combinations include top-grade polyester fabric, and waterproof or water-resistant fabrics such as microfiber, faux fur, cotton, and suede. Thus, basically based upon the type of usage, the choice must be made.
Cleaning and maintenance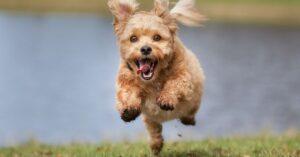 With their manufacturing as outdoor beddings for active Spaniels, the beds are bound to become really dirty. Therefore, another essential factor to remember when making your choice is to look at their specific cleaning and storage guidelines. You don't want to get a bed that although looks posh and everything, unfortunately cannot be cleaned either by hand or a washing machine.
Additionally, the same applies to their after-care and maintenance. Investing in beds that can be rolled or stuffed into smaller spaces is a beneficial factor. This will make them pretty conventional to be carried and thereby a worthy purchase.
Warranty
Almost every outdoor bedding comes with a specific after-sales warranty. And while the warranty duration may largely vary based upon the company's rules and regulations, this is indeed essential in case any situation arises with the bed.
A dog bed under warranty can save more than a few bucks in case it is chewed down or gets teared up by your feisty little fur ball. However, the same needs to be mentioned in the after-sales warranty section. Other typically issues covered in warranty include stitches coming out, inefficient cooling or insulation, faulty products, etc. to find out more about this, pawrents should give a thorough check to the product's specifications.
Price
Finally, price plays a major factor in the whole purchase. Dog outdoor beddings come in both low and high prices, and although the higher ones might initially seem a better choice, they are not always the better choices.
It is better advised to fix a budget beforehand and then proceed to the search. This way you won't end up blowing your entire balance while looking for the perfect outside bed for your Spaniel. Many companies offer really good beds at affordable prices and therefore extensive scrolling and taking references is a must when you want to buy smart.
You may also like:
Top 5 Best Dog Car Seats [2022] Buyers Guide
Best Pumpkin Powder for Dogs- Buyer's Guide
If you are a dog lover then, Subscribe to our weekly newsletters. No Spams!